Shorten the Wait – Find Out When to Expect Results with RF Treatment
Introduction: Find Out When to Expect Results with RF Treatment
RF treatment is a popular skin rejuvenation procedure in Singapore with many people seeking out its services. It is known to be an effective way to reduce wrinkles, improve skin texture and tone, and even help remove acne scars. But when can you expect to see results? In this article by Wellaholic, we discuss the timeline for RF treatment in Singapore and what you should expect from the process. Wellaholic offers RF Vlift, a RF facial lifting treatment using advance RF energy.
---
What is RF Treatment?
RF treatment, also known as Radio Frequency Treatment, is a minimally invasive procedure that utilizes radio frequency energy to improve the appearance of skin. This non-surgical, noninvasive procedure can help reduce wrinkles and blemishes, tighten sagging skin and improve overall skin tone. It is a popular cosmetic treatment for those who want a more youthful look without having to go under the knife.
RF treatments involve using a special device that sends controlled radio frequencies into the deeper layers of the skin in order to stimulate collagen production and heat up tissue. The heat helps contract existing collagen fibers while stimulating new collagen growth resulting in tighter, smoother looking skin with improved texture. There may be some mild discomfort during the treatment but most people find it tolerable and worthwhile because of its effectiveness at reducing fine lines and wrinkles on any area of the face or body.
Benefits of RF Treatment for the Face
Radiofrequency (RF) treatments are becoming increasingly popular among those seeking to reduce wrinkles, improve skin elasticity, and slow down the aging process. This non-invasive procedure utilizes a device that emits heat waves through radiofrequency energy to penetrate deep into the skin's dermal layer, stimulating the production of collagen and elastin. As a result, RF treatments offer many benefits for facial rejuvenation that can help you look younger and healthier without surgery or downtime.
One of the primary advantages of RF treatment is its ability to tighten sagging skin on various areas of the face such as cheeks, jawline, neck, and chin. It also helps to shrink enlarged pores by stimulating collagen production which helps improve overall texture by making skin appear smoother and firmer.
What to Expect During RF Treatment
During an RF treatment session a patient will first experience a warm sensation on their skin as the device glides over it. This may be followed by some mild discomfort or stinging which usually stops quickly. Treatments typically last from 15 minutes to 30 minutes depending on the size of the area being treated. Patients may experience some redness in the area after treatment but this should dissipate within 24 hours.
Understanding Results Timescales for RF Facial Lifting Treatment
RF facial lifting is a popular treatment for those looking to reduce the signs of aging. This non-surgical procedure uses radiofrequency waves to deeply heat targeted areas of the skin, stimulating collagen production and repairing existing wrinkles. The results are often noticeable immediately after the procedure, but they can continue to improve over time. Understanding the results timescales of RF facial lifting treatments is important when considering this rejuvenating option.
Results from an RF facial lifting treatment can typically be seen within a few days or weeks following the procedure. Initially, patients may notice an improvement in their skin tone and texture as well as a reduction in wrinkles and fine lines around their eyes, forehead, and mouth.
Factors Affecting Results from RF Treatments
There are some factors that can affect your results from RF treatments that you should be aware of before trying them out. The first factor to consider is the type of treatment being used and how it interacts with your specific skin type or condition. Different RF treatments may have different levels of intensity or penetration into the skin, so finding a treatment that suits your needs is important for getting maximum results. Additionally, the skill level of the practitioner administering the treatment also has a significant impact on outcome as well as their understanding of what type of energy levels and techniques will achieve desired results for each individual patient's needs.
Preparing for Results from RF Facial Lifting Treatments
First, you need to make sure that RF facial lifting treatments are right for you by speaking with a board-certified dermatologist or cosmetic surgeon who can evaluate your skin type and lifestyle. Your doctor will also be able to answer any questions you have about possible side effects and expectations associated with the procedure. In addition, it's important to avoid sun exposure and wear sunscreen throughout the course of treatment as this can help prevent potential complications or delayed healing time.
Conclusion: Maximizing Outcomes from RF Facial Treatments
In conclusion, RF facial treatments are an effective and safe way to improve the skin's appearance. It is important to recognize that the outcome of any treatment depends on the type of device used, the person's biology, and how often treatments are given. By working with a professional and following their instructions, it is possible to achieve maximum benefits from RF facial treatments. To ensure long-term success, it is also important to maintain a healthy lifestyle and skin care regimen even after treatment is finished.
RF V-Lift Facial – Visible Face Lifting in Just One Session
Radio Frequency (RF) V-Lift uses RF energy to heat tissue and stimulate sub-dermal collagen production. This helps to reduce the appearance of fine lines and loose skin. This face lifting technique induces tissue re-modelling and production of new collagen and elastin. RF V-Lift provides an alternative to facelift and other cosmetic surgeries.
What is RF V-Lift Facial?
RF V-Lift uses radio frequency or RF energy to heat tissue and stimulate sub-dermal collagen production.
RF V-Lift is a non-surgical slimming treatment who helps to decrease the width of your lower face as well as your jawline. 
RF V-Lift can reduce facial width caused by puffy cheeks, double chins and create a more sculpted jaw and chin with a structured contoured facial feature. 
This face lifting technique induces tissue re-modelling and production of new collagen and elastin.
The RF V-Lift process provides an alternative to facelift and other cosmetic surgeries.
RF V-Lift uses focused radio frequency energy heats the collagen fibers in the skin, causing them to contract. RF V-Lift decreases the width of a lower face, and helps improve puffy cheeks, double chins and upper neck widening. RF V-Lift also helps to create a structured, V-shaped lower jaw and gives a more youthful chiseled appearance.
What are the Benefits of RF V-Lift Facial?
RF V-Lift provides the following facial lifting benefits, which are visible right after the treatment:
More sculpted jaw and chin
V-shaped face and jawline​
Renewal of collagen and elastin
Reduction of wrinkles and fine lines
Tighter and firmer skin
Improved eye contours
Reduction of puffiness
More defined facial contours
See Over 1800 Positive Reviews of Wellaholic (Customer Verifiable)
Pricing of Facial Treatments by Wellaholic
Wellaholic believes in providing pricing transparency, and hence all our prices are published and updated on its website. Choose from a single-session plan or choose a multi-session plan for greater discounts. Wellaholic's facial treatments are generally divided into the following categories: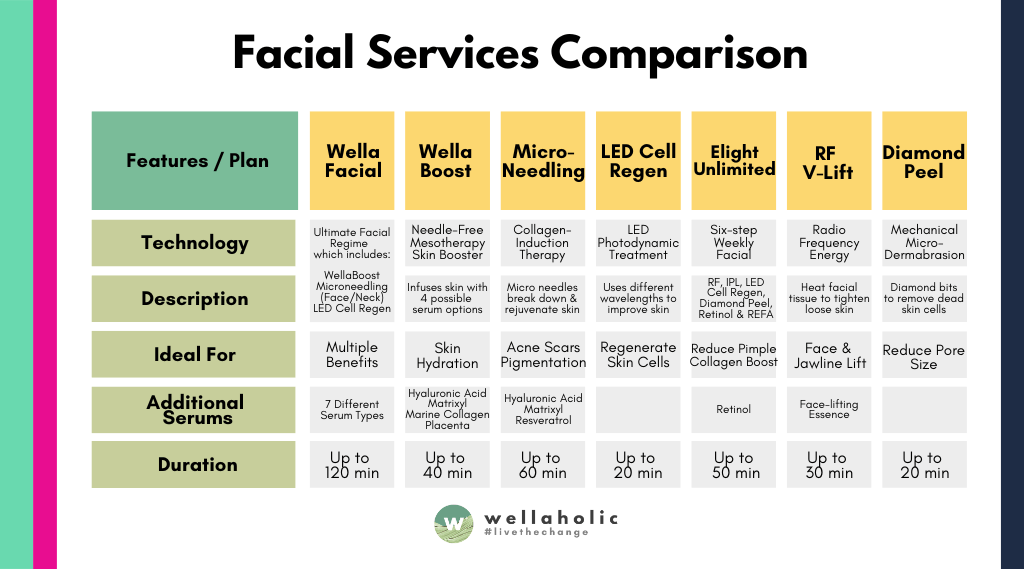 Please click on the menu below to see the pricing for the various facial treatments by Wellaholic. Wellaholic is well-known in the industry for our transparent pricing and no hard selling. In fact, Wellaholic is well-known for not only our transparent and cheap pricing but also without any hidden costs. All prices are nett and inclusive of GST, and are actual prices (i.e. not trial prices).
---
---