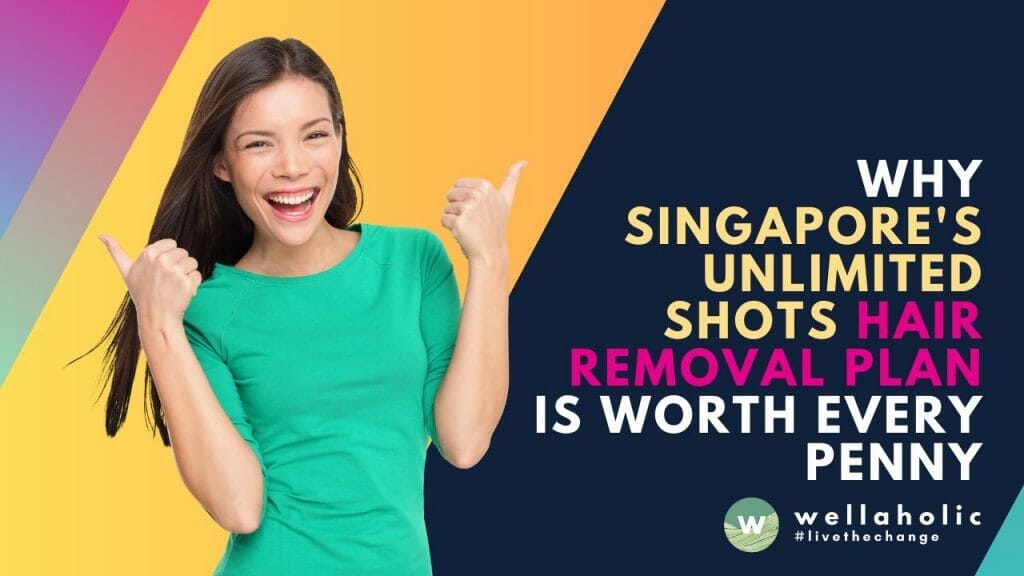 Why Singapore's Unlimited Shots Hair Removal Plan is Worth Every Penny
TL:DR Summary
Introduction: What is a "buffet" hair removal plan?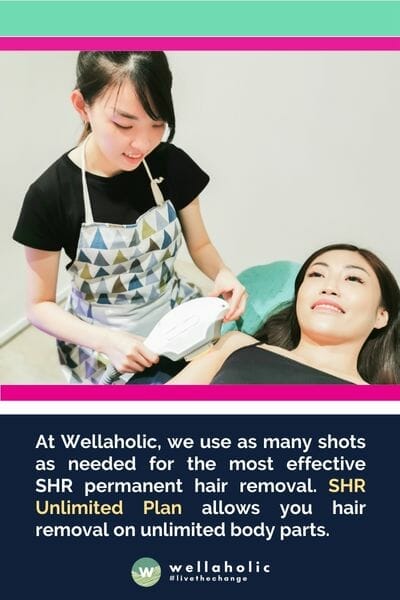 A "buffet" hair removal plan is a plan that allows you to have multiple treatments for different areas of your body. This type of plan is often used for people who have a lot of hair, or for people who want to remove hair from multiple areas. Buffet plans can be customized to your specific needs, and can be a great way to save money on hair removal treatments. Wellaholic offers WellaSmooth which is an all-inclusive hair removal plan with unlimited SHR laser diode hair removal shots, for all body parts, including brazilian or boyzilian hair removal.
---
What is "unlimited shots" hair removal?
In Singapore, there are many hair removal specialists which offers hair removal based on a "per shot" package. This may cost from $1.99 per IPL shot. While it may seem to be affordable, the costs add up, especially when you need many shots per body part. What's more, if you are doing several passes on a certain area (e.g. a few passes around the underarms for more effective hair removal), it becomes more expensive. Customers are then confronted with a dilemma – whether to pay for more hair removal shots, when they should just relax and let the hair removal specialists do what is needed for the most effective hair removal.
"Experience the freedom of unlimited hair removal with an all-you-can-zap 'buffet' plan!"
The Advantages of Singapore's Unlimited Shots Hair Removal Plan
If you're tired of the never-ending battle against unwanted hair, Wellaholic's Unlimited Shots Hair Removal Plan in Singapore is here to save the day! With this incredible plan, you can say goodbye to razors, waxing appointments, and annoying ingrown hairs. Let's dive into the advantages of this hair removal plan that will make you fall in love with smooth, hair-free skin: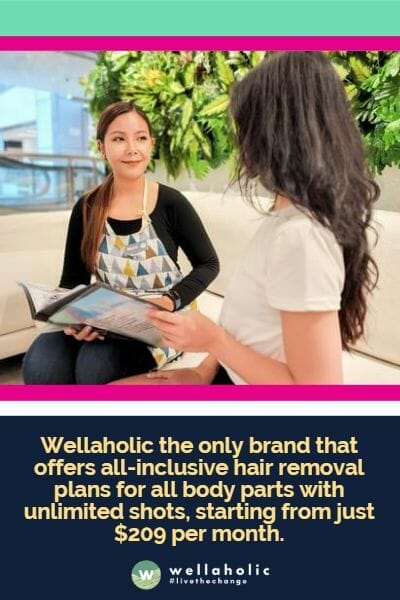 1. Unlimited Shots, Unlimited Possibilities Wellaholic's Unlimited Shots Hair Removal Plan lives up to its name, offering you unlimited sessions to target and remove unwanted hair. No more counting sessions or worrying about running out of treatments. You can book as many sessions as you need to achieve your desired results, ensuring that every pesky hair is banished for good.
2. Convenience at Your Fingertips Imagine the convenience of having a hair-free body without the hassle of shaving or waxing every few days. With the Unlimited Shots Hair Removal Plan, you can bid farewell to those tedious routines and enjoy the freedom of smooth skin every day. Whether you want to get rid of hair on your legs, underarms, bikini area, or any other part of your body, Wellaholic's plan has got you covered.
3. Customized Treatment for All Skin Types No matter your skin type or hair color, Wellaholic's Unlimited Shots Hair Removal Plan is designed to cater to your specific needs. The advanced technology used in their treatments allows for safe and effective hair removal for all skin tones, including darker skin types. You can trust that their experienced therapists will personalize the treatment to ensure optimal results while keeping your skin's health a top priority.
4. Cost-Effective Solution While traditional hair removal methods like waxing or shaving can be costly in the long run, the Unlimited Shots Hair Removal Plan offers an affordable alternative. With a fixed monthly fee, you can enjoy unlimited hair removal sessions without worrying about the costs adding up. It's a budget-friendly solution that allows you to invest in a long-term hair removal plan without breaking the bank.
Why is WellaSmooth All-inclusive Hair Removal Regime Worth Every Penny?
Wellaholic's WellaSmooth All-inclusive Hair Removal Regime is a comprehensive hair removal solution that provides customers with a complete package of services. It includes a comprehensive hair removal treatment with unlimited SHR shots for all body parts, along with a range of pre-and post-treatment care to ensure maximum effectiveness and minimal discomfort.
There are several reasons why Wellaholic's WellaSmooth All-inclusive Hair Removal Regime is worth every penny:
Comprehensive Solution: The regime provides customers with a complete hair removal solution that includes multiple treatments and care options. This ensures that customers get the best possible results with minimal discomfort.
Cost-effective: The all-inclusive package is priced competitively, making it an affordable option compared to purchasing individual treatments separately.
Personalized Approach: The regime is customized to each individual's needs, ensuring that they receive the most effective hair removal treatments for their skin type and hair color.
Skincare Benefits: The pre- and post-treatment care provided as part of the regime not only ensures that customers get the best possible results but also helps to improve the overall health and appearance of their skin.
Convenience: The regime is designed to be a hassle-free experience, with all treatments and care options conveniently bundled together.
Overall, Wellaholic's WellaSmooth All-inclusive Hair Removal Regime is a comprehensive and cost-effective hair removal solution that provides customers with a personalized approach and exceptional results.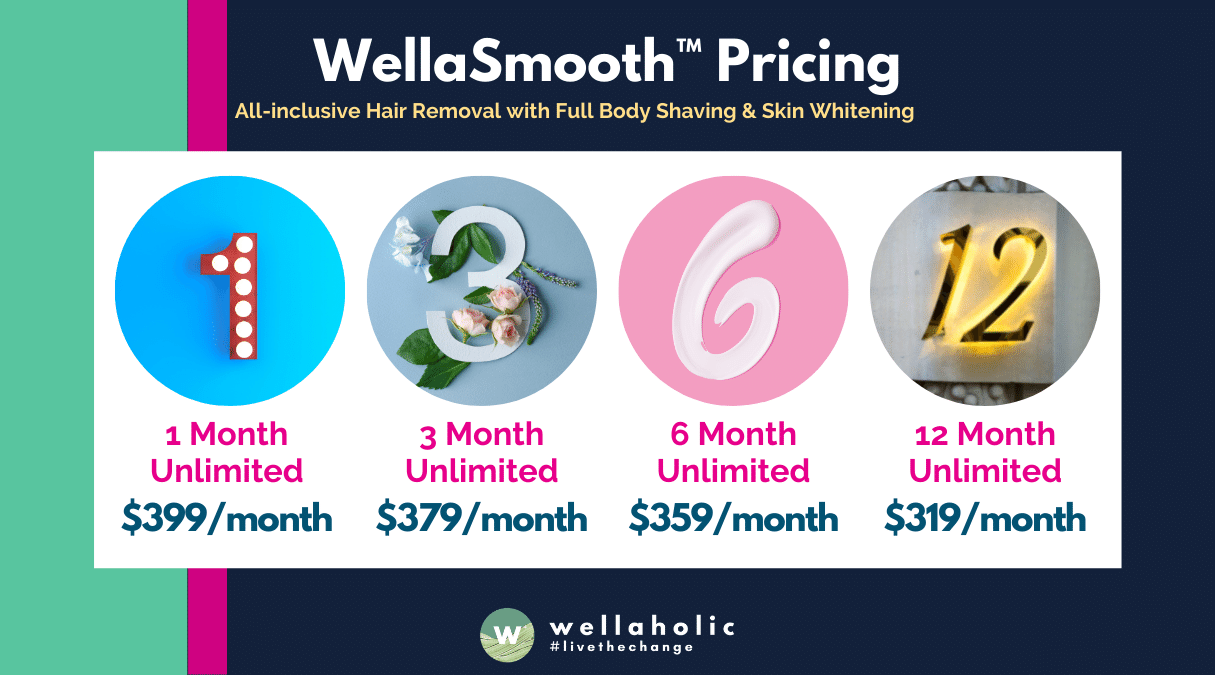 Choosing the Right Hair Removal Plan: Factors to Consider
Comparing Different Hair Removal Options
First things first, it's essential to explore and compare the various hair removal options available. From traditional methods like shaving and waxing to advanced techniques like laser and IPL, each method has its pros and cons. Understanding the differences between them will help you make an informed decision.
Assessing Individual Needs and Preferences
Everyone's hair removal needs are unique, so it's crucial to assess your own requirements and preferences. Consider factors such as the area of the body you want to target, your skin type and sensitivity, and your hair growth patterns. By understanding your specific needs, you can choose a hair removal plan that aligns perfectly with your goals.
Cost, Convenience, and Effectiveness Considerations
Cost, convenience, and effectiveness are three critical factors that go hand in hand when choosing a hair removal plan. Ask yourself:
What is your budget for hair removal?
How much time are you willing to invest in the process?
Do you want a permanent or temporary hair removal solution?
Are you looking for a method that suits your busy schedule?
By evaluating these factors, you can narrow down your options and find a plan that ticks all the right boxes for you.
Consultation with Hair Removal Specialists
When in doubt, never hesitate to seek advice from hair removal specialists. These experts have extensive knowledge and experience in the field and can provide valuable insights tailored to your unique situation. They can assess your hair and skin type, discuss your goals, and recommend the most suitable hair removal plan for you.
So, dear seekers of smoothness, keep these factors in mind when choosing the perfect hair removal plan. By considering different options, assessing your needs, factoring in cost and convenience, and consulting with specialists, you'll be well on your way to achieving hair-free bliss. Happy hair removal journey!
Frequently Asked Questions (FAQ)
What is Wellaholic's Unlimited Hair Removal Buffet Plan in Singapore?

A: Wellaholic's Unlimited Hair Removal Buffet Plan offers a unique opportunity for individuals to enjoy unlimited hair removal sessions within a specific time frame, catering to different parts of the body. It's a comprehensive and cost-effective solution for achieving long-lasting hair reduction.
How does the unlimited hair removal buffet plan work at Wellaholic?

A: The unlimited hair removal buffet plan allows you to choose from different treatment areas and enjoy unlimited sessions for a set duration. This means you can target multiple areas during each session, optimizing your results and saving both time and money.
What sets Wellaholic's unlimited hair removal buffet plan apart from other hair removal options in Singapore?

A: Unlike traditional pay-per-session models, the unlimited hair removal buffet plan provides a more convenient and economical way to achieve comprehensive hair reduction. It allows you to treat multiple areas and enjoy unlimited sessions, making it a popular choice among individuals seeking a hassle-free solution.
What are the benefits of choosing the unlimited hair removal buffet plan for both skin and wallet?

A: The unlimited hair removal buffet plan offers several benefits. It provides consistent and thorough hair reduction, leading to smoother skin. Additionally, the cost-effective nature of the plan means you can save significantly compared to paying for individual sessions.
How can I book an appointment for unlimited hair removal at Wellaholic?

A: Booking an appointment for the unlimited hair removal buffet plan at Wellaholic is easy. You can visit their website and navigate to the booking section, where you can select your preferred treatment areas, date, and time. Their user-friendly platform ensures a seamless booking experience.
How does unlimited hair removal compare to other hair removal methods in Singapore?

A: Unlimited hair removal offers the advantage of a comprehensive approach. Unlike single-session methods, it allows you to target multiple areas in each session. This approach results in more consistent and noticeable hair reduction over time.
---
Unleash the Power of Three: Beauty, Confidence, Perfection with WellaSmooth™ 3X
⭐ Tailored Beauty Experience: Select three personalized treatments with WellaSmooth 3X™.
⭐ Quality Skin Solutions: Enjoy our signature permanent hair removal with full body shaving, skin whitening, breast enhancements, butt lifts and more.
⭐ Enhanced Confidence Options: Lift and enhance your bust and butt for a confident new look.
⭐ Luxury at Your Fingertips: Experience luxury with a flexible triple-choice treatment plan.
⭐ Affordable Body Perfection: Transform your body positively and affordably.
⭐ Unbeatable Value & Efficacy: Benefit from high-quality treatments at exceptional value.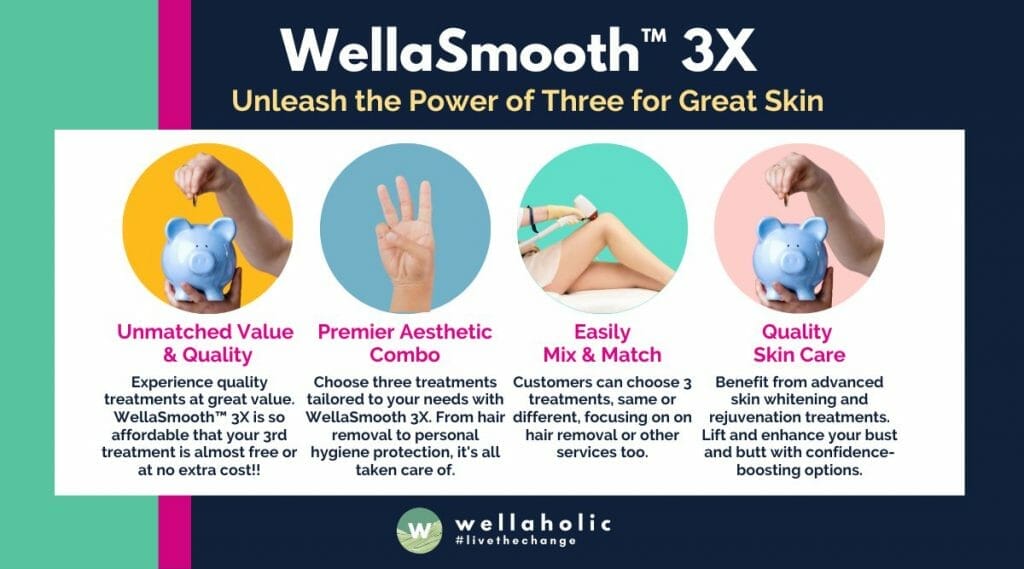 What Treatments Can I Choose with WellaSmooth™ 3X?
For a modest monthly fee, customers can indulge in premium treatments to remove hair, whiten skin, lift and enhance the boops, lift the butt and safeguard the private regions:
⭐ Personalized Hair Removal: Opt for laser hair removal for all hair types.
⭐ All-that-you-need Shaving: Achieve a sleek look with professional full body shaving to prevent ingrown hair.
⭐ Advanced Skin Whitening: Experience innovative skin whitening techniques for radiant skin.
⭐ Butt Lifting Treatments: Lift your butt for a perfectly contoured appearance with EMS technology.
⭐ Bust Enhancement Options: Enhance your bust size and shape with specialized ultrasonic treatments.
⭐ Expert Bust Lifting: Choose professional bust lifting via RF microneedling to make it look bigger and fuller.
⭐ Premium Personal Hygiene Protection: Improve personal hygiene with specialized Blue Light protective treatments.
⭐ Flexible Combo Selection: WellaSmooth™ 3X allows you to select any three of the above treatments.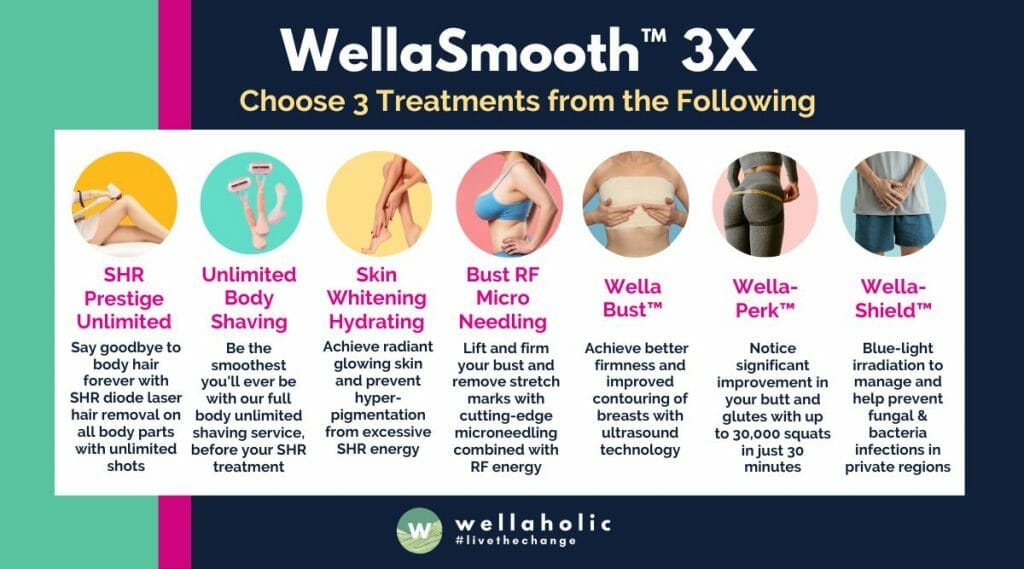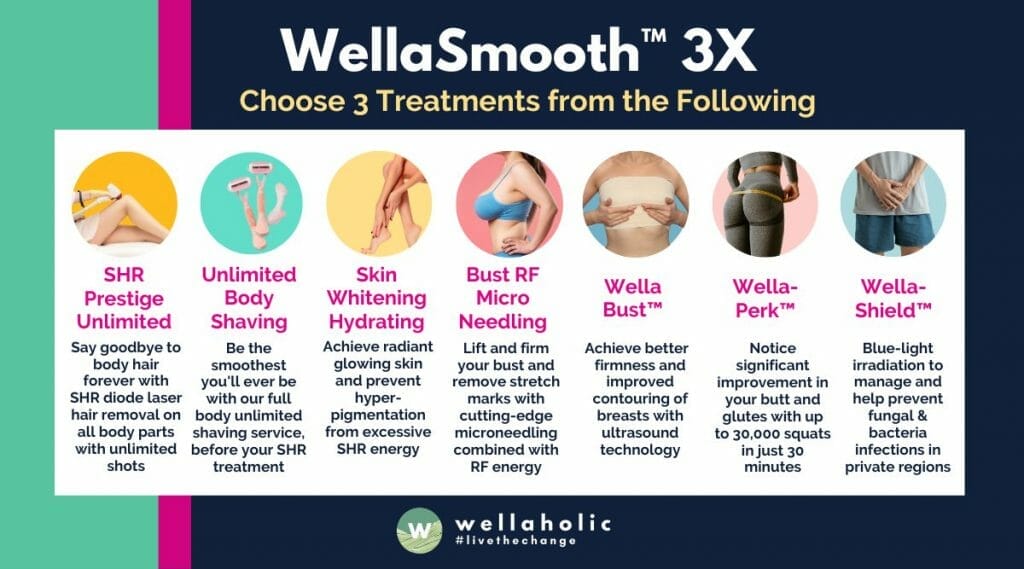 Why Choose SHR Prestige Unlimited Hair Removal?
⭐ SHR Diode Laser. Super Hair removal targets all skin types with 755nm, 808nm, and 1064nm laser wavelengths for the best hair removal treatment in Singapore.
⭐ SHR is better than IPL for Asian skin. SHR is more effective than traditional IPL technology for finer hair and coarse hair.
⭐ Unlimited Shots. Our laser removal uses as many pulses as needed to destroy hair follicles to prevent hair growth.
⭐ Award-Winning. Wellaholic's SHR Hair Removal have won multiple awards making us one of the best hair removal salons in Singapore.
⭐ Ideal for All Skin and Hair Colors. SHR laser hair removal technology works on all hair and skin types, including facial hair and body hair by targeting the melanin in the hair.
⭐ For Everyone. Wellaholic has a team of skilled therapists, both male and female, to attend to your body hair removal needs.
Pricing of Aesthetic Treatments by Wellaholic
💎 Price Transparency. All prices are published and updated on our website.
💎 Flexible Plans. Choose from unlimited monthly or per-session hair removal plans.
💎 Easy to Choose. Mix and match treatments from different categories.
💎 No Hidden Fees. Pay only for the treatments you receive.
GET IN TOUCH
Book Now Pay Later
Why Wellaholic is One of the Best Aesthetic Service Providers in Singapore?
✅ Leading Singapore Aesthetic Chain. Wellaholic is a popular aesthetic chain with 8 outlets around Singapore.
✅ Quality & Safe Treatments. Wellaholic is committed to quality, safe treatments with experienced staff.
✅ Wide Range of Treatments. Wellaholic offers a large range of treatment from effective hair removal, skin whitening, bust enhancement, butt lifts for all areas of the body.
✅ Trained & Experienced Consultants. All treatments are performed by trained professionals who understand skincare needs for both genders.
✅ SHR Technology. Advanced SHR technology provides a safe, comfortable, and painless hair removal experience.
✅ Most Affordable Provider. Wellaholic offers competitive pricing, making it one of the most affordable hair removal providers in Singapore.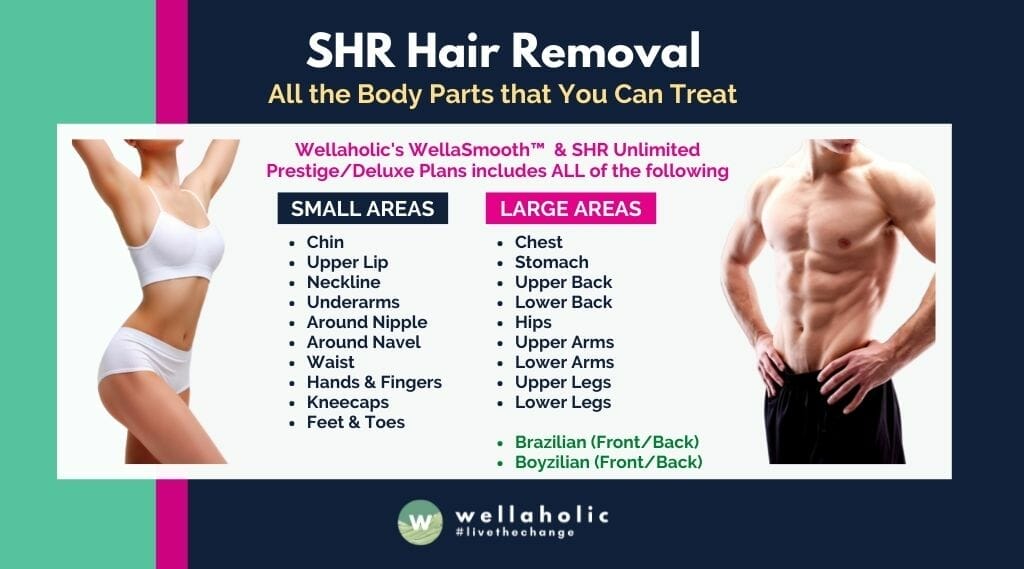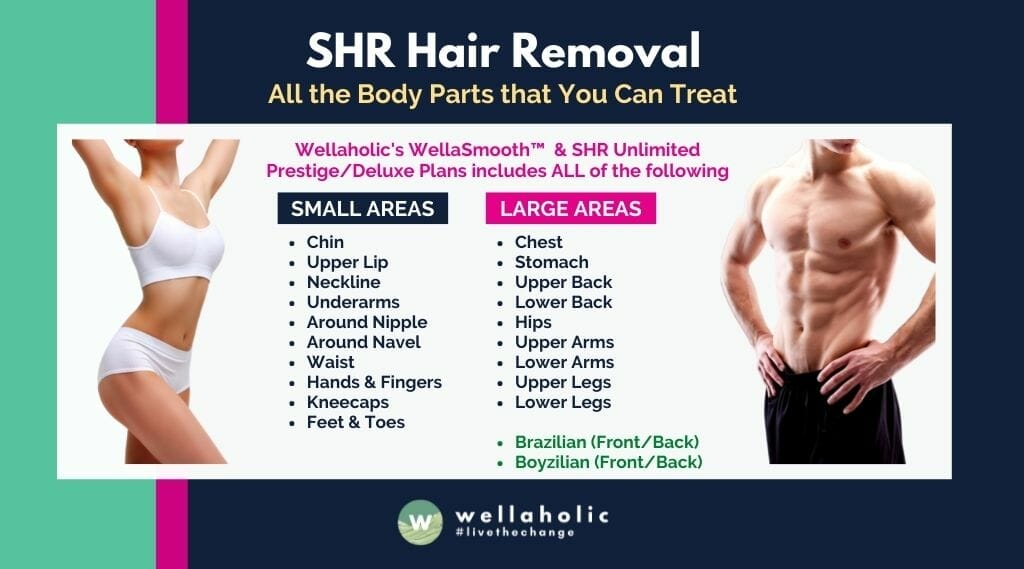 Reason 1: Wellaholic's Unlimited Plans Save You Money
✅ WellaSmooth 3X. Pay a small monthly subscription and choose 3 treatments from the WellaSmooth 3X family of services.
✅ Unlimited Hair Removal. Choose a SHR Prestige Unlimited or SHR Deluxe Unlimited to enjoy hair removal with unlimited shots.
✅ Pay One Price for All Body Parts. For hair removal, pay one price for unlimited hair removal on all body parts.
✅ Huge Cost Savings. Huge cost savings with monthly unlimited plans. No price shocks from hidden costs!
Reason 2: Wellaholic is a Trusted and Award-winning Aesthetic Chain with Over 2000 Positive Reviews.
✅ Over 50 Awards. Wellaholic's WellaSmooth and SHR Hair Removal have won over 50 awards from top beauty publications since 2018.
✅ Over 2000 Verified Customer Reviews. Wellaholic has over 2000 positive reviews from customers around the world. .
✅ Verifiable Reviews. Positive reviews indicate high customer satisfaction. (See reviews below).
✅ Over 50% Repeat Customers. More than 50% of Wellaholic's customers are repeat and recurring customers.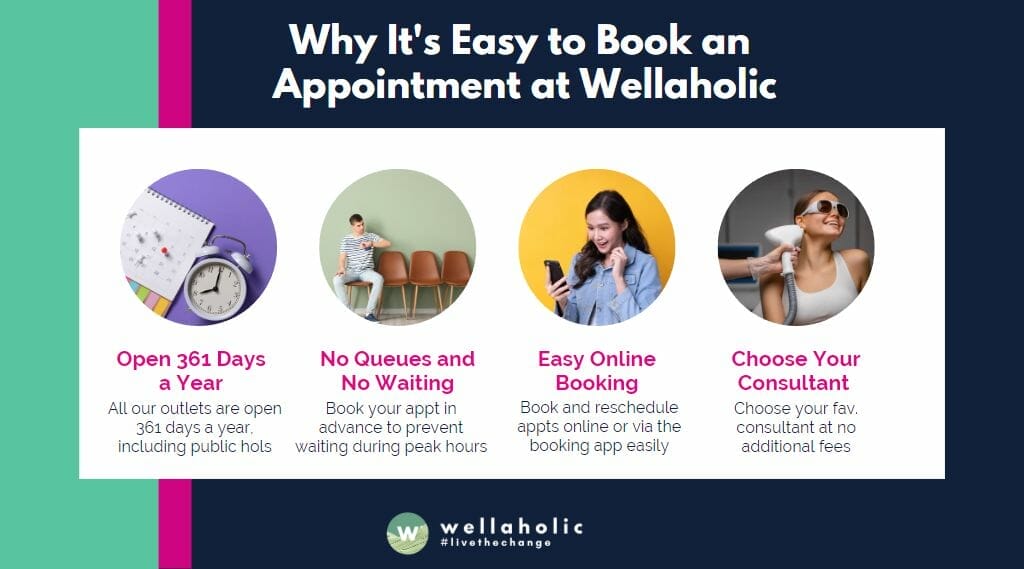 Reason 3: It's Easy to Book an Appointment at Wellaholic
✅ Open 361 Days Per Year. Wellaholic's 8 outlets are open 361 days a year, including public holidays for easy bookings.
✅ No Queues. Book appointments in advance to avoid long wait times.
✅ Easy Online Booking. Customers can conveniently book and reschedule appointments online or via the booking app.
✅ No Extra Cost for Choosing Consultant. Customers can choose their preferred consultant for free.