Why Gold RF Microneedling Is Taking Skincare Treatments by Storm
Introduction to the Gold Standard in Facial Treatments
This is the next gold standard in acne treatments and non-invasive cosmetic treatments. More and more salons are providing Gold Radiofrequency (RF) Microneedling treatments. But does it live up to its name? Gold RF Microneedling is a type of fractional RF microneedling that uses radiofrequency energy during microneedling. This procedure works by delivering radiofrequency waves to the skin, which releases an abundance of growth factors, signalling the skin to deposit new collagen fibres. Hence some call Gold RF Microneedling a collagen induction therapy.
What's Behind the Hype in RF Microneedling?
It's making the rounds because it effectively tightens your skin, shrinks pores, fights acne, and smoothes your skin's texture. When compared to traditional microneedling, the results from this effective treatment can offer even more improved skin texture and skin rejuvenation that seemingly reverses aging. Moreover, it can treat a wider variety of skin types.
How does it do that? Gold RF Microneedling uses ultra-thin, gold-plated microneedles for the treatment. As it delivers radiofrequency energy into the deeper layers of the skin, it heats up the tissues there. That boosts the production of collagen: the natural compound that keeps the skin thick, strong, and flexible.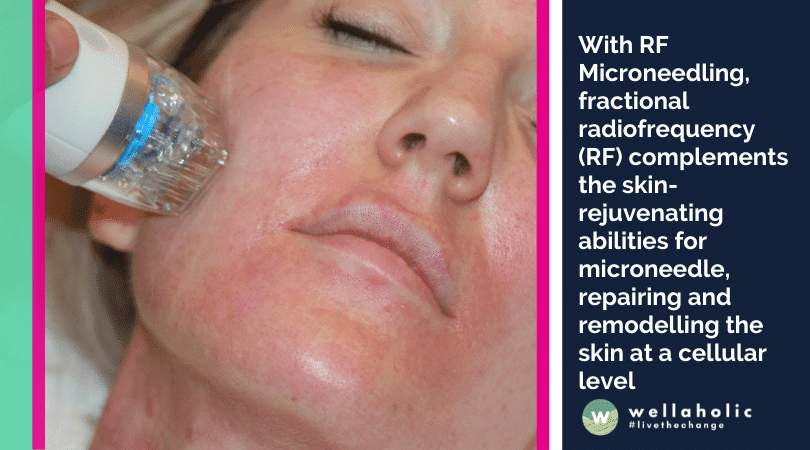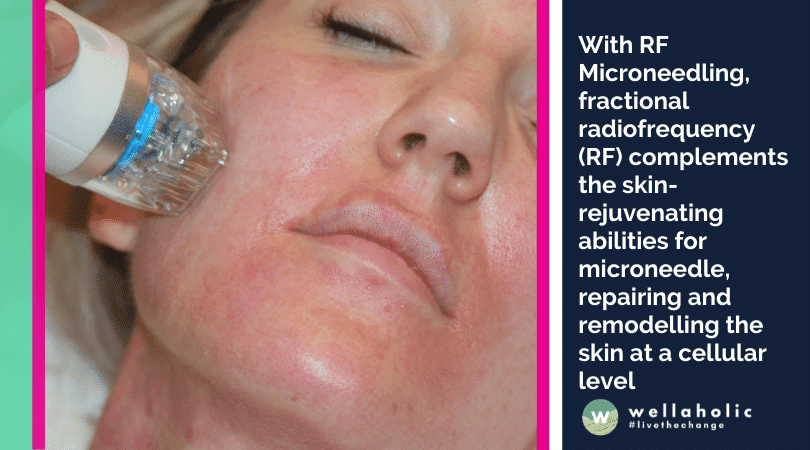 RF Microneedling is Safe, with Minimal Downtime
The microneedles used in Gold RF Microneedling are ultra-fine, where we can adjust the needle size between 0.5mm to 3.0mm. With that level of thinness, we can penetrate the skin without causing any bruising and bleeding. And since the needle penetration depth is system controlled, we can ensure a consistent effect across different facial and body parts.
The radiofrequency energy is system-controlled too. It can be set anywhere from 60 watts to 120 watts. The wattage used is based on the individual needs of the customer and the different skin concerns such as acne scars, wrinkles, pigmentation, and saggy skin.
That's how you can enjoy the results with minimal downtime. You only need around 5 days for most of the time. And you can even apply makeup a day after your Gold RF Microneedling session. The recovery time is faster because the radiofrequency energy is delivered directly into the dermal skin layer. The outer layer of the skin, the epidermal layer, is spared.
With that, Gold RF Microneedling proves to be a safer alternative for people with darker skin. Since the treatment bypasses the outer layer of the skin, there is a lower risk of side effects such as post-inflammatory hyperpigmentation for darker skin tones.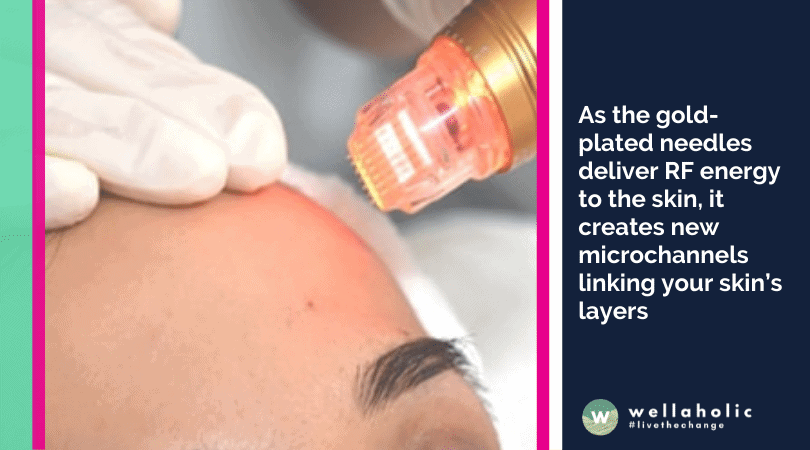 Enhance Your RF Microneedling Results with Serums
For even more flawless skin, you can combine Gold RF Microneedling treatments with 3 possible serums at Wellaholic: Hyaluronic Acid, Matrixyl, and Resveratrol. Since a Gold RF Microneedling treatment penetrates deeper into the skin, the three serums can work their magic there too. So you can look forward to a firmer, more youthful complexion after the treatment.
Here's what each serum can do for your skin after the Gold RF Microneedling treatments:
HYALURONIC ACID 2% + VITAMIN B5
This formula uses three forms of HA with varying molecular weights, as well as an HA Crosspolymer.
This offers full-depth hydration and visible plumping without drawing water out of the skin.
B5 further enhances surface hydration.
USAGE: HYDRATION AND PLUMPING
RESVERATROL 3% + FERULIC ACID 3%
This formula combines very high concentrations of two of the most powerful and important antioxidants in skincare: Resveratrol and Ferulic Acid.
Skincare formulations generally incorporate Resveratrol at 1% or less and Ferulic Acid at 0.5% or less.
This formula has an exceptionally high concentration of resveratrol.
MATRIXYL™ 10% + HYALURONIC ACID
Matrixyl™ is a trademarked peptide composition developed by Sederma Inc. in France.
This highly-effective composition has been shown to reduce the look of static and dynamic wrinkles.
This formula contains two generations of Matrixyl™, at a combined concentration of 10% by weight in a specialized Hyaluronic Acid delivery system.
USAGE: INTERNAL PLUMPING TO FILL UP SCARS AND WRINKLES
Gold RF Microneedling Facial by Wellaholic
Gold RF Microneedling is a revolutionary skin treatment that delivers dramatic anti-ageing results by combining fractional radiofrequency (RF) with microneedling to effectively treat acne, acne scar, pigmentation, stretch marks & enlarged pores. Gold RF Microneedling can also lift saggy skin and revitalise dull and uneven skin tone.
What is Gold RF Microneedling Facial Treatment?
If you are looking for an effective method to clear your acne scars, wrinkles or pigmentation, or if you are looking to tighten saggy skin such as jowl lines and nasolabial folds without any invasive surgery, then Gold RF Microneedling is the right treatment for you. Gold RF Microneedling combines two scientifically-proven techniques, microneedling and fractional radiofrequency (RF) to treat a variety of skin conditions.
Gold RF Microneedling uses up to 64 needles to penetrate the skin, releasing RF energy to trigger collagen and elastin production for the ultimate anti-ageing treatment for a clearer complexion and firmer skin.
Gold RF Microneedling is a safe, minimally invasive, and extremely effective aesthetic treatment for treating acne scars, pigmentation, fine lines and wrinkles.
Gold RF Microneedling has the ability to stimulate the growth of collagen and elastin using the combination of Microneedling with Radiofrequency, which is the key to new, youthful-looking skin.
Gold RF Microneedling has a dermatological treatment has seen extensive positive clinical results. This is an improvement over just doing a Microneedling or Radiofrequency treatment on its own.
Gold RF Microneedling combines radiofrequency with microneedling to stimulate tissue remodelling, thereby triggering the production of collagen.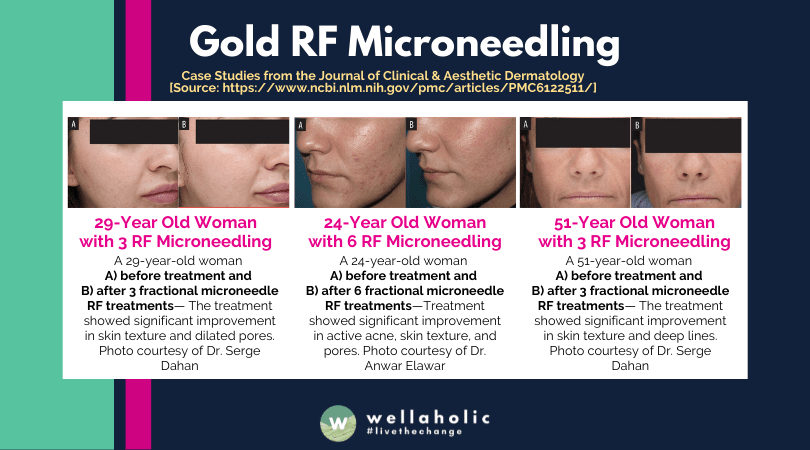 What are the Benefits of Gold RF Microneedling Facial?
Gold RF Microneedling has all the skin resurfacing benefits of traditional microneedling, but with the added technology of insulated needles that deliver RF energy to the skin, creating new microchannels linking your skin's layers.
Gold RF Microneedling create tiny wounds in your skin to prompt your body to replace old skin cells with healthy new ones, the RF energy heats deep layers of your dermis to encourage collagen growth and tissue tightening, leading to visibly healthier skin that continues to improve over the following months.
Gold RF Microneedling leads to faster cell turnover and quicker results than traditional microneedling.
Gold RF Microneedling has a shorter recovery time as compared to traditional microneedling, laser resurfacing treatments and chemical peels. There is also less risk of hyperpigmentation.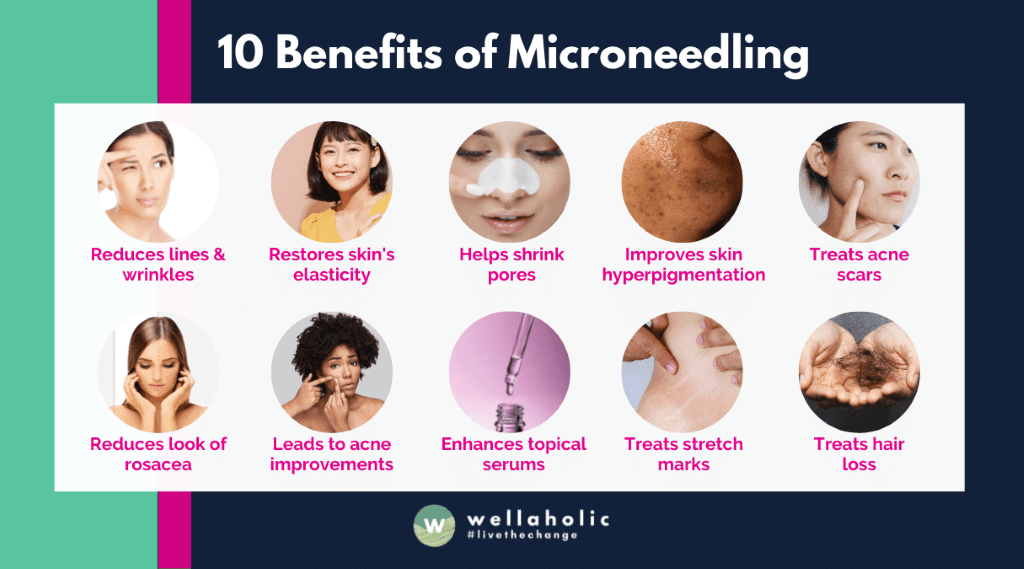 Pricing of Facial Treatments by Wellaholic
Wellaholic believes in providing pricing transparency, and hence all our prices are published and updated on its website. Choose from a single-session plan or choose a multi-session plan for greater discounts. Wellaholic's facial treatments are generally divided into the following categories: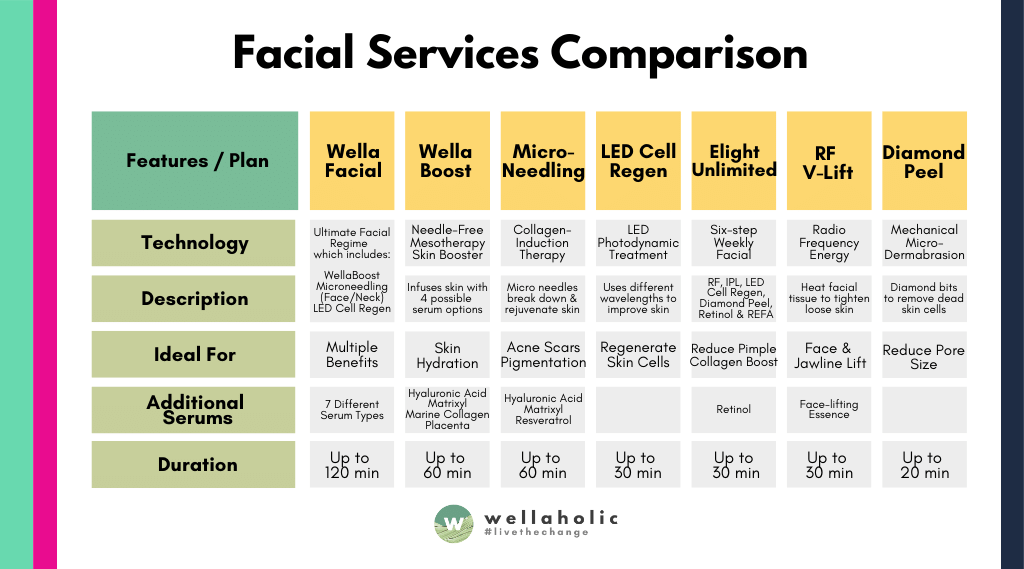 Please click on the menu below to see the pricing for the various facial treatments by Wellaholic. Wellaholic is well-known in the industry for our transparent pricing and no hard selling. In fact, Wellaholic is well-known for not only our transparent and cheap pricing but also without any hidden costs. All prices are nett and inclusive of GST, and are actual prices (i.e. not trial prices).
---
---