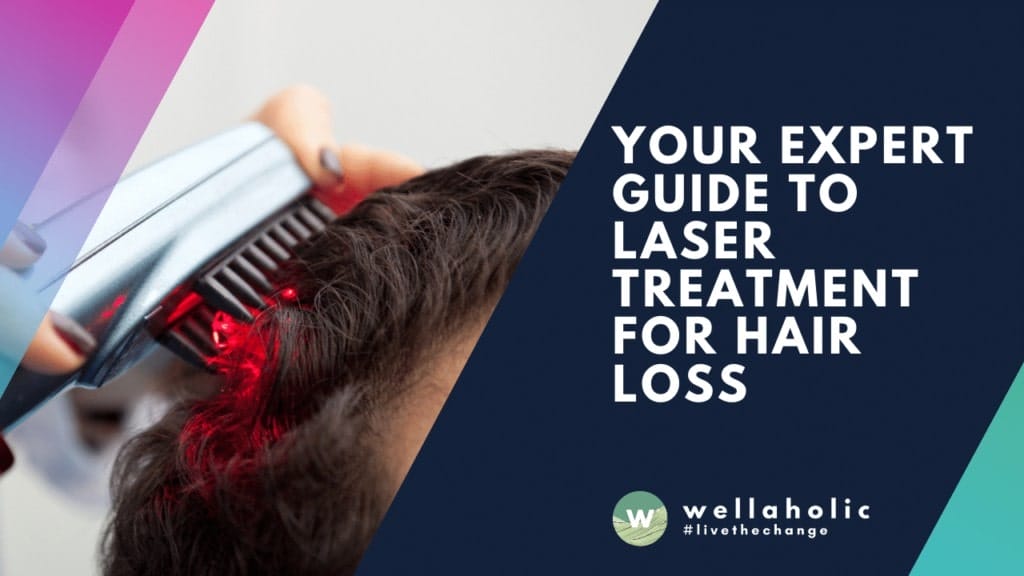 Your Expert Guide to Laser Treatment For Hair Loss
Introduction
According to a 2014 study, low-level laser treatment appeared to be effective as well as secure for hair development in both males and females. A 2013 research of 41 men ages 18 to 48 located that laser hair treatment gave a 39 percent rise in hair development over a duration of 16 weeks. In this extensive overview on laser therapy for loss of hair, Wellaholic investigates if laser treatment can minimise loss of hair as well as help with hair regrowth. With some therapies, you can slow down or quit hair thinning– and perhaps even grow back some hair you assumed was gone permanently.
How is laser hair therapy supposed to work?
The hair growth cycle consists of 3 phases: development (anagen phase), relaxing (telogen stage) and also dropping (catagen stage). Hair loss in androgenetic alopecia relies on a testosterone derivative in the skin, dihydrotestosterone (DHT). Reduced level laser therapy is believed to increase blood circulation in the scalp as well as boost metabolism in catagen or telogen follicles, causing the production of anagen hair.
​Theoretically: The photons of light act upon cytochrome C oxidase leading to the production of adenosine triphosphate (ATP). This is converted to cyclic AMP in the hair follicle cells, launching energy and also stimulating metabolic processes needed for hair development. Launch of nitric oxide from cells brings about boosted vascularisation to the scalp dispersing nutrients and oxygen to the hair origins. As a result, too much accumulation of DHT is protected against.
In a less complex instance, Low-level light treatment resembles sprinkling plants. In this example, our scalp is the plant, while the laser is the water. The scalp takes in power from the laser, which stimulates hair follicles as well as disperses blood supply and also nutrients while doing so. As a result, low-level light treatment promotes hair regrowth, similarly water helps a plant grow.
Is there clinical evidence to show the effectiveness of laser treatments for hair loss?
​Physicians have differing views on whether or not low level laser therapy works. While some doctors deny its use totally, others think that reduced level laser therapy can offer benefit for some males and females suffering from androgenic alopecia (genetic baldness). It has actually likewise been suggested that it might assist a hair transplantation client's postoperative wound healing procedure as well as speed up hair growth.
Results of a double-blind, sham device-controlled, randomised multi-centre test have actually shown that 110 man individuals with Norwood-Hamilton courses IIa-V androgenic alopecia, displayed a dramatically higher increase in mean incurable hair thickness compared with subjects in the sham gadget group after 26 weeks therapy with the laser light comb (p <0.0001).
Macro pictures of the scalp were captured of all of the subjects at the beginning and end of the test and also advanced hair counting software was made use of to identify the variety of normal-sized hairs that grew as a result of utilising either gadget.
Hair growth in subjects that used laser therapy increased by an average of 19 normal-size hairs per square centimetre, while it decreased by an average of 7 normal-size hairs per square centimetre in those using the placebo device.
How is low level laser hair therapy administered ?
​Laser hair therapy might be provided in a hair salon by experts trained in its management, or at home. Two to three times regular treatments are normally recommended, and include a 8 to 15-minute direct exposure of the scalp to light-emitting diodes under a hood or head cap or making use of a handheld comb or brush. Scalp treatment and massages that promote blood circulation may be used in addition as part of the program. Owners of low degree laser therapy services speak about the importance of regularity, that includes regular consultations (twice a week, more or less) over a long period of time (typically one year).
Are there any negative effects of laser treatment for hair loss?
​There are a number of reasons that some individuals are not as positive about the procedure, such as: To see results, treatment frequently calls for several sessions a week for a variety of months. The number of sessions could taper off, many carriers suggest that you continue treatments for the rest of your life.
Who are the best candidates for low level laser treatment for hair loss?
​Reduced degree laser therapy is meant for men and women with thinning hair or pattern baldness triggered by a hereditary condition. Physicians utilize a system known as the Norwood-Hamilton Classification (men) and the Ludwig-Savin Range (females) to explain the level of loss of hair. Low level laser treatment is meant for promo of hair growth in males that have Norwood Hamilton Classifications of IIa to V and in women that have Ludwig (Savin) I-4, II-1, II-2, or frontal patterns of hair loss and have Fitzpatrick skin phototypes I to IV.
Wellaholic's Low Level Laser Therapy (LLLT)
STUDIES HAVE SHOWN THAT LLLT STIMULATED HAIR GROWTH IN BOTH MEN AND WOMEN. THE 2014 STUDY SHOWED A 39% INCREASE IN HAIR GROWTH OVER A PERIOD OF 16 WEEKS.
WHAT IS LOW LEVEL LASER THERAPY OR LLLT?
Low Level Laser Therapy or LLLT is a modern non-surgical hair loss treatment that uses laser light to stimulate cell growth and supercharge hair follicles. It helps to combat hair loss and improve the volume and appearance of hair. The therapy is painless and has no known side effects.​
The LLLT helmet is FDA approved and been proven to have no side effects. Treatment with the LLLT helmet takes about 20 minutes per session.
Is Low Level Laser Therapy Backed by Science?
Clinical studies have shown that the lasers in the LLLT laser helmet stimulate the growth of new and healthy hair. The lasers also slow hair loss and can even stop hair loss, even with hereditary hair loss. In addition, the use of the helmet doubles the hair follicle size of existing hair, so the hair also thickens. Laser therapy with the LLLT helmet also helps to improve hair growth after a hair transplant or chemotherapy treatment. The recovery is better and faster. In addition, the quality of the hair is better than without an after-treatment.
Pricing of Hair Loss Treatments by Wellaholic
Wellaholic believes in providing pricing transparency, and hence all prices are published and updated on its website. Choose from a single-session plan or choose a multi-session plan for greater discounts. Wellaholic's hair loss treatments are generally divided into the following categories:
Please click on the menu below to see the pricing for the various hair loss treatments by Wellaholic. Prices are nett and inclusive of GST.
How Do I Choose the Right Hair Loss Treatment Plan for Me?
Depending on your hair regrowth needs you can choose the following plans:
Wellaholic is well-known in the industry for our transparent pricing and no hard selling.
In fact, we are probably the only aesthetic establishment in Singapore that publishes our prices openly.
All prices are nett and inclusive of GST, and are actual prices (i.e. not trial prices).
You can read our amazing reviews here.
HairGrow™ Unlimited (4 x Microneedling for Scalp + 4 x HairGrow Scalp Booster + 4 x LLLT per month)
---