7 Common Hair Removal Blunders You Should Avoid at All Costs
Avoid these rookie hair removal mistakes!
As much as you would not believe, hair removal can be rather tricky. Whether you are lasering your leg hairs away (whether IPL or SHR), enduring the agony of brazilian waxing or just tweezing or epilating like a total motherplucker at home, there can be a lot of things that might go wrong. Do yourself a favour and avoid these rookie hair removal mistakes!
Blunder 1: Suntanning before or after laser hair removal or waxing
You should always avoid getting a suntan at least 24 hours before and after your hair removal treatment (or waxing, for that matter). Sun exposure will likely make your skin too sensitive and thick for proper hair removal. Laser hair removal treatment can also cause skin inflammation, so getting too much sun before or after treatment can lead to not only bad burns but also hyperpigmentation (i.e. the darkening of the skin).
Blunder 2: Sharing a razor or shaver
​If you have a habit of borrowing your boyfriend's razor or shaver that you think hardly anything of it, bad bad girl! Sharing a razor or shaver, or using a dirty one can actually cause folliculitis — also known as the infection of the hair follicles. Folliculitis is a common skin condition in which hair follicles become inflamed. It's usually caused by a bacterial or fungal infection. At first it may look like small red bumps or white-headed pimples around hair follicles — the tiny pockets from which each hair grows. In the worse case scenario, it might also spread warts, jock itch, or even herpes! You are warned!
Blunder 3: Dry Shaving
Dry shaving is shaving without any water or shaving cream. While dry shaving is pretty convenient, it can also cause skin irritation and increase your risk of cuts and nicks. If you need to shave, try to do it in or after the shower, when the skin and hairs are soft and hydrated. Otherwise, try using shaving gel or foam which helps the blades glide easily on the skin.
Blunder 4: Getting hair removal done the week before your period
Always try to avoid any hair removal treatments (whether IPL, SHR or even waxing) a week before your menstrual cycle. During this week, females tend to be more sensitive. So ripping, pulling or zapping can feel much worse. In addition, your hair follicles has a likelihood to swell more and your skin might skin redder for a longer time. Avoid this period!
PS: However, if you really need to do your hair removal treatment during your period, please check-in with our consultants. This is so that they will be able to adjust the settings in order to align with your change in pain tolerance and increased sensitivity during this period.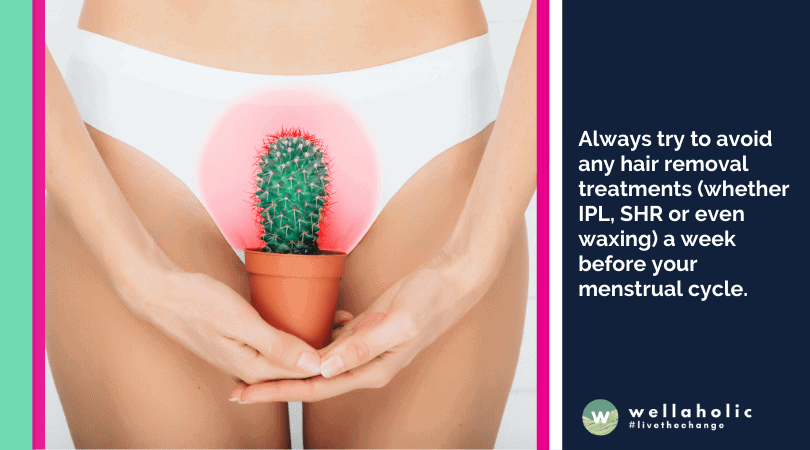 Blunder 5: Using a dirty (or old) razor or shaver
This is one area where consistency is not good! If you have been using the same razor or shaver for the longest time, it is seriously time to toss it out for a brand new one. Bacteria collects on the razor blades, and with humidity and moisture in the bathroom, the likelihood increases dramatically. Alternatively, you can also soak it in rubbing alcohol for a couple of minutes before shaving to kill the bacteria. 
Blunder 6: Overplucking Your Eyebrows
While most of us do pluck our eyebrows to keep them near and tidy, and to achieve a more defined look, do be careful of over plucking your eyebrows. Over-tweezing can make your eyes look too close together, and it might also end up damaging your hair follicles which will results in hairs not growing back permanently.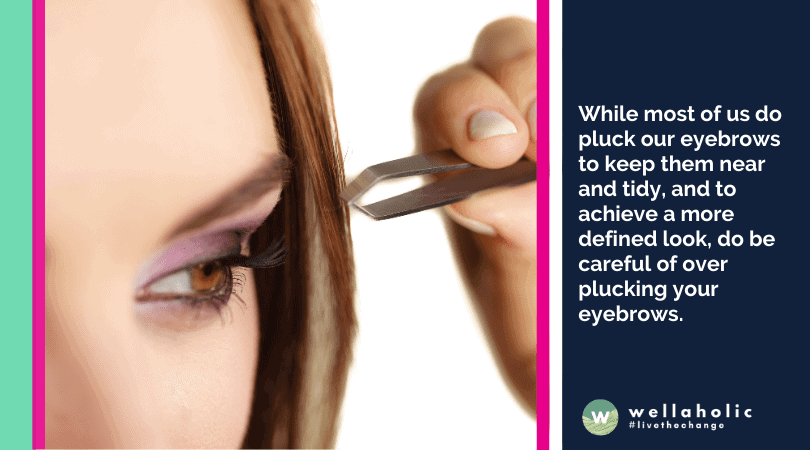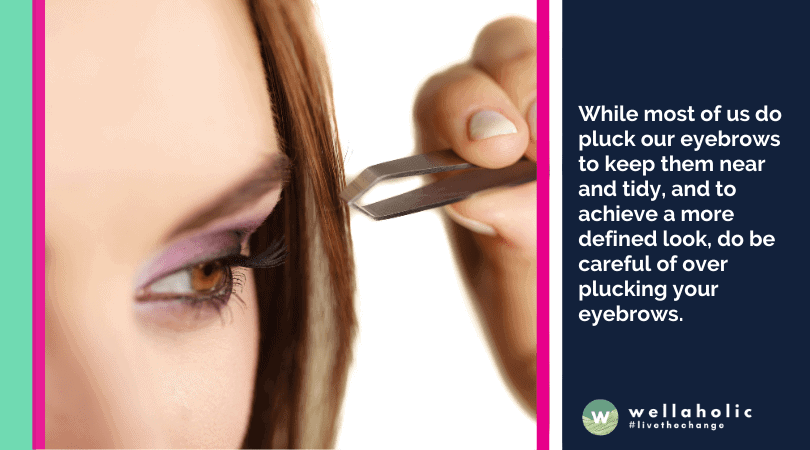 Blunder 7: Putting on Fragranced Moisturiser after Shaving
When acids or fragrances get into the skin that has just been exfoliated by a razor or shaver, it will burn and cause a reaction. This might also potentially set off an allergic reaction. Hence, on the safe side, avoid not only fragranced moisturiser but also any perfume or cologne. Notwithstanding, a hydrating moisturiser that is scent-free is highly recommended as it will not help help hydrate and soothe the treated area, but help to reduce any bumps or inflammation caused by both the shaving and the hair removal process.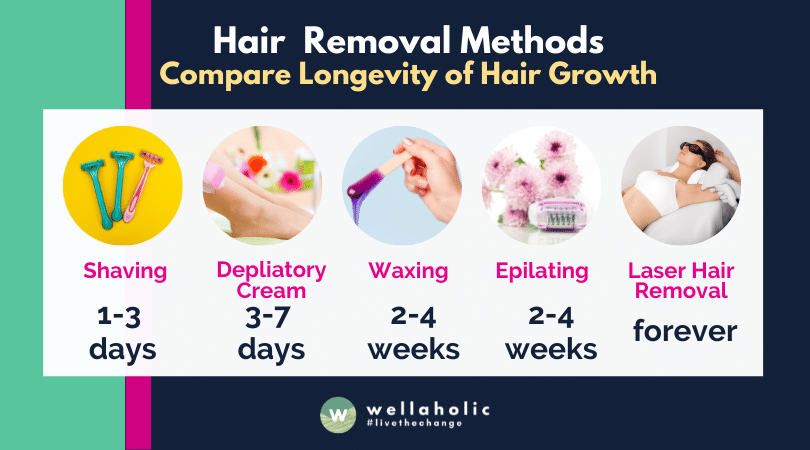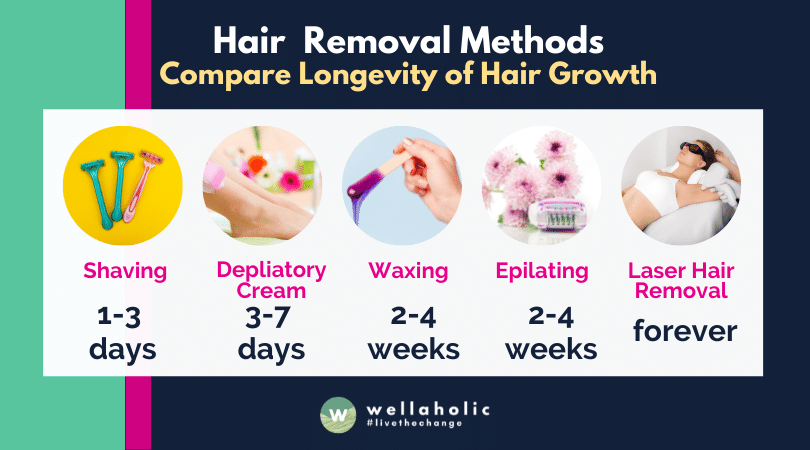 Need Professional Help with Your Hair Removal?
Need help with hair removal in Singapore? Whether it's IPL hair removal, SHR hair removal, laser hair removal or hair removal for underarms, hair removal on arms, brazilian hair removal or hair removal for face or any parts of the body, Wellaholic has the right team of experts to assist you with your hair removal needs. We have both male and female consultants at all our many Wellaholic outlets on a daily basis for hair removal for men and women.
What is WellaSmooth All-inclusive Hair Removal?
WellaSmooth™ All-Inclusive Hair Removal is designed for an all-inclusive fuss-free full-body permanent hair removal experience with a 5-star rating. WellaSmooth™ All-Inclusive Hair Removal includes all-that-you-require shaving service, followed by SHR Unlimited Prestige hair removal which includes unlimited SHR shots for the entire body (including Brazilian/Boyzilian). Also included is our Skin Whitening / Hydrating post-treatment therapy (PTT) followed by our AfterGlow Red Light therapy.
Does WellaSmooth Hair Removal Cover All Body Parts?
With WellaSmooth™ All-inclusive Hair Removal, you can have hair removal for all body parts including brazilian/boyzilian. This includes both the front and back (crack) areas. What's more, full body shaving is included. Pay one price and put your mind at ease while our consultants work their magic for permanent hair reduction. Our SHR laser technology by Alma Lasers is suitable for skin tones and hair types.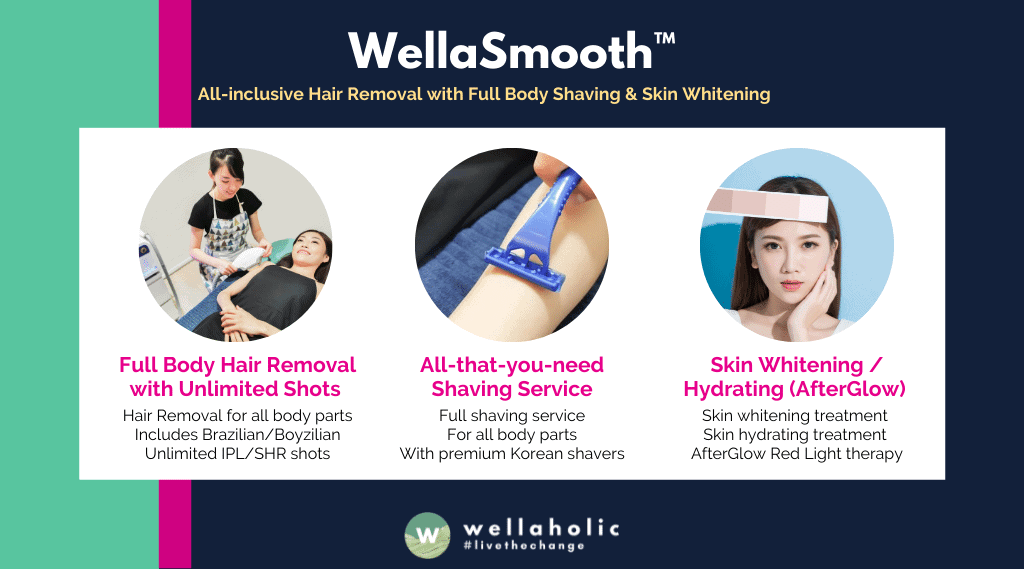 What Does WellaSmooth Hair Removal Include?
SHR Permanent Hair Removal PRESTIGE Unlimited – Enjoy our bestseller SHR hair reduction treatment for all body parts
Unlimited Shaving Service – Enjoy unlimited shaving service on all body parts
Skin Whitening/Hydrating (PTT) with AfterGlow – Enjoy post-treatment whitening or hydrating therapy followed by AfterGlow red-light treatment to rejuvenate your skin
Is WellaSmooth Hair Removal Backed by Science?
Wellaholic SHR laser hair removal is developed by Alma Lasers.
SHR's unique gradual heating method effectively damages the hair follicles while avoiding injury to the surrounding skin.
The sweeping In-motionTM delivery technique keeps the laser in constant motion ensuring full coverage of the treated area.
The improved coverage helps practitioners avoid unwanted results such as "Zebra stripes" associated with older, stationary methods. 
Many clinical studies have been done to ascertain the effectiveness of SHR.
SHR laser hair removal is more advanced than IPL hair removal or even electrolysis.
SHR has proven to be very effective in the treatment of all hair types, skin types, skin textures and body parts based on the Fitzpatrick's skin type.
Nevertheless, it is important for the operator of the SHR equipment to understand the science behind the treatment in order to effectively administer the treatment.
Wellaholic's staff are regularly trained on the SHR treatment procedure.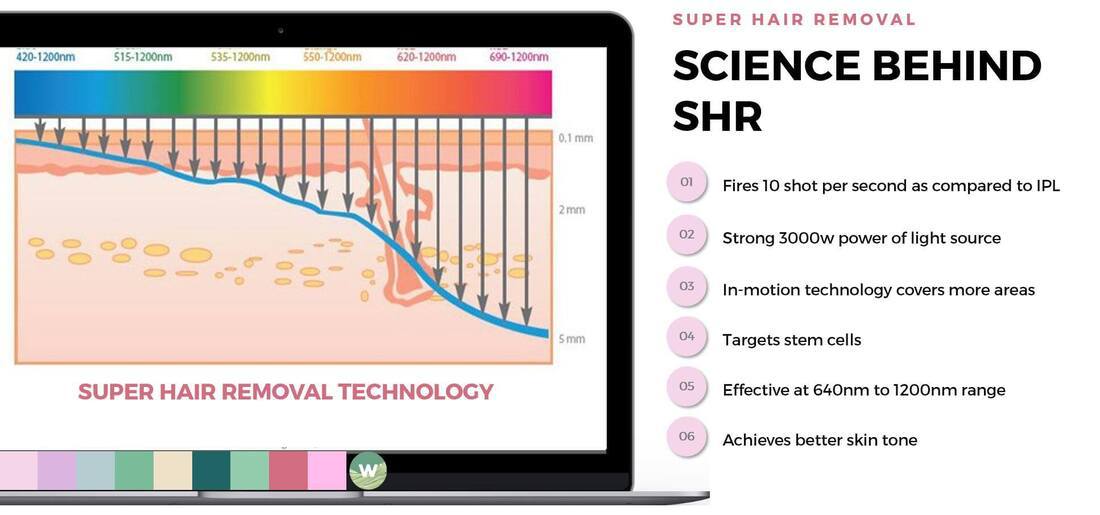 ---