7 Daily Habits that Can Make You Look Younger
Introduction
Forget ageing gracefully – instead, here's how to age youthfully! Keep a healthy glow, look radiant and exude sunshine positivity and confidence with our tips to look fabulous, no matter how young or old you are!
1. Smile, Wide!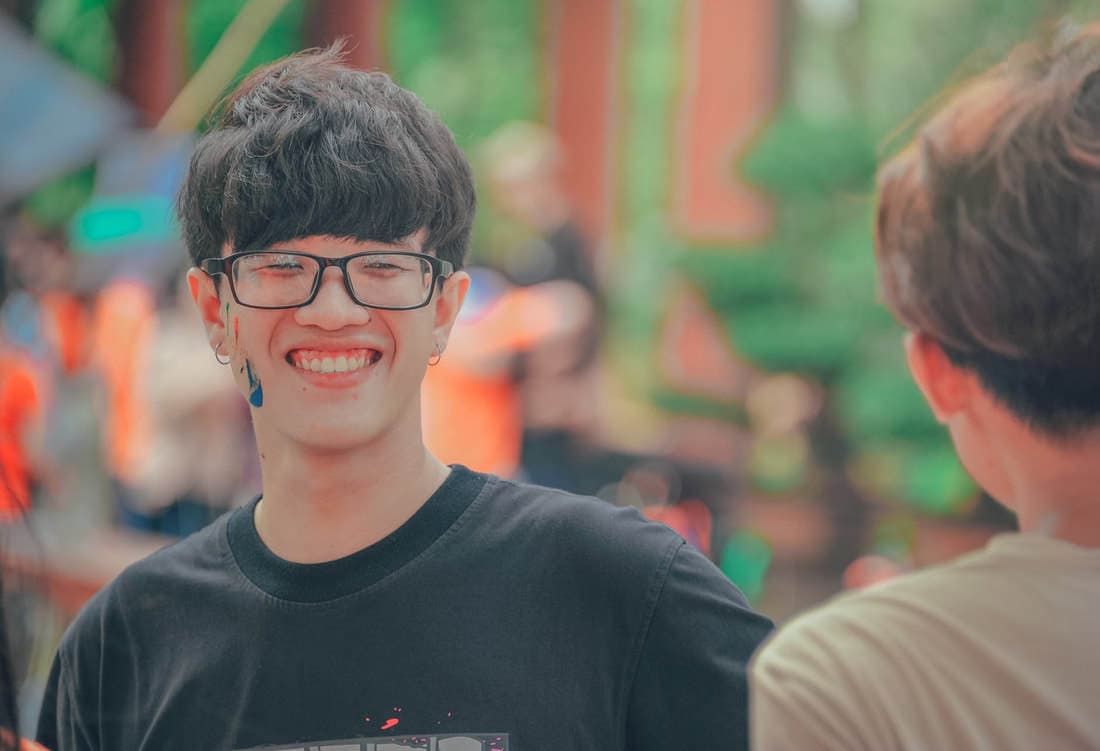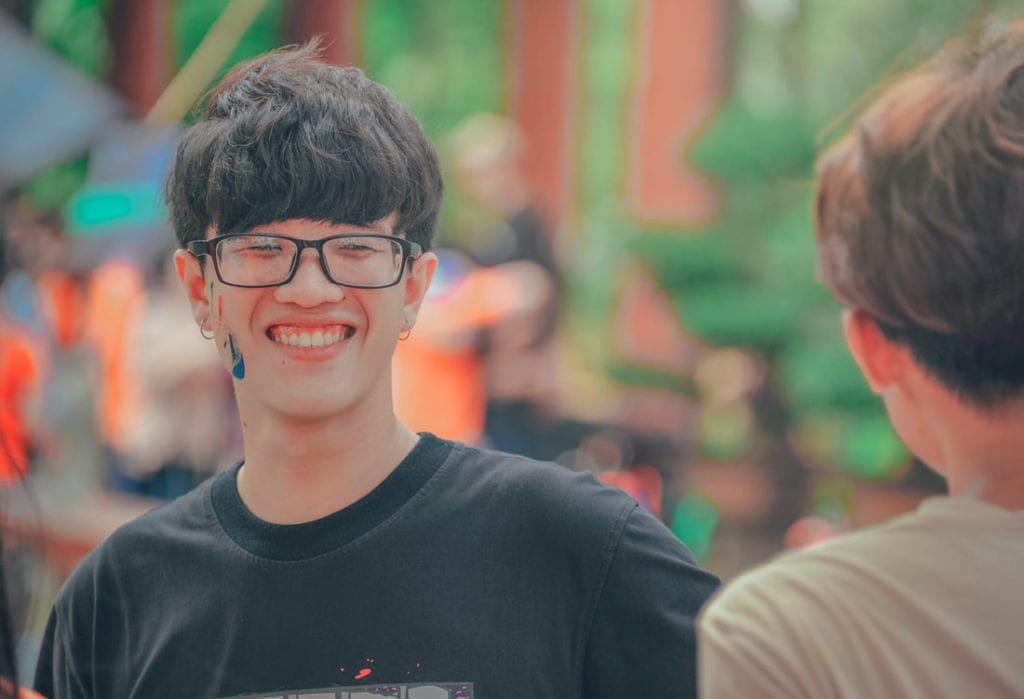 Young, middle-aged, and older individuals studied thousands of photographs and were asked to guess the age of models with various facial expressions. Neutral expressions yielded the most accurate results, and fearful expressions made subjects look older; happy faces were rated as younger than they really were. In short, a smile makes you younger than what you really are!
2. Frame Your Face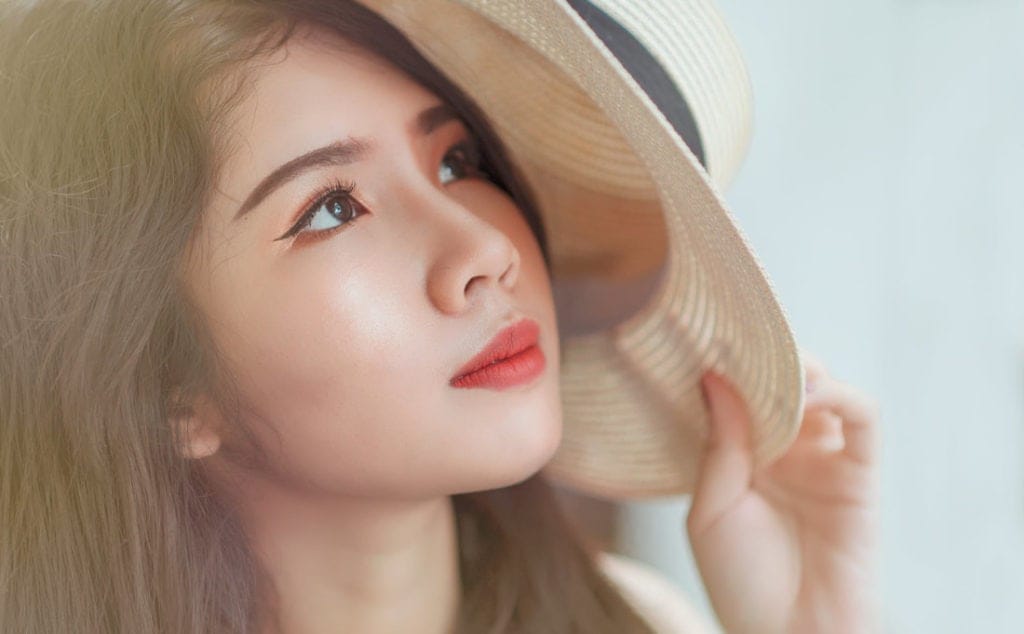 Keeping your eyebrows well-groomed and shaped helps provide a frame for your face and draws attention to your eyes. You don't just need to shape your eyebrows, you need to groom them, too. "Brushing through your brows with a spooly brush helps keeps hairs in place, exfoliates the skin under your brows and increases blood flow," Gafni says. "This not only helps your brows look their best, it encourages hair turnover and growth."​
3. Cleanse and moisturise regularly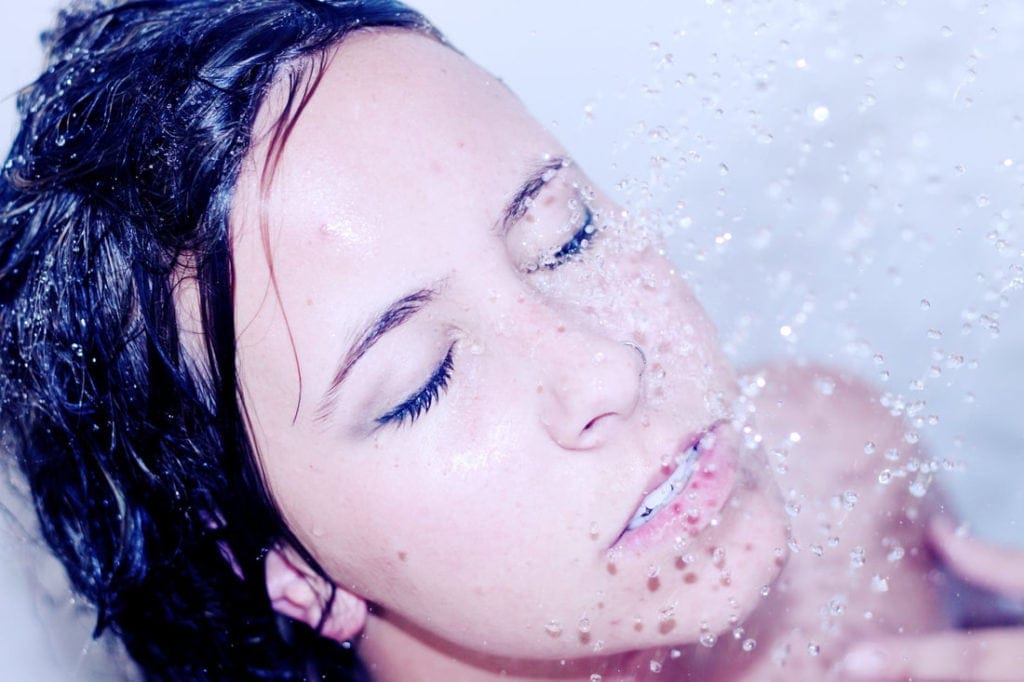 Cleansing and moisturising helps protect skin and keep it healthy; but banish regular soap, which can be drying for older skin. Instead, use a cleanser that gently washes without stripping skin of its natural moisture. Avoid skin toners, especially those with a stringent or alcohol base, or use a non-alcohol version like our Tightening Toner, which contains the acclaimed azeloglicina, a whitening agent. Follow with a good moisturiser, morning and night.
4. Follow a Consistent Facial Regime
The advances in technology means that you are able to harness proven technologies such as Radio Frequency and Red Light facials to boost your facial and neck collagen to tighten your skin and remove pigmentation and lines at an affordable price. Just like going to the gym, a consistent disciplined approach will mean that you are able to not only slow down the ageing process, but also potentially look younger. Wellaholic's Elight Facial Collagen Boost has monthly unlimited packages that will do just that without breaking the bank!
5. Load up on antioxidants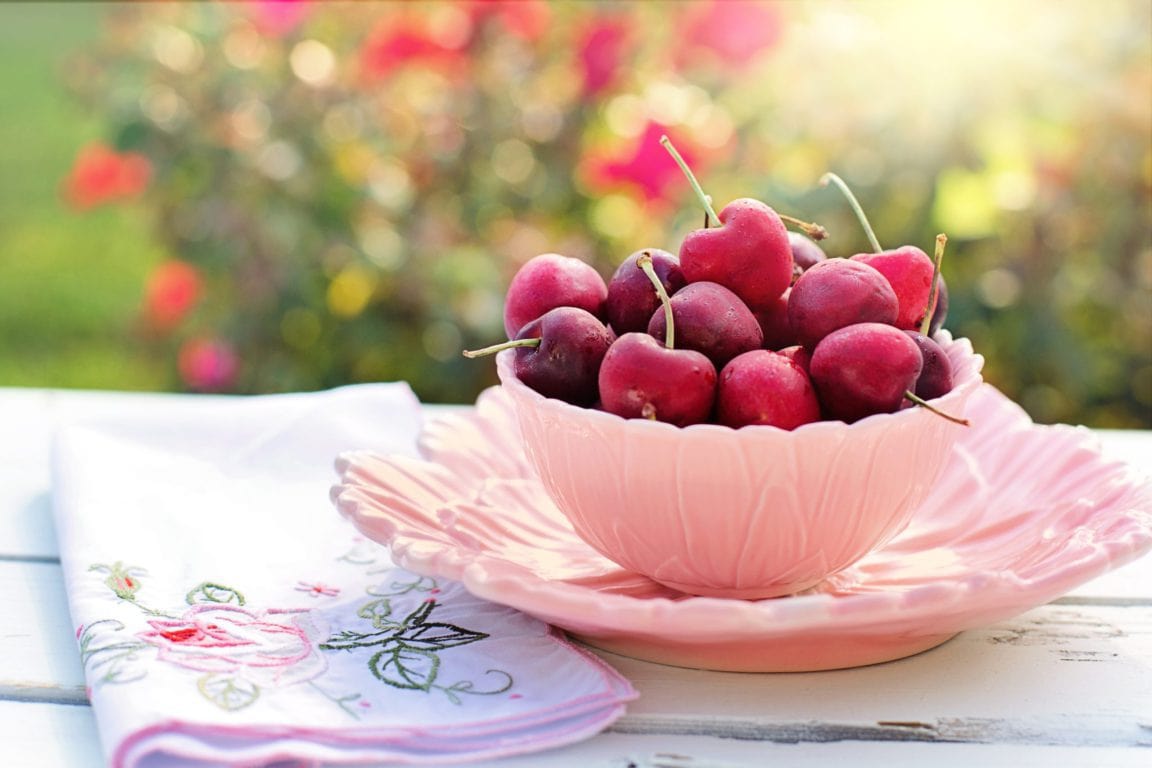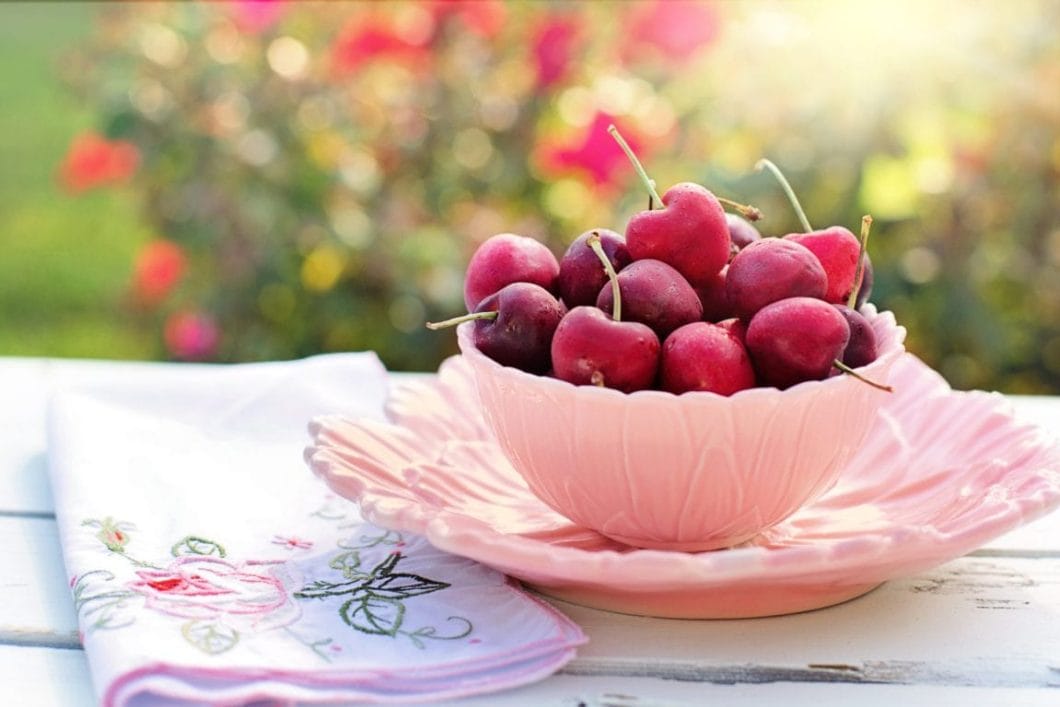 Antioxidants like vitamins A and C and the newest "it" fountain of youth antioxidant fight against free radicals, helping you maintain a younger appearance. "When free radicals from diet or the environment threaten to damage skin cells, antioxidants fight against these compounds and protect skin cells," Palinski-Wade says. "Diets rich in antioxidants may help to fight against damage from the sun and the environment, and protect against inflammation which accelerates aging." Eat oranges, strawberries, blueberries, bell peppers, and spinach to reap these benefits. Alternatively, try our Life's Promise Multivitamins for a boost of vitamins and minerals, or our Harvard Medical School-researched Resveratrol High Absorption, which is a powerful antioxidant with anti-ageing properties.
6. Cut down on sugar and salt
A healthy, youthful body needs healthy nutrients—and to avoid unhealthy ones. "Added sugars and excessive salt intake can increase inflammation in the body, which can accelerate the ageing process," Palinski-Wade says. "Inflammation produces enzymes that break down collagen in the skin. The end result is accelerated wrinkling and sagging of the skin, leading to an aged appearance." One study found people with a high blood sugar level were perceived to be older; another found salt increased cell ageing in overweight people.
Sugar damages your skin through a natural process called glycation. The sugar in your bloodstream attaches to proteins to produce harmful free radicals called advanced glycation end products (AGEs). As AGEs accumulate (the more sugar you eat, the more you develop), they damage the proteins around them.
7. ​Treat ageing skin
"Age spots" are really sun-damaged skin. "The key to removing age spots is to exfoliate skin to remove the darkened areas," Dr. Patel says. Lightening serums may work, and professional chemical peels or laser removal are options, too. "People concerned about age-related spots should consult with their board-certified dermatologist on the best treatment for their case," Dr. Patel says. Wellaholic's Retinol Serum contains Retinyl Palmitate – which helps to accelerate the exfoliation of the skin dermis and hence works in tandem with the Elight Facial to renew and regenerate the skin quickly.
---
WellaFacial™ by Wellaholic
WellaFacial™ is Wellaholic's signature facial regime, designed for customers who want an extensive all-inclusive facial regime which includes the latest technologies to promote cellular renewal and anti-ageing. WellaFacial™ provides additional free treatments to help our customer look their best at an affordable per-session pricing.
Unlike typical facials which involves steaming the face, and manual extraction of blackheads, etc., Wellaholic advocates the use of technology and scientifically proven methods to help our customers with their anti-ageing regime. The result– visible differences over the course of a three-to-six month period.
What is WellaFacial™?
Incorporates Best-of-Breed technology facials at affordable pricing
Designed for customers who want a regular facial regime which includes the latest technologies to promote cellular renewal and anti-ageing.
WellaFacial™ provides additional free treatments to help our customer look their best at an affordable per-session pricing.
Pay for WellaBoost™ (4 Serums) needle-free skin booster and Microneedling (Face) to get free additional Microneedling (Neck) and LED Cell Regeneration treatments as part of our special WellaFacial™ plan. 
What are the Benefits of WellaFacial™?
​WellaFacial™ allows you to choose the combination of treatments that works best for your skin concerns:
Microneedling: Effective in resurfacing skin and treatment acne scars, pigmentation and stretch marks.
WellaBoost™: Needle-less skin booster with two different technologies to help increase skin hydration, collagen production as well as skin regeneration.​
LED Cell Regeneration: Uses different wavelengths to target the skin for various beneficial effects such as improving skin elasticity, boosting collagen production, minimising blemishes and pimples as well as soothing aggravated skin and even reduce scarring.
Pricing of Facial Treatments by Wellaholic
Wellaholic believes in providing pricing transparency, and hence all our prices are published and updated on its website. Choose from a single-session plan or choose a multi-session plan for greater discounts. Wellaholic's facial treatments are generally divided into the following categories: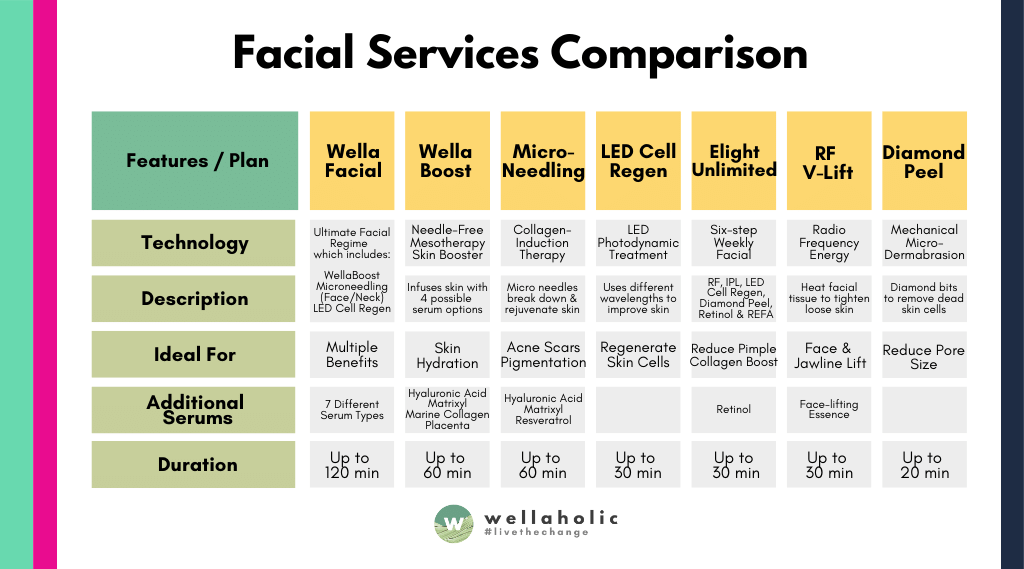 Please click on the menu below to see the pricing for the various facial treatments by Wellaholic. Wellaholic is well-known in the industry for our transparent pricing and no hard selling. In fact, Wellaholic is well-known for not only our transparent and cheap pricing but also without any hidden costs. All prices are nett and inclusive of GST, and are actual prices (i.e. not trial prices).
---
---