Acne Scar Treatment for Asian Skin – What Are the Best Options?
Introduction: Acne Scar Treatment for Asian Skin
Acne scar treatment is an important, but often overlooked, part of skincare for Asian skin. While there are many products and treatments available for acne scars, not all of them are effective for Asian skin. In this article, we will discuss some of the best acne scar treatments for Asian skin.
---
What are acne scars?
Acne scars are a common skin condition that can occur after someone has had a pimple or zit. There are two types of acne scars: hypertrophic and atrophic. Hypertrophic scars are raised and red, while atrophic scars are sunken and can be either white or pink.
Acne scars form when the body produces too much collagen in response to an injury, such as a pimple. The excess collagen fills in the injury, but creates a raised, bumpy scar. Atrophic scars form when there is not enough collagen produced. This can happen when the body doesn't heal properly from an injury or if the skin is not able to stretch as it should. There are several treatments for acne scars, including laser therapy, dermabrasion, and microneedling.
Types of acne scars
There are four types of acne scars: hypertrophic, atrophic, pigmented, and keloid scars.
Hypertrophic scars are raised and thickened, but they remain within the boundaries of the original acne lesion. Atrophic scars are sunken in and thinned out. They can be either small or large. Pigmented scars are dark spots on the skin that can be either flat or raised. Keloid scars are raised above the surrounding skin and can spread beyond the boundaries of the original acne lesion.
Treatment for acne scars
Acne scars are markings that are left behind on the skin after an acne breakout. There are many different types of acne scars, and not all of them can be treated with the same method. Some common treatments for acne scars include chemical peels, laser resurfacing, and dermal fillers.
Chemical peels involve applying a chemical solution to the skin in order to remove the top layer of skin. This can help to improve the appearance of shallow scars. Laser resurfacing is a more aggressive treatment that uses a laser to remove the top layer of skin. This can be effective for deeper scars. Dermal fillers are injected into the skin in order to fill in depressions in the skin. This is often used for rolling scars.
Acne scar treatment should be tailored to each individual based on their specific type of scarring.
Microneedling is effective in treating acne scars
As more and more people are looking for ways to get rid of their acne scars, microneedling is becoming a popular option. This treatment involves using a device with fine needles to create tiny punctures in the skin. This triggers the body's natural healing process, which can lead to the production of new collagen and help improve the appearance of scars.
Microneedling is generally safe and side effects are rare. However, it's important to make sure that the needles are sterile and that you're not allergic to any of the materials used in the device. Overall, Microneedling is an effective way to treat acne scars. It's affordable, minimally invasive, and has few side effects.
Gold RF Microneedling Facial by Wellaholic
Gold RF Microneedling is a revolutionary skin treatment that delivers dramatic anti-ageing results by combining fractional radiofrequency (RF) with microneedling to effectively treat acne, acne scar, pigmentation, stretch marks & enlarged pores. Gold RF Microneedling can also lift saggy skin and revitalise dull and uneven skin tone.
What is Gold RF Microneedling Facial Treatment?
If you are looking for an effective method to clear your acne scars, wrinkles or pigmentation, or if you are looking to tighten saggy skin such as jowl lines and nasolabial folds without any invasive surgery, then Gold RF Microneedling is the right treatment for you. Gold RF Microneedling combines two scientifically-proven techniques, microneedling and fractional radiofrequency (RF) to treat a variety of skin conditions.
Gold RF Microneedling uses up to 64 needles to penetrate the skin, releasing RF energy to trigger collagen and elastin production for the ultimate anti-ageing treatment for a clearer complexion and firmer skin.
Gold RF Microneedling is a safe, minimally invasive, and extremely effective aesthetic treatment for treating acne scars, pigmentation, fine lines and wrinkles.
Gold RF Microneedling has the ability to stimulate the growth of collagen and elastin using the combination of Microneedling with Radiofrequency, which is the key to new, youthful-looking skin.
Gold RF Microneedling has a dermatological treatment has seen extensive positive clinical results. This is an improvement over just doing a Microneedling or Radiofrequency treatment on its own.
Gold RF Microneedling combines radiofrequency with microneedling to stimulate tissue remodelling, thereby triggering the production of collagen.
What are the Benefits of Gold RF Microneedling Facial?
Gold RF Microneedling has all the skin resurfacing benefits of traditional microneedling, but with the added technology of insulated needles that deliver RF energy to the skin, creating new microchannels linking your skin's layers.
Gold RF Microneedling create tiny wounds in your skin to prompt your body to replace old skin cells with healthy new ones, the RF energy heats deep layers of your dermis to encourage collagen growth and tissue tightening, leading to visibly healthier skin that continues to improve over the following months.
Gold RF Microneedling leads to faster cell turnover and quicker results than traditional microneedling.
Gold RF Microneedling has a shorter recovery time as compared to traditional microneedling, laser resurfacing treatments and chemical peels. There is also less risk of hyperpigmentation.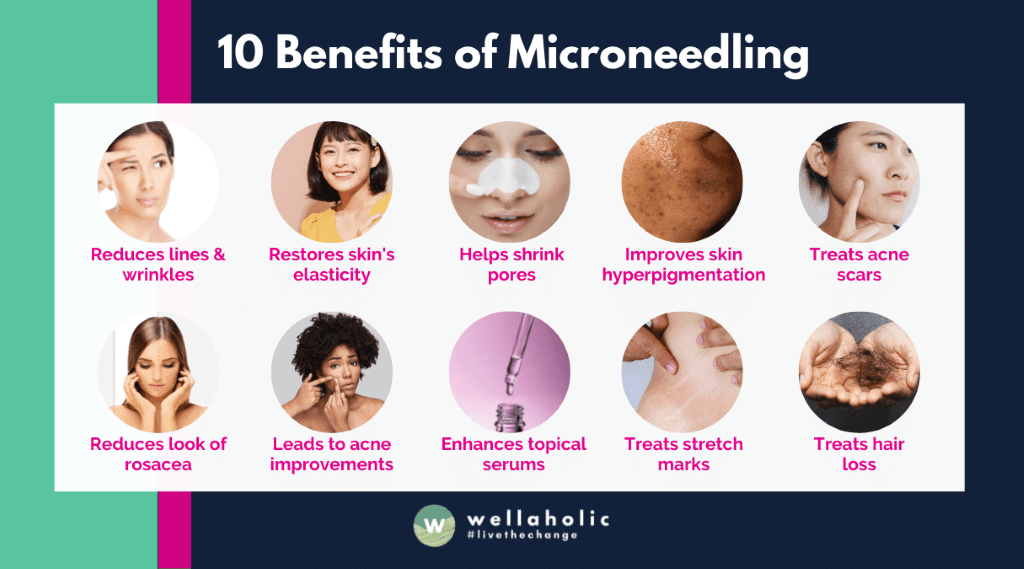 See Over 1800 Positive Reviews of Wellaholic (Customer Verifiable)
Pricing of Facial Treatments by Wellaholic
Wellaholic believes in providing pricing transparency, and hence all our prices are published and updated on its website. Choose from a single-session plan or choose a multi-session plan for greater discounts. Wellaholic's facial treatments are generally divided into the following categories: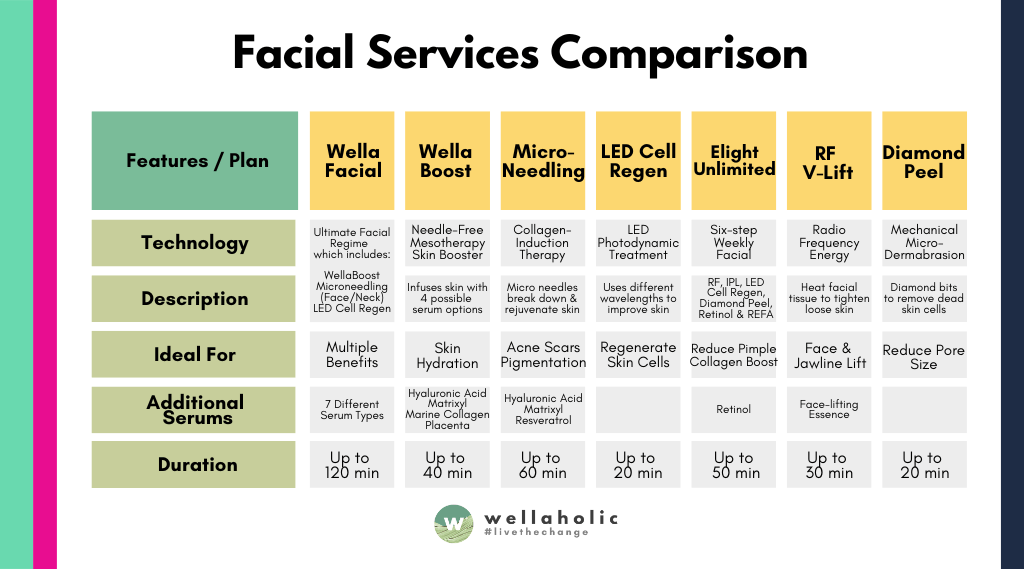 Please click on the menu below to see the pricing for the various facial treatments by Wellaholic. Wellaholic is well-known in the industry for our transparent pricing and no hard selling. In fact, Wellaholic is well-known for not only our transparent and cheap pricing but also without any hidden costs. All prices are nett and inclusive of GST, and are actual prices (i.e. not trial prices).
---
---