Does Hair Removal work on the Pubic or Private Area?
Introduction to Why People Does Hair Removal
According to Wikipedia, it is estimated that about 1/4 groomers have had at least one lifetime injury due to pubic hair grooming. Yet, the grooming of the pubic hair area is a key priority for women. For instance, in the 2013 survey by Healthline.com, 31.5 percent of women who reported grooming their pubic hair did so because they believed it would allow smooth skin at the pubic area and make their genitals more attractive. Also, around 21.1 percent of women reported that their pubic grooming was related to partner preference. Many women prefer pubic hair removal for their private regions and have made it a part of their routine for more than one reason. Most women are uncomfortable with unwanted hair growth, and with hair in their pubic area. It restricts them from wearing swimsuits. Also, things can get messy during the menstrual cycle, which is why they prefer to opt for a vaginal hair removal cream or waxing the vagina.
Of course, no one is obligated to remove their pubic hair (or any other body hair), but if it's part of your normal routine that makes you feel great, we're not going to tell you to stop. In this article, we are going to share on how to remove pubic hair, and also tackle the key question: does hair removal work on the pubic region or private area?
Hair Removal via Waxing
When waxing, you not only remove unwanted hair —you also wax away any dry and dead skin cells in the process, whether it is the entire bikini area or brazilian area. No cuts. With waxing, you aren't at risk to any cuts or nicks that can leave you with scars from shaving. Stubble free skin – Waxing removes unwanted hair completely, from its roots.
Waxing can be painful depending on who you ask and their pain tolerance. Because the hair is removed at the root, some people say waxing is more painful than shaving. The hot wax can also burn your skin if you're not careful. Waxing can cause inflamed hair follicles, ingrown hairs, pain, redness, ingrown hairs and skin irritation. Always remember to apply additional lotions such as aloe vera to hydrate the areas after bikini wax.
Hair Removal Using Laser Hair Removal (or IPL, SHR and similar technologies)
​Hair removal works on all areas of the body that has unwanted hair including the face, chest, abdomen, pubic area, (bikini and Brazillian areas), as well as legs, arms, hands and feet.
Laser hair removal is another longer-term hair removal option. Like electrolysis, this treatment targets the hair follicle. It works by damaging the follicle with high-heat lasers to stop new hair from growing.
Since hair follicles grow and regrow in a cyclical fashion, following the hair growth cycle, all hair removal technologies require multiple sessions to ensure maximum effectiveness. Typically, patients will need to have 8 to 12 hair removal treatments to achieve their goals. Notwithstanding, depending on the hair texture and colour and the patient's skin type several more session at times may be required.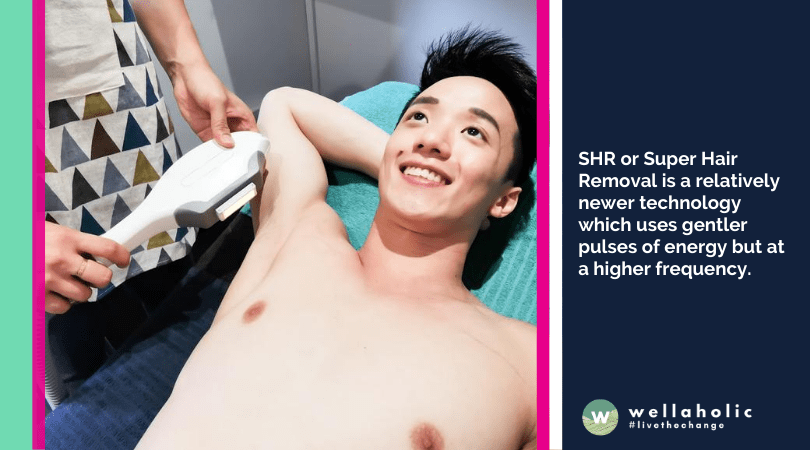 IPL or Intense Pulse Light Hair Removal
​IPL short for Intense Pulsed Light is used in slowing or putting an end to hair growth, and can be applied in most parts of the body, from the underarms and legs to the bikini line. Short wavelengths of light energy are emitted onto targeted areas of the skin to remove growing cells, essentially discouraging new hair growth over time.
IPL generally requires more treatments in order to remove hair permanently. On the other hand, it can be cheaper overall than laser treatments. Most IPL hair removal treatments can give you some discomfort and even pain, due to the generally higher temperatures (up to 70 degrees).
Intense pulsed light (IPL) is also a technology used by cosmetic and medical practitioners to perform various skin treatments for aesthetic and therapeutic purposes, including hair removal photo-rejuvenation (e.g. the treatment of skin pigmentation , sun damage, and thread veins) as well as to alleviate dermatologic diseases such as acne.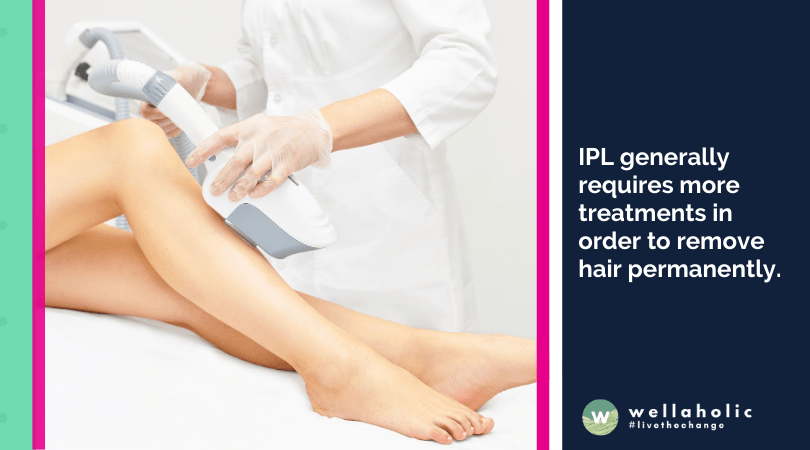 SHR or Super Hair Removal
​SHR or Super Hair Removal is a relatively newer technology which uses gentler pulses of energy but at a higher frequency. This laser hair removal technology allows the skin to be heated gently, but with the rapid pulses, the energy is then accumulated by the skin.
With SHR technology one does not need single pulses with high energy. The skin is targeted between six to ten times per second using low energy but with high frequency. This procedure is referred to as the so-called in-Motion methodology, because the hand piece is moved over the treated area in sliding movements. (Unlike this, the IPL technology is called stamp technology.) Using the SHR technology the skin is heated gently through the melanin and the stem cells with low energy (up to 48 degrees) but with high frequency. In that way even lighter and finer hair (as well as dark hair and coarse hair) can be treated and removed permanently in a better way.
With SHR technology the hair removal methodology that involves the hair pigment uses only 50 per cent of the energy for permanent hair removal. The remaining 50 per cent is absorbed into the stem cells responsible for hair production through the skin during treatment with SHR technology. (source: ipl-hamburg.com)
Because of the gradual accumulation of the energy into the skin, there is less trauma and irritation on the skin – making it ideal and suitable for everyone, regardless of skin tone and even for customers with sensitive skin. In fact, SHR is often considered to be one of the best laser hair removal treatments in Singapore given the various technologies. SHR hair removal is very ideal for Brazilian Hair Removal as it is more gentle on the skin.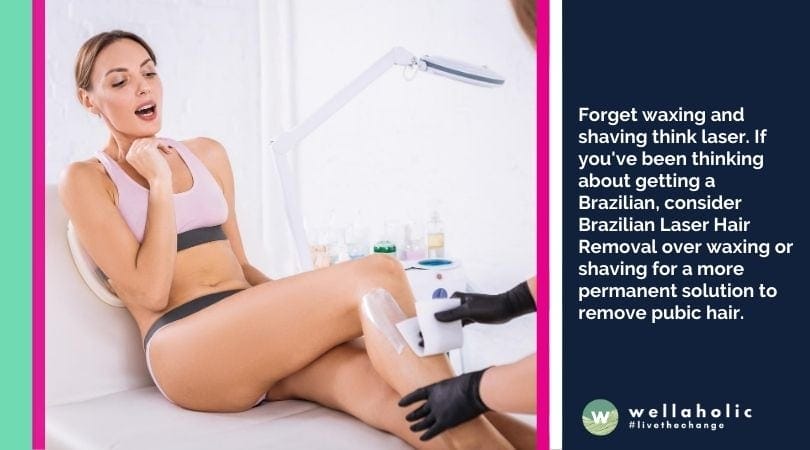 Conclusion
​Forget waxing and shaving and think laser. If you've been thinking about getting a Brazilian, consider Brazilian Laser Hair Removal over brazilian waxing or shaving for a more permanent solution to remove pubic hair. Your skin protects your body from harm and deserves to be well-cared for. This means keeping hot waxes and rusty razors out of the picture. You'll get long lasting results without the mess and save time without the weight of unwanted hair with our gentle hair removal.
All women know the bikini zone is one of the most troubling hair removal areas because most hair removal methods seem to cause more problems than they solve. Laser hair removal on the bikini line will create a smooth, flawless appearance and prevent stubble from growing back and the irritation that other hair removal methods cause.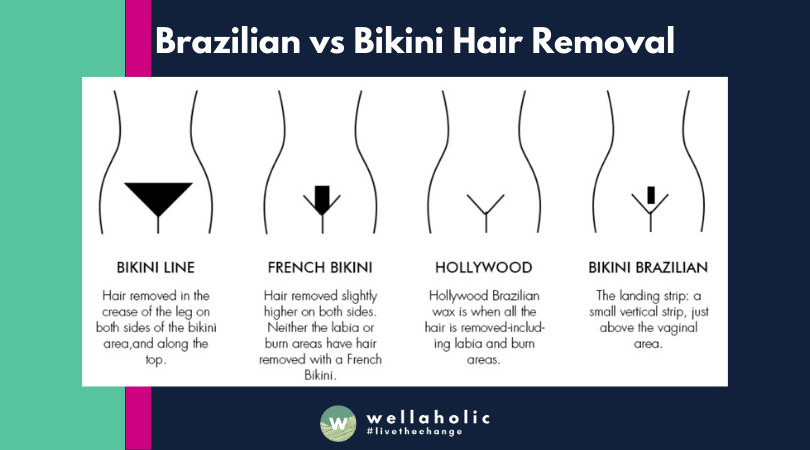 While laser hair removal can work on any body part you wish to remove hair from, it is especially effective on the bikini, lip, chin, and underarm areas.
In conclusion, no hair removal treatment can guarantee a hundred percent hair removal permanently. It takes more than one session to show definite and prominent results. So it should be noted that the treatment plan that would consider several sessions over the weeks must be completed to get the desired results. Our biological factors that depend on and changes from person to a person plays a crucial role in the re-growth process. So the clients must not expect and compare their results with someone else.
---
Wellaholic WellaSmooth All-inclusive Hair removal Regime
WELLASMOOTH™ IS YOUR ALL-INCLUSIVE HAIR REMOVAL IN SINGAPORE, COMPLETE WITH UNLIMITED SHAVING SERVICE AND POST-TREATMENT WHITENING / HYDRATING THERAPY
What is WellaSmooth™?
WellaSmooth™ is designed for an all-inclusive fuss-free full-body permanent hair removal experience, completed with all-that-you-require shaving service and our amazing Post-Treatment Therapy (PTT) with AfterGlow which helps with your skin whitening, hydrating and rejuvenation. Result? Smooth and glowing skin that will wow everyone. WellaSmooth™ is a laser hair removal for both men and women, by male and female therapists.
​​
WellaSmooth™ is your ultimate all-inclusive hair removal treatment in Singapore complete with shaving and post-treatment care. ​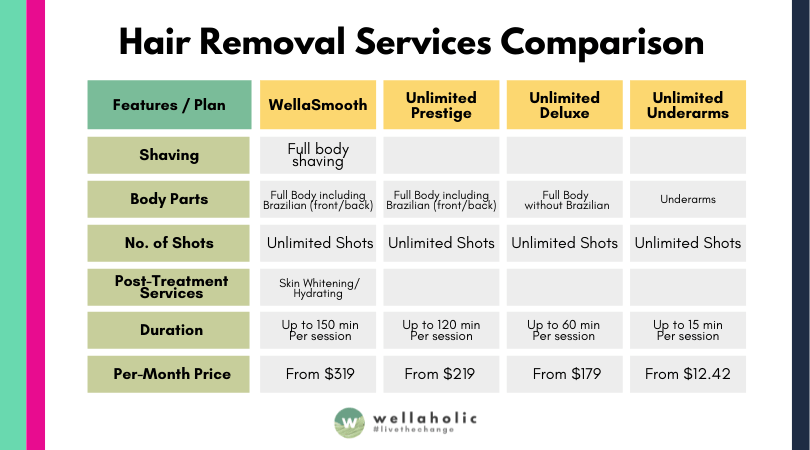 Does WellaSmooth™ Cover All Body Parts?
With WellaSmooth™ All-inclusive Hair Removal, you can have hair removal for all body parts including brazilian/boyzilian. This includes both the front and back (crack) areas. What's more, full body shaving is included. Pay one price and put your mind at ease while our consultants work their magic for permanent hair reduction. Our SHR laser technology by Alma Lasers is suitable for skin tones and hair types.​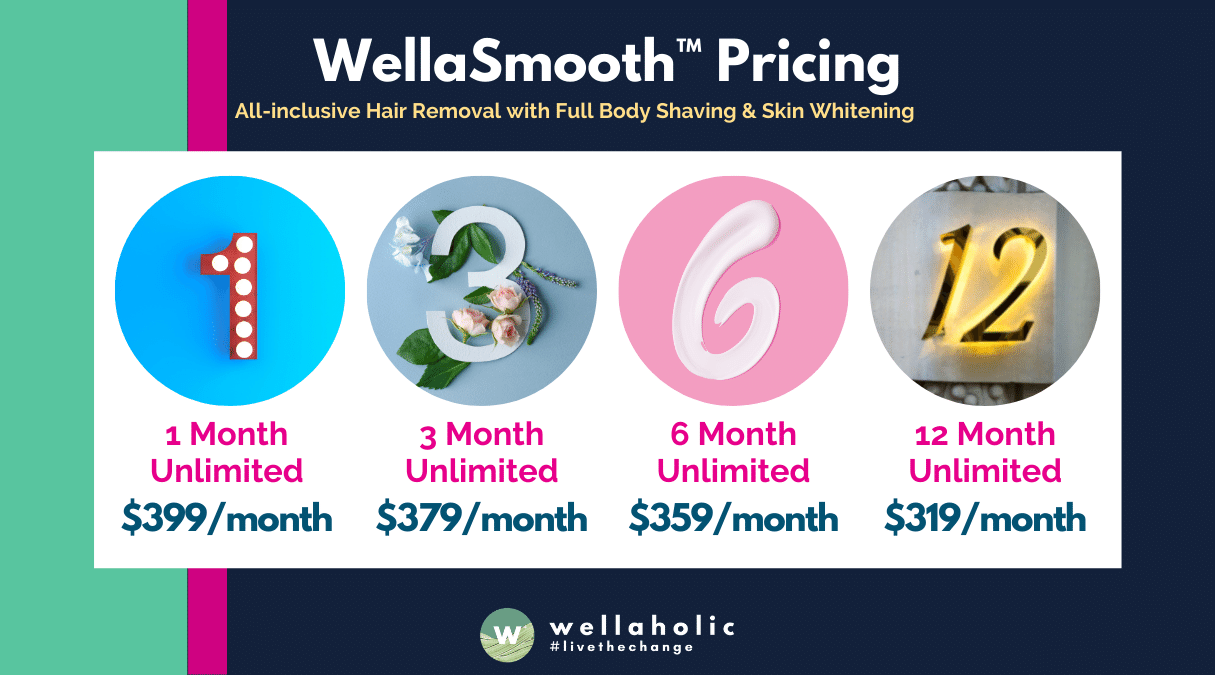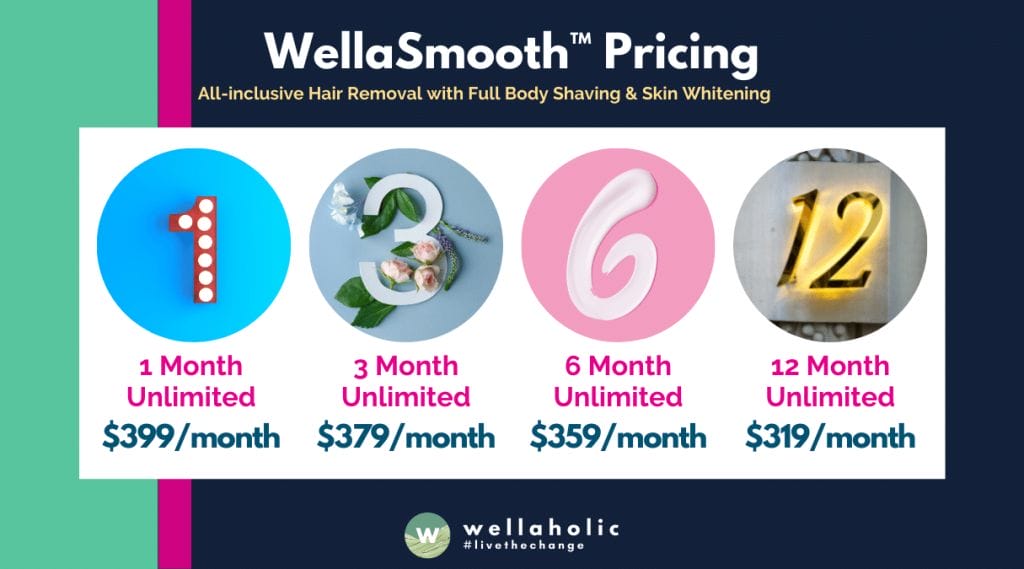 How is the Pricing Like for WellaSmooth™?
Wellaholic's prices are in line with our vision to make aesthetics treatments affordable for our customers, with transparent pricing with no hard-selling.
This is why Wellaholic publishes our prices online. All prices are actual prices and not trial prices. Prices are also nett and inclusive of GST.
Instead of locating in shopping malls with expensive rents, Wellaholic locates our outlets at convenient locations near MRT stations, which are lower in rental.
Wellaholic removes all the frills involved in the treatment (e.g. no warm towels, no ginger tea, etc.), but we ensure a high level of consistency and efficacy in our technology treatments to focus on what matters – treatments which work.
Wellaholic then passes our cost-savings back to our customers in the form of more affordable treatments.
Conclusion: Happy repeat customers, as seen from our reviews too.
1 Month Unlimited $399
3 Month Unlimited $379 x 3 = $1137 (6% savings)
6 Month Unlimited $359 x 6 = $2154 (12% savings)
12 Month Unlimited $319 x 12 = $3828 (19% savings)
---