Why SHR is taking over IPL for Hair Removal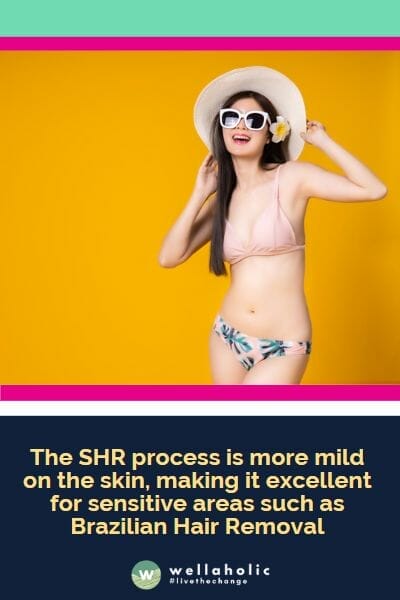 Introduction: SHR is the Hair Removal Technology that's usurping IPL
The topic of hair brings us to the area of TMI (too much information) but we wish to bring you all aspects of beauty, whether or not it may well be touchy subject. When it involves hair removal, we're conversant in shaving, tweezing, waxing and Intense Pulsed Light (IPL) treatment. the foremost permanent option is IPL because it cauterizes the hair root so the hair doesn't grow back. But now, there's a brand new kid on the block, Super Hair Removal (SHR), and it claims to be the higher treatment option!
One of the key benefits of SHR is its speed
SHR hair removal is 40% faster than IPL treatment, making it a more efficient option for busy individuals with limited time. Additionally, SHR is suitable for all skin types and tones, making it a more versatile option compared to IPL, which may not be effective on certain skin types. Furthermore, SHR can eliminate both fine and coarse hair through its precise shots, which remove unwanted hair efficiently. In contrast, IPL treatment may require sessions once every two weeks, which can be time-consuming and inconvenient for many people. Overall, SHR technology is quickly becoming the preferred choice for those seeking effective and efficient hair removal treatments.
"SHR is transforming the world of hair removal, providing an easier and more effective way to achieve smooth skin!"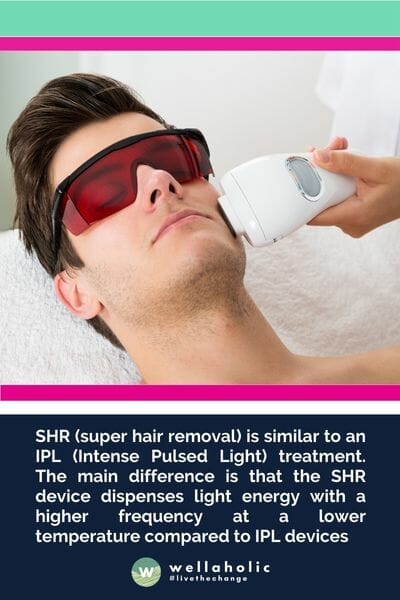 Differences between IPL and SHR
IPL uses one intense pulse of energy that's targeted at melanin, which makes it effective on dark and coarse hair. However, this implies that it's little effect on finer hair and folks with a better melanin count, or darker skin tones, will have more uncomfortable sessions since their skin will absorb more heat.
SHR is more gentle on skin compared to IPL
SHR, on the opposite hand, uses gentler pulses of energy at a better frequency that the skin is heated gently. Furthermore, only 50% of the energy is targeted at melanin, which makes the hair less dark and coarse, while the opposite half targets the stem cells chargeable for hair production. Therefore, both coarse and fine hairs are targeted and also the removal process is more thorough and permanent.
Also, because the warmth applied to the skin is more gradual and mild, it leads to less trauma on the skin and it's suitable for everybody, regardless of the skin tone and even those with sensitive skin. although we are saying beauty is pain, we'd prefer beauty to be as painless as possible, right?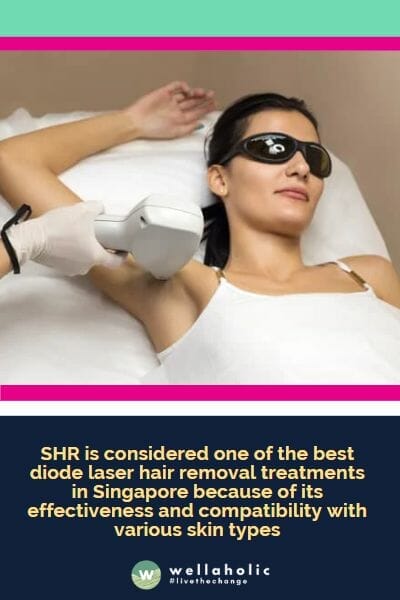 Why is SHR better than IPL for hair removal?
Firstly, SHR is said to be much more comfortable for the client than IPL, as it uses a gradual heating process that is less likely to cause skin burns. Additionally, SHR can be used on all skin types, including darker skin, while IPL is less effective on darker skin tones. Lastly, SHR has a higher success rate in terms of permanently removing hair, with fewer treatment sessions needed to achieve the desired results.
---
SHR can treat all skin types, including sensitive skin, due to the gradual energy accumulation
SHR (Super Hair Removal) is a type of laser hair removal that uses gradual energy accumulation to heat the hair follicles and prevent regrowth. This technology is said to result in less trauma and irritation to the skin, making it suitable for all skin types, including sensitive skin. SHR is considered one of the best diode laser hair removal treatments in Singapore because of its effectiveness and compatibility with various skin types. Therefore, it seems that SHR can indeed be a suitable hair removal option for people with sensitive skin.
SHR is less painful than IPL because of the gradual heating of the skin
Super Hair Removal (SHR) and Intense Pulsed Light (IPL) are both commonly used methods for hair removal. According to Beauty Insider, SHR hair removal has minimal pain and discomfort due to the gradual heating of the skin. SHR uses low fluence repetitive laser pulses that heat the hair follicles gradually, while simultaneously cooling the targeted area. This ensures that the treatment is comfortable and protects the skin from trauma. On the other hand, IPL uses a high-intensity light that can cause discomfort and pain during treatment.
SHR requires fewer sessions to achieve optimal results compared to IPL
Super Hair Removal (SHR) and Intense Pulsed Light (IPL) are both popular methods for hair removal. According to Datsumo Labo, SHR requires fewer sessions to achieve optimal results compared to IPL. This is because SHR uses a lower intensity of heat to target hair follicles, which discourages hair regrowth. IPL, on the other hand, uses a high-intensity light that can cause discomfort and pain during treatment. As a result, IPL requires more sessions to achieve the desired results.
SHR is more cost-effective in the long run, despite a higher initial cost, due to the fewer sessions needed
SHR uses a cool touch laser hair removal methodology that causes minimal pain and discomfort, while IPL uses high-intensity light that can cause more discomfort during treatment. As a result, SHR may require fewer sessions to achieve the desired results compared to IPL, making it more cost-effective in the long run. Additionally, SHR can cover all parts of the body, including face, arms, legs, and underarms, which may eliminate the need for multiple hair removal methods. Therefore, while SHR may require a higher initial cost than IPL, its effectiveness, minimal pain, and full-body coverage make it a more cost-effective option in the long run.
The table below summarises the advantages of SHR hair removal over IPL hair removal:
Advantages of SHR Hair Removal Over IPL Hair Removal
SHR is much more comfortable for the client
SHR carries no risk of burning the skin
SHR has a higher success rate in permanently removing hair
SHR treatment time is faster than IPL
SHR is suitable for all skin types
SHR can be used on all parts of the body
SHR has no downtime, allowing for immediate resumption of normal activities
SHR can be used on tanned skin
SHR requires fewer treatments than IPL
SHR is less painful than IPL
SHR produces better results in fewer treatments
Advantages of SHR Hair Removal over IPL Hair Removal
Who Should Consider SHR for Hair Removal?
Anyone who wants a long-term solution to unwanted hair growth can consider SHR. SHR is particularly effective for people with dark, coarse hair, as this type of hair absorbs more of the laser energy and is therefore more easily treated. However, SHR can also be used on fine hair, and it can be effective for people with lighter skin tones as well.
SHR can be used to treat unwanted hair on the face, arms, underarms, legs, bikini area, and other areas of the body. It is a safe and effective treatment for both men and women, and it can provide long-lasting results with minimal discomfort.
Conclusion
At Wellaholic, we pride ourselves on embracing the best and most advanced techniques, such as SHR hair removal, to ensure our customers achieve their desired results. With the growing preference for SHR over IPL in Singapore, we are committed to providing superior hair removal services that align with our client's comfort and satisfaction. Our trained specialists are adept at both SHR and IPL hair removal methods, allowing us to offer personalized solutions that suit individual needs. Experience the future of hair removal with Wellaholic's SHR treatments in Singapore, where innovation meets beauty.
Frequently Asked Questions (FAQ)
What does SHR stand for in the context of hair removal?

A: SHR stands for Super Hair Removal, a cutting-edge technology that offers a more advanced and efficient method of hair removal compared to traditional IPL (Intense Pulsed Light) treatments.
How does SHR differ from IPL in terms of hair removal?

A: SHR differs from IPL in its approach to hair removal. While IPL emits multiple wavelengths of light, SHR uses a single, high-energy wavelength that targets hair follicles more effectively, resulting in quicker and longer-lasting results.
Why is SHR becoming more popular than traditional IPL treatments for hair removal?

A: SHR's popularity is due to its advantages over IPL, including better precision, reduced discomfort, and the ability to treat a wider range of skin tones and hair colors effectively. These factors contribute to SHR's effectiveness and client satisfaction.
Is SHR suitable for all skin types, including darker skin tones?

A: Yes, one of the notable benefits of SHR is its suitability for all skin types, including darker skin tones. This makes it an ideal option for individuals with diverse skin tones who may have been limited by IPL's restrictions.
How does SHR ensure a more comfortable hair removal experience compared to IPL?

A: SHR employs a gradual heating method, gradually increasing the temperature of the hair follicles. This approach is gentler on the skin and minimizes discomfort during the treatment, a feature not commonly found in traditional IPL.
What kind of results can I expect from SHR treatments in terms of hair reduction?

A: Many clients experience noticeable hair reduction after just a few SHR sessions. Due to its precision and effectiveness, SHR treatments generally lead to significant and long-lasting hair reduction.
Unleash the Power of Three: Beauty, Confidence, Perfection with WellaSmooth™ 3X
⭐ Tailored Beauty Experience: Select three personalized treatments with WellaSmooth 3X™.
⭐ Quality Skin Solutions: Enjoy our signature permanent hair removal with full body shaving, skin whitening, breast enhancements, butt lifts and more.
⭐ Enhanced Confidence Options: Lift and enhance your bust and butt for a confident new look.
⭐ Luxury at Your Fingertips: Experience luxury with a flexible triple-choice treatment plan.
⭐ Affordable Body Perfection: Transform your body positively and affordably.
⭐ Unbeatable Value & Efficacy: Benefit from high-quality treatments at exceptional value.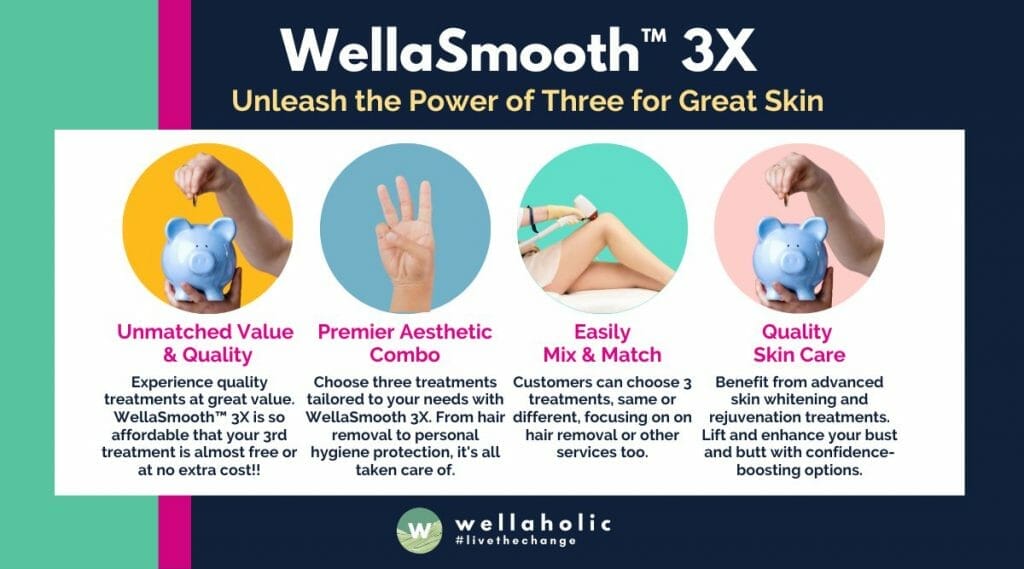 What Treatments Can I Choose with WellaSmooth™ 3X?
For a modest monthly fee, customers can indulge in premium treatments to remove hair, whiten skin, lift and enhance the boops, lift the butt and safeguard the private regions:
⭐ Personalized Hair Removal: Opt for laser hair removal for all hair types.
⭐ All-that-you-need Shaving: Achieve a sleek look with professional full body shaving to prevent ingrown hair.
⭐ Advanced Skin Whitening: Experience innovative skin whitening techniques for radiant skin.
⭐ Butt Lifting Treatments: Lift your butt for a perfectly contoured appearance with EMS technology.
⭐ Bust Enhancement Options: Enhance your bust size and shape with specialized ultrasonic treatments.
⭐ Expert Bust Lifting: Choose professional bust lifting via RF microneedling to make it look bigger and fuller.
⭐ Premium Personal Hygiene Protection: Improve personal hygiene with specialized Blue Light protective treatments.
⭐ Flexible Combo Selection: WellaSmooth™ 3X allows you to select any three of the above treatments.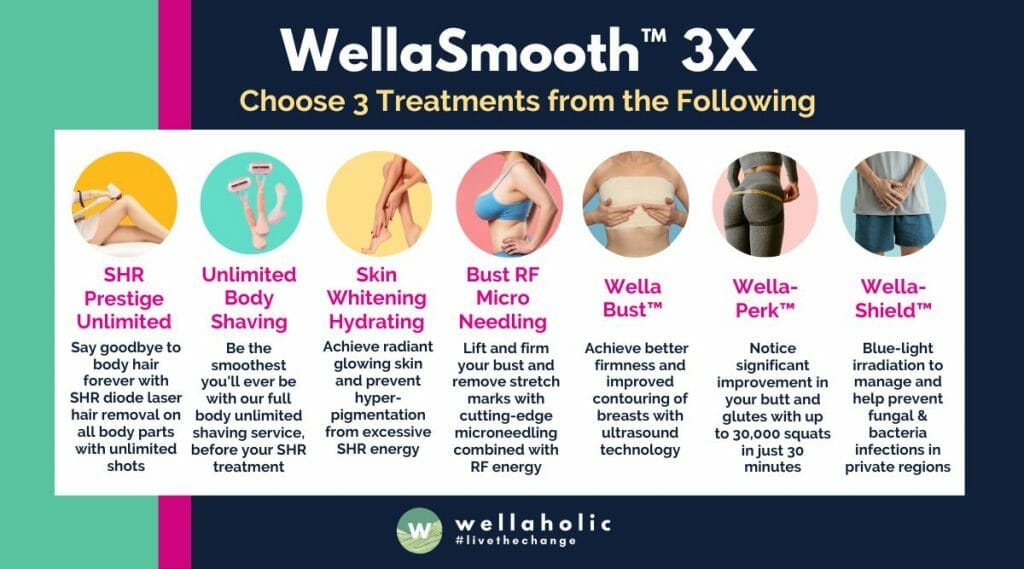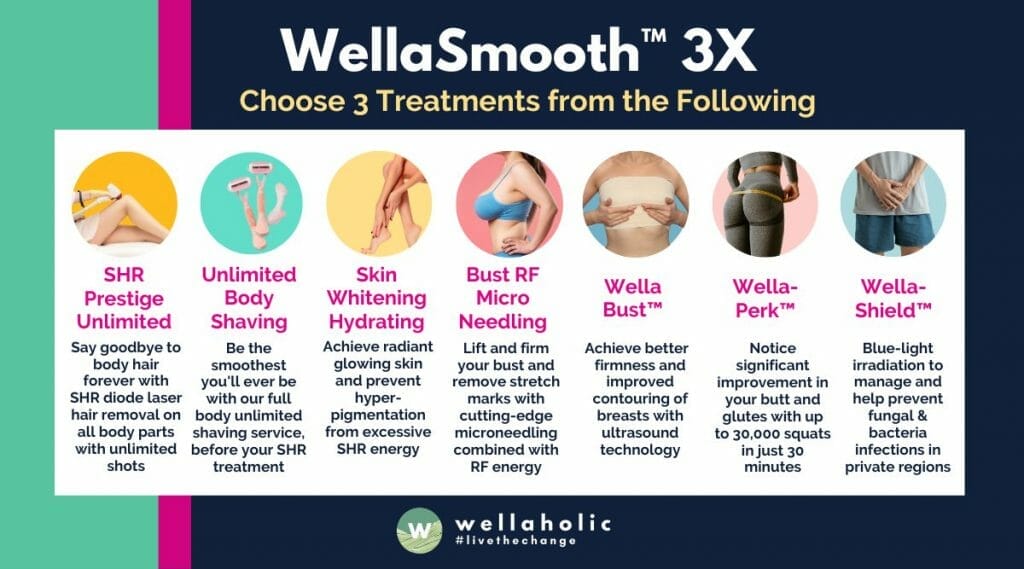 Why Choose SHR Prestige Unlimited Hair Removal?
⭐ SHR Diode Laser. Super Hair removal targets all skin types with 755nm, 808nm, and 1064nm laser wavelengths for the best hair removal treatment in Singapore.
⭐ SHR is better than IPL for Asian skin. SHR is more effective than traditional IPL technology for finer hair and coarse hair.
⭐ Unlimited Shots. Our laser removal uses as many pulses as needed to destroy hair follicles to prevent hair growth.
⭐ Award-Winning. Wellaholic's SHR Hair Removal have won multiple awards making us one of the best hair removal salons in Singapore.
⭐ Ideal for All Skin and Hair Colors. SHR laser hair removal technology works on all hair and skin types, including facial hair and body hair by targeting the melanin in the hair.
⭐ For Everyone. Wellaholic has a team of skilled therapists, both male and female, to attend to your body hair removal needs.
Pricing of Aesthetic Treatments by Wellaholic
💎 Price Transparency. All prices are published and updated on our website.
💎 Flexible Plans. Choose from unlimited monthly or per-session hair removal plans.
💎 Easy to Choose. Mix and match treatments from different categories.
💎 No Hidden Fees. Pay only for the treatments you receive.
GET IN TOUCH
Book Now Pay Later
Why Wellaholic is One of the Best Aesthetic Service Providers in Singapore?
✅ Leading Singapore Aesthetic Chain. Wellaholic is a popular aesthetic chain with 8 outlets around Singapore.
✅ Quality & Safe Treatments. Wellaholic is committed to quality, safe treatments with experienced staff.
✅ Wide Range of Treatments. Wellaholic offers a large range of treatment from effective hair removal, skin whitening, bust enhancement, butt lifts for all areas of the body.
✅ Trained & Experienced Consultants. All treatments are performed by trained professionals who understand skincare needs for both genders.
✅ SHR Technology. Advanced SHR technology provides a safe, comfortable, and painless hair removal experience.
✅ Most Affordable Provider. Wellaholic offers competitive pricing, making it one of the most affordable hair removal providers in Singapore.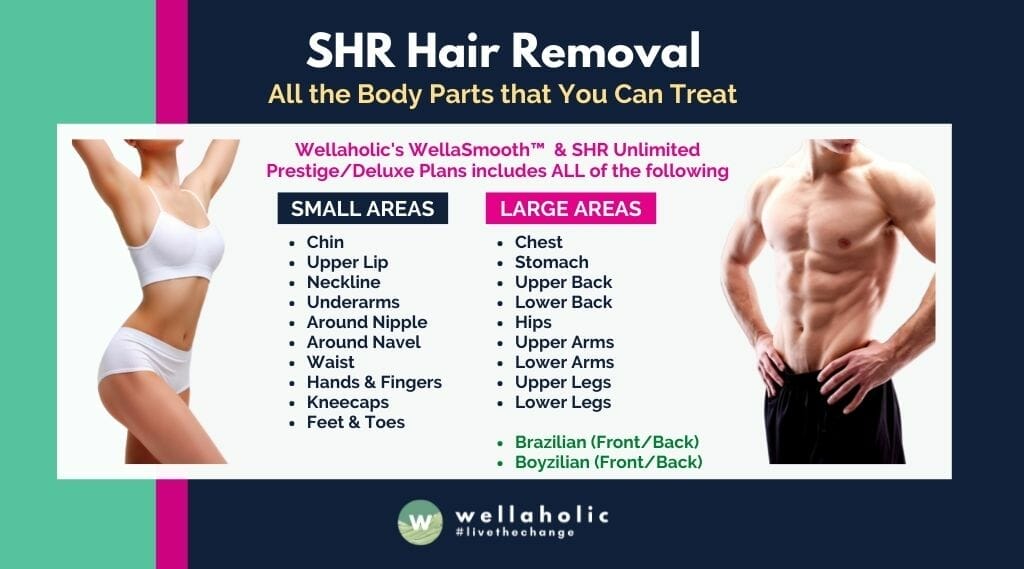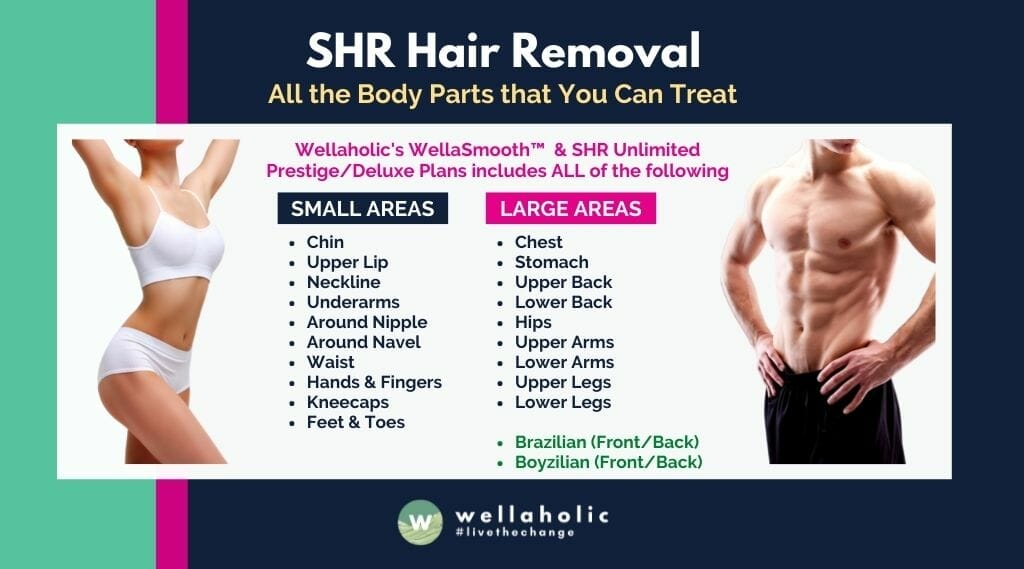 Reason 1: Wellaholic's Unlimited Plans Save You Money
✅ WellaSmooth 3X. Pay a small monthly subscription and choose 3 treatments from the WellaSmooth 3X family of services.
✅ Unlimited Hair Removal. Choose a SHR Prestige Unlimited or SHR Deluxe Unlimited to enjoy hair removal with unlimited shots.
✅ Pay One Price for All Body Parts. For hair removal, pay one price for unlimited hair removal on all body parts.
✅ Huge Cost Savings. Huge cost savings with monthly unlimited plans. No price shocks from hidden costs!
Reason 2: Wellaholic is a Trusted and Award-winning Aesthetic Chain with Over 2000 Positive Reviews.
✅ Over 50 Awards. Wellaholic's WellaSmooth and SHR Hair Removal have won over 50 awards from top beauty publications since 2018.
✅ Over 2000 Verified Customer Reviews. Wellaholic has over 2000 positive reviews from customers around the world. .
✅ Verifiable Reviews. Positive reviews indicate high customer satisfaction. (See reviews below).
✅ Over 50% Repeat Customers. More than 50% of Wellaholic's customers are repeat and recurring customers.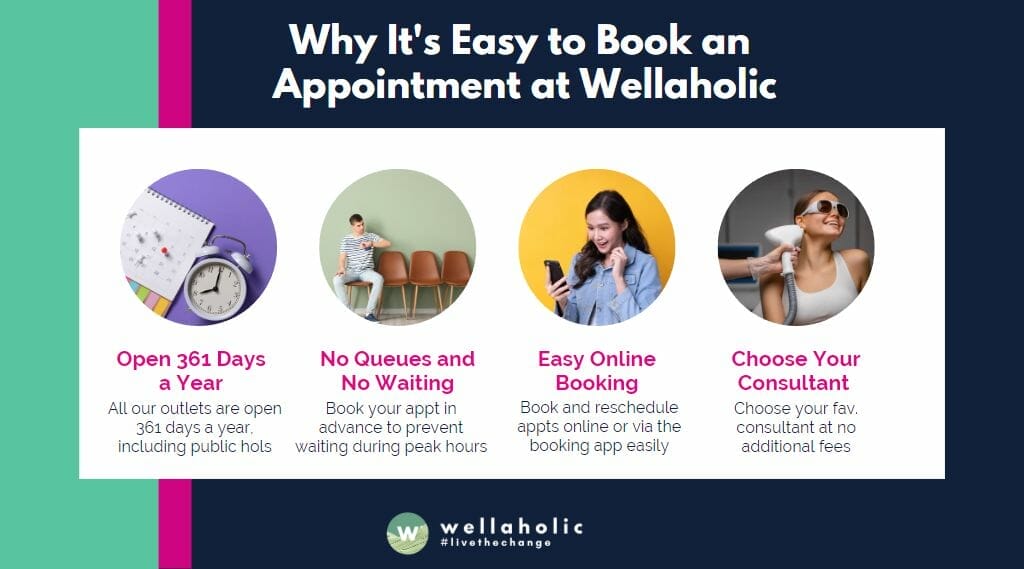 Reason 3: It's Easy to Book an Appointment at Wellaholic
✅ Open 361 Days Per Year. Wellaholic's 8 outlets are open 361 days a year, including public holidays for easy bookings.
✅ No Queues. Book appointments in advance to avoid long wait times.
✅ Easy Online Booking. Customers can conveniently book and reschedule appointments online or via the booking app.
✅ No Extra Cost for Choosing Consultant. Customers can choose their preferred consultant for free.