Why SHR is taking over IPL for Hair Removal
Introduction
SHR is the Hair Removal Technology that's usurping IPL
The topic of hair brings us to the area of TMI (too much information) but we wish to bring you all aspects of beauty, whether or not it may well be touchy subject. When it involves hair removal, we're conversant in shaving, tweezing, waxing and Intense Pulsed Light (IPL) treatment. the foremost permanent option is IPL because it cauterises the hair root so the hair doesn't grow back. But now, there's a brand new kid on the block, Super Hair Removal (SHR), and it claims to be the higher treatment option!
Differences between IPL and SHR
IPL uses one intense pulse of energy that's targetted at melanin, which makes it effective on dark and coarse hair. However, this implies that it's little effect on finer hair and folks with a better melanin count, or darker skin tones, will have more uncomfortable sessions since their skin will absorb more heat.
SHR, on the opposite hand, uses gentler pulses of energy at a better frequency that the skin is heated gently. Furthermore, only 50% of the energy is targeted at melanin, which makes the hair less dark and coarse, while the opposite half targets the stem cells chargeable for hair production. Therefore, both coarse and fine hairs are targeted and also the removal process is more thorough and permanent.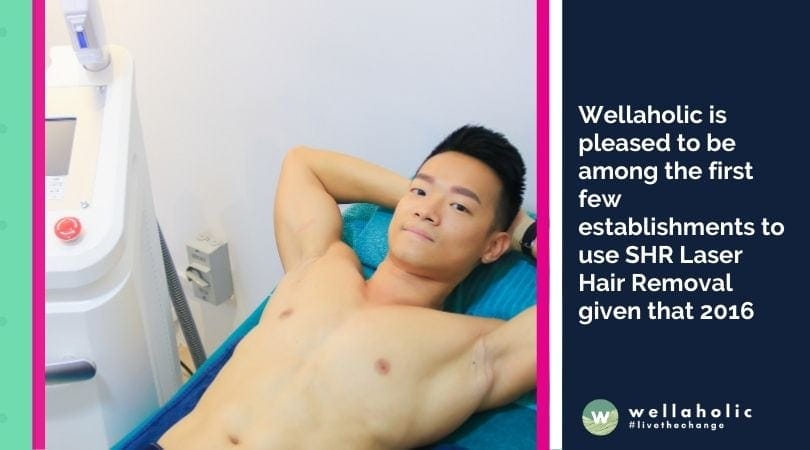 Also, because the warmth applied to the skin is more gradual and mild, it leads to less trauma on the skin and it's suitable for everybody, regardless of the skin tone and even those with sensitive skin. although we are saying beauty is pain, we'd prefer beauty to be as painless as possible, right?
Wellaholic's SHR Hair Removal Plans
Many clinical studies have been done to ascertain the effectiveness of SHR. SHR hair removal is newer and more advanced than IPL hair removal. SHR has proven to be very effective in the treatment of all hair and skin types based on the Fitzpatrick's skin type. Nevertheless, it is important for the operator of the SHR equipment to understand the science behind the treatment in order to effective administer the treatment. SHR Hair Removal is also proven to be more effective compared to waxing, sugaring and shaving.
Do you have an all-inclusive plan or Unlimited plan?
​Our Unlimited Plans are very popular with customers. Our Unlimited plans allow you to treat unlimited body parts as long as each body part has a 28-day gap between treatments. Our SHR PRESTIGE Unlimited Plan allows you to treat ALL body parts including Brazilian/Boyzilian, while our SHR Deluxe Unlimited Plan allows you to treat all body parts except Brazilian/Boyzilian. Please note that our 1-Month Unlimited plan allows you only one treatment per body part. ​
How is the pricing like for SHR Permanent Hair Removal?
​Wellaholic is well-known in the hair removal Singapore industry for our transparent pricing and no hard selling. In fact, we are probably the only aesthetic establishment that publishes our prices openly. All prices are nett and inclusive of GST, and are actual prices (i.e. not trial prices). You can read our amazing customer reviews here. Wellaholic has both our Bestseller SHR Unlimited Plans (unique to us) and the typical per-session Plans.
Pricing of SHR Hair Removal Treatments by Wellaholic
Wellaholic believes in providing pricing transparency, and hence all prices are published and updated on its website. Choose from unlimited monthly hair removal plans (with unlimited SHR hair removal shots) for unlimited body parts, or choose from per-session hair removal price plans. Wellaholic's hair removal prices are generally divided into the following categories: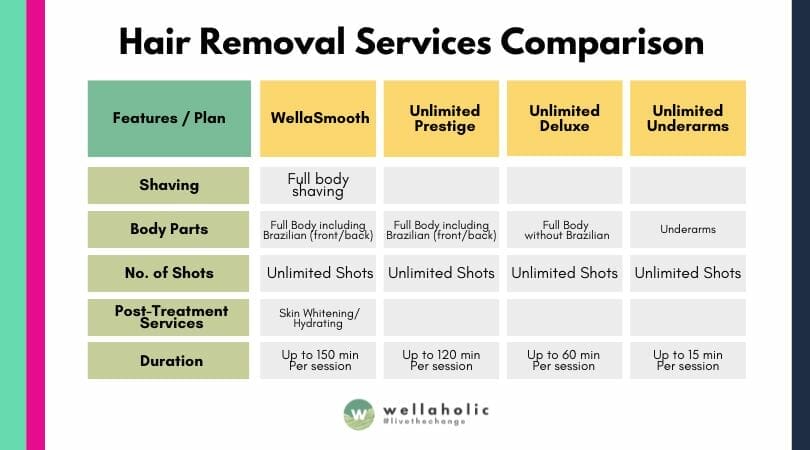 ---
---