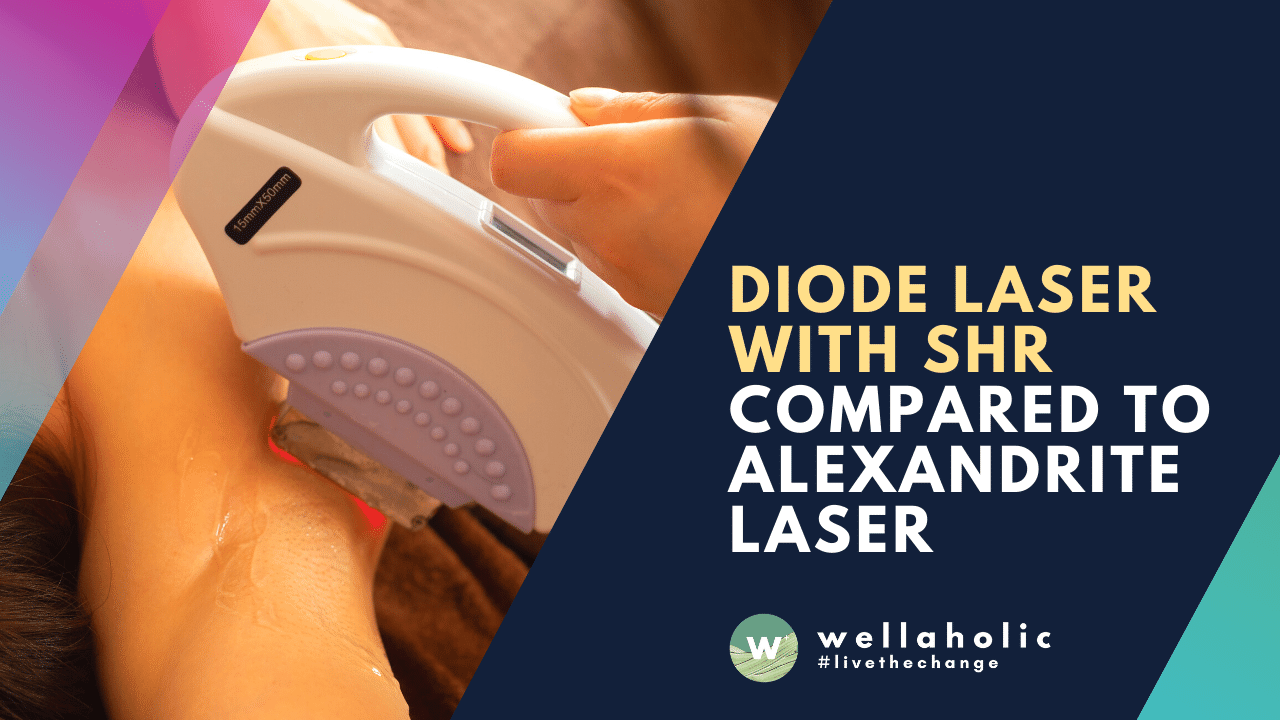 Wellaholic Research: Diode Laser with SHR (Super Hair Removal) compared to Alexandrite Laser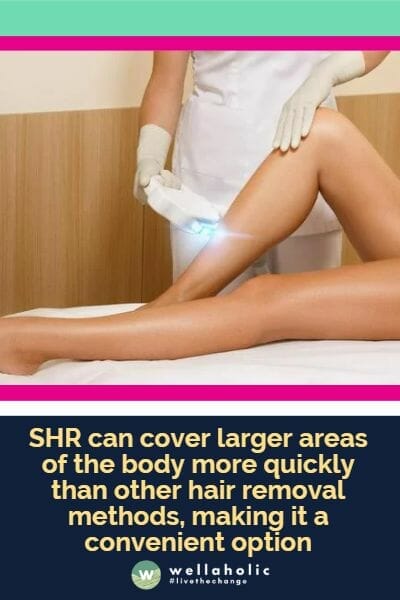 Wellaholic Research: Comparing SHR Laser Hair Removal with Alexandrite Laser Hair Removal
Wellaholic conducts in-house research on hair removal as part of our efforts to keep current with the latest hair removal technologies and trends. We also examine case studies, research reports from various dermatological journals and medical journals. This helps us to improve our hair removal treatments to improve efficacy, safety as well as comfort for Wellaholic's customers who choose us as their hair removal service provider.
In this 2016 comparative study by S. Hammes, H.M. Ockenfels, H. R. Metelmann, C. Raulin and S. Karsai, (in German), a controlled study with 18 patients were conducted to compare the effect of laser hair removal between long-pulsed alexandrite laser and the long-pulsed diode laser in SHR (or Super Hair Removal) mode. The findings concluded that SHR hair removal, while proficient for all skin types, was additionally effective in dark skin types while offering less or no pain to its patients.
Read on below to find out more.
Background of Research
Photoepilation has been an essential field of application of dermatologic laser therapy for many years. The present article evaluates whether the use of a new operation mode of a long-pulsed diode laser can be effective, nearly painless, with few side effects and independent of the skin type. To this aim, its use has been compared to an established method of photoepilation.
"The power of Diode Laser with SHR is unstoppable – unlock your ultimate potential with Wellaholic Research!"
Material and methods
In a controlled prospective study with 18 (♀=12, ♂=6) patients aged between 22 and 58 years, the effects of photoepilation with the long-pulsed alexandrite laser and the long-pulsed diode laser, operated in the Super Hair Removal mode (SHR), were compared.
Result of Study
The alexandrite laser is slightly more effective with fair skin types; the SHR mode is clearly more effective with dark skin types. Regarding painfulness, the SHR mode is clearly superior. In terms of speed, the two systems are comparable. The alexandrite laser is more user-friendly because of its light and small handpiece.
Conclusion
The major advantages of the SHR mode are its effectiveness in dark skin types and its lack of pain. The alexandrite laser is slightly more effective with fair skin types, slightly faster and its handling is considerably more comfortable. None of the two systems has yet brought about a breakthrough with fair hair.
Frequently Asked Questions (FAQ)
What is Diode Laser with SHR (Super Hair Removal)?

A: Diode Laser with SHR, or Super Hair Removal, is an advanced hair removal technology that uses a diode laser to target hair follicles. This method gradually heats the targeted area, providing a virtually painless and highly effective hair removal experience.
How does Diode Laser with SHR differ from Alexandrite Laser for hair removal?

A: Diode Laser with SHR differs from Alexandrite Laser in terms of the technology used and the treatment experience. Diode Laser with SHR delivers energy in motion, making it more comfortable and suitable for all skin types. Alexandrite Laser, while effective, may be more uncomfortable and better suited for lighter skin tones.
Is Diode Laser with SHR suitable for all skin types?

A: Yes, Diode Laser with SHR is safe and effective for a wide range of skin types, including tanned or darker skin. Its innovative technology allows for customized settings to cater to different skin tones and hair types.
Which areas of the body can be treated using Diode Laser with SHR?

A: Diode Laser with SHR is versatile and can be used on various body areas, including the legs, arms, underarms, bikini line, face, and more. Its precision and speed make it suitable for both larger and smaller treatment areas.
How does the effectiveness of Diode Laser with SHR compare to Alexandrite Laser?

A: Both Diode Laser with SHR and Alexandrite Laser are effective methods for hair removal. However, Diode Laser with SHR's innovative technology, which allows for continuous energy delivery, can lead to better and more consistent results.
How many sessions of Diode Laser with SHR are typically needed for noticeable results?

A: The number of sessions required varies based on individual factors such as hair density and hair color. However, many individuals begin seeing significant hair reduction after just a few sessions, with a full treatment course recommended for optimal results.
Unleash the Power of Three: Beauty, Confidence, Perfection with WellaSmooth™ 3X
⭐ Tailored Beauty Experience: Select three personalized treatments with WellaSmooth 3X™.
⭐ Quality Skin Solutions: Enjoy our signature permanent hair removal with full body shaving, skin whitening, breast enhancements, butt lifts and more.
⭐ Enhanced Confidence Options: Lift and enhance your bust and butt for a confident new look.
⭐ Luxury at Your Fingertips: Experience luxury with a flexible triple-choice treatment plan.
⭐ Affordable Body Perfection: Transform your body positively and affordably.
⭐ Unbeatable Value & Efficacy: Benefit from high-quality treatments at exceptional value.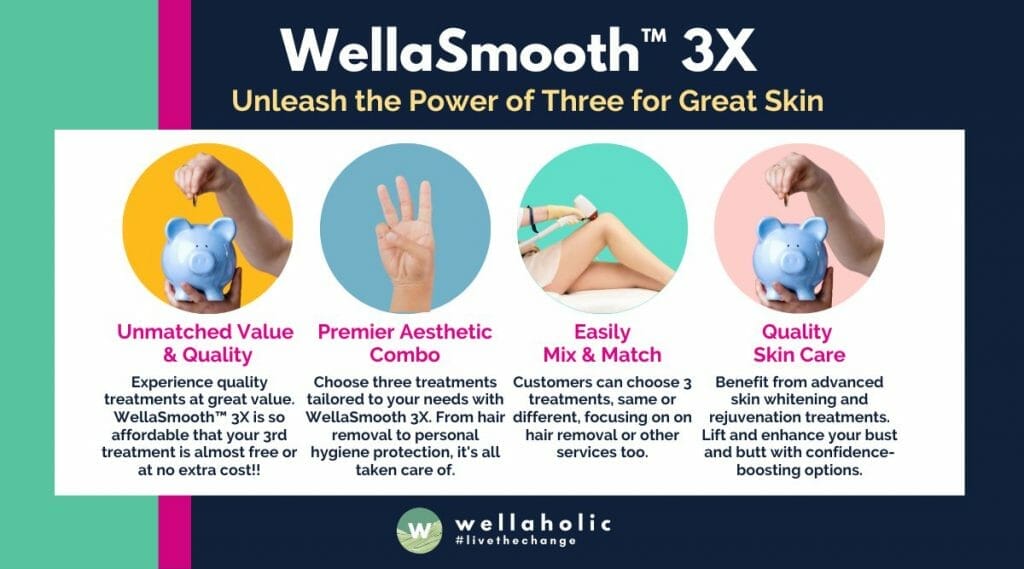 What Treatments Can I Choose with WellaSmooth™ 3X?
For a modest monthly fee, customers can indulge in premium treatments to remove hair, whiten skin, lift and enhance the boops, lift the butt and safeguard the private regions:
⭐ Personalized Hair Removal: Opt for laser hair removal for all hair types.
⭐ All-that-you-need Shaving: Achieve a sleek look with professional full body shaving to prevent ingrown hair.
⭐ Advanced Skin Whitening: Experience innovative skin whitening techniques for radiant skin.
⭐ Butt Lifting Treatments: Lift your butt for a perfectly contoured appearance with EMS technology.
⭐ Bust Enhancement Options: Enhance your bust size and shape with specialized ultrasonic treatments.
⭐ Expert Bust Lifting: Choose professional bust lifting via RF microneedling to make it look bigger and fuller.
⭐ Premium Personal Hygiene Protection: Improve personal hygiene with specialized Blue Light protective treatments.
⭐ Flexible Combo Selection: WellaSmooth™ 3X allows you to select any three of the above treatments.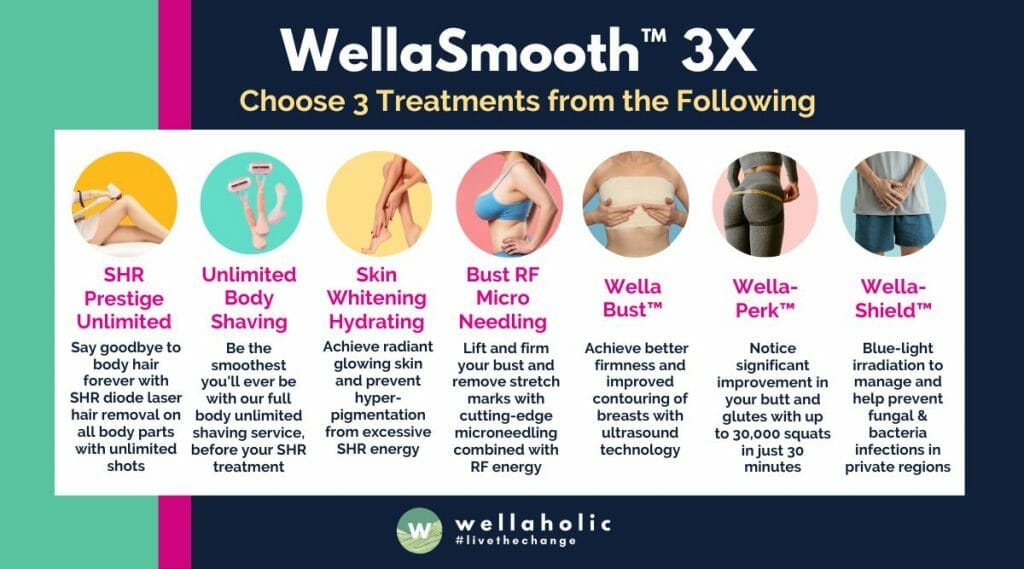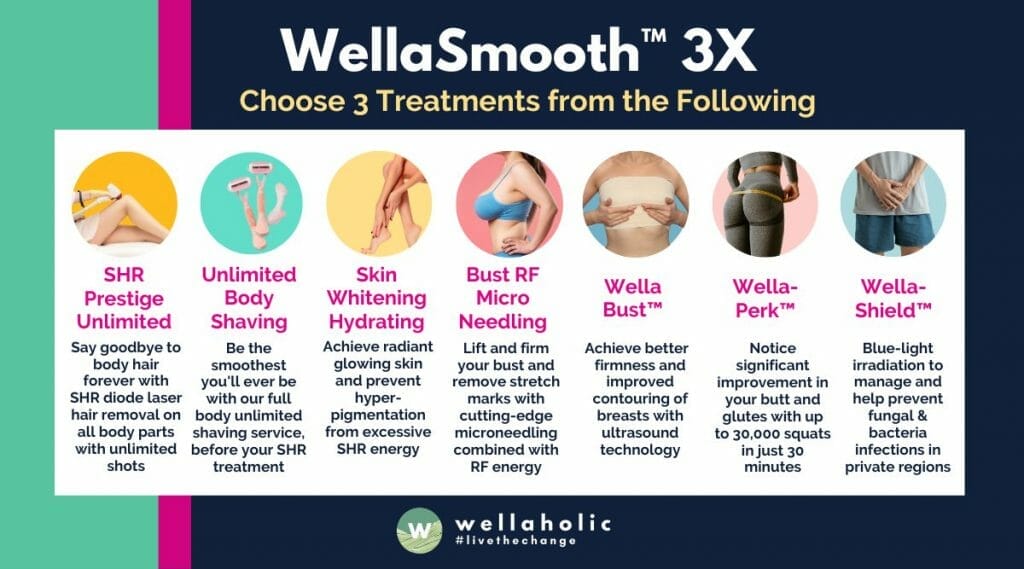 Why Choose SHR Prestige Unlimited Hair Removal?
⭐ SHR Diode Laser. Super Hair removal targets all skin types with 755nm, 808nm, and 1064nm laser wavelengths for the best hair removal treatment in Singapore.
⭐ SHR is better than IPL for Asian skin. SHR is more effective than traditional IPL technology for finer hair and coarse hair.
⭐ Unlimited Shots. Our laser removal uses as many pulses as needed to destroy hair follicles to prevent hair growth.
⭐ Award-Winning. Wellaholic's SHR Hair Removal have won multiple awards making us one of the best hair removal salons in Singapore.
⭐ Ideal for All Skin and Hair Colors. SHR laser hair removal technology works on all hair and skin types, including facial hair and body hair by targeting the melanin in the hair.
⭐ For Everyone. Wellaholic has a team of skilled therapists, both male and female, to attend to your body hair removal needs.
Pricing of Aesthetic Treatments by Wellaholic
💎 Price Transparency. All prices are published and updated on our website.
💎 Flexible Plans. Choose from unlimited monthly or per-session hair removal plans.
💎 Easy to Choose. Mix and match treatments from different categories.
💎 No Hidden Fees. Pay only for the treatments you receive.
GET IN TOUCH
Book Now Pay Later
Why Wellaholic is One of the Best Aesthetic Service Providers in Singapore?
✅ Leading Singapore Aesthetic Chain. Wellaholic is a popular aesthetic chain with 8 outlets around Singapore.
✅ Quality & Safe Treatments. Wellaholic is committed to quality, safe treatments with experienced staff.
✅ Wide Range of Treatments. Wellaholic offers a large range of treatment from effective hair removal, skin whitening, bust enhancement, butt lifts for all areas of the body.
✅ Trained & Experienced Consultants. All treatments are performed by trained professionals who understand skincare needs for both genders.
✅ SHR Technology. Advanced SHR technology provides a safe, comfortable, and painless hair removal experience.
✅ Most Affordable Provider. Wellaholic offers competitive pricing, making it one of the most affordable hair removal providers in Singapore.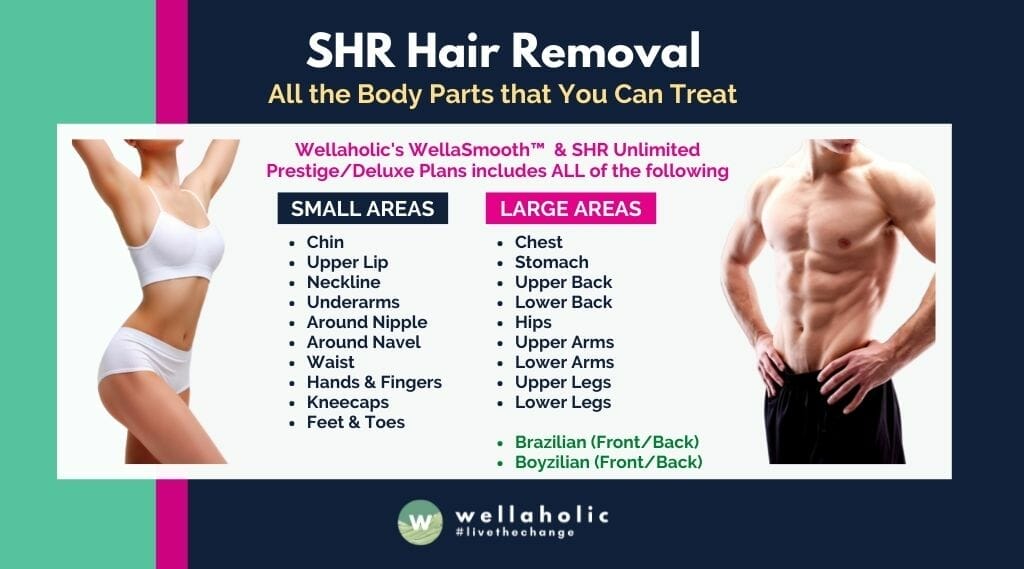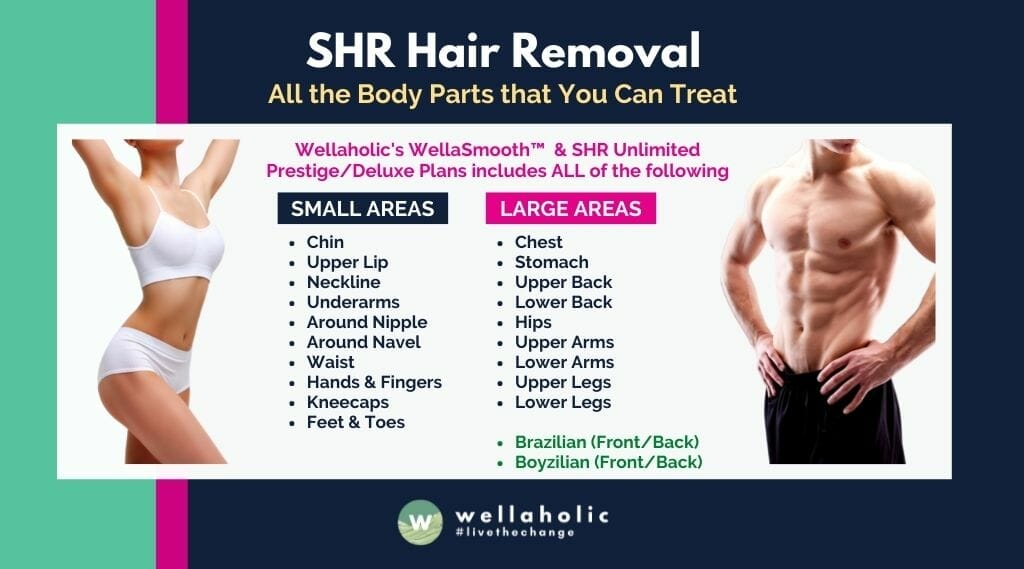 Reason 1: Wellaholic's Unlimited Plans Save You Money
✅ WellaSmooth 3X. Pay a small monthly subscription and choose 3 treatments from the WellaSmooth 3X family of services.
✅ Unlimited Hair Removal. Choose a SHR Prestige Unlimited or SHR Deluxe Unlimited to enjoy hair removal with unlimited shots.
✅ Pay One Price for All Body Parts. For hair removal, pay one price for unlimited hair removal on all body parts.
✅ Huge Cost Savings. Huge cost savings with monthly unlimited plans. No price shocks from hidden costs!
Reason 2: Wellaholic is a Trusted and Award-winning Aesthetic Chain with Over 2000 Positive Reviews.
✅ Over 50 Awards. Wellaholic's WellaSmooth and SHR Hair Removal have won over 50 awards from top beauty publications since 2018.
✅ Over 2000 Verified Customer Reviews. Wellaholic has over 2000 positive reviews from customers around the world. .
✅ Verifiable Reviews. Positive reviews indicate high customer satisfaction. (See reviews below).
✅ Over 50% Repeat Customers. More than 50% of Wellaholic's customers are repeat and recurring customers.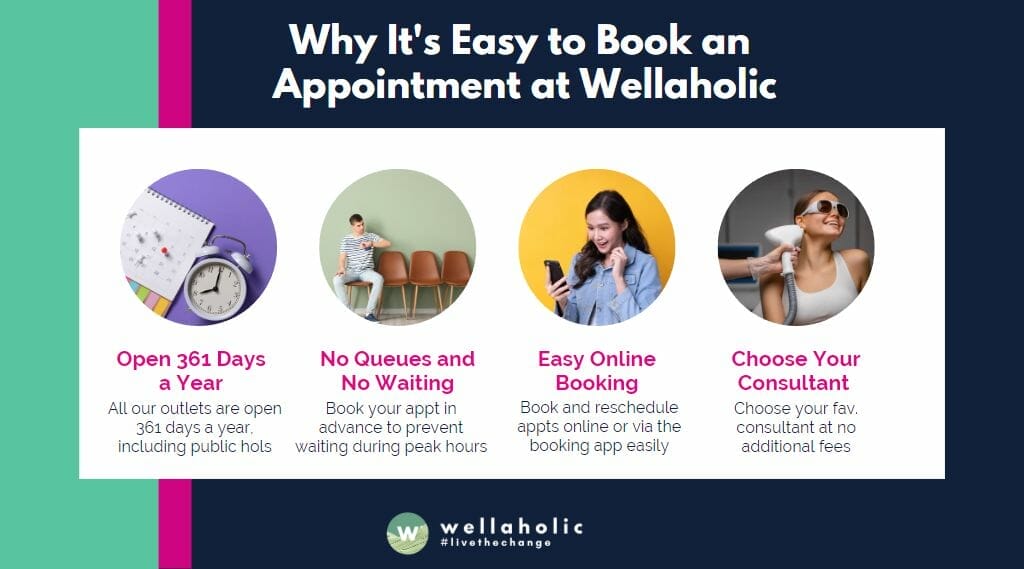 Reason 3: It's Easy to Book an Appointment at Wellaholic
✅ Open 361 Days Per Year. Wellaholic's 8 outlets are open 361 days a year, including public holidays for easy bookings.
✅ No Queues. Book appointments in advance to avoid long wait times.
✅ Easy Online Booking. Customers can conveniently book and reschedule appointments online or via the booking app.
✅ No Extra Cost for Choosing Consultant. Customers can choose their preferred consultant for free.