We Answer All Your Questions on Permanent Hair Removal – 15 Questions and Counting!
All Your Questions on Permanent Hair Removal Answered
Why is hair removal ever so popular, especially in Singapore? There are many reasons for this popularity or trend. Some prefer the cleanliness and hygiene associated with smooth skin, while others have issues and problems with ingrown hairs resulting from shaving. In fact, hair removal is a popular treatment for both men and women in Singapore. The possibility of not having to shave on a daily basis is also another time-saving factor for many millennial Singaporeans. While the face and underarms remain one of the more common areas for hair removal treatments, we see a trend with more male and female customers coming to Wellaholic for a full body SHR hair removal experience, especially with our bestseller WellaSmooth all-inclusive hair removal regime, which recently won the Editor's Choice Award and Readers' Choice Award from Daily Vanity's Spa & Hair Awards 2021. In this article, we will help answer all your hair removal questions in this comprehensive FAQ compilation.
For benefit for all readers, this FAQ will cover all major forms of laser hair removal (alexandrite, diode, SHR, IPL, etc) under the "permanent hair removal" category. Read on!
What is Laser Hair Removal?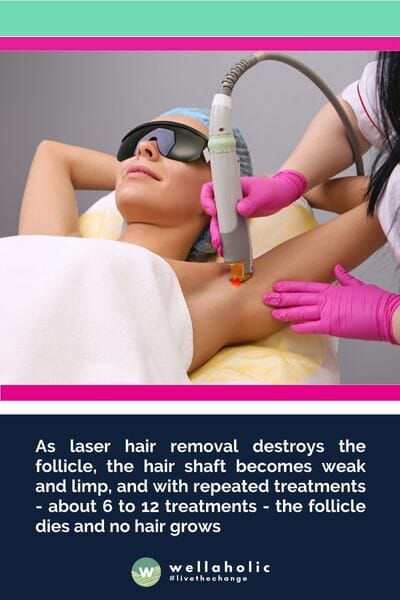 Laser hair removal is a medical procedure that uses a laser to target and destroy hair follicles. The laser emits a beam of light that is absorbed by the pigment in the hair follicle, which destroys the follicle and prevents regrowth. Laser hair removal can be used to remove unwanted hair from the face, legs, arms, bikini line, and other areas of the body.
Laser hair removal is safe for most people, but it is important to consult with a medical professional before undergoing treatment. The procedure is typically performed by a licensed esthetician or dermatologist in an outpatient setting. Most people require multiple treatments to achieve desired results, and maintenance treatments may be necessary to prevent regrowth.
---
What is SHR Hair Removal?
SHR or Super Hair Removal is a relatively new technology for hair removal. SHR uses gentler pulses of energy but at a higher frequency as compared to IPL hair removal. This laser hair removal technology is a laser diode hair removal, and allows the skin to be heated gently, but with rapid pulses. The energy is then accumulated by the skin, and 50% of the energy targets the follicles responsible for hair growth, while the other 50% targets the stem cells responsible for hair production.
With SHR or Super Hair Removal is a laser hair removal technology with the highest efficacy for hair removal especially for Asian hair. Invented by Alma Lasers, the skin is treated with low energy fired in multiple shots per second. This is ideal for skin and hair of all types and causes minimal irritation to the skin. Wellaholic's popular SHR Prestige plan allows you treatment on all body parts.
What is IPL Hair Removal?
Intense pulsed light (IPL) uses a broad-spectrum light with varying wavelengths that penetrate the skin at different depths. Compared to a laser, which uses a single-spectrum light, IPL gives off light energy that is weaker, more dispersed, and less targeted.
An IPL device emits pulses of light, which are absorbed by the pigment in hair follicles below the skin's surface. The light turns to heat that is absorbed by the skin, and essentially destroys the follicle—causing hair to fall off and regrowth to slow down significantly, at least for some period of time.
Broad-spectrum light naturally spreads out, allowing IPL hair removal devices to cover relatively larger areas of skin than laser hair removal devices. So, IPL treatments are generally faster but more IPL sessions are required to get the same results as laser hair removal procedures
Standard IPL hair removal devices work best on lighter complexions with dark hairs. However, there are hairs that may be light on the surface but have dark follicles underneath. For these types of hair-skin combination, IPL also produces results, especially the more advanced IPL devices.
How is SHR different from IPL Hair Removal?
SHR uses a patented technology to destroy hair follicles by using low fluence repetitive laser pulses. This Advanced Fluorescence Technology (AFT) In-Motion technology is a breakthrough in customer comfort and effectiveness. Compared to IPL which fires about 2 to 4 shots into each hair follicle, SHR fires about 30 to 40 shots instead.
Is SHR Hair Removal the same as Laser Hair Removal?
SHR or SHR Permanent Hair Removal is a relatively newer technology which uses low energy and rapid pulsing diode laser but at a higher frequency. This diode laser hair removal technology allows the skin to be heated gently, but with the rapid pulses, the energy is then accumulated by the skin. With SHR technology one does not need single pulses with high energy. The skin is massaged six to ten times using low energy but with high frequency. This procedure is referred to as the so-called "in-Motion" methodology, because the hand piece is moved over the treated area in sliding movements. (Unlike this, the IPL technology is called "stamp technology".)
For laser hair removal, there are various types of machines using different technologies and wavelengths. They include:
Alexandrite Laser Hair Removal
Ruby Laser Hair Removal
Nd:YAG Laser Hair Removal
Diode Laser Hair Removal
IPL (Intense Pulsed Light) Laser Hair Removal
SHR is currently the best laser technology with the highest efficacy for hair removal. Among the top advantages of getting treated with SHR has to do with its higher level of safety and pain-free removal of unwanted hair. During the super hair removal treatment, you will only feel the kind of warmth you get from a massage and some tingling effect. There is not pain with SHR because it targets hair follicles with low joules of heat energy that are fired in multiple shots.
Is SHR better than OLED Hair Removal?
We have seen some local online literature stating that OLED hair removal is better than IPL or SHR technology. OLED is claimed to be developed locally and heavily marketed by a local hair removal provider with no scientific background or published journals, and hence there are no case studies to justify its effectiveness (Our only knowledge of OLED is for digital displays and televisions screens. In this case, OLED are low-energy LEDs which will not have the ability to target hair follicles) . On the other hand, SHR hair removal is developed by Alma Lasers from Israel, and is also comprehensively backed by scientific reports and journals. This is one reason why many hair removal providers in Singapore offer SHR hair removal, as they are backed by science and not just marketing. At Wellaholic, we believe in providing scientifically-proven treatments backed by research and case studies.
Do my hairs come back after a hair removal treatment?
Why do hairs continue to grow after the the treatment? This is mainly due to the hair's growth cycle. Hairs in the anagen, or active phase will be affected by the laser. The hairs in the catagen, or dormant stage will be unaffected during the treatment and grows when it goes to the anlagen phase.
At least eight cycles of treatment are required to expect a significant reduction in hair, with each session conducted after every four to six weeks. Even then, some hair may regrow and touch-up treatments every six to 12 months. The rate at which the hair regrows depends on the individual, with various conditions affecting the rate of regrowth. This includes: skin tone, hair colour, and where the hair is located. A 10 to 20 percent reduction in hair growth can be expected after each treatment, according to the American Academy of Dermatology. The hairs that regrow usually returns much finer due to most of the melanin removed during the treatment, making them less visible.
Does permanent hair removal hurt?
The most common sensation felt during the procedure is a small pinch, like a rubber band is being snapped against your skin. The feeling only lasts a few seconds and generally stops when the laser does. The cooling equipment and lasers with large spot sizes help to minimize discomfort. While you may not feel the heat, you may feel like your skin is being snapped with a rubber band. You may also experience mild discomfort after the procedure, such as redness and irritation similar to a mild sunburn. The procedure may also feel painful to some degree, especially for the facial and private regions where the skin is more sensitive and where there are more nerve endings.
One thing for sure — laser hair removal is definitely less painful than waxing. When it comes to removing unwanted hair, laser treatment is the best method. It's a long-term solution that's far less painful than waxing. If you're prone to ingrown hairs, it's the only method you should choose, as it completely destroys the hair follicle.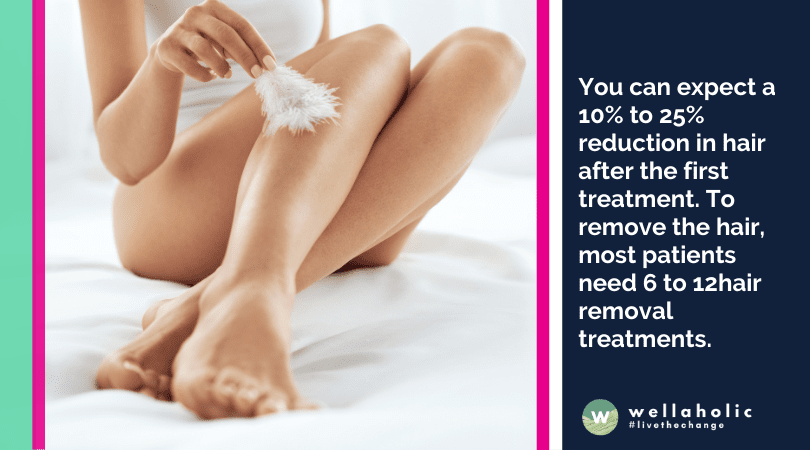 When will I see the results after having permanent hair removal?
You will likely see the results immediately after treatment. The results vary from patient to patient. The color and thickness of your hair, area treated, type of laser used, and color of your skin all affect the results. You can expect a 10% to 25% reduction in hair after the first treatment. To remove the hair, most patients need 6 to 12hair removal treatments. After finishing the treatments, most patients do not see any hair on the treated skin for several months or even years. When the hair regrows, there tends to be less of it. The hairs also tend to be finer and lighter in color.
How long does a permanent hair removal treatment take?
Smaller areas such as the lip and chin take as little as 10 minutes. Underarms hair removal treatments take approximately 10 to 15 minutes. Larger treatment areas such as the back, arms or legs take longer, from 30 to 45 minutes (for both arms or both legs). At Wellaholic, it usually takes less than 2 hours for a full body (including Brazilian / Boyzilian) shaving, followed by full body hair removal.
When is it safe to have another hair removal treatment after getting one done?
This varies from patient to patient. Removing hair often requires a series of hair removal treatments. Most patients can have laser hair removal once every 4 to 6 weeks. To answer this question, you will need to understand the hair growth cycle.
Hair Grows in 3 Phases
The active growth phase – the part of the follicle that actually generates the hair (the papilla) is present and is growing a hair.
The mature phase – when the hair has stopped growing and the papilla has disappeared.
The dormant phase – the follicle is preparing to "shed" the old hair (exfoliation) and cycle back to the active growth phase.
On average, a hair follicle will cycle through these phases every 4-12 weeks, depending on which part of the body is growing the hair. When dark hair is treated, it's always vaporized regardless of the phase. However, the follicle itself will stop making hair only if treated during the active growth phase when the hair shaft is still connected to the papilla, making it vulnerable to the laser energy destroying it. To achieve permanent hair removal, 6 to 12 laser hair removal treatments approximately 4-6 weeks apart are usually required. That is to ensure that every follicle is treated in the active growth phase when the papilla is present. At Wellaholic, we advocate an 8 to 12 session plan spaced at 28 days apart for the best results.
How Much does laser hair removal cost?
​While most treatment salons do not openly publish their prices, the question that is likely on most of your minds would be "What are the prices of the various hair removal treatment places in Singapore?". Through a few sources, we were able to compile a list of hair removal treatments and their per-session prices. (Disclaimer: prices might be outdated; they might also fluctuate from time to time, hence please use this a rough guide, and check with each treatment centre for the most updated pricing).
BRAZILIAN HAIR REMOVAL – TYPICAL COSTS OF SERVICE IN SINGAPORE
There is a high demand for Brazilian hair removal treatments in Singapore. With this in mind, we gathered some of the per-session Brazilian hair removal treatments by various providers. Please note that some outlets require the purchase of a treatment package (e.g. 6 or 12 sessions, or an annual plan). Also, the type of hair removal technology used are also different. You might want to review the differences between IPL and SHR hair removal

FULL BODY HAIR REMOVAL – TYPICAL COSTS OF AN ALL-INCLUSIVE PACKAGE IN SINGAPORE
Besides Brazilian hair removal, there is also a unique category of Full Body Hair Removal. This allows the customer to pay a single price or fee to enjoy permanent hair removal for all body parts including Brazilian or Boyzilian. There are not many merchants offering such a service, with the exception of Wellaholic and Datsumo Labo. Wellaholic also has a WellaSmooth package which includes all-inclusive shaving as well as Post-Treatment Therapy with AfterGlow (red light rejuvenating treatment).
ALWAYS CONSIDER THE QUALITY OF TREATMENTS OVER THE PRICING
While the per-session pricing is a good gauge on which hair removal operator to visit, pricing alone is usually not an effective indicator. This is because the quality and efficacy of treatments, together with the level of customer service may vary from establishment to establishment. Always make it a point to read the customer reviews before committing yourself to a long-term package! (Source)
Are there any potential side effects of permanent hair removal?
Short-term side effects of laser hair removal may include swelling and redness, which typically subside in a few days. However, in rare circumstances, or if the procedure is performed incorrectly, patients face a number of dangers, such as burns and change in skin color. One of the most common dangers associated with improperly performed permanent hair removal procedures are burns, which may occur if the skin, rather than the hair follicle, absorbs the laser energy. It is extremely important to determine if you are an appropriate candidate for laser hair removal before undergoing treatment in order to minimize the risk of burns as well as other possible side effects.
SHR treatment is considered to be a generally safe treatment and is well-tolerated by customers with all skin types. Nevertheless, you should always watch out for risks of burns, redness and hyperpigmentation – although the probability of this is very low when done with an experienced hair removal specialist. At Wellaholic, we have over five years of experience with SHR hair removal, and our therapists have clocked at least 200 hours of SHR hair removal training (in fact most have over 1000 hours of experience). This is also why it is important to follow the 28-day recovery time to prevent any likelihood of hyperpigmentation.
Can pregnant women undergo permanent hair removal treatments?
While there has been no studies stating that pregnant women cannot go for hair removal treatments, we recommended pregnant women to abstain from hair removal treatments as a safety precaution. At Wellaholic, a customer who is pregnant can apply to freeze their existing packages indefinitely until they are ready to resume treatment again.
Can I do permanent hair removal over my tattoo?
Laser hair removal is very effective at removing unwanted hair but the lasers themselves can be problematic for those who have tattoos. You may already be aware that lasers are also used to remove tattoos. And because lasers are attracted to the black pigment in the ink it can cause the pigment to scatter. If the laser were to go over your tattoo, it could potentially reduce the color in the tattoo by up to 75%.
For those who want to go down the laser hair removal route, it is possible to have a treatment that treats around the tattoo, however, this will mean your tattooed area will either need other forms of temporary hair removal. Depending on the amount of surface area of your tattoo, this may be a perfect option for you.
How often should I go for a laser hair removal treatment?
Laser hair removal is a popular cosmetic procedure that uses laser energy to destroy hair follicles. The procedure is most often performed on the face, legs, and bikini line.
Most people need multiple laser hair removal treatments to achieve desired results. Treatment frequency depends on the individual's hair growth cycles. Typically, treatments are scheduled 4-6 weeks apart.
Laser hair removal is considered a safe and effective way to reduce unwanted hair growth. Side effects are typically mild and temporary, such as skin redness and irritation. More serious side effects are rare but possible.
---
What medications should I avoid before my permanent hair removal treatment?
Avoid medications or preparations such antibiotics that make your skin more sensitive to light. Additionally, the use of skin care products such as Retin-A, Differin, Renova, glycolic or alpha-hydroxy acid preparations can cause you skin to be more sensitive than normal to light based therapies and should be discontinued a week before your hair removal treatments.
How should I prepare for a permanent hair removal treatment?
Here are some guidelines to help you prepare for a hair removal treatment:
Avoid any tanning. Suntan, fake tan and sunbeds are equally dangerous if you allow your skin to tan before your laser treatment or apply a fake tan. If your skin is tanned, the laser can burn the surface. If all traces of your fake tan are not removed this also can put you at risk.
Do not bleach your hair. The darker the hair follicles, it is easier for the laser to see them
Clean the treatment area before your session. Don't use any cosmetic creams before your session. You can ask for sanitary towels from your practitioner at the beginning of your session to clean the area as well.
Shave 24 hours before your laser appointment. NOT on the treatment day. To read more about how to shave correctly, you can visit our blog
Choose a non-perfumed shaving/ cleansing product for your bikini area. Otherwise, it might cause irritations.
Use a pH-balanced feminine cleanser wash afterwards to make sure all the shaving foam has been removed. For more tips on how to shave click here
Gently exfoliate your bikini area 3-4 days before your session. Don't leave it to the last day or after you shaved. Otherwise, it might irritate your skin.
Wear loose clothes for your treatment. Make sure your underwear is not too tight.
Try to schedule the treatment the week before of the week after your period
Most importantly, relax, you're in safe hands.
WellaSmooth All-inclusive Hair Removal by Wellaholic
WellaSmooth™ All-Inclusive Hair Removal is designed for an all-inclusive fuss-free full-body permanent hair removal experience with a 5-star rating. WellaSmooth™ All-Inclusive Hair Removal includes all-that-you-require shaving service, followed by SHR Unlimited Prestige hair removal which includes unlimited SHR shots for the entire body (including Brazilian/Boyzilian). Also included is our Skin Whitening / Hydrating post-treatment therapy (PTT) followed by our AfterGlow Red Light therapy.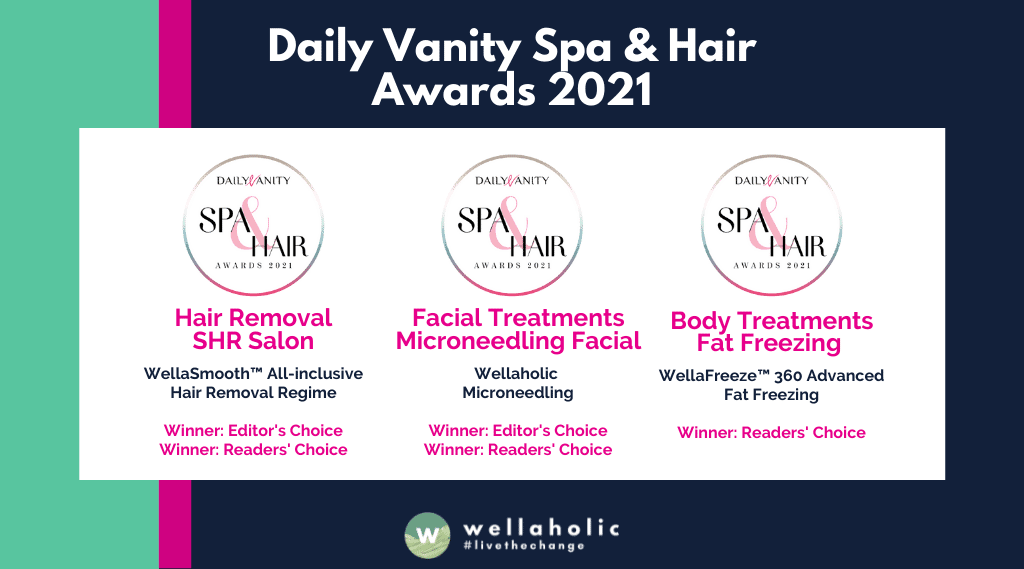 What is WellaSmooth™ All-inclusive Hair Removal Regime?
Voted Best Hair Removal Treatment by Daily Vanity Spa and Beauty Awards 2021.
WellaSmooth™ All-Inclusive Hair Removal is designed for an all-inclusive fuss-free full-body permanent hair reduction experience.
WellaSmooth™ All-Inclusive Hair Removal is ideal for all skin color, hair color, and all forms of hair.
Also include is all-that-you-require shaving service for all body parts including your private regions.
WellaSmooth™ All-Inclusive Hair Removal also includes the Skin Whitening / Hydrating (PTT) with AfterGlow™, which includes post-hair-removal skin whitening or skin hydration followed by our AfterGlow Red Light therapy for enhanced skin rejuvenation.
Achieve smooth and glowing skin that will wow everyone.
This treatment is ideal for both men and women, by male and female therapists.
Get a package and choose your shaving, SHR permanent hair removal and post-treatment whitening and hydration done at any of our multiple outlets across Singapore.
WellaSmooth™ is your ultimate all-inclusive hair removal treatment in Singapore complete with shaving and post-treatment care.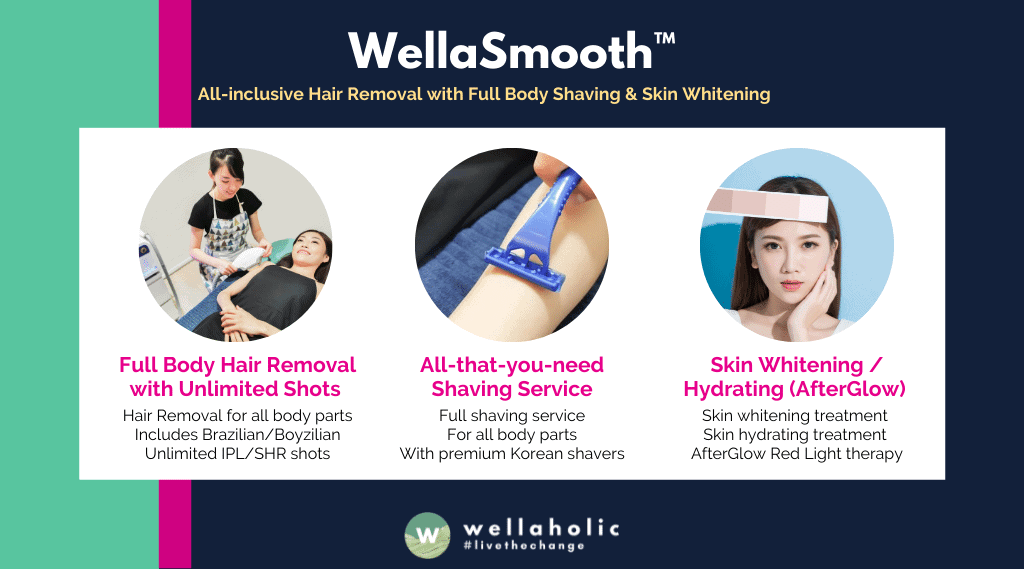 WellaSmooth™ Includes the Following Three Hair Removal Services
SHR Permanent Hair Removal PRESTIGE Unlimited – Enjoy our bestseller SHR hair reduction treatment for all body parts
Unlimited Shaving Service – Enjoy unlimited shaving service on all body parts
Skin Whitening/Hydrating (PTT) with AfterGlow – Enjoy post-treatment whitening or hydrating therapy followed by AfterGlow red-light treatment to rejuvenate your skin
See Over 1800 Positive Reviews of Wellaholic (Customer Verifiable)
Pricing of SHR Hair Removal Treatments by Wellaholic
Wellaholic believes in providing pricing transparency, and hence all prices are published and updated on its website. Choose from unlimited monthly hair removal plans (with unlimited SHR hair removal shots) for unlimited body parts, or choose from per-session hair removal price plans. Wellaholic's hair removal prices are generally divided into the following categories:
---
---