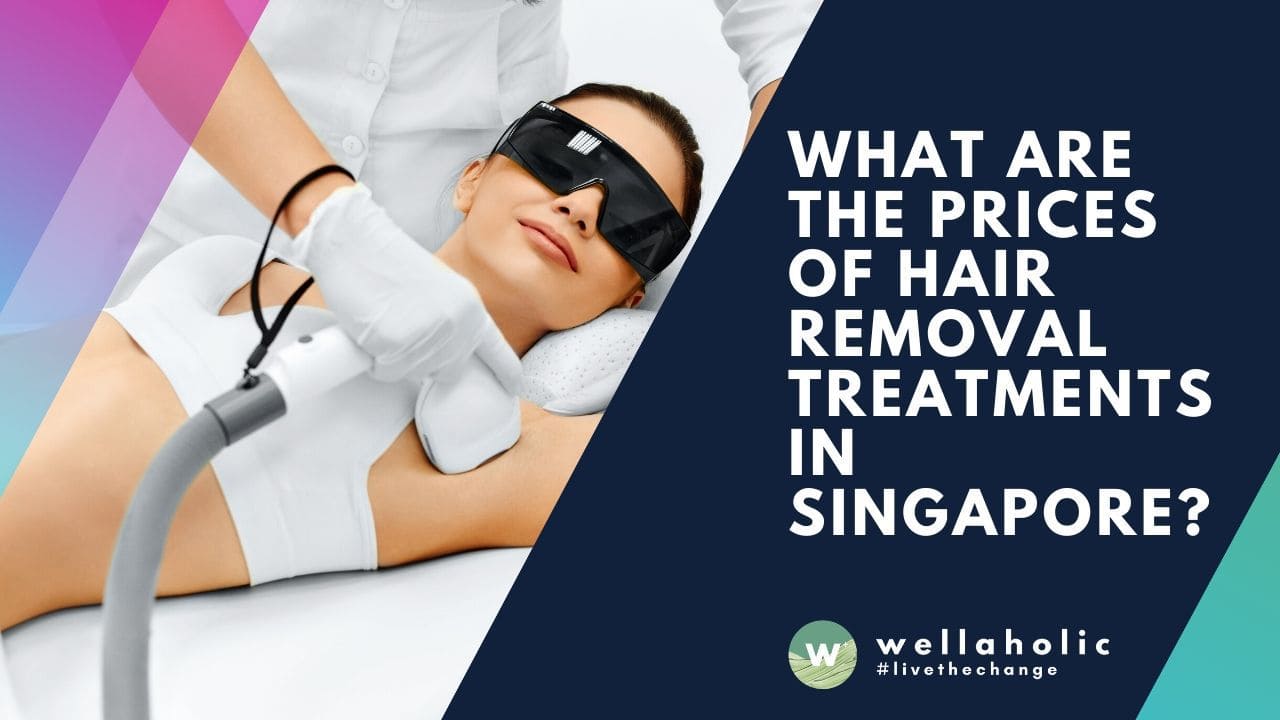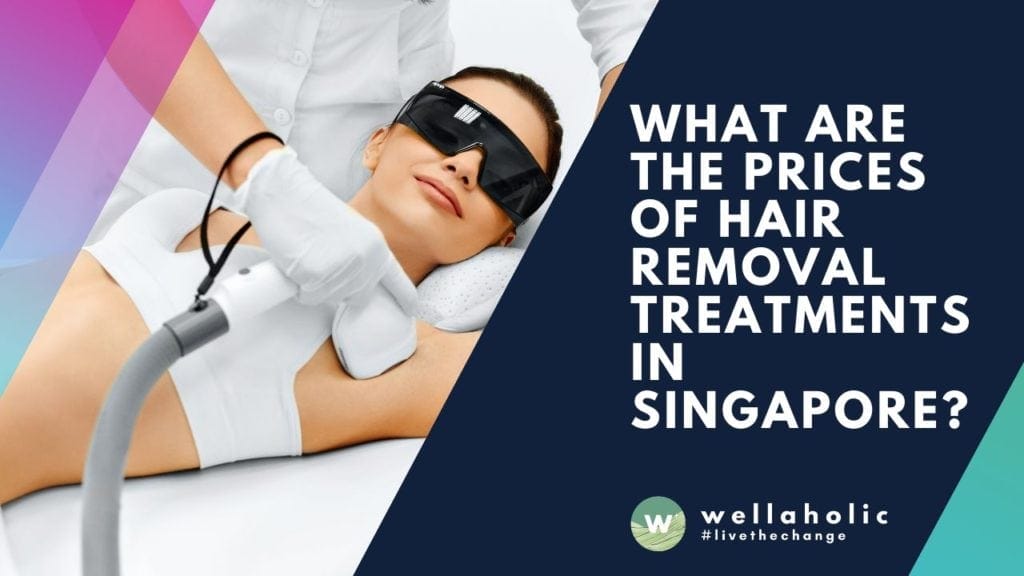 What are the prices of Hair Removal Treatments in Singapore?
Introduction
Hair removal is pretty much the norm in Singapore these days. In fact, hair removal is not only applicable for women but for men as well. According to a survey by Braun, about 62% of men now manscape regularly, with those that do saying it makes them feel cleaner, sexier and also enhances the appearance of their muscle. While shaving and waxing are the more common forms of hair removal in the past (as provided by establishments such as Strip Singapore and Sugared), they do not lead to permanent hair reduction, and there are many horror stories of ingrown hairs. In this article, we will provide an estimation of the per-session hair removal treatments for some of the establishments in Singapore, from cheap hair removal providers to the more expensive ones.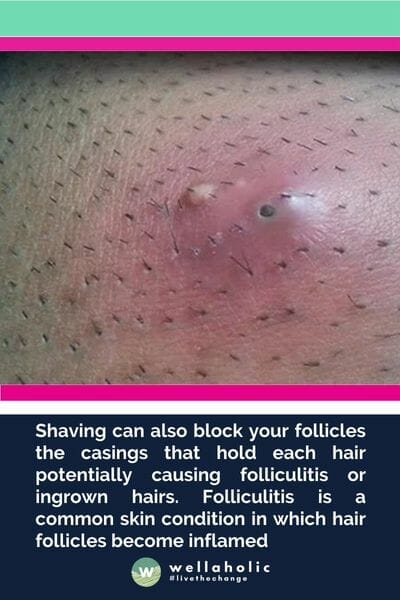 Why does shaving and waxing lead to ingrown hairs?
​The objective of waxing is to remove the entire hair from the follicle (hidden beneath the skin). However, the hair tends to break either above or slightly below the skin's surface when waxed. Usually this is caused when the wax is removed in the opposing direction of the hair's growth. This leads to additional strain on the hair.
Instead of a new hair growing back with its natural beveled edge, the hair is now blunt and sharp. This sharpness causes the hair to pierce the skin and grow into it. Shaving also causes the same issue. The ingrown hair is not only unattractive and permanent, but it can be painful. Ingrown hairs also causes pimples due to the infection of the area – unless you remove the ingrown hair, the discomfort continues to persist and may even cause pus to form due to infection.
This is also why more customers are turning to hair removal as the better alternative to shaving and waxing.
What are the prices of hair removal treatments in Singapore?
​While most treatment salons do not openly publish their prices, the question that is likely on most of your minds would be "What are the prices of the various hair removal treatment places in Singapore?". Through a few sources, we were able to compile a list of hair removal treatments and their per-session prices. (Disclaimer: prices might be outdated; they might also fluctuate from time to time, hence please use this a rough guide, and check with each treatment centre for the most updated pricing).
Brazilian Hair Removal – Typical Costs of Service in Singapore
There is a high demand for Brazilian hair removal treatments in Singapore. With this in mind, we gathered some of the per-session Brazilian hair removal treatments by various providers. Please note that some outlets require the purchase of a treatment package (e.g. 6 or 12 sessions, or an annual plan). Also, the type of hair removal technology used are also different. You might want to review the differences between IPL and SHR hair removal.
Full Body Hair Removal – Typical Costs of an All-inclusive package in Singapore
Besides Brazilian hair removal, there is also a unique category of Full Body Hair Removal. This allows the customer to pay a single price or fee to enjoy permanent hair removal for all body parts including Brazilian or Boyzilian, with unlimited SHR shots (the consultant will use as many shots as necessary for effective hair removal, but not overdoing it such that it causes any harm to the skin, leading to hyperpigmentation). There are not many merchants offering such a service, with the exception of Wellaholic and Datsumo Labo. Wellaholic also has a WellaSmooth package which includes all-inclusive shaving as well as Post-Treatment Therapy with AfterGlow (red light rejuvenating treatment).
Always Consider the Quality of Treatments over the Pricing
While the per-session pricing is a good gauge on which hair removal operator to visit, pricing alone is usually not an effective indicator. This is because the quality and efficacy of treatments, together with the level of customer service may vary from establishment to establishment. Always make it a point to read the customer reviews before committing yourself to a long-term package! Book Pay Pay Later with Wellaholic!
---
WellaSmooth All-inclusive Hair Removal by Wellaholic
WellaSmooth™ All-Inclusive Hair Removal is designed for an all-inclusive fuss-free full-body permanent hair removal experience with a 5-star rating. WellaSmooth™ All-Inclusive Hair Removal includes all-that-you-require shaving service, followed by SHR Unlimited Prestige hair removal which includes unlimited SHR shots for the entire body (including Brazilian/Boyzilian). Also included is our Skin Whitening / Hydrating post-treatment therapy (PTT) followed by our AfterGlow Red Light therapy.
What is WellaSmooth™ All-inclusive Hair Removal Regime?
Voted Best Hair Removal Treatment by Daily Vanity Spa and Beauty Awards 2021.
WellaSmooth™ All-Inclusive Hair Removal is designed for an all-inclusive fuss-free full-body permanent hair reduction experience.
WellaSmooth™ All-Inclusive Hair Removal is ideal for all skin color, hair color, and all forms of hair.
Also include is all-that-you-require shaving service for all body parts including your private regions.
WellaSmooth™ All-Inclusive Hair Removal also includes the Skin Whitening / Hydrating (PTT) with AfterGlow™, which includes post-hair-removal skin whitening or skin hydration followed by our AfterGlow Red Light therapy for enhanced skin rejuvenation.
Achieve smooth and glowing skin that will wow everyone.
This treatment is ideal for both men and women, by male and female therapists.
Get a package and choose your shaving, SHR permanent hair removal and post-treatment whitening and hydration done at any of our multiple outlets across Singapore.
WellaSmooth™ is your ultimate all-inclusive hair removal treatment in Singapore complete with shaving and post-treatment care.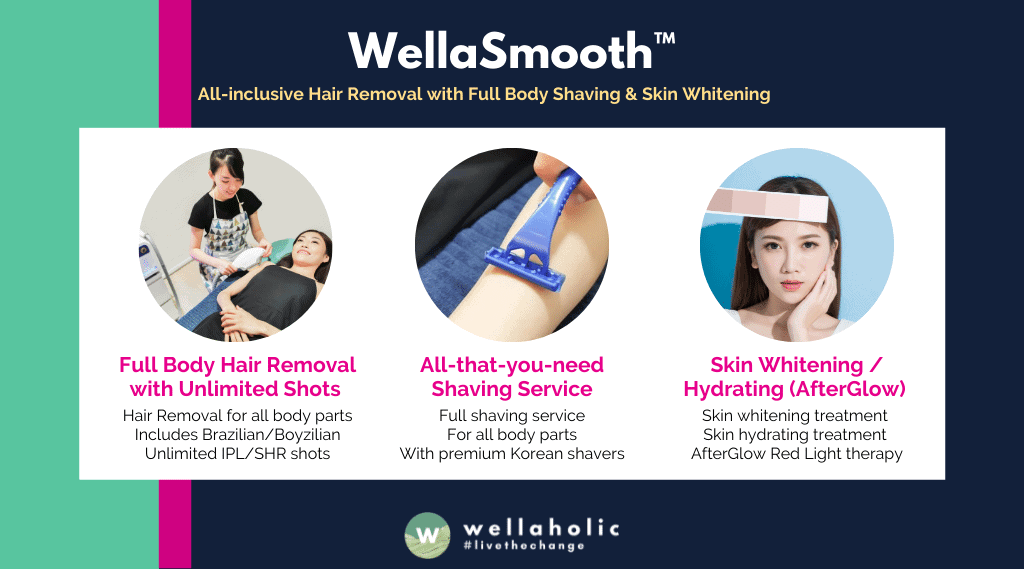 WellaSmooth™ Includes the Following Three Hair Removal Services
SHR Permanent Hair Removal PRESTIGE Unlimited – Enjoy our bestseller SHR hair reduction treatment for all body parts
Unlimited Shaving Service – Enjoy unlimited shaving service on all body parts
Skin Whitening/Hydrating (PTT) with AfterGlow – Enjoy post-treatment whitening or hydrating therapy followed by AfterGlow red-light treatment to rejuvenate your skin
Pricing of SHR Hair Removal Treatments by Wellaholic
Wellaholic believes in providing pricing transparency, and hence all prices are published and updated on its website. Choose from unlimited monthly hair removal plans (with unlimited SHR hair removal shots) for unlimited body parts, or choose from per-session hair removal price plans. Wellaholic's hair removal prices are generally divided into the following categories: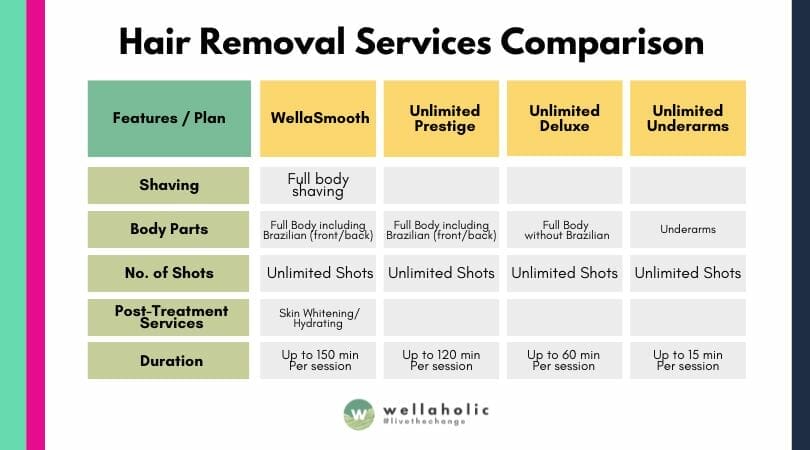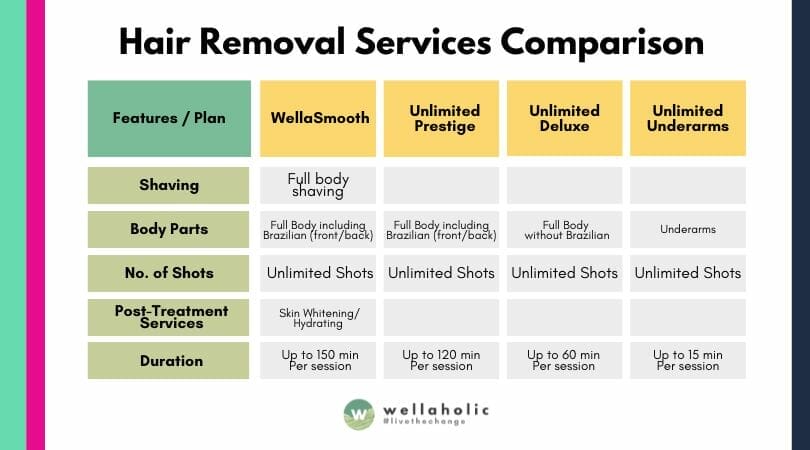 ---
---