Effective Fat Loss for Singapore Men
---
Introduction: Why is Singapore Men becoming fat and more obese
In recent years, the number of obese men in Singapore has been on the rise. According to a study conducted by the Health Promotion Board, the percentage of obese men in Singapore increased from 11.8% in 2014 to 13.5% in 2016. The main reason for this increase is due to the change in lifestyle and dietary habits of Singaporeans. In the past, most Singaporeans were physically active and ate a healthy diet.
---
What is fat loss?
If you're like most people, you probably want to lose fat – not just weight. But how? What's the best way to burn off that extra fat? There's no one-size-fits-all answer, but there are some general principles you can follow. First, focus on losing body fat, not just weight. You don't necessarily need to lose weight to improve your health, but you do need to lose fat.
Second, create a calorie deficit. This means eating fewer calories than you burn each day. You can do this by eating less and/or exercising more.
Third, eat a healthy diet and avoid fad diets. A healthy diet includes plenty of fruits, vegetables, and whole grains and limits unhealthy fats and processed foods. Avoiding fad diets is important because they're usually not sustainable or healthy in the long run.
The benefits of fat loss
Losing weight has countless benefits that range from improved physical health to boosted self-confidence. Although it can be difficult to lose weight, the process is worth it in the long run. Here are some of the most significant benefits of fat loss.
One of the most noticeable benefits of losing weight is improved physical health. When you carry around less weight, your body doesn't have to work as hard and this can lead to lower blood pressure and reduced stress on your joints. Losing weight can also help improve your cholesterol levels and reduce your risk for developing diabetes.
In addition to physical health benefits, losing weight can also lead to psychological improvements. Carrying extra weight can be emotionally draining, but shedding those pounds can increase self-esteem and confidence. Feeling good about yourself can lead to better decision making in other areas of life, such as relationships and career choices.
The best ways to lose fat
Losing fat can be difficult, but there are a few key ways to help you succeed. First, you need to create a calorie deficit by eating fewer calories than you burn. Second, be sure to include plenty of protein in your diet to help preserve muscle mass as you lose fat. Third, focus on high-intensity interval training (HIIT) to help burn more fat in less time. Lastly, you can also use science and technology to help you lose weight, such as using fat freeze or Cryolipolysis.
---
WellaFreeze™ 360 Advanced Fat Freeze by Wellaholic
WellaFreeze™ 360 Advanced Fat Freezing uses the latest fat freeze technology and is designed for customers who are looking to fat freeze 4 body parts at once. Similar to Clatuu 360 or CoolSculpting 360, our WellaFreeze 360 Cryolipolysis device is equipped with 4 probes or applicators for concurrent usage. Further more, the latest innovation in our fat freeze 360 probes increases the coverage area – meaning that you can freeze a larger surface area per probe.
What is WellaFreeze™ 360 Advanced Fat Freezing?
WellaFreeze™ 360 Fat Freezing is the latest innovation in fat freezing. It uses a newer device over the traditional WellaFreeze cryolipolysis machine. 
WellaFreeze™ 360 Fat Freezing helps target the stubborn fat and cellulite areas of your body that do not react well to exercise and dieting.
Fat cells are "dissolved" by non-surgical means and controlled cooling at sub-zero temperatures.
WellaFreeze™ 360 Fat Freezing with its newer technology can increase in absolute fat removal by up to 19%, in addition to the 14% to 28% fat reduction from each session.
In addition, customer can treat 4 body parts at one time with WellaFreeze™ 360 Fat Freezing.
Each session is also reduced from 60 minutes to only 30 minutes, due to the increase freezing ability.
WellaFreeze™ 360 uses 360 probes which can freeze and reduce up to 34% of body fat per session with no or minimal bruising to the body.
WellaFreeze™ Fat Freezing Can Target the Following Body Parts
Stomach / Belly / Tummy / Abdomen
Love Handles / Flanks
Under the Neck / Double Chin
Back / Bra Area
Thighs
Male Chest (Pseudo gynecomastia)
Arms
Under Buttocks (Banana Roll)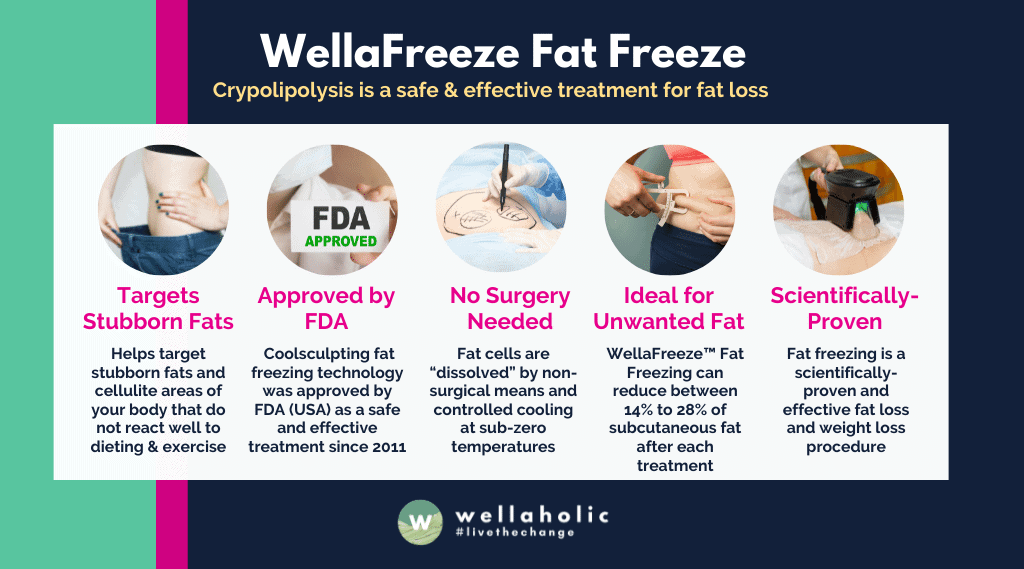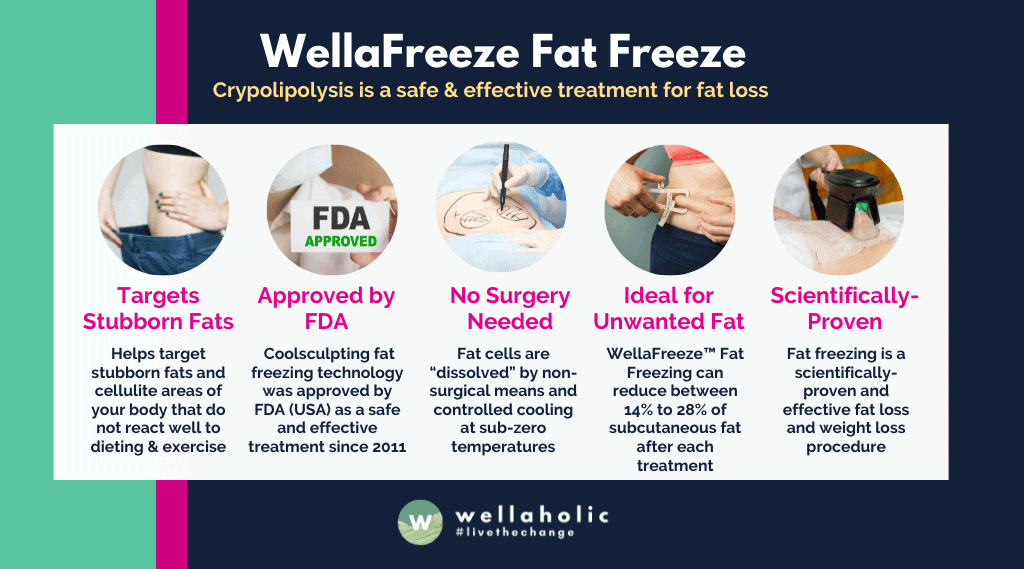 See Over 1800 Positive Reviews of Wellaholic (Customer Verifiable)
Pricing of Slimming Treatments by Wellaholic
Wellaholic believes in providing pricing transparency, and hence all prices are published and updated on its website. Choose from a single-session plan or choose a multi-session plan for greater discounts. Wellaholic's slimming treatments are generally divided into the following categories: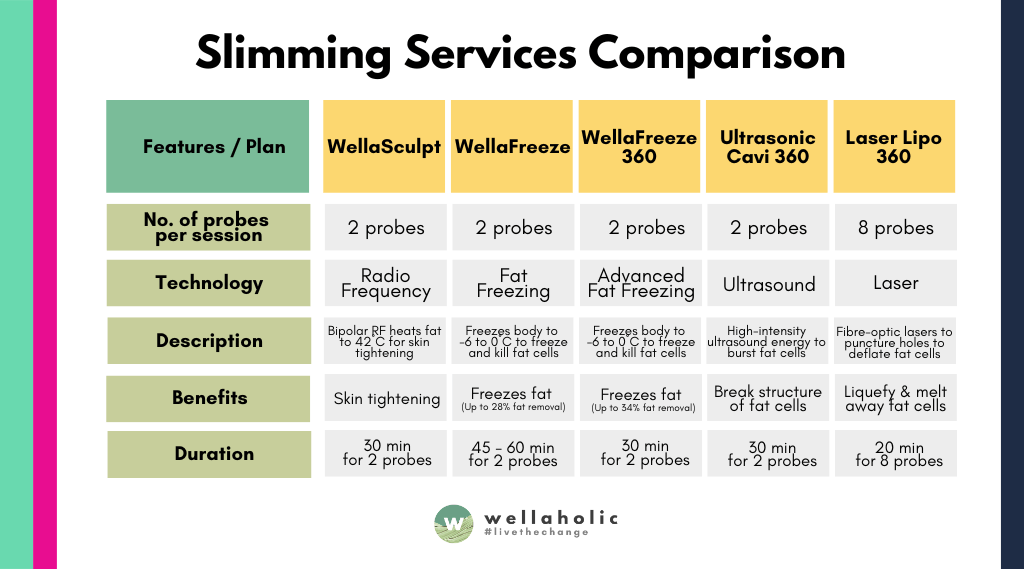 Please click on the menu below to see the pricing for the various slimming treatments by Wellaholic. Prices are nett and inclusive of GST.
---
---