From Stress To Allergies: Why You Might Be Getting Eye Bags In Singapore.
TL:DR Summary
Eye bags are a common cosmetic concern that many people face. They are the result of mild swelling or puffiness under the eyes, which can be caused by various factors.
Some of these factors are aging, stress, lack of sleep, or allergies. Eye bags can affect how you look and feel. They can make you appear tired, older, or unhealthy. They can also lower your self-esteem and confidence.
Fortunately, there are ways to prevent and treat eye bags. You can take good care of your skin and health by avoiding sun exposure, smoking, and alcohol, staying hydrated, sleeping well, and managing stress.
You can also use natural remedies, such as cool compresses, cucumber slices, tea bags, or aloe vera gel, to reduce inflammation and soothe the skin. If these methods are not enough, you can consult a doctor for medical options, such as creams, fillers, botox, lasers, or surgery.
Introduction: From Stress To Allergies: Why You Might Be Getting Eye Bags In Singapore.
If you've been noticing more eye bags lately, you're not alone. A recent study found that 67% of Singaporeans suffer from some form of stress, and many of them say it's affecting their quality of life. But stress isn't the only thing that can cause eye bags. Allergies, lack of sleep, and even genetics can all be contributing factors.
---
1 in 3 Singaporeans have allergies
1 in 3 Singaporeans have allergies, and the number is rising. Allergies are a growing problem in Singapore, and they can be debilitating. If you have allergies, it's important to see a doctor and get treatment. Allergies can be controlled, but they can't be cured. With the right treatment, you can live a normal, healthy life.
Pollen: the most common allergen in Singapore
Pollen is one of the most common allergens in Singapore. It is a powdery substance that is released into the air by plants. Pollen can cause hay fever, asthma, and other respiratory problems. When pollen particles are inhaled, they can trigger an allergic reaction. The symptoms of a pollen allergy include sneezing, runny nose, itchy eyes, and difficulty breathing. There are many different types of pollen, and not all of them cause allergies. However, the most common type of pollen that causes allergies in Singapore is from the grass family.
Allergic rhinitis: symptoms and effects
Allergic rhinitis, also known as hay fever, is a condition that affects the nose. The symptoms of allergic rhinitis are caused by an allergic reaction to airborne particles such as pollen, dust, or pet dander. The symptoms of allergic rhinitis can include sneezing, congestion, runny nose, itchy eyes, and watery eyes. Allergic rhinitis can also cause headaches and fatigue. In some cases, the symptoms of allergic rhinitis can be severe enough to interfere with daily activities. If you suffer from allergies, there are a number of treatments that can help to relieve your symptoms.
Atopic dermatitis: a skin condition caused by allergies
Atopic dermatitis is a skin condition that is caused by allergies. It can be very uncomfortable and itchy, and it can sometimes lead to infections. There are many different treatments for atopic dermatitis, but the best way to prevent it is to avoid triggers.
Atopic dermatitis, also known as eczema, is a chronic skin condition that causes the skin to become dry, itchy, and inflamed. The exact cause of atopic dermatitis is unknown, but it is thought to be a combination of genetic and environmental factors. Atopic dermatitis is not contagious and cannot be cured, but it can be managed with medical treatment and lifestyle changes.
There are two types of atopic dermatitis: infantile atopic dermatitis and adult-onset atopic dermatitis. Infantile atopic dermatitis typically begins in infancy and resolves by early childhood. Adult-onset atopic dermatitis typically begins in adulthood and can persist throughout life.
Atopic dermatitis is a common condition that affects millions of people worldwide.
Allergic conjunctivitis: irritation and inflammation of the eyes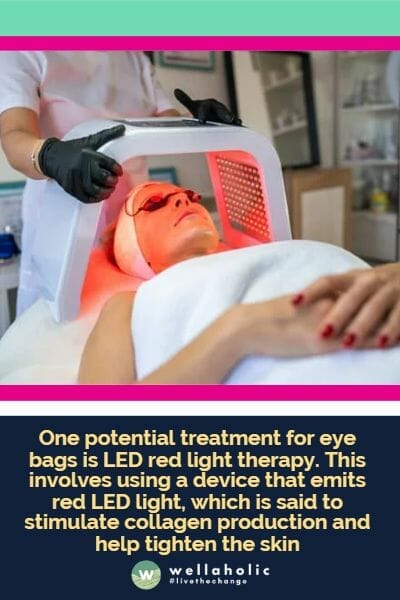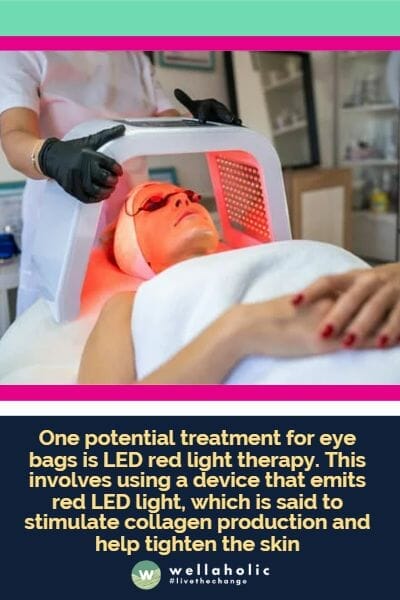 Allergic conjunctivitis is a condition that causes irritation and inflammation of the eyes. The symptoms of allergic conjunctivitis include itching, redness, and watering of the eyes. Allergic conjunctivitis is often caused by allergies to pollen, dust, or animal dander. Treatment for allergic conjunctivitis includes avoiding the allergens that trigger the condition and using anti-inflammatory medications.
---
LED Red light treatment for eye bags
One potential treatment for eye bags is LED red light therapy. This involves using a device that emits red LED light, which is said to stimulate collagen production and help tighten the skin. There is some scientific evidence to support this claim, but more research is needed. If you're considering trying LED red light therapy for your eye bags, it's important to consult with a dermatologist or other skin specialist first. They can assess your individual case and let you know whether or not this treatment is likely to be effective for you.
Elight Monthly Facial – Look Six Years Younger in Three Months
Looking for a facial treatment that can bring out the best in your skin? Look no further than Elight Monthly Facial! This six-step technology facial is backed by scientific research and incorporates various technology treatments, including RF, IPL, Diamond Peel microdermabrasion, LED Cell Regeneration, Retinol, and REFA facial massage.
By combining these treatments, Elight Monthly Facial can help to boost collagen production, reduce the appearance of fine lines and wrinkles, and leave your skin looking flawless and younger-looking. And with the treatments designed as an affordable unlimited monthly package with weekly visits, you can enjoy consistent results that will leave you feeling confident and radiant.
What is Elight Monthly Facial?
⭐ Six-Step Technology Facial. Elight Monthly Facial is a six-step technology facial backed by scientific research.
⭐ RF, IPL, LED, REFA, etc. Elight Monthly Facial combines multiple technologies (RF, IPL, Diamond Peel, LED, Retinol, REFA massage) for comprehensive skincare.
⭐ Reduce Pimples and Acne. Elight is also able to reduce pimples and acne with its high energy waves.
⭐ One Price for 4 Weekly Facials. The Elight treatments are designed as an affordable unlimited monthly package with weekly visits.
⭐ Flawless, Younger-Looking Skin. Elight treatments are designed to bring out the best consistent results in flawless, younger-looking skin.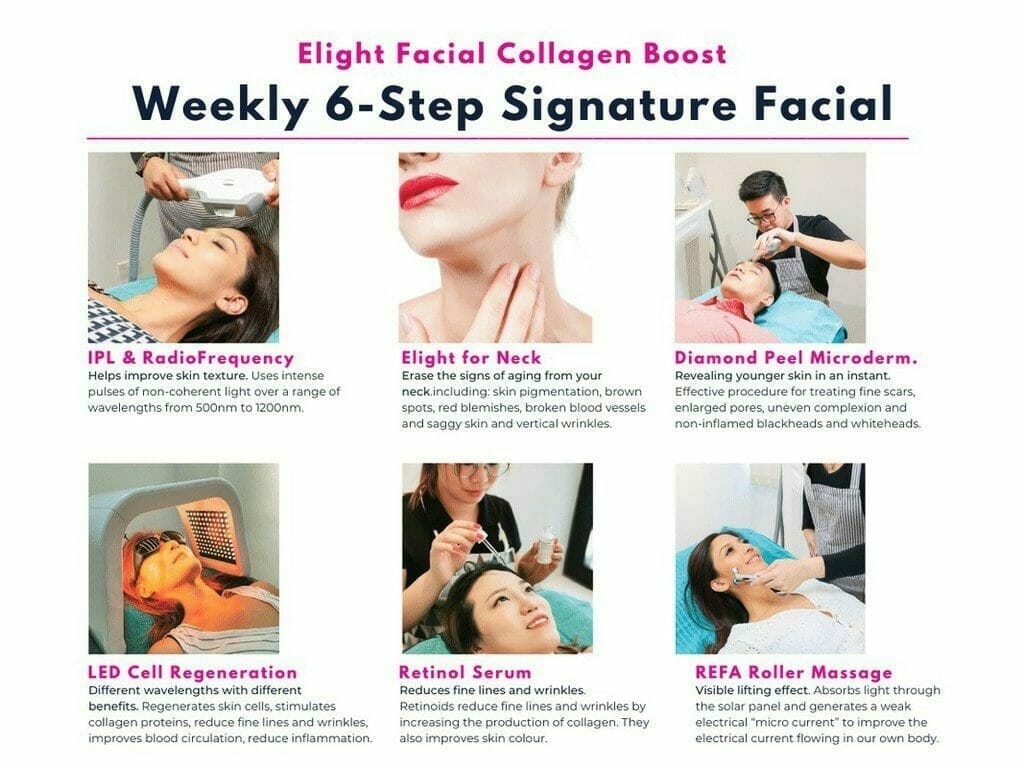 What are the Benefits of Elight Monthly Facial?
⭐ Specific Wavelengths. Utilizes specific wavelengths to stimulate collagen production.
⭐ Improve Skin Elasticity. Enhances skin elasticity and reduces wrinkles through photorejuvenation.
⭐ Accelerates Skin Healing. Reduces inflammation and accelerates healing processes.
⭐ Lymphatic Drainage. Enhances lymphatic drainage and blood circulation.
⭐ Retinol Improves Skin Tone. Improves skin tone, texture, and pigmentation issues.
⭐ Widely Adopted. Widely adopted by dermatologists and skincare professionals.
Pricing of Facial Treatments by Wellaholic
💎 Price Transparency. Wellaholic offers pricing transparency by publishing and updating all prices on our website.
💎 Flexible Per-Session or Unlimited Plans. Customers can choose from unlimited monthly facial plans for added cost savings, or per-session plans.
💎 Mix and Match Easily. Wellaholic's facial plan prices are divided into different categories for easy selection.
💎 No Price Shocks.No hidden fees or surprises. You pay for what you get.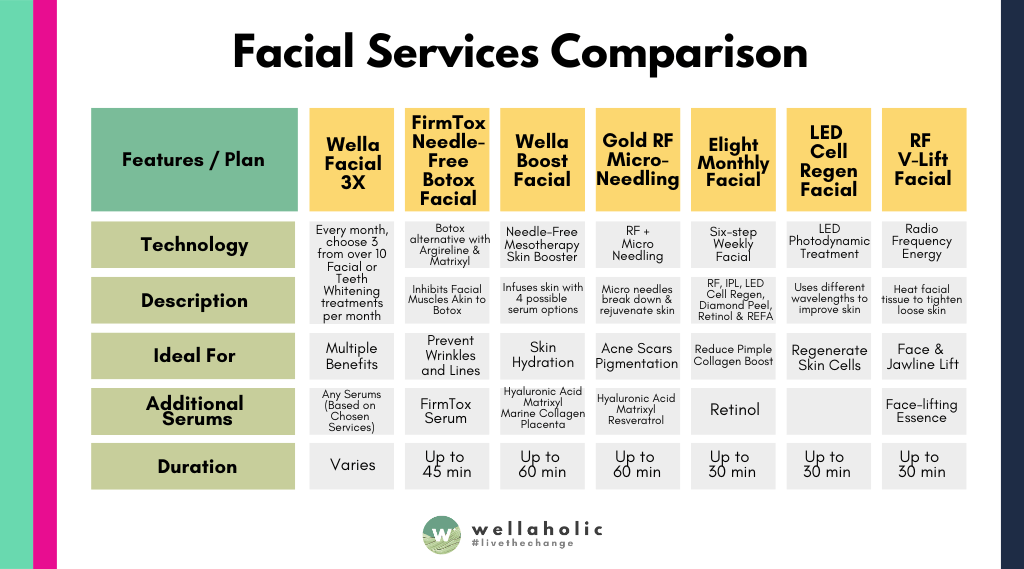 GET IN TOUCH
Book Now Pay Later
Why Wellaholic is One of the Best Facial Providers in Singapore?
✅ Leading Facial Aesthetic Chain in Singapore. Wellaholic is a leading facial and aesthetic chain in Singapore that is highly sought after by customers.
✅ Quality & Safe Treatments. Wellaholic is committed to providing quality and safe treatments with experienced staff.
✅ Wide Range of Facial Treatments. Wellaholic offers a wide range of facial treatments for various skin concerns, and using different technologies such as microneedling, RF, Elight, IPL and mesotherapy.
✅ Trained & Experienced Consultants. All treatments are performed by trained professionals who understand the skincare needs of both female and male customers.
✅ Advanced Facial Technology. Advanced facial technology is used to ensure a safe experience with no downtime or discomfort during the entire process.
✅ Most Affordable Provider. Wellaholic provides competitive pricing for its treatments which makes it one of the most affordable providers in Singapore.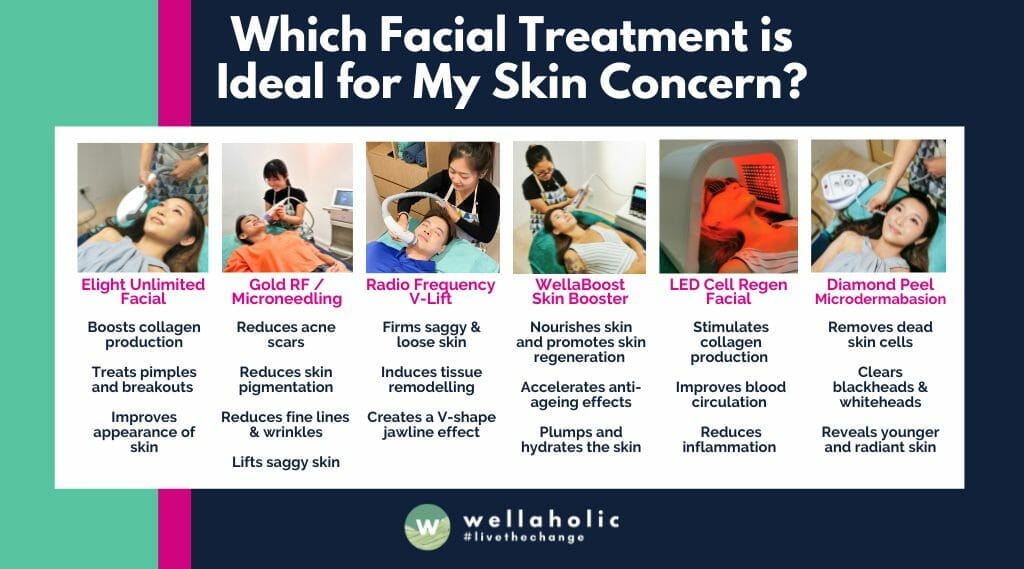 Reason 1: Wellaholic Offers Comprehensive Facial Services and Expertise
Wellaholic offers many types of facial services for your facial and skin needs. Our facials can be broken down into the following categories:
✅ WellaFacial™ 3X Ultimate Facial Plan
✅ FirmTox™ Needle-Free Botox Alternative Facial
✅ WellaBoost™ Skin Booster
✅ Gold RF Microneedling / Microneedling
✅ LED Cell Regen Facial
✅ Elight Monthly Facial
✅ RF V-Lift Facial
✅ Diamond Peel Facial
Reason 2: Wellaholic Has Over 50 Awards and 2000 Genuine Customer Reviews
✅ Over 50 Awards. Wellaholic's acclaimed treatments have received prestigious awards from 2018-2023, as featured in top publications like Daily Vanity, Beauty Insider, and Tropika Club Magazine.
✅ Over 2000 Verified Customer Reviews. Wellaholic has over 2000 verified positive reviews from our customers in Singapore and beyond.
✅ Verifiable Reviews. The reviews are verified and positive, which indicates the high level of customer satisfaction (see reviews below).
✅ Over 50% Repeat Customers. More than 50% of Wellaholic's customers are repeat and recurring customers.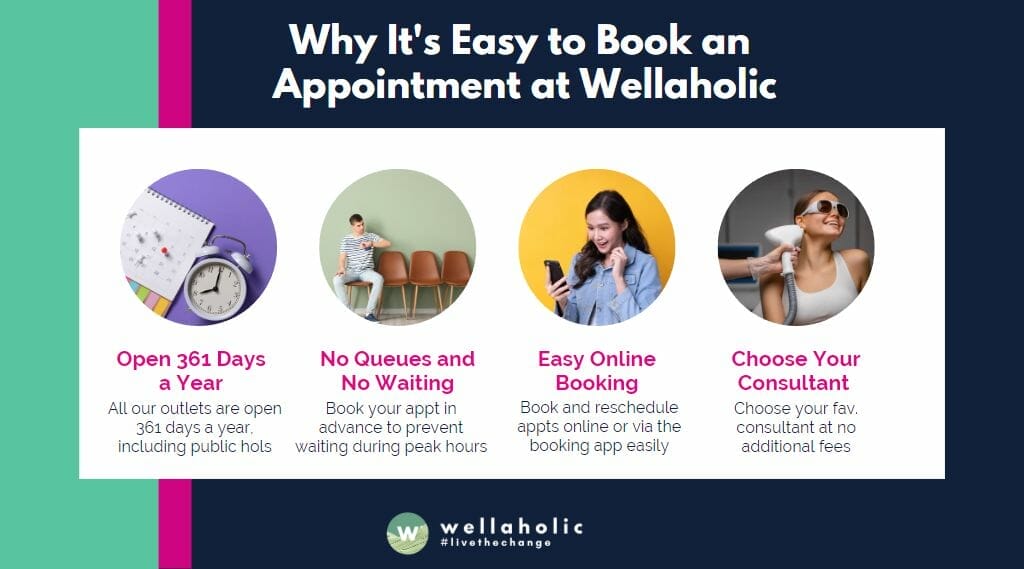 Reason 3: It's Easy to Book an Appointment at Wellaholic
✅ Open 361 Days Per Year. Wellaholic's 8 outlets are open 361 days a year, including public holidays, so that customers can easily book an appointment.
✅ No Queues. All appointments are booked in advanced to prevent the need to queue and wait unnecessarily during peak hours.
✅ Easy Online Booking. Customers can conveniently book and reschedule appointments online or via the booking app.
✅ No Extra Cost for Choosing Consultant. Customers can select their preferred consultant without having to pay any additional fees.