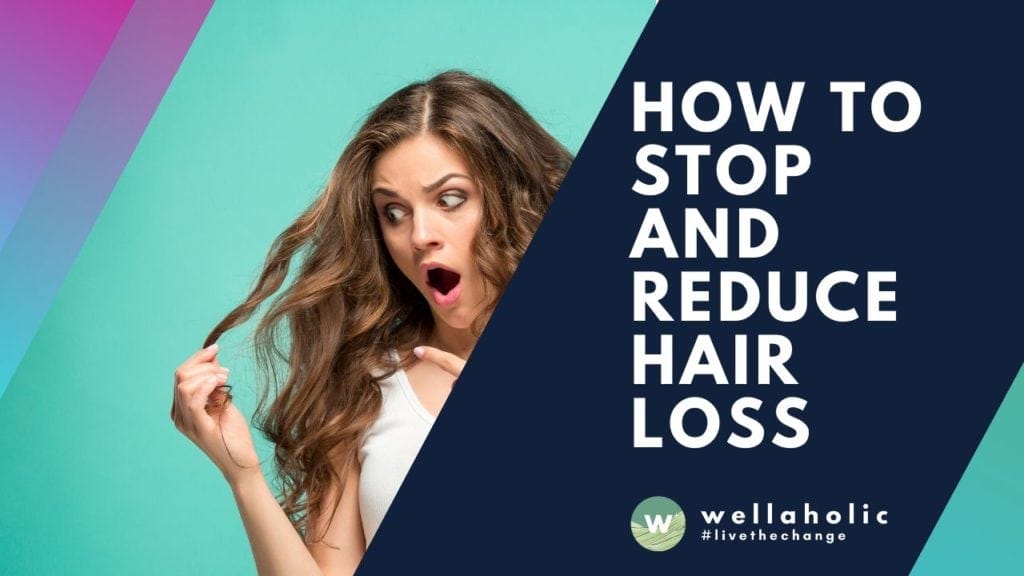 How to Stop and Reduce Hair Loss
Introduction
Who has not had a hair loss scare? All of us, sooner or later, start to worry that we might be losing too much hair. While most of the moment, it is only a false alarm, and it is possibly just our hair's routine shedding, in some cases, it's more than that. However, what could be causing the sudden hair loss? In case you've been experiencing baldness and have reason to believe that it is not just your shedding habit, the first thing to do is to consult your doctor. In the following article adapted from Tropika Club, the Wellaholic team will discuss the phases of hair growth, causes of hair fall, and how you can reduce it obviously.
What are the stages of hair growth?
​Have you ever wondered why your hair does not grow past one stage, however much you attempt? That is because, contrary to popular belief, your hair has a life cycle of 2-6 years, and it drops out. And a new hair grows in its place, just like how plants grow in nature. There is a hair growth cycle that you need to first know of.
Anagen Stage 1 – This is the stage where the hair grows out from the follicles, and the shaft is always constructed, increasing the amount of your hair. This stage will last for 2-6 years.
Catagen Stage 2 – Within this phase, your own hair prepares to enter resting. This stage can last for approximately 2 weeks.
Telogen Stage 3 – The final phase is the resting stage in which the hair stops growing and eventually falls out to allow new hair replace it. This phase lasts for approximately 5-6 weeks.
Neogen And Exogen Stage 4 – Neogen is the regeneration stage of a hair follicle, where a brand new follicle develops in place of their old one. Exogen is the releasing of the old anagen.
About 10-20% of your hair is always in the resting phase at any particular time. Baldness happens when your hair falls out without finishing this three-stage cycle. The hair loss becomes permanent when the follicle stops producing hair, resulting in balding. There are two types of hair fall that can lead to balding.
What are the types of hair loss?
Pattern 1: Telogen Effluvium
​In case you have been experiencing loss of hair from all over your scalp and body, it is likely that you've got Telogen Effluvium. Telogen Effluvium occurs when more than 20% of your follicles abruptly go into the telogen phase, decreasing the number of follicles which are actively growing hair (3). This results in the loss of volume and, eventually, balding. Telogen Effluvium is mostly induced by certain triggers. .
Health triggers: Malaria, typhoid, tuberculosis, thyroid issues, malnutrition, syphilis, autoimmune diseases, and nutrient deficiencies.
Stress Triggers: Emotional trauma, heavy labour, starvation, crash diets, serious injuries, and surgeries.
Drug Triggers: Oral retinoids, oral contraceptives, anti-thyroid drugs, anticonvulsants, beta-blockers, amphetamines, Captopril, and heavy metals.
Local Triggers: Hair dye allergies
Pattern 2: Alopecia
Hair loss can take several forms, which range from loss in well-defined patches to diffuse or complete hair loss, which may affect all hair-bearing websites. This is called hereditary or alopecia hair loss. In androgenic alopecia, the hair starts to drop off if testosterone (the male sex hormone) is converted into dihydrotestosterone and starts to attack the hair follicles, making them worthless and curbing hair growth. Female pattern hair loss is strikingly different from male pattern baldness. The primary symptoms of female pattern baldness include the following:
Hair thinning in female pattern baldness is observed mainly on the top and the crown area. Balding starts with the widening of the centre hair part. The front hairline stays untouched in most patients. The hair loss may be intense, but it doesn't cause complete or near total baldness, as it does in men. More hair loss observed during showers and while cleansing your hair.
The source of hair fall vary from person to person. While in some circumstances, external factors may be responsible, some serious medical conditions, lack of nourishment, and heredity are also major causes of hair loss in many patients. The top factors Which May cause premature hair loss in women are:
​
Hair thinning in female pattern baldness is observed mainly on the top and the crown area. Balding starts with the widening of the centre hair part.
The front hairline remains unaffected in most patients.
The hair loss may be acute, but it does not lead to complete or near total baldness, as it does in men.
More hair loss observed during showers and while brushing your hair.
What are the main causes of hair fall?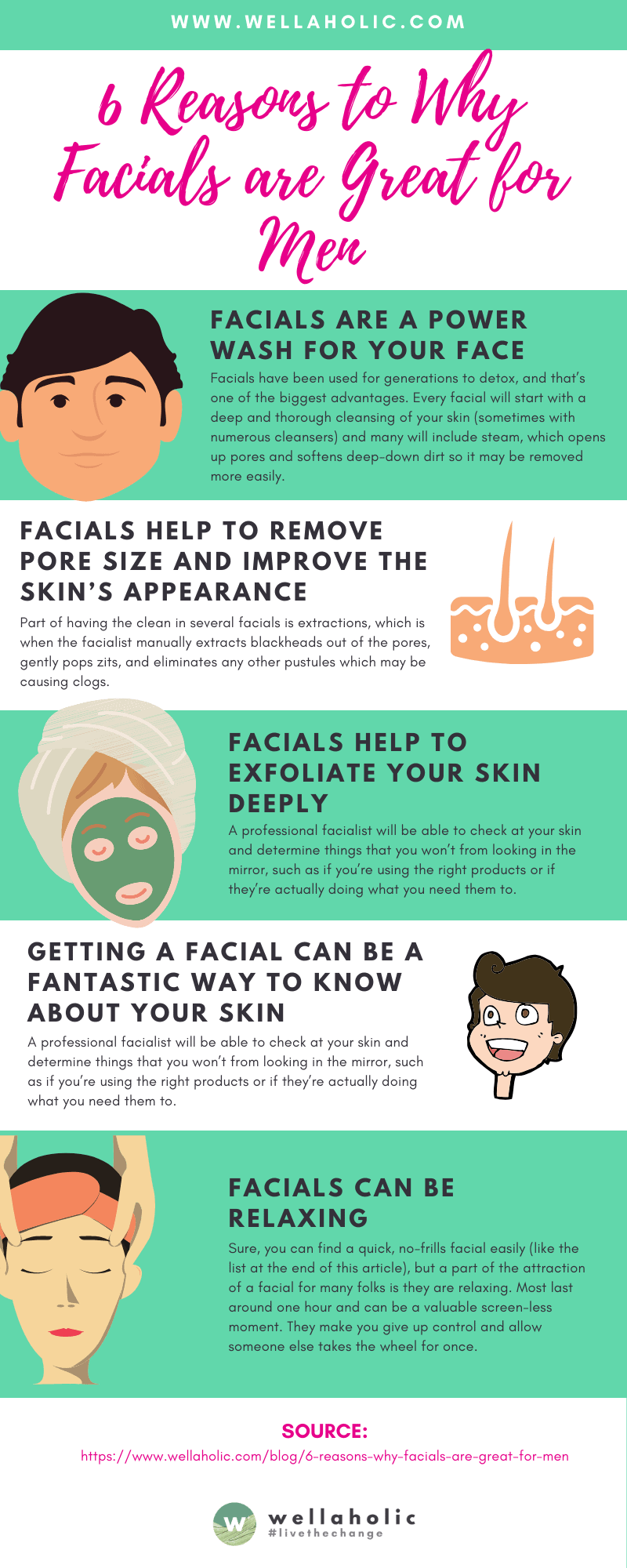 Physical And Emotional Stress – Persistent illness, drastic and excessive weight loss and intense physical labour can get the body to get drained and dried. This will make the hair follicles undernourished and weak and might cause rapid baldness.
Hereditary Factors – Hereditary baldness is known as alopecia. Though this is more evident in men, girls, too, will likely create genetically inherited alopecia. There are a variety of forms of alopecia, such as hepatitis alopecia, traction alopecia, etc..
Hormonal Changes – Hormonal changes in the body increase the sensitivity of hair follicles, weaken hair follicles, and cause extra hair fall. Menopause, ovarian cyst, hypothyroidism, hyperthyroidism, etc. cause changes within your own body's hormonal balance, which might finally result in hair loss.
Scalp Infection – Fungal, bacterial, and viral diseases such as seborrheic dermatitis and psoriasis in the scalp may weaken the roots and damage hair follicles, thereby causing breakage, thinning, and hair fall.
Pregnancy – The majority of women experience frequent dehydration, fatigue, and hormonal imbalance during and post-pregnancy. This causes enhanced sensitivity within the hair follicles. Additionally, it creates unfavourable scalp ailments. Each of these factors together may result in chronic hair fall.
Alopecia Areata – Alopecia Areata is an autoimmune disorder where the immune system errors hair to get a foreign contaminant and starts attacking the hair follicles, causing hair loss. There is no cure for this illness.
Medication And Treatments – Certain medical conditions involve surgeries and treatments that help to cure the ailment. While these cure your situation, the unwanted effects of the treatments can often damage the hair follicles and cause rapid hair fall. Medications such as chemotherapy, steroids, and drugs for heart problems, heart diseases, depression, etc. can cause extreme baldness.
Thyroid Disorders – Anti-thyroid medication virtually always result in hair loss. The hair appears thin, and the baldness is dispersed all over the scalp. Successful treatment often results in the hair return, but sometimes, the hair loss is permanent.
Over Supplementation – Over supplementation of a few nutrients, such as vitamin A, vitamin E, and selenium, has been discovered to induce baldness, among other dangers (10). Most hair supplements include these nutrients, although deficiencies in vitamin A and selenium have not been linked to hair loss. Instead of taking vitamins in their concentrated form as nutritional supplements, it is better to choose them out of fruits and other organic foods.
Heavy or Over-styling – Heavy use of hair products and hair accessories may lead to hair loss. Some hair products, like sulfate lauryl shampoos and hair sprays, are all known to contain chemicals that aren't good for your scalp and hair. Hair accessories (like elastic bands) are proven to pull on the hair. These may cause your hair to fall out. Hairstyles that require the hair to be pulled tight like a tight braid or ponytail may also trigger hair fall.
​We know that dealing with baldness can be overwhelming, but there are things you can do to curb the problem. Read our part II to find out what you can do to stop hair loss, and even regrow your lost hair.
How to make changes to your hair care routine?
​Making a couple of tiny changes to your daily routine can help reduce hair fall. Utilise a wooden wide-tooth comb to untangle your hair. You can use your usual brush after this. This will reduce breakage and hair loss from yanking. It is also vital to remember not to comb your hair when it is wet. Your hair is at its most vulnerable when wet, which raises the odds of breakage.
Another suggestion is to use your towel in the right way. Instead of aggressively trying to use your towel to dry your hair, and subjecting them to excessive force, gently squeeze excess moisture out of your hair with your towel and let it dry naturally. Attempt and switch to shampoos that are free of sulfates, silicones, and parabens to avoid loading your own scalp and hair with harsh substances that cause damage, making your hair brittle and more prone to breakage.
Wash your hair at least one time every three days with a gentle hair cleanser or shampoo to eliminate all of the accumulated dust, dirt, oil, and bacteria build-up. Keep it clean at all times to prevent hair drop from clogged follicles. It's also important not to wash your hair more than thrice a week. Overwashing will strip your scalp and hair of natural oils that are essential for healthy hair growth.
​
Do not subject your hair to regular chemical treatments, excessive blow-drying, ironing, and colouring as it can lead to hair loss. If you colour or dye your hair and have been confronting hair fall problems, it would be a fantastic idea to have a brief break before you set any more chemicals on your hair. Research demonstrated that allergic contact dermatitis from hair dyes might be liable for increased hair loss.
Can exercising prevent hair loss?
​You would be surprised at how much stress can result in hair loss. And nothing relieves stress in addition to physical activity does. Regular exercise such as yoga can go a long way in reducing anxiety and may help curb hair fall. Beauty comes from the mind and a healthy mind leads to healthy living. Therefore, it is crucial to maintain a balance in your life. Exercise boosts body health and promotes a strong hair growth cycle. It also increases the blood flow to scalp and promote circulation around the scalp, resulting in better hair growth. Work these eight simple, easy to do exercises into your daily regime for hair growth and good health.
Can hair growth supplements prevent hair loss?
​There are lots of hair growth supplements that can help regrow hair and suppress hair fall. Even specific vitamin supplements go a long way in enhancing the health and volume of your hair loss. However, do not begin taking any supplements without consulting a healthcare practitioner. Minoxidil is among the very best drugs for hair loss, though it might have a side effect of hypertrichosis (abnormal quantity of hair growth over the body). Cyproterone acetate is just another powerful medication for hair loss in women, though it isn't advisable for guys.
Can hair oil treatments help with hair loss?
​There have been research reports claiming that oiling your hair overnight can really make a difference. Though you might not like the concept of sticky, greasy hair, the application of oils, like coconut, peppermint, and argan oils, can help your hair in the long run. Leaving your hair straightened overnight supplies enough time for every strand to be coated and for the scalp to find nourished. Dandruff and dead cells are loosened from the movement of the fingers and can be removed easily with shampoo the next day.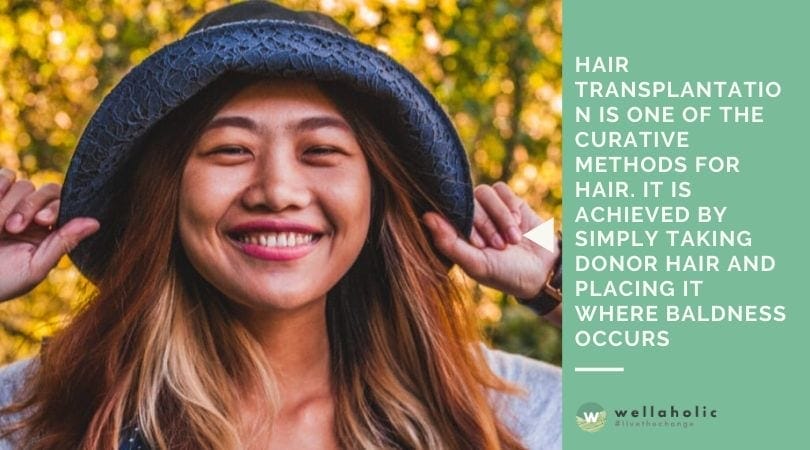 Can hair spa treat hair loss?
​Many salons offer hair spa remedies that are meant to strengthen, condition, and nourish your hair. These remedies are ideal for women who are busy and stressed. They not only enhance hair health but are also the perfect way to relax and destress. Listed below are the Advantages of hair spa therapy:
It profoundly states your hair, treats split ends and repairs dry, damaged, and dull hair. Additionally, it helps remove dandruff.
Hair spa therapy provides your scalp and hair with the essential nutrients needed for healthy hair growth.
It helps fortify the hair follicles and revitalises the scalp, creating an ideal atmosphere for unhindered hair development.
It prevents scalp ageing and improves blood circulation in the scalp using a stimulating massage.
It helps remove impurities from your hair and scalp, preventing build-up and flaking, resulting in better hair health.
The hair spa therapy provides relief from stress and tension.
It deals with baldness or thinning hair by providing damaged cells in your scalp with extra energy to resume normal functioning. This can help stimulate hair growth and curb baldness
Will hair transplant help with hair loss?
​Hair transplantation is one of the curative methods for hair. It is achieved by simply taking donor hair and placing it where baldness occurs. A hair transplant is a procedure in which a plastic or dermatological surgeon moves hair to a bald area of the head. The surgeon usually moves hair from the back or side of the head to the front or top of the head. For FUT, a doctor would remove strips of tissue from the donor area, and, once extracted, cut these strips into individual follicular units. Tiny cuts are then made in the scalp for the follicular unit grafts to be carefully placed into, which can leave some scarring. FUE is the modern approach to hair transplants and is usually favoured by patients because it leaves less obvious scarring. For FUE, individual hair follicles are extracted directly from the patient's donor area, which is typically the back of the neck, and then moved to the hair transplant site using a specialist micro surgical needle.
Hair Regrowth Treatments from Wellaholic
​What is HairGrow™?
​HairGrow™ is a special Unlimited Hair Loss Treatment Package in Singapore that combines both the Microneedling for Scalp (with Minoxidil) and Low Level Laser Therapy into a monthly unlimited bundle which offers up to 4 weekly treatments a month at a heavily discounted pricing. HairGrow™ is highly recommended by Wellaholic as this combined the various scientific treatments to treat your alopecia areata, thinning hair or receding hairline and accelerate your hair growth over a shorter period of time.
HairGrow™ = Microneedling for Scalp + LLLT combined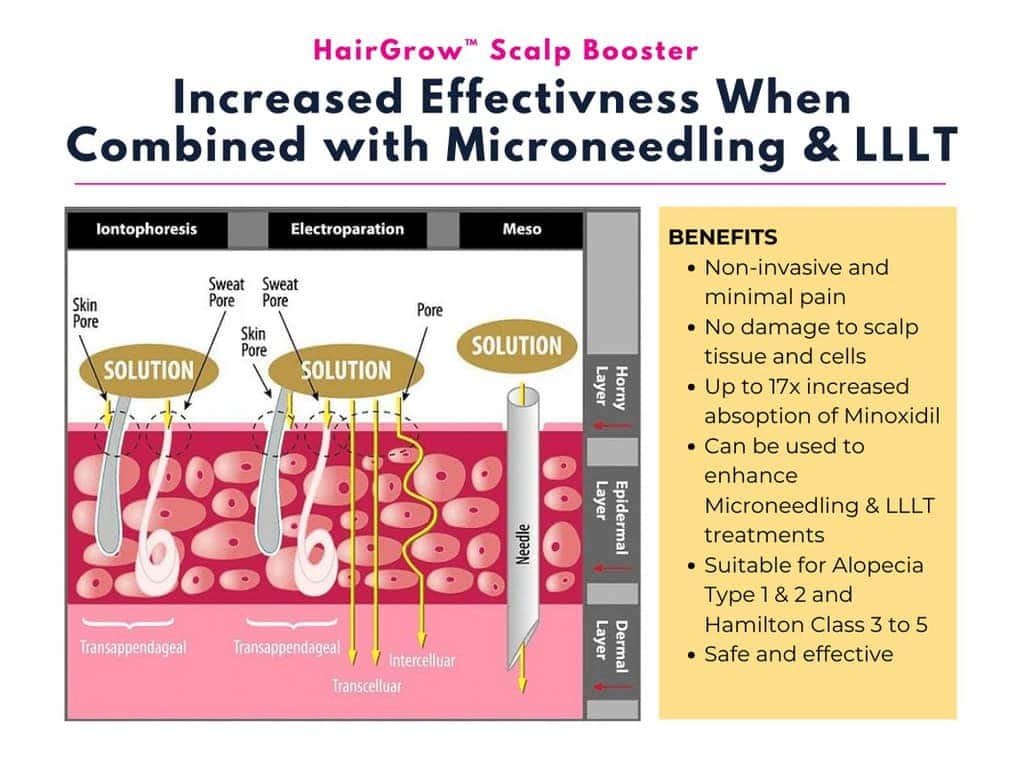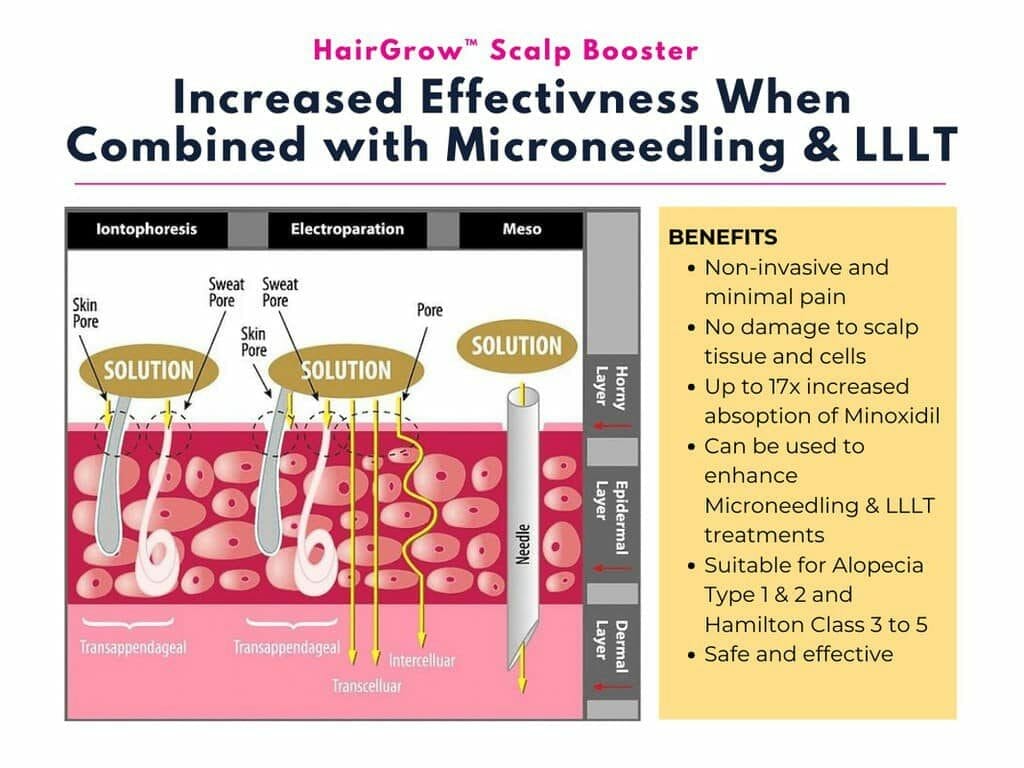 Is HairGrow™ Backed by Science?
​HairGrow™ including both Microneedling for Scalp as well as Low Level Laser Therapy. Both treatments have numerous research reports and case studies backing them up.
Case Study 1 (2013) concluded that the group which combined Microneedling with Minoxidil application saw a significant hair growth as compared to the minoxidil-only group.
Case Study 2 (2014) concluded the boosting effect of microneedling with respect to new hair follicle stimulation in patients with androgenetic alopecia who were poor responders to conventional therapy.
Low Level Laser Therapy (LLLT)
Case Study 3 (2013) concluded that 47% of the patients' hair growth occurred in 7 weeks earlier for the group with LLLT treatment compared to the group without.
Case Study 4 (2013) concluded a 35% increase in hair growth for the males with the LLLT helmet.
Why Should I choose HairGrow™?
​We highly recommend HairGrow™ over the individual treatments for the following reasons:
Best of Both Treatments – HairGrow™ includes both treatments are backed by scientific case studies to help you treat alopecia areata, hair loss, baldness, thinning hair and accelerate your hair regrowth.
Best Savings for Multiple Treatments – As both treatments require between 12 weeks and 16 weeks to see the best results (based on a weekly treatment regime), the Monthly Unlimited plans offers the best savings. 
Who is HairGrow™ Suitable For?
HairGrow™ is effective for the following conditions:
Alopecia, Alopecia Aerata and Androgenic Alopecia
Baldness, thinning hair and receding hairline
If you are not reacting well to Minoxidil treatments
Pricing of Hair Loss Treatments by Wellaholic
Wellaholic believes in providing pricing transparency, and hence all prices are published and updated on its website. Choose from a single-session plan or choose a multi-session plan for greater discounts. Wellaholic's hair loss treatments are generally divided into the following categories:
Please click on the menu below to see the pricing for the various hair loss treatments by Wellaholic. Prices are nett and inclusive of GST.
How Do I Choose the Right Hair Loss Treatment Plan for Me?
Depending on your hair regrowth needs you can choose the following plans:
Wellaholic is well-known in the industry for our transparent pricing and no hard selling.
In fact, we are probably the only aesthetic establishment in Singapore that publishes our prices openly.
All prices are nett and inclusive of GST, and are actual prices (i.e. not trial prices).
You can read our amazing reviews here.
HairGrow™ Unlimited (4 x Microneedling for Scalp + 4 x HairGrow Scalp Booster + 4 x LLLT per month)
---