Get That Sexy Back – With SHR Hair Removal
Get That Sexy Back!
While it's common to see males with hairy backs, however– women can have hairy backs as well. This unwanted and undesirable as well as usually deemed unappealing condition is likewise referred to as hirsutism. As well as if you struggle with it, this can refrain you from wearing that stunning bareback dress on date night as well as sensational swimwear at the coastline!
Stress not, we are watching your back (literally)! Our Super Hair Removal (SHR) laser treatment is right here to restore your self-confidence and conserve the day, with minimal difficulty and optimum outcomes!
What's So Great About Wellaholic's SHR Hair Removal?
Using effective and highly-targeted light energy to destroy the hairs at its origin, our customers who choose SHR hair removal love their outcomes as well as swear by our treatment to achieve smooth, perfect skin that lasts for years in just a few sessions! Let us help answer some of your burning questions about SHR hair removal now.
What is SHR Hair Removal?
SHR's Advanced Fluorescence Technology (AFT) In-Motion laser hair removal technology is a breakthrough in customer comfort and effectiveness of treatments. SHR or Super Hair Removal technology heats the skin gently through the melanin and the stem cells with low energy but high frequency. SHR uses only 50% of the energy for permanent hair removal. The remaining 50% is absorbed into the stem cells responsible for hair production.
How is SHR Hair Removal Different from IPL?
SHR is better than IPL in the following ways:
SHR is developed and patented by Alma Lasers, a world-leading providers of aesthetic lasers for surgical, medical aesthetics and beauty markets. 
SHR is a newer and more effective permanent hair reduction than IPL or OLED hair removal.
SHR combines 755nm, 808nm and 1064nm laser wavelengths to target all skin types. In addition, simultaneous contact cooling prevents burns and allows for a more comfortable treatment.
SHR has a better coverage of the body hairs on skin than IPL or OLED, and prevents ingrown hairs.
SHR causes no or minimal pain due to the low fluence energy and cool touch methodology as compared to IPL or OLED.
SHR can cover all parts of the body such as hair removal for face, arms, legs, underarms, etc. without any issues. 
SHR causes less discomfort and skin irritation as compared to IPL or OLED hair removal.
SHR is suitable for all hair types and skin tones (especially Singaporeans or Asian skin and hair types) as compared to IPL or OLED.
Is Wellaholic's SHR Hair Removal Backed by Science?
Wellaholic SHR laser hair removal is developed by Alma Lasers.
SHR's unique gradual heating method effectively damages the hair follicles while avoiding injury to the surrounding skin.
The sweeping In-motionTM delivery technique keeps the laser in constant motion ensuring full coverage of the treated area.
The improved coverage helps practitioners avoid unwanted results such as "Zebra stripes" associated with older, stationary methods.
Many clinical studies have been done to ascertain the effectiveness of SHR.
SHR laser hair removal is more advanced than IPL hair removal or even electrolysis.
SHR has proven to be very effective in the treatment of all hair types, skin types, skin textures and body parts based on the Fitzpatrick's skin type.
Nevertheless, it is important for the operator of the SHR equipment to understand the science behind the treatment in order to effectively administer the treatment.
Wellaholic's staff are regularly trained on the SHR treatment procedure.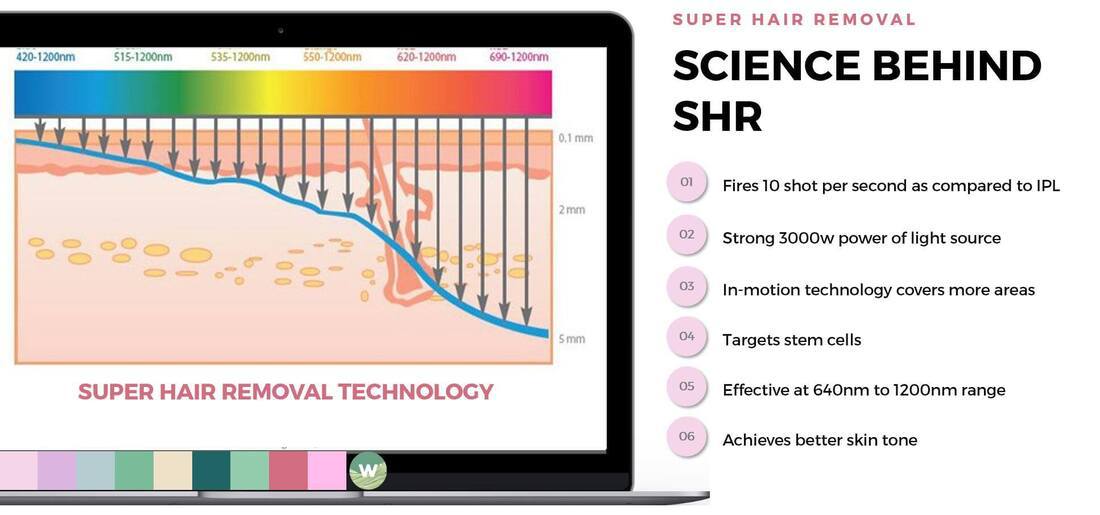 Does Wellaholic Have Unlimited or All-inclusive Plans?
We are glad you asked!
Wellaholic is well-known for our Unlimited Plans, which provide unlimited SHR shots for unlimited body parts.
Choose from the following:SHR Prestige Unlimited – this monthly plan covers all body parts including brazilian/boyzilian
SHR Deluxe Unlimited – this monthly plan covers all body parts excluding brazilian/boyzilian
Please note that there is a minimum of a 28-day gap between treatments.
Please note that our 1-Month Unlimited plan allows you only one treatment per body part.
If you would like an all-inclusive plan which includes SHR Prestige Unlimited, all-that-you-need Shaving and Post-Treatment Whitening or Hydrating, you can opt for our popular WellaSmooth all-inclusive hair removal plan.
Pricing of SHR Hair Removal Treatments by Wellaholic
Wellaholic believes in providing pricing transparency, and hence all prices are published and updated on its website. Choose from unlimited monthly hair removal plans (with unlimited SHR hair removal shots) for unlimited body parts, or choose from per-session hair removal price plans. Wellaholic's hair removal prices are generally divided into the following categories: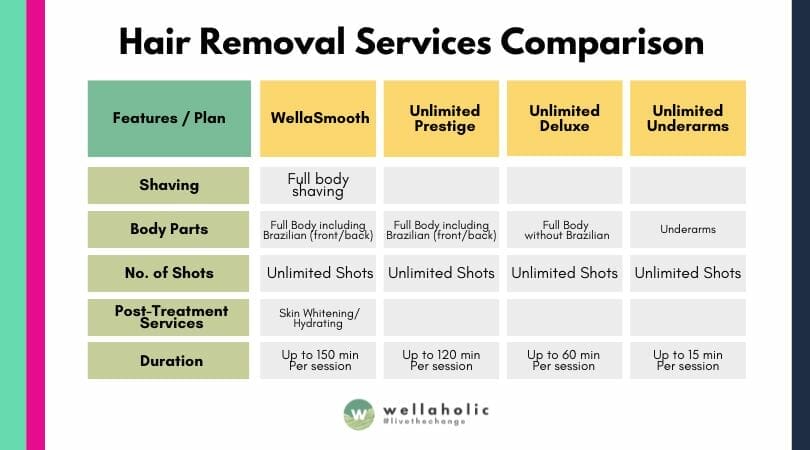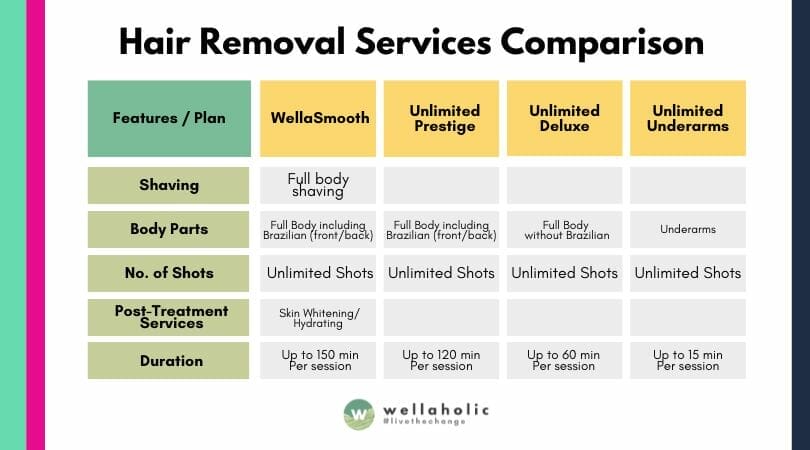 ---
---