$149 for Unlimited SHR Underarms Hair Removal
Most Affordable Underarm Hair Removal in Singapore
If you are looking for the best and most affordable Underarm Hair Removal in Singapore, you have come to the right place. Wellaholic is offering our bestseller $149 Annual Unlimited Underarm Hair Removal. With this nett price, there are not hidden fees, costs or additional charges.
With repeated sessions spaced 28 to 30 days apart, you will be able to achieve permanent underarm hair removal after a few sessions. We use the more advanced SHR or Super Hair Removal technology over IPL hair removal as SHR is less irritating on the skin and can target both the hair follicles (melamine) as well as the stem cells responsible for hair growth.
Wellaholic's SHR hair removal treatments have been awarded the Best SHR Hair Removal by Daily Vanity Spa and Hair Awards 2021. To find out more about our SHR permanent hair removal for your underarms, or our all-inclusive WellaSmooth, click on the button below.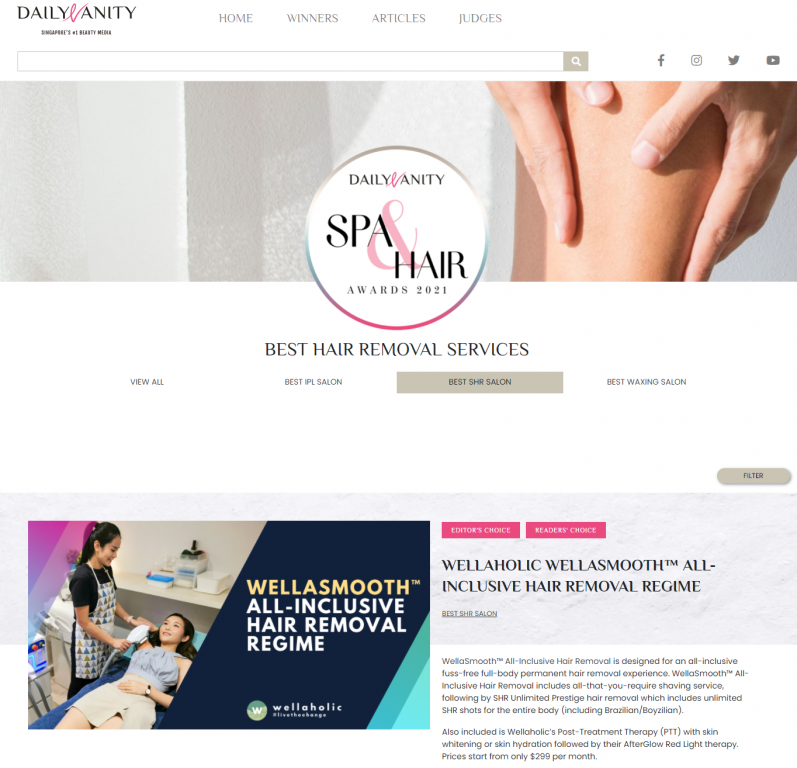 Why is SHR hair removal better than IPL?
SHR or Super Hair Removal is a relatively newer technology which uses gentler pulses of energy but at a higher frequency. This laser hair removal technology allows the skin to be heated gently, but with the rapid pulses, the energy is then accumulated by the skin. While 50% of the energy is targeted at the melanin (similar to IPL), the other 50% targets the stem cells responsible for hair production.
​This is a very important point to note as SHR thereby targets both fine and coarse hairs. Ultimately, this leads to less discomfort and pain, yet an improved efficacy.
Because of the gradual accumulation of the energy into the skin, there is less trauma and irritation on the skin – making it ideal and suitable for everyone, regardless of skin tone and even for customers with sensitive skin. In fact, SHR is often considered to be one of the best laser hair removal treatments in Singapore given the various technologies.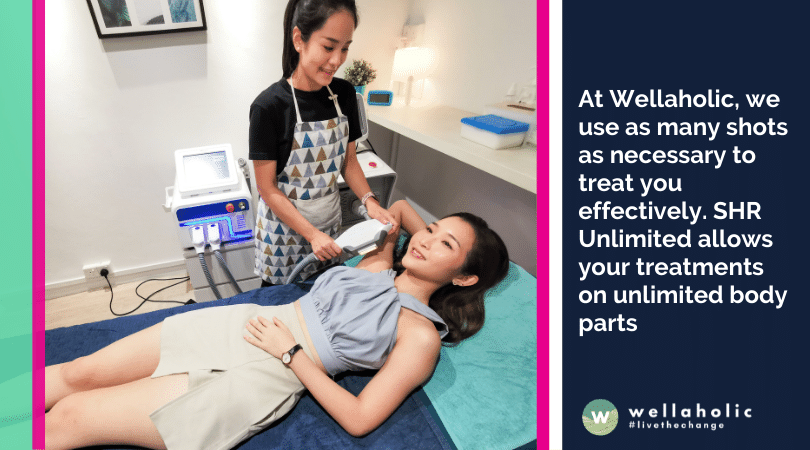 How many SHR treatments are needed for effective hair removal?
How Many SHR Treatments are Necessary for Effective Hair Removal?
​If the hair is in the anagen phase of growth during treatment, which refers to the active (hair) growth phase, it can be easily destroyed as in the case with IPL technology. The advantage of SHR hair removal in this case is that it can work with customers during both their anagen phase and non-anagen phase, as SHR can target the 50% of the stem cells. Nevertheless, a three-to-four week recovery or "down" time is required to meet this anagen phase as well as to give the skin a recovery time before the next treatment.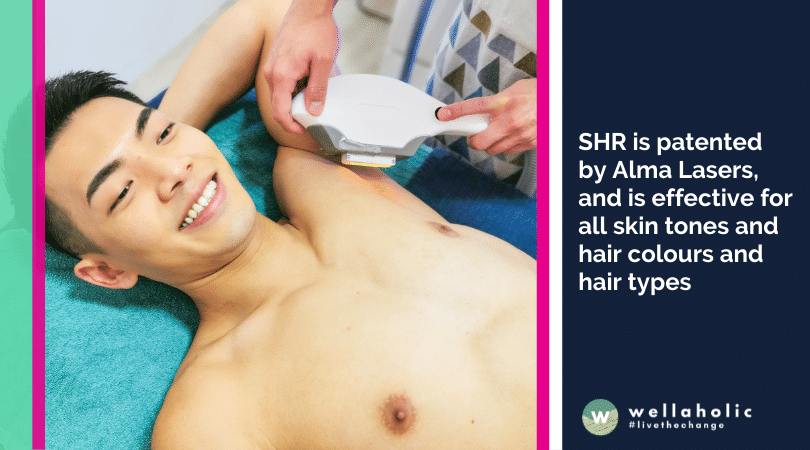 Why choose Wellaholic for Hair Removal?
Wellaholic is pleased to be one of the first few establishments to offer SHR Laser Hair Removal since 2016. In order to help our customers with their goal of achieving a smooth skin, Wellaholic offers cost-competitive Monthly Unlimited Packages which allows customers hair removal on all body areas (including Brazilian or Boyzilian) at an affordable monthly pricing.
In addition, Wellaholic's SHR machines are serviced and calibrated regularly to ensure optimum efficacy. Our staff are also trained to ensure that the best experience towards permanent hair removal for our customers.
Our constantly R&D in the SHR treatment procedure has helped us clinch several awards, including the following:
Best SHR Hair Removal 2021 – Daily Vanity Spa and Hair Awards 2021
Best SHR Salon 2020 – Beauty Insider Spa & Salon Awards
Best Hair Removal Services 2019 – Beauty Insider Spa & Salon Awards
Best IPL/SHR Treatment 2019 – Daily Vanity Spa & Hair Award
Most Popular Hair Removal Treatment – Critic's Choice Awards 2019
Certificate of Excellence 2019 – TripAdvisor
Trust Wellaholic With Your Underarm Hair Removal
​In order to help our customers get the best results, it is important for the staff to understand the science and technology behind SHR, as well as how the machine actually works. This is so that the staff is able to confidently operate the machine and advise the customer on the SHR technology.
As part of our sharing process, our team is always happy to answer any of your queries. You can direct any feedback or queries via the button below. We look forward to assisting you with your hair removal journey!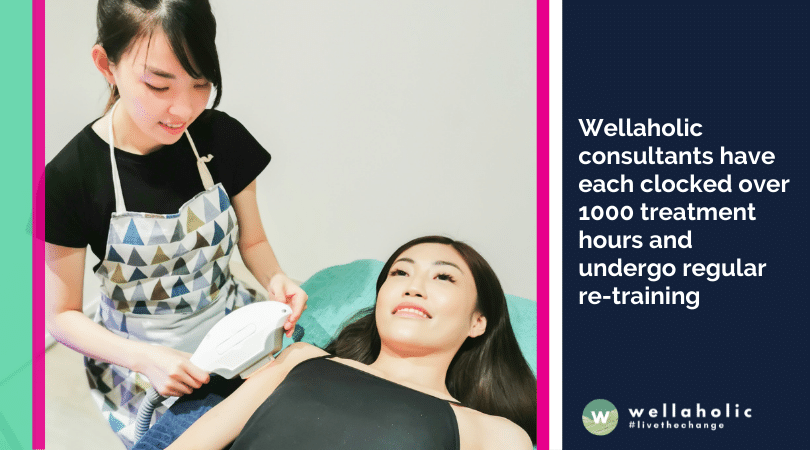 ---