Save Time and Money with Wellaholic's Unlimited Underarms SHR Hair Removal for Just $169!
TL:DR Summary
What is underarm hair removal: Underarm hair removal is the process of removing the hair from the armpits. Underarm hair removal can be done for various reasons, such as hygiene, aesthetics, comfort, or cultural norms.
What are the benefits of underarm hair removal: Underarm hair removal can offer various benefits, such as reducing odor and sweat, preventing infections and ingrown hairs, enhancing appearance and confidence, and making deodorants and antiperspirants more effective.
What are the methods of underarm hair removal: There are many methods of underarm hair removal available in Singapore, ranging from temporary to permanent. Some common methods include shaving, waxing, plucking, depilatory creams, electrolysis, and laser hair removal. Each method has its own advantages and disadvantages, such as cost, effectiveness, convenience, pain, and side effects.
How to choose the best method of underarm hair removal for yourself: The best method of underarm hair removal for yourself depends on your personal preference and budget. You should consider factors such as how often you want to remove your underarm hair, how much pain you can tolerate, how much time you can spare, and what results you expect. For a permanent solution, laser hair removal may be the best option. For a temporary solution, shaving or waxing may be the easiest and cheapest option.
Possibly Most Affordable Underarm Hair Removal in Singapore
Here is one possible way to rewrite and break down the paragraph into smaller sections with H3 subheaders:
Why Choose Wellaholic for Underarm Hair Removal Services in Singapore?
If you are seeking the best and most affordable underarm hair removal services in Singapore, Wellaholic has got you covered. We offer a range of options to suit your needs and budget, from single sessions to annual unlimited plans. We also use the latest SHR technology to ensure effective and permanent results.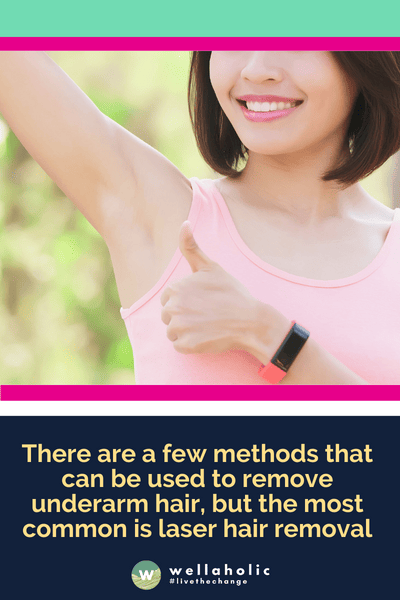 How to Enjoy Unlimited Underarm Hair Removal for Only $169
Our bestseller, the Annual Unlimited Underarm Hair Removal (with Unlimited Shots), is now available for only $169 nett price, with no hidden fees, additional charges, or costs. This means that you can enjoy unlimited sessions of underarm hair removal for a whole year, with no restrictions on the number of shots or visits. This is a great deal for anyone who wants to achieve smooth and hair-free underarms without breaking the bank.
How SHR Technology Works for Permanent Hair Removal
With repeated sessions spaced 28 to 30 days apart, you can achieve permanent underarm hair removal in just a few sessions. At Wellaholic, we utilize the advanced SHR (Super Hair Removal) technology over IPL hair removal, as SHR is less irritating on the skin and can target both the hair follicles (melanin) and the stem cells responsible for hair growth, ensuring complete removal of unwanted hair in your underarms. SHR is also suitable for all skin types and hair colours, making it a versatile and effective option for anyone.
How Wellaholic Has Been Recognized as the Best SHR Hair Removal Provider
Our SHR hair removal treatments have been recognized as the Best SHR Hair Removal by Daily Vanity Spa and Hair Awards from 2018 to 2023. This is a testament to our high-quality service, professional staff, and customer satisfaction. We are honoured to receive this award and we strive to continue delivering the best results for our customers.
How to Learn More and Get Started
If you are interested in learning more about our SHR permanent hair removal for underarms, or our all-inclusive WellaSmooth treatment, simply click the button below to get started. You can also contact us via phone, email, or chat if you have any questions or concerns. We look forward to helping you achieve your beauty goals with Wellaholic.
"Say goodbye to tedious shaving and hello to smooth, hair-free underarms with unlimited SHR treatments for only $169!"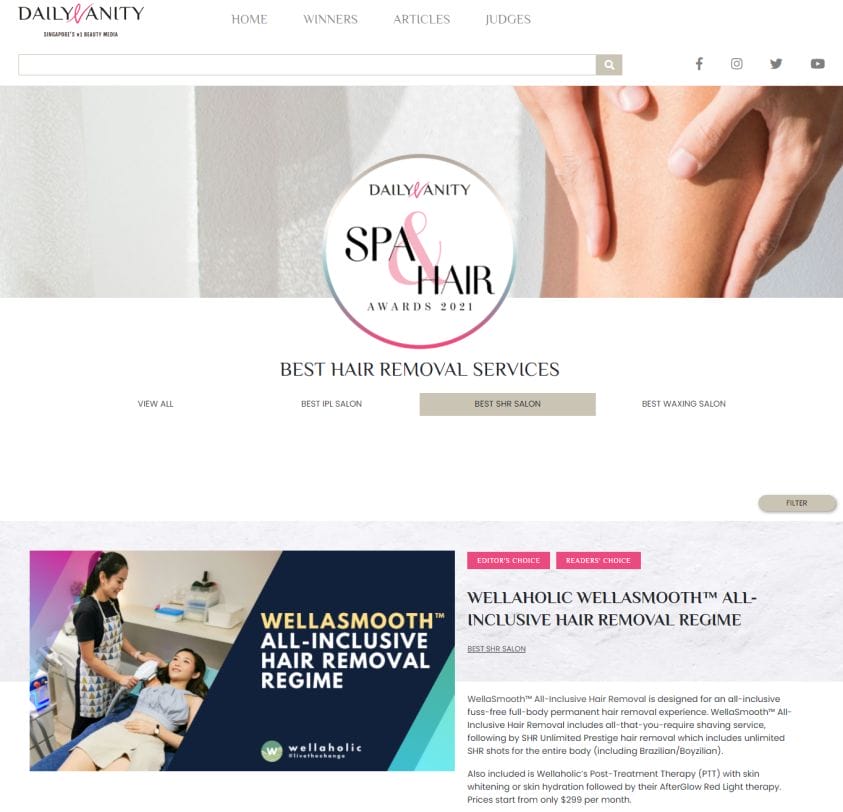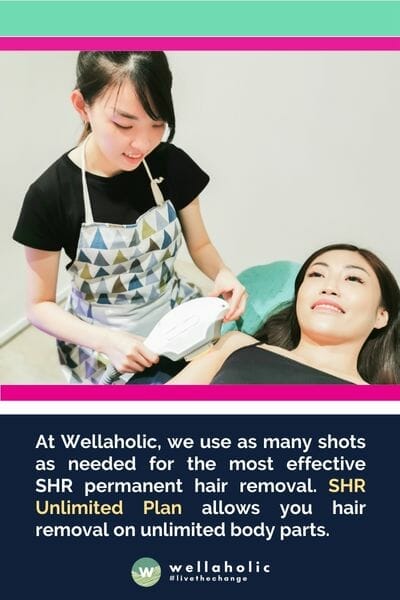 Why is SHR hair removal better than IPL?
Discover the Gentle Power of SHR Hair Removal Looking for a gentle and effective hair removal treatment? Consider Super Hair Removal (SHR) – a newer laser hair removal technology that uses gentle pulses of energy at a higher frequency.
Targeted Approach for All Skin Types Unlike traditional IPL, SHR accumulates energy in the skin through rapid pulses, with 50% targeting melanin and the other 50% targeting stem cells responsible for hair production. This unique targeting approach allows SHR to effectively remove both fine and coarse hair, making it an ideal option for all skin types.
Less Pain, More Gain In addition, the gradual accumulation of energy into the skin results in less discomfort and pain, making it a suitable option for customers with sensitive skin.
Experience the Best with Wellaholic At Wellaholic, we consider SHR to be one of the best and most effective hair removal treatments available in Singapore due to its gentle nature and versatility across various skin tones and types. Consider booking a session with us today to
The table below summarises the advantages of SHR hair removal over IPL hair removal:
Advantages of SHR Hair Removal Over IPL Hair Removal
SHR is much more comfortable for the client
SHR carries no risk of burning the skin
SHR has a higher success rate in permanently removing hair
SHR treatment time is faster than IPL
SHR is suitable for all skin types
SHR can be used on all parts of the body
SHR has no downtime, allowing for immediate resumption of normal activities
SHR can be used on tanned skin
SHR requires fewer treatments than IPL
SHR is less painful than IPL
SHR produces better results in fewer treatments
Advantages of SHR Hair Removal over IPL Hair Removal
How many SHR treatments are needed for effective hair removal?
Super Hair Removal (SHR) is a highly effective hair removal treatment that offers several unique advantages over traditional IPL hair removal. One significant advantage is that SHR can target both the anagen phase and non-anagen phase of hair growth, thanks to its ability to target 50% of the stem cells responsible for hair production.
SHR can target hair for different phases of hair cycle
Unlike traditional IPL treatments, which require hair to be in the anagen phase for optimal results, SHR can effectively remove hair during both phases. This means that customers can expect more consistent and long-lasting results from SHR treatments.
Recovery time is essential
However, it's important to note that a brief recovery period of three to four weeks is necessary between treatments to allow the skin to recover and prepare for the next session. During this recovery period, the skin will have time to heal and hair that was in the non-anagen phase during the previous treatment will have time to enter the anagen phase for optimal results.
At Wellaholic, we recommend a series of SHR treatments spaced four weeks apart for the best results. Our experienced therapists will work with you to create a personalized treatment plan that meets your unique hair removal needs and goals.
---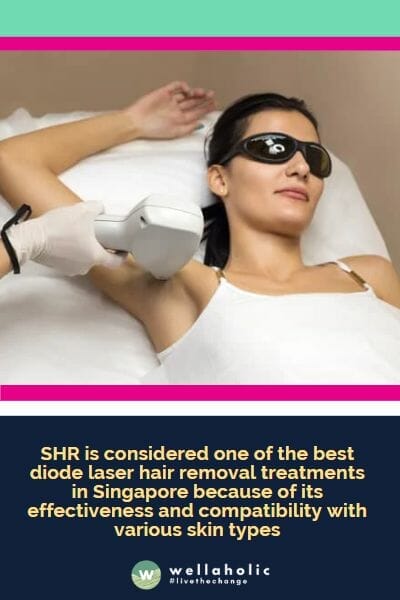 Is it possible to remove underarm hair permanently?
Laser hair removal has become an increasingly popular method for reducing or eliminating unwanted hair, with treatments such as SHR hair removal (which utilizes a laser diode with three different wavelengths) leading the way. But what about the long-term effects of laser hair removal? Is it possible to achieve permanent hair removal with this method?
Laser damages hair follicle to inhibit growth
Laser hair removal works by targeting the pigment in the hair follicle with a concentrated laser beam. The heat from the laser damages the follicle, which ultimately inhibits future hair growth. While many people may see a significant reduction in hair growth after just one treatment, it typically takes multiple treatments to achieve permanent hair reduction.
Most people need between 6 to 8 sessions
The number of treatments needed varies from person to person and depends on several factors, such as hair color and thickness, skin tone, and the area being treated. Generally, most people require 6-8 treatments for optimal results.
While laser hair removal is generally safe, it's important to note that there may be some side effects, such as redness, swelling, and blistering of the skin. It's always recommended to consult with a qualified doctor or laser technician to determine if laser hair removal is right for you, and to discuss potential risks and benefits.
Why choose Wellaholic for Hair Removal?
Choosing the right hair removal service provider can be challenging, but Wellaholic makes it easy. Here are some reasons why you should choose Wellaholic for your hair removal needs:
Experience: Wellaholic has years of experience in the hair removal industry, and our team of experienced therapists are well-trained in various hair removal techniques. We use only the latest and most advanced technology to ensure that our clients receive the best possible results.
Personalized treatments: We understand that everyone's hair removal needs are unique, which is why we offer personalized treatments tailored to each client's specific requirements. Our experienced therapists will work with you to create a customized treatment plan that meets your individual needs and goals.
Competitive pricing: At Wellaholic, we believe that everyone should have access to high-quality hair removal services at affordable prices. That's why we offer competitive pricing and various promotions throughout the year to help our clients achieve their hair removal goals without breaking the bank.
Customer satisfaction: We are committed to providing our clients with the best possible hair removal experience. From our friendly and knowledgeable staff to our state-of-the-art equipment and comfortable treatment rooms, we strive to create an environment that puts our clients at ease and helps them achieve their desired results.
Multiple locations: With multiple locations across Singapore, Wellaholic is easily accessible to clients from all over the island. Whether you're looking for hair removal services in the heart of the city or closer to home, we've got you covered.
At Wellaholic, we pride ourselves on providing our clients with exceptional hair removal services that deliver real results.
Trust Wellaholic With Your Underarm Hair Removal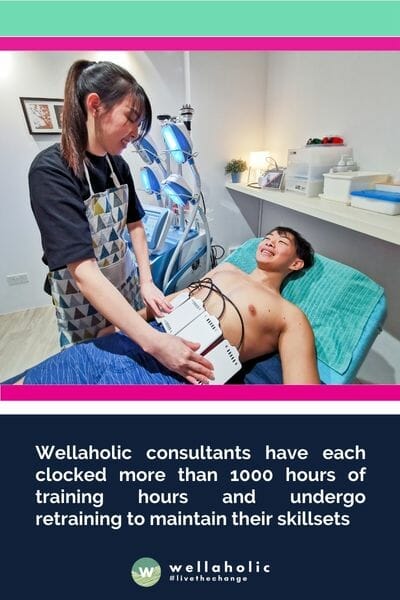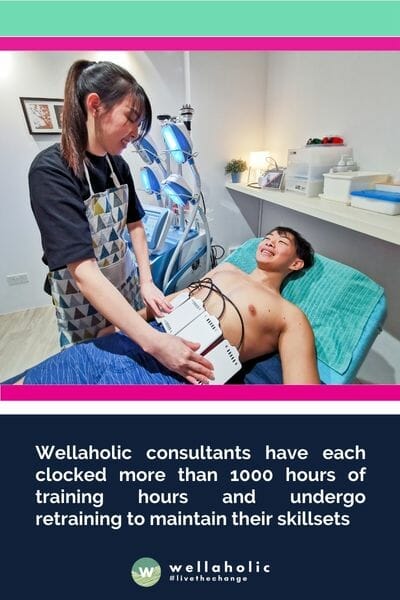 At Wellaholic, we believe that in order to provide the best possible results for our customers with laser hair removal treatments, our staff must have a deep understanding of the science and technology behind Super Hair Removal (SHR) and how the machines work. That's why our consultants have each undergone more than 1,000 hours of training and retraining to maintain their expertise and skillsets.
Excellent customer service
We take pride in our team's knowledge and expertise, and we're always happy to answer any questions or concerns you may have about SHR technology or the hair removal process. Our team is committed to providing excellent customer service and ensuring that our clients feel informed and confident throughout their hair removal journey.
Trust that you are in good hands with Wellaholic
When you choose Wellaholic for your underarm hair removal needs, you can trust that you're in good hands. We use only the best equipment and techniques to deliver safe and effective hair removal services, and our friendly and knowledgeable staff will ensure that you feel comfortable and relaxed throughout your treatment.
So if you're ready to say goodbye to unwanted underarm hair, trust Wellaholic to deliver the results you want. Contact us today to schedule your first appointment and experience the difference of our high-quality underarm hair removal services.
Frequently Asked Questions (FAQ)
What is the Unlimited Underarms SHR Hair Removal offered by Wellaholic?

A: Wellaholic's Unlimited Underarms SHR Hair Removal is a cost-effective package that provides unlimited sessions of Super Hair Removal (SHR) specifically for underarms. It's a great solution for those looking for a hassle-free and long-term approach to underarm hair removal.
How does SHR technology differ from traditional hair removal methods?

A: SHR technology is a modern approach to hair removal that uses a gradual heating method to target hair follicles. It's less painful compared to traditional methods like waxing and provides efficient and long-lasting results.
What makes Wellaholic's Unlimited Underarms SHR Hair Removal unique?

A: Wellaholic's package offers unlimited sessions, ensuring that you can achieve optimal underarm hair reduction without worrying about session limits. It's a convenient and budget-friendly solution for those seeking smooth and hair-free underarms.
How much does the Unlimited Underarms SHR Hair Removal package cost?

A: The package is priced at just $169, making it a highly affordable option for underarm hair removal. This all-inclusive price covers unlimited sessions, allowing you to save both time and money in the long run.
Is the Unlimited Underarms SHR Hair Removal package suitable for all skin types?

A: Yes, SHR technology is suitable for a wide range of skin types, including sensitive skin. Its gradual heating approach minimizes the risk of skin irritation, making it a safe choice for diverse individuals.
How do I book sessions for the Unlimited Underarms SHR Hair Removal at Wellaholic?

A: Booking sessions is easy. You can visit Wellaholic's website or contact their customer support to schedule your sessions at a convenient time and outlet.
---
Unleash the Power of Three: Beauty, Confidence, Perfection with WellaSmooth™ 3X
⭐ Tailored Beauty Experience: Select three personalized treatments with WellaSmooth 3X™.
⭐ Quality Skin Solutions: Enjoy our signature permanent hair removal with full body shaving, skin whitening, breast enhancements, butt lifts and more.
⭐ Enhanced Confidence Options: Lift and enhance your bust and butt for a confident new look.
⭐ Luxury at Your Fingertips: Experience luxury with a flexible triple-choice treatment plan.
⭐ Affordable Body Perfection: Transform your body positively and affordably.
⭐ Unbeatable Value & Efficacy: Benefit from high-quality treatments at exceptional value.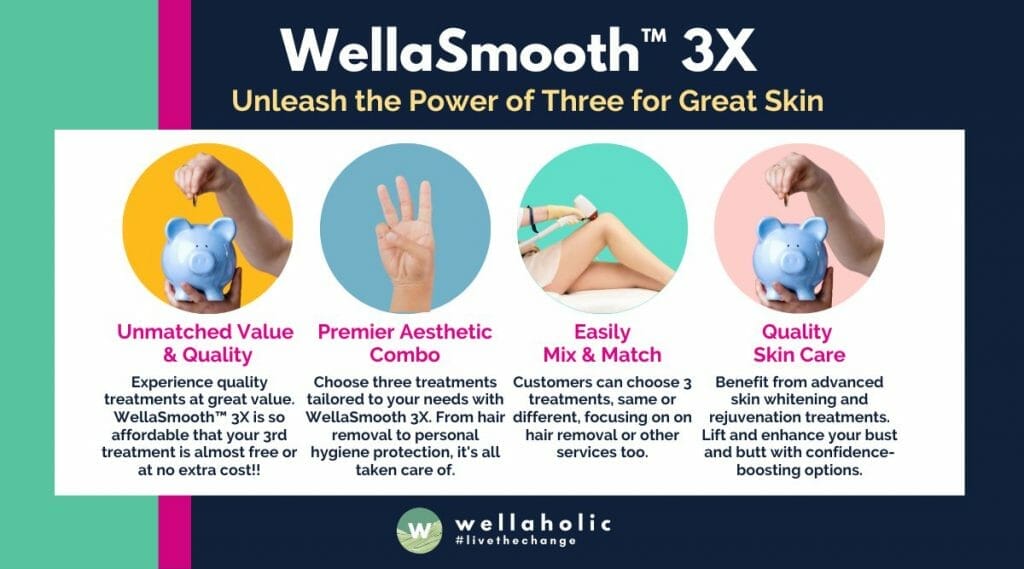 What Treatments Can I Choose with WellaSmooth™ 3X?
For a modest monthly fee, customers can indulge in premium treatments to remove hair, whiten skin, lift and enhance the boops, lift the butt and safeguard the private regions:
⭐ Personalized Hair Removal: Opt for laser hair removal for all hair types.
⭐ All-that-you-need Shaving: Achieve a sleek look with professional full body shaving to prevent ingrown hair.
⭐ Advanced Skin Whitening: Experience innovative skin whitening techniques for radiant skin.
⭐ Butt Lifting Treatments: Lift your butt for a perfectly contoured appearance with EMS technology.
⭐ Bust Enhancement Options: Enhance your bust size and shape with specialized ultrasonic treatments.
⭐ Expert Bust Lifting: Choose professional bust lifting via RF microneedling to make it look bigger and fuller.
⭐ Premium Personal Hygiene Protection: Improve personal hygiene with specialized Blue Light protective treatments.
⭐ Flexible Combo Selection: WellaSmooth™ 3X allows you to select any three of the above treatments.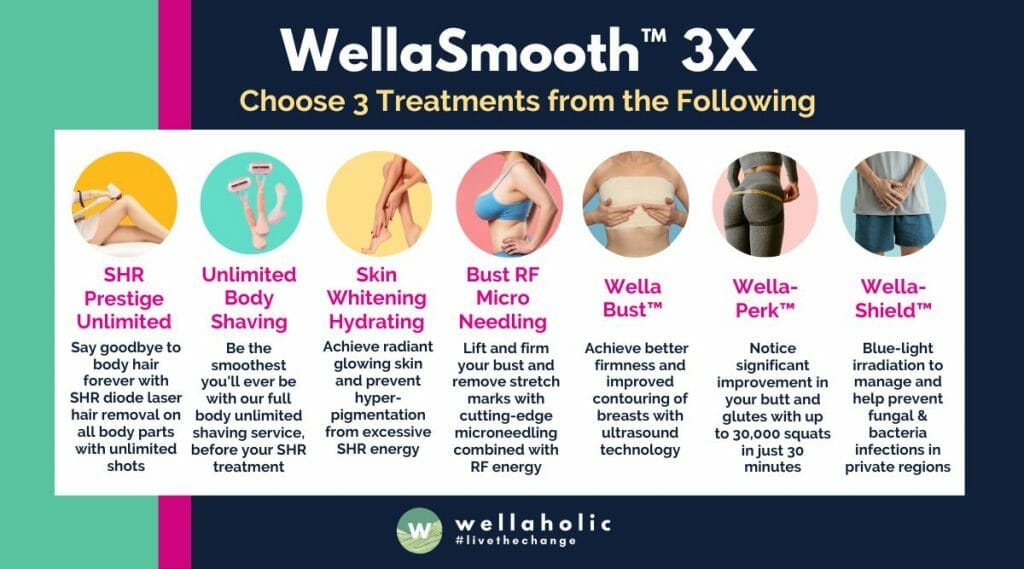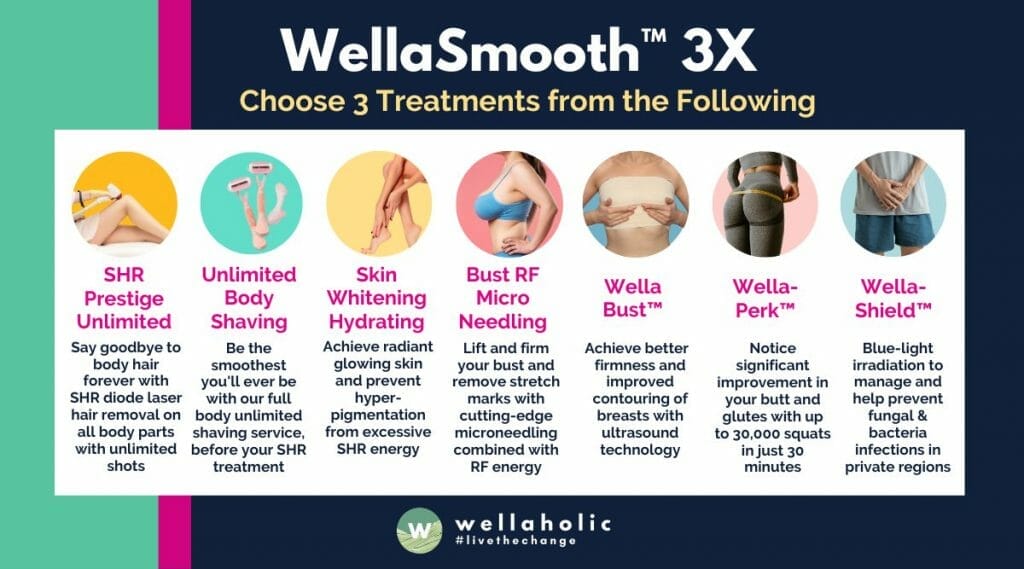 Why Choose SHR Prestige Unlimited Hair Removal?
⭐ SHR Diode Laser. Super Hair removal targets all skin types with 755nm, 808nm, and 1064nm laser wavelengths for the best hair removal treatment in Singapore.
⭐ SHR is better than IPL for Asian skin. SHR is more effective than traditional IPL technology for finer hair and coarse hair.
⭐ Unlimited Shots. Our laser removal uses as many pulses as needed to destroy hair follicles to prevent hair growth.
⭐ Award-Winning. Wellaholic's SHR Hair Removal have won multiple awards making us one of the best hair removal salons in Singapore.
⭐ Ideal for All Skin and Hair Colors. SHR laser hair removal technology works on all hair and skin types, including facial hair and body hair by targeting the melanin in the hair.
⭐ For Everyone. Wellaholic has a team of skilled therapists, both male and female, to attend to your body hair removal needs.
Pricing of Aesthetic Treatments by Wellaholic
💎 Price Transparency. All prices are published and updated on our website.
💎 Flexible Plans. Choose from unlimited monthly or per-session hair removal plans.
💎 Easy to Choose. Mix and match treatments from different categories.
💎 No Hidden Fees. Pay only for the treatments you receive.
GET IN TOUCH
Book Now Pay Later
Why Wellaholic is One of the Best Aesthetic Service Providers in Singapore?
✅ Leading Singapore Aesthetic Chain. Wellaholic is a popular aesthetic chain with 8 outlets around Singapore.
✅ Quality & Safe Treatments. Wellaholic is committed to quality, safe treatments with experienced staff.
✅ Wide Range of Treatments. Wellaholic offers a large range of treatment from effective hair removal, skin whitening, bust enhancement, butt lifts for all areas of the body.
✅ Trained & Experienced Consultants. All treatments are performed by trained professionals who understand skincare needs for both genders.
✅ SHR Technology. Advanced SHR technology provides a safe, comfortable, and painless hair removal experience.
✅ Most Affordable Provider. Wellaholic offers competitive pricing, making it one of the most affordable hair removal providers in Singapore.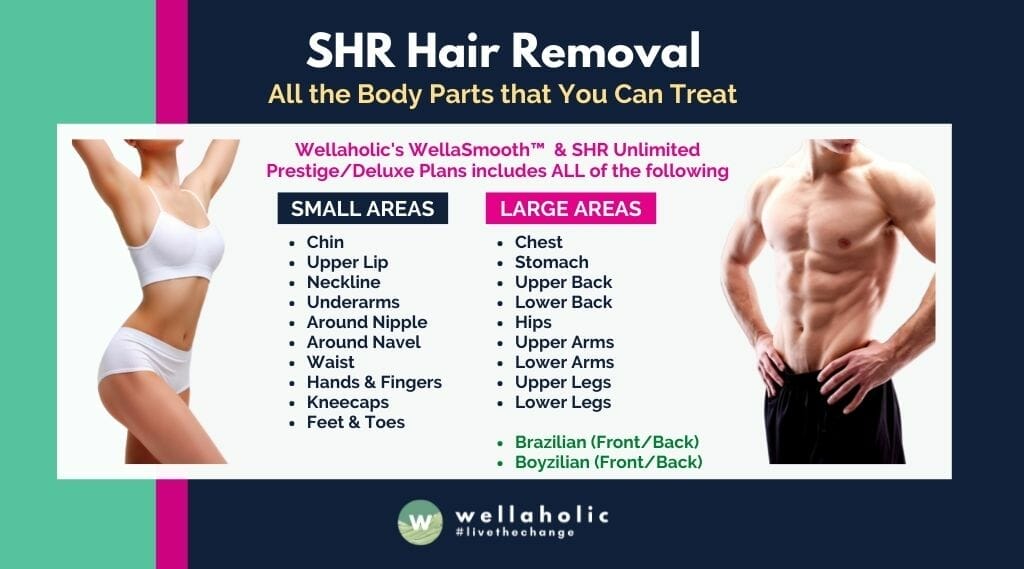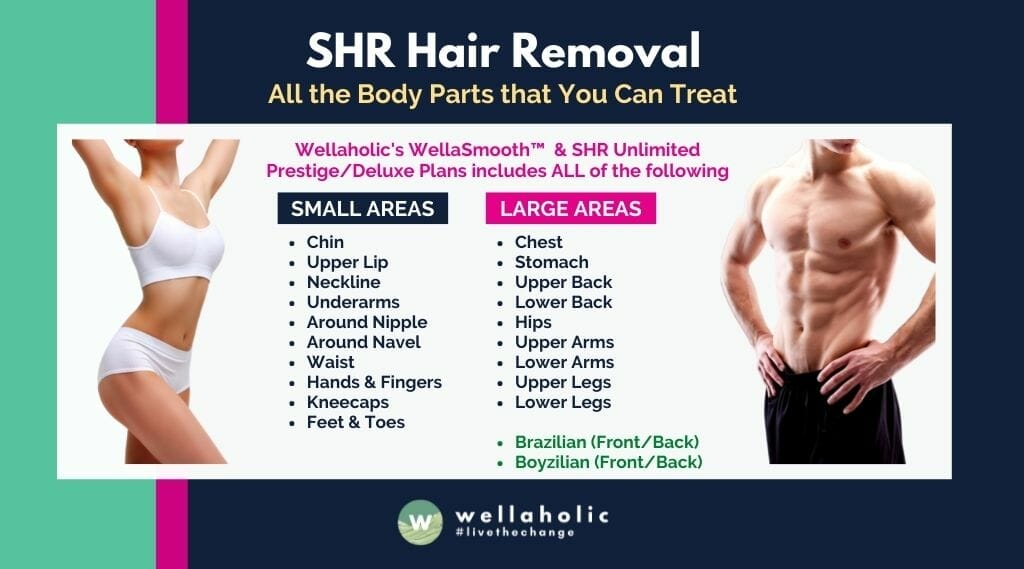 Reason 1: Wellaholic's Unlimited Plans Save You Money
✅ WellaSmooth 3X. Pay a small monthly subscription and choose 3 treatments from the WellaSmooth 3X family of services.
✅ Unlimited Hair Removal. Choose a SHR Prestige Unlimited or SHR Deluxe Unlimited to enjoy hair removal with unlimited shots.
✅ Pay One Price for All Body Parts. For hair removal, pay one price for unlimited hair removal on all body parts.
✅ Huge Cost Savings. Huge cost savings with monthly unlimited plans. No price shocks from hidden costs!
Reason 2: Wellaholic is a Trusted and Award-winning Aesthetic Chain with Over 2000 Positive Reviews.
✅ Over 50 Awards. Wellaholic's WellaSmooth and SHR Hair Removal have won over 50 awards from top beauty publications since 2018.
✅ Over 2000 Verified Customer Reviews. Wellaholic has over 2000 positive reviews from customers around the world. .
✅ Verifiable Reviews. Positive reviews indicate high customer satisfaction. (See reviews below).
✅ Over 50% Repeat Customers. More than 50% of Wellaholic's customers are repeat and recurring customers.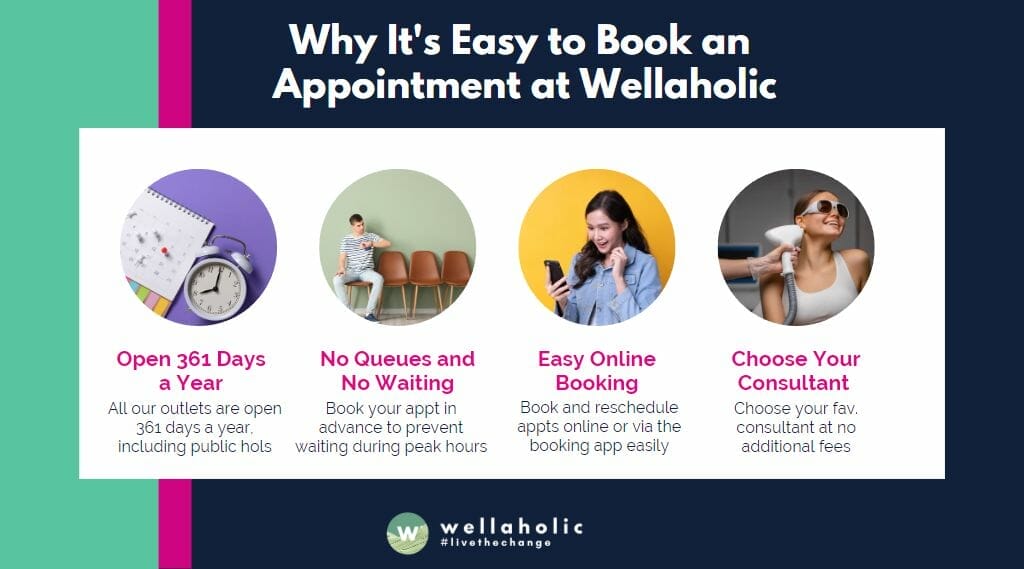 Reason 3: It's Easy to Book an Appointment at Wellaholic
✅ Open 361 Days Per Year. Wellaholic's 8 outlets are open 361 days a year, including public holidays for easy bookings.
✅ No Queues. Book appointments in advance to avoid long wait times.
✅ Easy Online Booking. Customers can conveniently book and reschedule appointments online or via the booking app.
✅ No Extra Cost for Choosing Consultant. Customers can choose their preferred consultant for free.