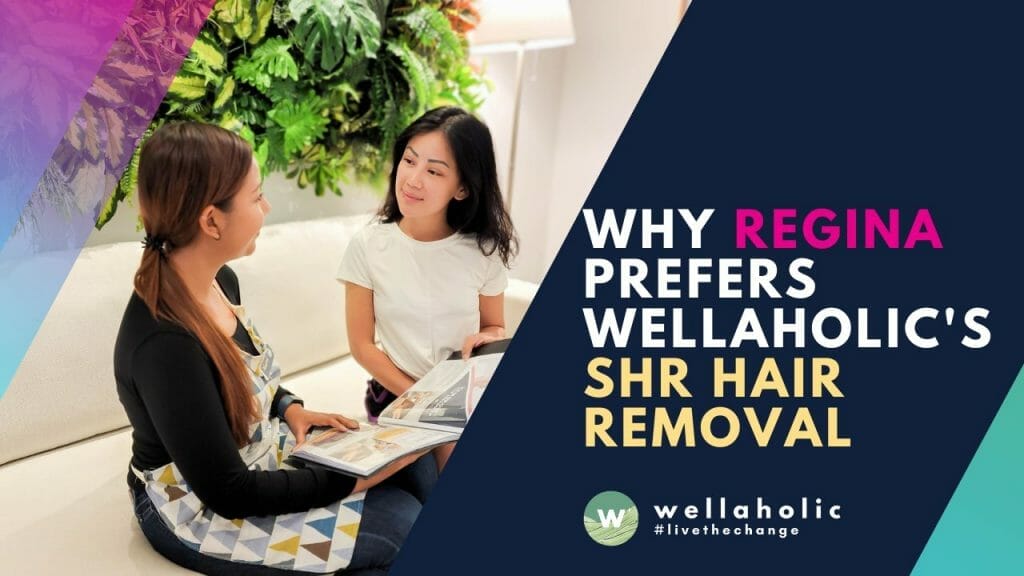 Why Regina Prefers Wellaholic's SHR Hair Removal
5 Keys to Why Regina Prefers Wellaholic for Hair Removal
Regina is busy Singaporean woman and does not have time for hair removal treatments that are time consuming and require a lot of maintenance. After trying out various service providers in Singapore, she has found that Wellaholic's SHR hair removal treatment is the perfect solution for her. In this article, we will share the key reasons to why Regina prefers Wellaholic over other hair removal service providers in Singapore for full body permanent hair removal.
Reason 1: One Single Price for Full Body SHR Removal, All-that-you-need Shaving and Skin Whitening
A key frustration that Regina faced was that it was difficult to find the actual prices for a full body hair removal plan on the service providers' website. While there are many advertisements on Google search results offering fantastic hair removal treatment trials, the prices were trial prices and where not actual prices. In fact, Regina has been to several hair removal outlets only to realise that she needed to pay separate charges for hair removal on different body parts. This worked out to be very expensive in the long run.
However, at Wellaholic, Regina was pleasantly surprised by the transparent pricing. All prices are openly published on the website, with no hidden charges. In addition, Regina singled out Wellaholic's WellaSmooth All-inclusive Hair Removal plan as a value-added plan. Regina only needed to pay as low as $319 per month for full body SHR hair removal (including brazilian hair removal), all-that-is-needed shaving service as well as an additional skin whitening treatment. This removes any uncertainty about pricing for Regina.
Reason 2: Monthly Treatments Aligned with the Hair Growth Cycle
Regina knows the importance of aligning hair removal treatments with her hair growth cycle. Using laser light, the pigment within the hair follicle is targeted to absorb the laser, which in turn damages the hair follicle so that it does not grow back and effectively ends the cycle of growth. In an ideal world, laser hair removal would be done in one session: however, due to the process of hair growth and the cycle it follows, multiple treatments are required to eliminate all the hairs which are at different stages of their cycle. Based on this, doing regular hair removal treatments about 28 days apart over a 8 to 12-session course is necessary for effective hair removal. Regina laments on the following issues that she faced when trying out hair removal with other service providers:
Unable to Book Monthly Treatment – Some service providers did not allow her to book monthly treatments, thereby affecting the effectiveness of the hair removal treatments.
No Available Slots for Booking – Some service providers were always busy during peak periods, and as a result she was forced to have her treatments done beyond her hair growth cycle.
Fortunately, Wellaholic solved both issues for Regina. Firstly, Wellaholic's WellaSmooth and SHR Unlimited plans both allowed her treatments every 28 days (or longer). Moreover, Wellaholic data analytics engine ensures that Regina is always able to book a treatment at her preferred date and time, and across all 8 Wellaholic outlets islandwide.
Reason 3: Wellaholic's Package Can Be Used at Any 8 Outlets
Regina was quite aghast to realise that some hair removal providers sell packages that cannot be used at all their outlets. "It might be an issue with the franchiser and franchisee," she added, and related how this was very inconvenient for her. As she works in the CBD region but lives at the western part of Singapore, she had to make long journeys over the weekends into town for her treatments as her packages were not usable at all outlets.
For Wellaholic, however, she was happy that her hair removal plan with Wellaholic allows her treatments at any of Wellaholic's outlets. Another bonus: Wellaholic has been gradually adding more outlets across Singapore, including the latest outlet at Upper Changi MRT station – making it convenient for not only Regina but all of Wellaholic's customers all around Singapore.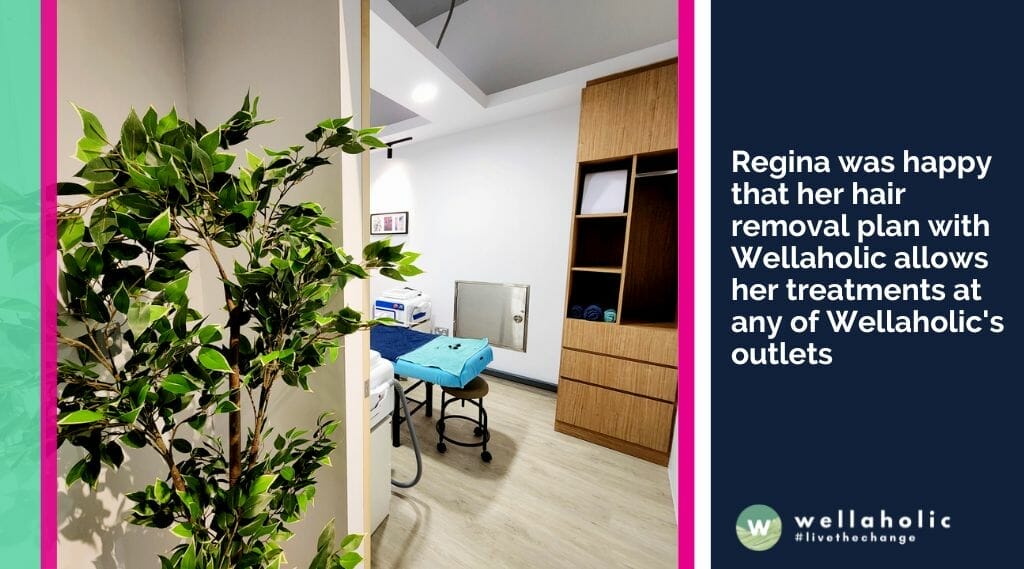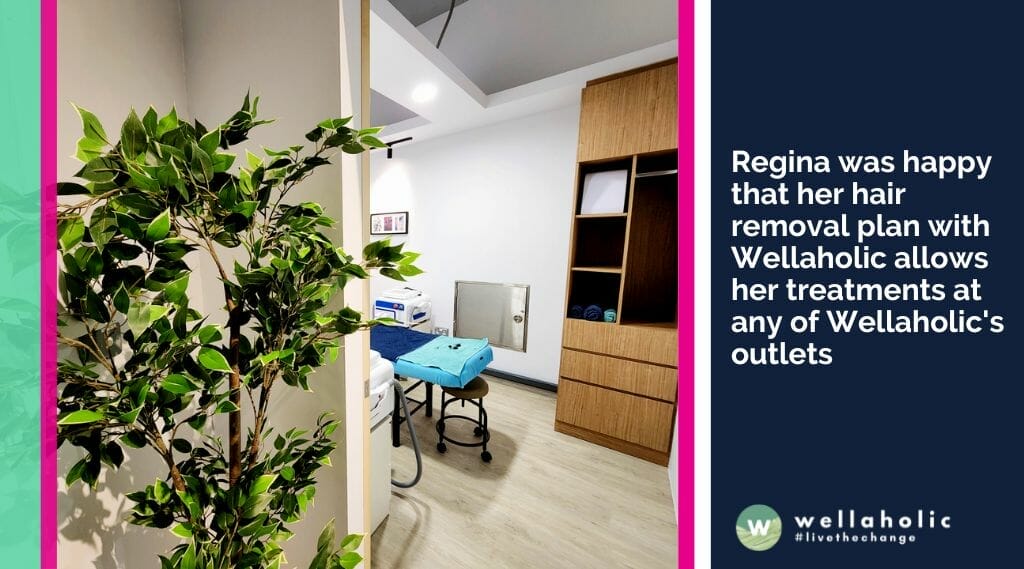 Reason 4: Quality Treatments with High-Performance Equipment
Of course, one of the key requirements for any customers (and not just Regina) was effective treatments. While there are several hair removal technologies in the market, be it IPL, OLED, Diode, Laser, etc., it was generally very confusing for the average customer. Regina did some research and opted for SHR hair removal, as it is a technology invented by Alma Lasers.
SHR or Super Hair Removal technology is a newer technology as compared to IPL. Developed by Alma Lasers, SHR combines 755nm, 808nm and 1064nm laser wavelengths to target all skin types. In addition, simultaneous contact cooling prevents burns and allows for a more comfortable treatment. This is ideal for skin and hair of all types and causes minimal irritation to the skin.
Also, Regina likes the fact that Wellaholic maintains their equipment on a regular monthly basis. Hair removal probes are also regularly replaced upon the end of their shelf life (Yes, the laser lamp has a limited lifespan).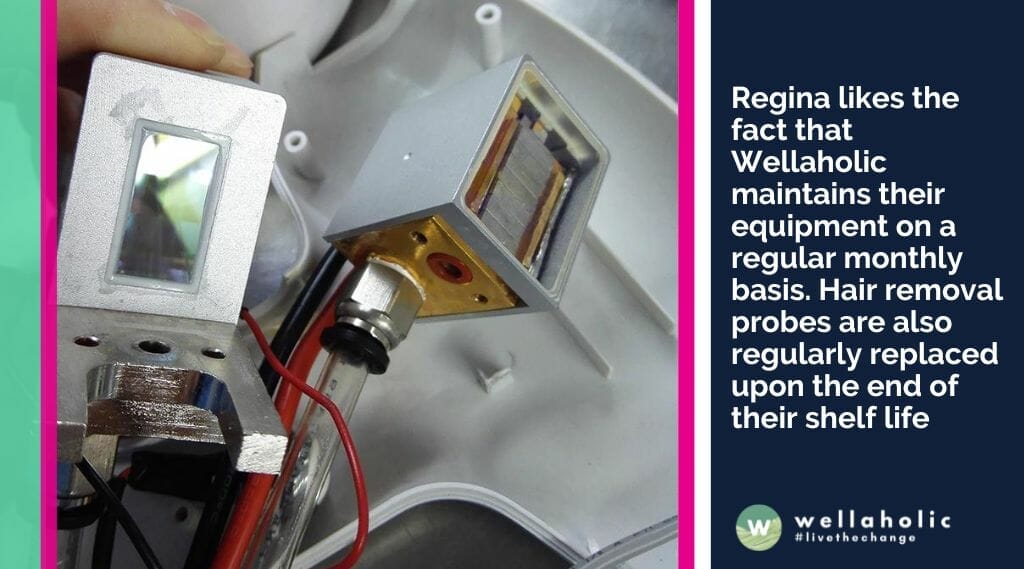 Reason 5: Amazingly Easy Booking Process
When we quizzed Regina for her final point on why she prefers Wellaholic as a hair removal provider, she candidly said, "It will be the amazingly easy booking process." Many service providers only accept either walk-ins (i.e. no booking, hence there's a high likelihood of waiting for a long time for treatments), or phone bookings (which was not effective as it was virtually impossible to book during non-operating hours).
Regina found Wellaholic's multiple booking options a godsend.
"I like the fact that I can choose to call or Whatsapp Wellaholic's Hotline to make a booking, or through their website or even via an mobile app. What's also fantastic was that I could log in to check on my upcoming bookings, and there will be a SMS reminder 24 hours and 4 hours prior to my treatment."
---
WellaSmooth All-inclusive Hair Removal by Wellaholic
WellaSmooth™ All-Inclusive Hair Removal is designed for an all-inclusive fuss-free full-body permanent hair removal experience with a 5-star rating. WellaSmooth™ All-Inclusive Hair Removal includes all-that-you-require shaving service, followed by SHR Unlimited Prestige hair removal which includes unlimited SHR shots for the entire body (including Brazilian/Boyzilian). Also included is our Skin Whitening / Hydrating post-treatment therapy (PTT) followed by our AfterGlow Red Light therapy.
What is WellaSmooth™ All-inclusive Hair Removal Regime?
Voted Best Hair Removal Treatment by Daily Vanity Spa and Beauty Awards 2021.
WellaSmooth™ All-Inclusive Hair Removal is designed for an all-inclusive fuss-free full-body permanent hair reduction experience.
WellaSmooth™ All-Inclusive Hair Removal is ideal for all skin color, hair color, and all forms of hair.
Also include is all-that-you-require shaving service for all body parts including your private regions.
WellaSmooth™ All-Inclusive Hair Removal also includes the Skin Whitening / Hydrating (PTT) with AfterGlow™, which includes post-hair-removal skin whitening or skin hydration followed by our AfterGlow Red Light therapy for enhanced skin rejuvenation.
Achieve smooth and glowing skin that will wow everyone.
This treatment is ideal for both men and women, by male and female therapists.
Get a package and choose your shaving, SHR permanent hair removal and post-treatment whitening and hydration done at any of our multiple outlets across Singapore.
WellaSmooth™ is your ultimate all-inclusive hair removal treatment in Singapore complete with shaving and post-treatment care.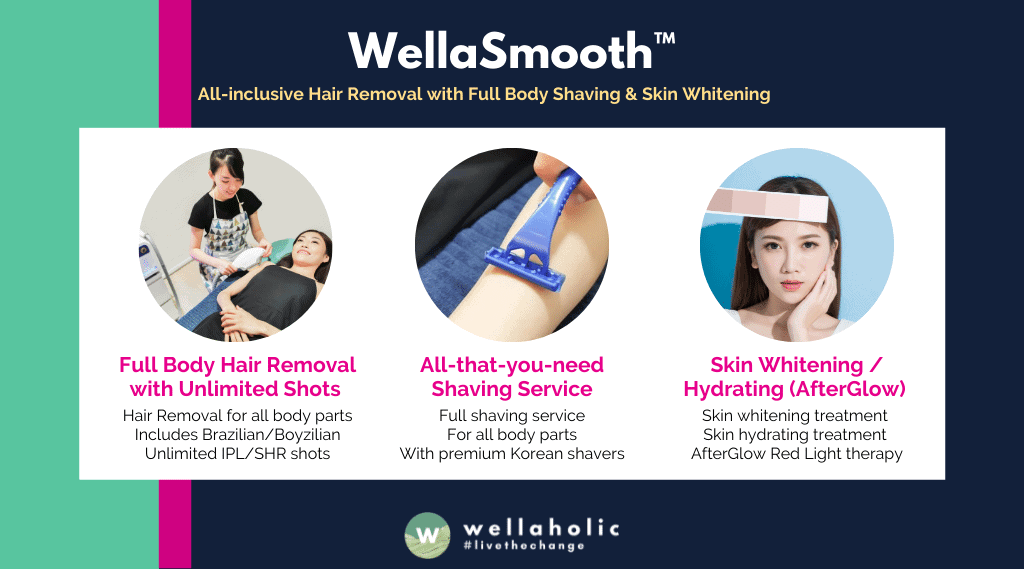 WellaSmooth™ Includes the Following Three Hair Removal Services
SHR Permanent Hair Removal PRESTIGE Unlimited – Enjoy our bestseller SHR hair reduction treatment for all body parts
Unlimited Shaving Service – Enjoy unlimited shaving service on all body parts
Skin Whitening/Hydrating (PTT) with AfterGlow – Enjoy post-treatment whitening or hydrating therapy followed by AfterGlow red-light treatment to rejuvenate your skin
See Over 1800 Positive Reviews of Wellaholic (Customer Verifiable)
See Over 1800 Positive Reviews of Wellaholic (Customer Verifiable)
Pricing of SHR Hair Removal Treatments by Wellaholic
Wellaholic believes in providing pricing transparency, and hence all prices are published and updated on its website. Choose from unlimited monthly hair removal plans (with unlimited SHR hair removal shots) for unlimited body parts, or choose from per-session hair removal price plans. Wellaholic's hair removal prices are generally divided into the following categories: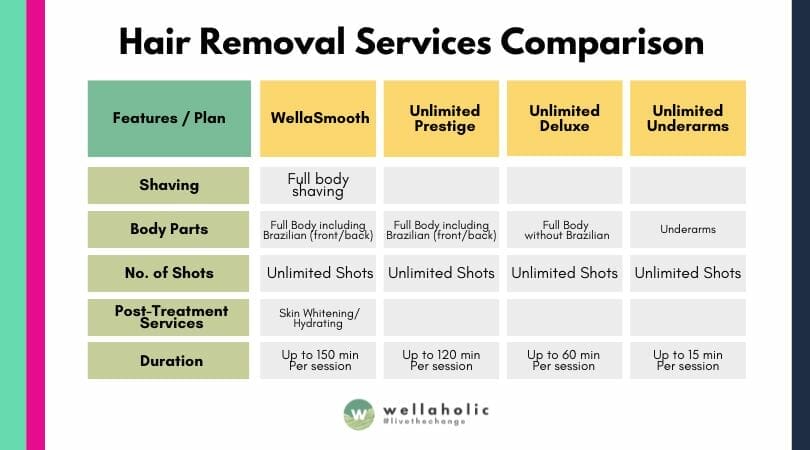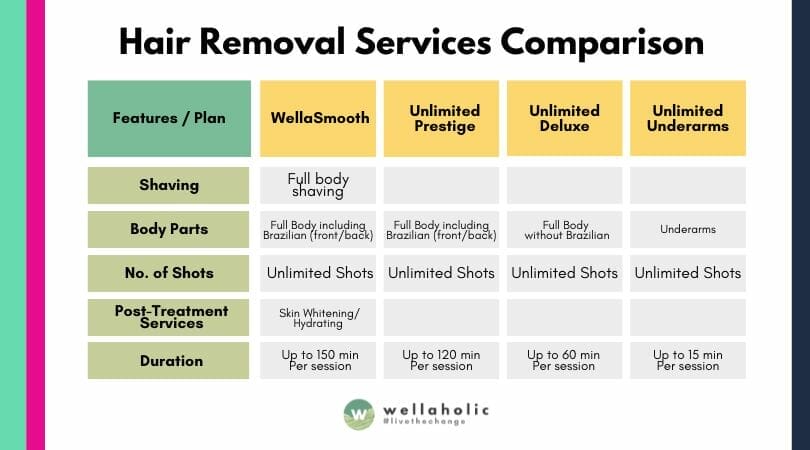 ---
---