Why Microneedling for Men is Becoming the latest Trend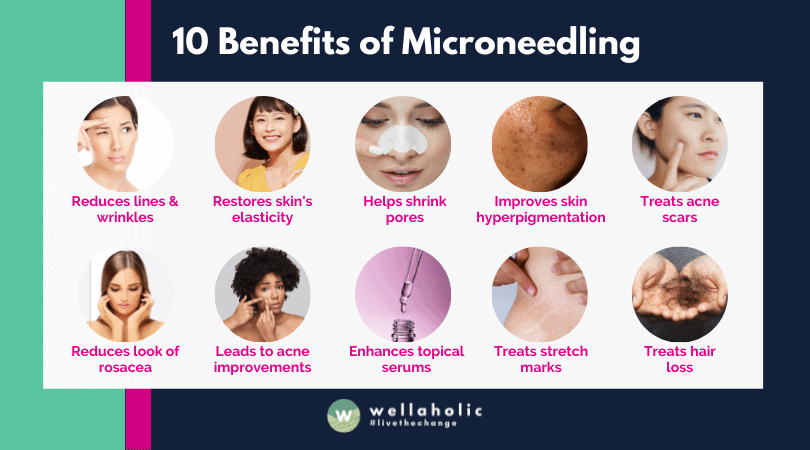 What is Microneedling?
Microneedling facial is becoming increasingly popular for men in Singapore. In general, aesthetic treatments are certainly on the rise for men, as a means to improve skin quality and also to combat the signs of ageing. While some male customers are entirely new to aesthetic and cosmetic procedures, others may have tried chemical peels, microdermabrasion or dermaroller treatments, but not ready for laser treatments.
Fortunately, Microneedling facial is an excellent non-surgical treatment that can help men achieve smoother, clearer skin and natural results. ​Microneedling is extremely effective to smooth acne scars and lighten pigmentation. Microneedling has also been proven to be effective for hair regrowth. Read on to find out more!
What are the facts on Microneedling?
About Microneedling
​

Microneedling is an anti-ageing treatment which uses a mechanical device with thin, surgical-grade needles to create micro-injuries in the skin's surface.

The aim of microneedling treatment is to generate new collagen and skin tissue for smoother, firmer, more toned skin.
Safety
Microneedling is minimally invasive, and requires no downtime.
Microneedling is considered safe for most people who are in overall good health.
Microneedling isn't safe for people who use certain acne medications or for women who are pregnant.
You'll experience minor redness and irritation for a few days after the procedure.
Convenience
Microneedling takes about an hour or two (if you need to use numbing cream).
Some results are usually visible right after the treatment. 
You may need at least four procedures or more for the best results.
Despite taking care of their skin with sun protection and a daily skincare regimen, many guys have unwanted photo-damage, fine lines, wrinkles, and hyperpigmentation.
Microneedling is able to target all of these concerns in a 30-minute session. It can be performed on the face, chest, neck, and other parts of the body. In addition, the procedure can penetrate to the deeper layers of the skin and repair acne scars, stretch marks, and surgical scars without the thermal damage or recovery associated with lasers.
Microneedling Facial Singapore
Microneedling Facial Singapore for men can improve skin tone and texture, diminish wrinkles and fine lines, soften acne scars, and reduce discoloration with minimal downtime. Plus, microneedling offers men a safe and natural way to enhance their appearance because the treatment uses the body's own healing mechanisms to produce results. The cost of a microneedling treatment is also very affordable as compared to laser treatments.
How is the Microneedling Treatment like?
​Microneedling is an anti-ageing treatment which uses a mechanical device with thin, surgical-grade needles to create micro-injuries in the skin's surface. The body then responds by generating new collagen and elastin to fill these wounds. To stimulate even greater collagen production, the patient's own platelet-rich plasma may be applied over these tiny punctures. Additionally, topical serums are delivered via the precisely-made holes to boost the wound healing effect and cellular rejuvenation.
What are the benefits of Microneedling?
Microneedling is extremely effective for Acne Scars.
A 2015 study of microneedling's effect on atrophic acne scars revealed that patients experienced noticeable clinical improvement in the look of their post-acne scarring after three months of microneedling treatments. (Source3)
Gliding tiny micro needles over the skin breaks down collagen bundles in the top layer of the dermis, which are responsible for those uneven scars.
A retinol-based serum in this instance would provide additional exfoliating power to smoothen the acne scars.
About 4 to 6 sessions with a gap of 2 to 4 weeks per session are required for the most effective acne scar removal.
Which are the target areas for Microneedling?
Microneedling is most often used on your face to target:
acne scars
age spots (also called "sun spots")
fine lines and wrinkles
large pores
other types of scars 
reduced skin elasticity
uneven skin tone
stretch marks 
scarring 
How quick can one see results from Microneedling?
After their first session, most men notice that their skin is softer and brighter. Additional effects become apparent over the next several weeks and can continue to progress for up to six months. The number of treatments recommended varies from person to person and depends on skin quality and specific concerns and goals. However, a series of three-to-six treatments is typically advised.
Find out more about Microneedling for Men via this link.
Gold RF Microneedling Facial by Wellaholic
Gold RF Microneedling is a revolutionary skin treatment that delivers dramatic anti-ageing results by combining fractional radiofrequency (RF) with microneedling to effectively treat acne, acne scar, pigmentation, stretch marks & enlarged pores. Gold RF Microneedling can also lift saggy skin and revitalise dull and uneven skin tone.
What is Gold RF Microneedling Facial Treatment?
If you are looking for an effective method to clear your acne scars, wrinkles or pigmentation, or if you are looking to tighten saggy skin such as jowl lines and nasolabial folds without any invasive surgery, then Gold RF Microneedling is the right treatment for you. Gold RF Microneedling combines two scientifically-proven techniques, microneedling and fractional radiofrequency (RF) to treat a variety of skin conditions.
Gold RF Microneedling uses up to 64 needles to penetrate the skin, releasing RF energy to trigger collagen and elastin production for the ultimate anti-ageing treatment for a clearer complexion and firmer skin.
Gold RF Microneedling is a safe, minimally invasive, and extremely effective aesthetic treatment for treating acne scars, pigmentation, fine lines and wrinkles.
Gold RF Microneedling has the ability to stimulate the growth of collagen and elastin using the combination of Microneedling with Radiofrequency, which is the key to new, youthful-looking skin.
Gold RF Microneedling has a dermatological treatment has seen extensive positive clinical results. This is an improvement over just doing a Microneedling or Radiofrequency treatment on its own.
Gold RF Microneedling combines radiofrequency with microneedling to stimulate tissue remodelling, thereby triggering the production of collagen.
What are the Benefits of Gold RF Microneedling Facial?
Gold RF Microneedling has all the skin resurfacing benefits of traditional microneedling, but with the added technology of insulated needles that deliver RF energy to the skin, creating new microchannels linking your skin's layers.
Gold RF Microneedling create tiny wounds in your skin to prompt your body to replace old skin cells with healthy new ones, the RF energy heats deep layers of your dermis to encourage collagen growth and tissue tightening, leading to visibly healthier skin that continues to improve over the following months.
Gold RF Microneedling leads to faster cell turnover and quicker results than traditional microneedling.
Gold RF Microneedling has a shorter recovery time as compared to traditional microneedling, laser resurfacing treatments and chemical peels. There is also less risk of hyperpigmentation.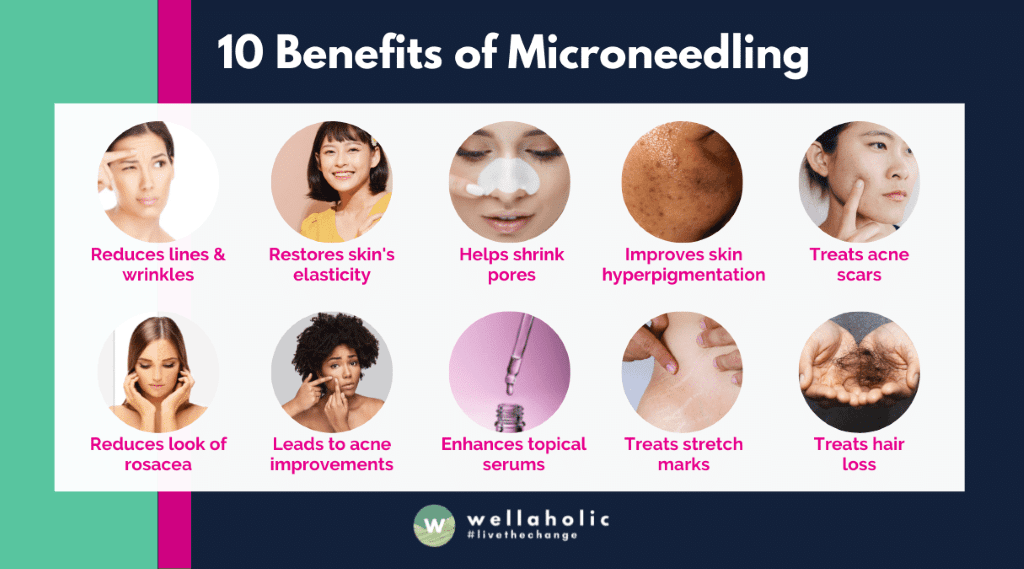 Pricing of Facial Treatments by Wellaholic
Wellaholic believes in providing pricing transparency, and hence all our prices are published and updated on its website. Choose from a single-session plan or choose a multi-session plan for greater discounts. Wellaholic's facial treatments are generally divided into the following categories: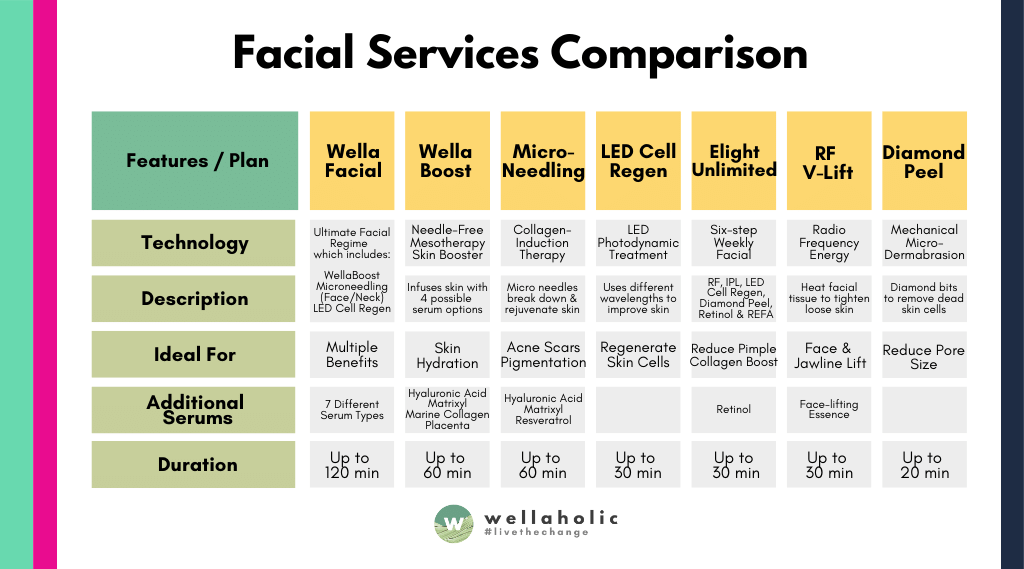 Please click on the menu below to see the pricing for the various facial treatments by Wellaholic. Wellaholic is well-known in the industry for our transparent pricing and no hard selling. In fact, Wellaholic is well-known for not only our transparent and cheap pricing but also without any hidden costs. All prices are nett and inclusive of GST, and are actual prices (i.e. not trial prices).
---
---