10 Facts You Didn't Know About SHR Hair Removal
10 Facts You Didn't Know About IPL Hair Removal
SHR or Super Hair Removal is a relatively newer technology which uses low energy and rapid pulsing diode laser but at a higher frequency. Developed by Alma Lasers, this diode laser hair removal technology allows the skin to be heated gently, but with the rapid pulses, the energy is then accumulated by the skin. If you are considering SHR hair removal, you might want to learn more about these 10 interesting facts on SHR hair removal.
Fact 1: SHR Hair Removal was invented by Alma Lasers
In 2006, Two visionaries took upon themselves to change the way laser hair removal is performed. Those were Alma lasers' founder and former CEO Dr. Ziv Karni and Dr. Jospeh Lepselter, one of Alma's clinical application directors. They named their innovation SHR technology.
Up to that point in time, laser or IPL (intense pulsed light) hair removal was performed by pulsing the skin with a very strong light beam. The plan was that the melanin-containing hair follicle would absorb the delivered energy, heat up dramatically and be destroyed. Sounds painful, doesn't it?!
And if the pain wasn't enough, there were many coverage issues caused by the stamping technique practitioners used. Less optimal coverage created 'Zebra stripes' in the treated area (stripes of skin with visible reduction followed by ones with hair growth). To make things worse, overlapping coverage (pulsing the same place more than one) could even cause burns to the patients' skin!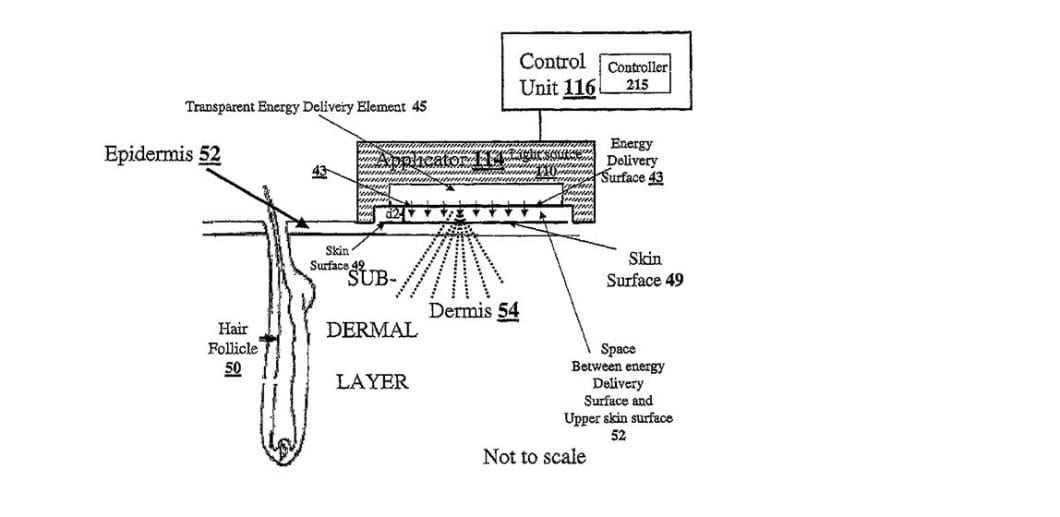 Fact 2: SHR stands for Super Hair Removal
SHR™ simply stands for 'Super Hair Removal'. Dubbing something as 'Super' might sound arrogant and pompous. Even so, when you realize what this innovation did for the treatment calling it 'SHR' is an understatement. The main concept behind is that the energy delivered to the target area is accumulative. It involves heating up the skin in the entire treated area to a point the hair follicles are destroyed. This process is done by using an "in-motion" technique, where the practitioner uses gliding motions with the laser applicator over the patients' skin.
So rather than lasing each hair follicle individually with a high powered beam which is painful, SHR uses lower energy with high repetition to achieve maximum results with virtually no pain at all. Moreover, the "in-motion" technique ensures better and more uniform coverage and minimizes the risk of burns.
Fact 3: SHR Hair Removal is ideal for all skin types, including darker skin
Other than the above mentioned benefits for all patients, SHR also was huge news for people with darker skin types that wanted to get laser hair removal. Prior to that the pain was almost unbearable, and the risk for burns was too high. The melanin rich skin absorbed too much of the laser energy and heated up considerably with traditional hair removal techniques. But with SHR those days were long gone. Additionally, advanced laser devices using this SHR technology offer specially cooled applicators that even lower the pain levels so basically most patients report only a feeling of slight warmth during the treatment session.
Fact 4: SHR Technology combines 3 Laser Wavelengths
It is important to understand that this SHR technology can be combined with all aesthetic laser wavelengths that are utilized for hair removal. Those are mainly the 755nm, 810nm and 1064nm. This advanced diode combines all the above laser wavelengths. This combination allows treatment of all skin types and even improves the treatment.
Fact 4: You need to shave before your SHR Hair Removal session
Contrary to what your friends might have told you, you actually need to shave before your SHR treatment. By shaving, you allow the SHR energy to be fully absorbed by the hair follicles, thereby improving the effectiveness of the treatment. Ideally, shaving a day before treatment (most customers do that in the evening prior to their treatment). Nevertheless, there are always difficult-to-reach areas such as the back and the private areas. At Wellaholic, we have our bestseller WellaSmooth Ultimate Plan which includes not only unlimited full body SHR treatment, but also unlimited shaving and post-treatment whitening or hydration with AfterGlow. Careful and experienced shaving will help prevent ingrown hairs which can create acne and other skin issues.
Fact 5: SHR Hair Removal can prevent ingrown hairs
Ingrown hairs occur where the uneven or sharp tip of a regrowing hair grows back into the skin. This results in a trapped hair under the skin that continues growing, which can be very painful and uncomfortable. And it can be especially uncomfortable when it leads to skin irritation like pimples or an inflammation of the hair follicle. SHR hair removal, by preventing hair growth, will prevent ingrown hairs.
Fact 6: SHR Hair Removal must be aligned to the hair growth cycle
This is one of the most common misconception about hair removal. We do have many customers thinking that after their first session, their hairs will stop growing. This is actually not the case. This is because what happens is that when one follicle dies, there might be another one next to it that may regenerate itself. Hair grows in different cycles so at any time, 30 to 60 percent of the hair is in the anagen growth cycle stage. The laser is targeting the hairs in the growth stage. The dead ones that are dead will shed after a few weeks. By the time you go for your next appointment (recommended 28 days later, to time with the hair growth cycle), the hairs that were in their growth stage will now by in their dormant or dying stage. This is also why we always advise customers to stick to a strict 28-day treatment schedule to see the best results.
Fact 7: SHR Hair Removal uses low fluence pulses at a higher frequency
IPL uses conventional high-intensity light pulses to target melanin, whereas SHR uses low fluence pulses at a higher frequency. As such, IPL's high-intensity light pulses may increase the risk of skin burns and the sensation is not as comfortable. On the other hand, the skin is heated more gently during SHR, keeping skin trauma at bay. SHR's cool touch technology also enhances customer's comfort, making it an ideal choice for sensitive areas such as Brazilian.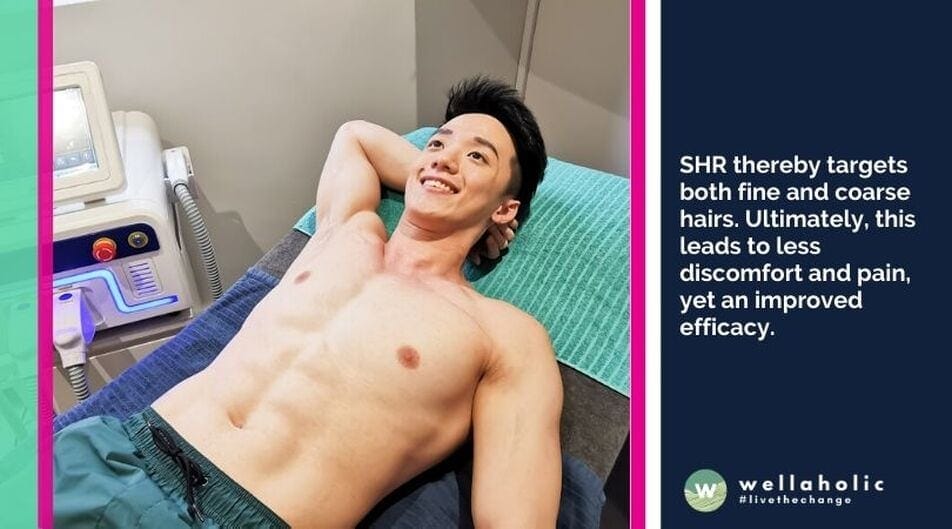 Fact 8: Hairs can grow back after SHR hair removal
SHR hair removal can also only treat active hairs (in the 'anagen' cycle). So after a course of SHR hair removal, we will have destroyed the suitable treated follicle's and they will never grow back, but there is a strong possibility that a brand new follicle may activate or follicles, not in the 'anagen' phase will still grow. This is the reason why multiple sessions are needed for permanent hair removal.
Fact 9: Wellaholic offers Unlimited SHR Hair Removal plans
Wellaholic is well-known for our Unlimited Plans, which provide unlimited SHR shots for unlimited body parts.
Choose from the following:

SHR Prestige Unlimited – this monthly plan covers all body parts including brazilian/boyzilian
SHR Deluxe Unlimited – this monthly plan covers all body parts excluding brazilian/boyzilian

Please note that there is a minimum of a 28-day gap between treatments.
Please note that our 1-Month Unlimited plan allows you only one treatment per body part.
If you would like an all-inclusive plan which includes SHR Prestige Unlimited, all-that-you-need Shaving and Post-Treatment Whitening or Hydrating, you can opt for our popular WellaSmooth all-inclusive hair removal plan.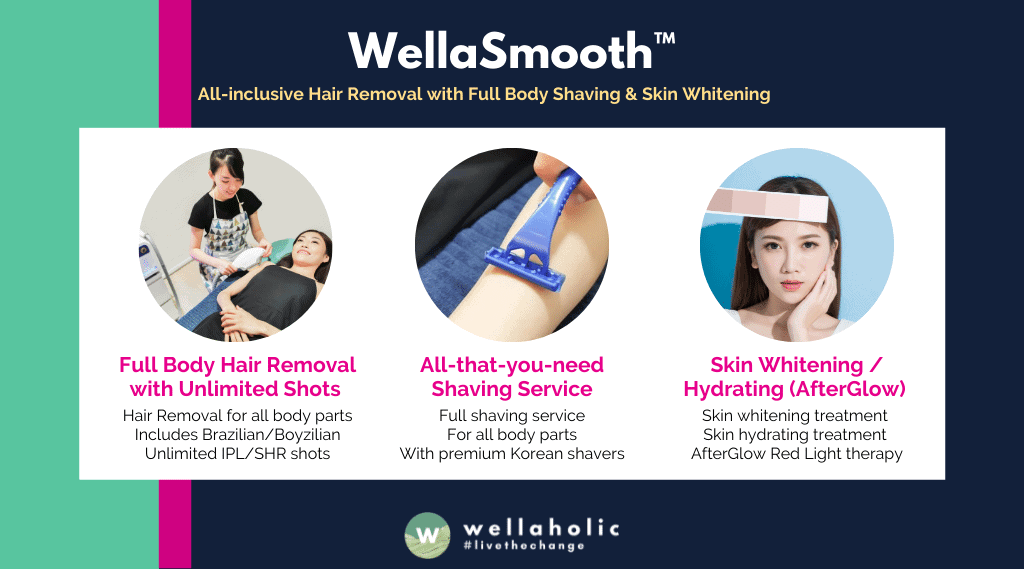 Fact 10: SHR Hair Removal is ideal for both men and women
Yes, our hair removal treatments are suitable for both men and women.
We have both male and female consultants at each of our outlets on a daily basis to assist our male and female customers with hair removal for all body parts.
For privacy reasons, we only allow male consultants to assist with treatments for male customers, and female consultants to assist with treatments for female customers.
Whether it is Boyzilian, Brazilian, Bikini, armpits or any other body parts, our team is experienced and will be able to assist our patients with the full hair removal treatment.
Pricing of SHR Hair Removal Treatments by Wellaholic
Wellaholic believes in providing pricing transparency, and hence all prices are published and updated on its website. Choose from unlimited monthly hair removal plans (with unlimited SHR hair removal shots) for unlimited body parts, or choose from per-session hair removal price plans. Wellaholic's hair removal prices are generally divided into the following categories: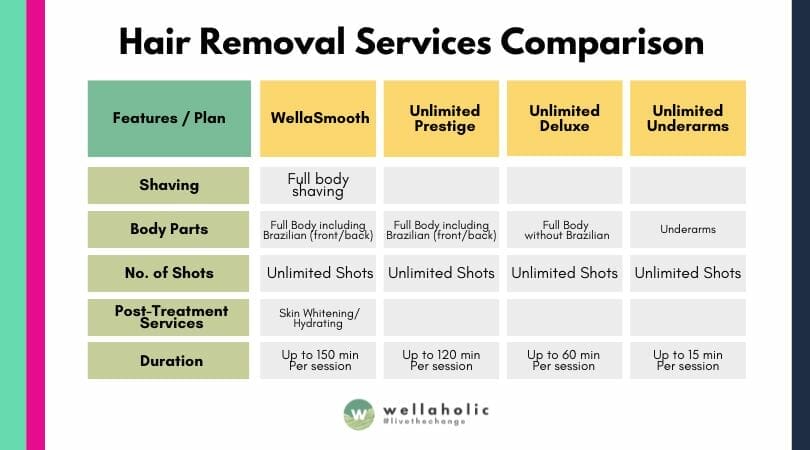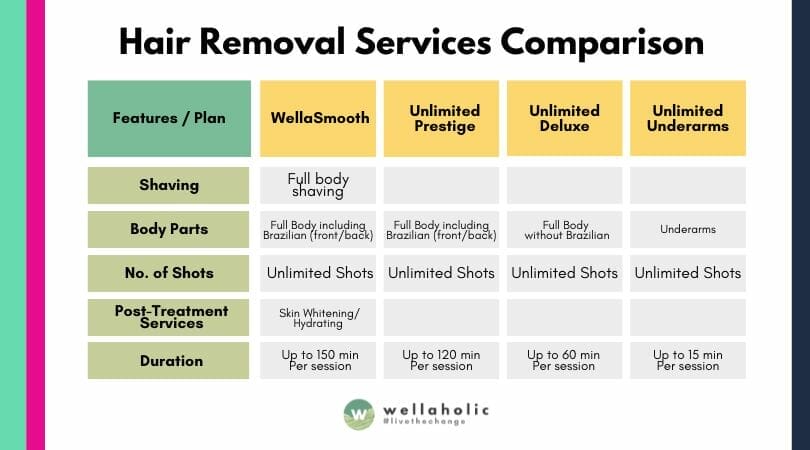 ---
---