10 Things About Laser Hair Removal a Doctor Would Tell You
Laser Hair Removal as an Innovation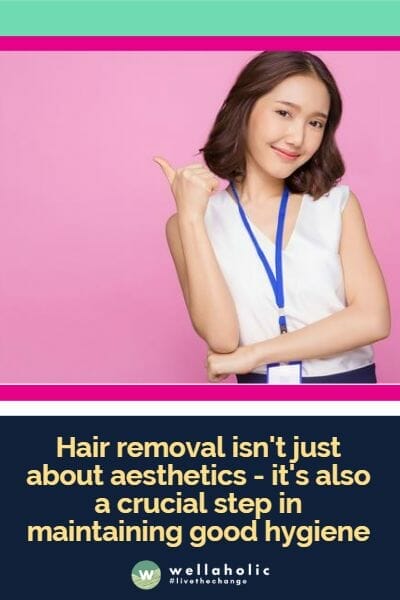 Laser hair removal has become an increasingly popular option for those seeking to shed some of their unwanted locks. But before you start zapping away, it's important to know what you're getting into. That's why we've enlisted the help of a doctor to give you the inside scoop on the top 10 things you need to know about laser hair removal. From the unexpected side effects to the best ways to prep for your appointment, this list has got you covered. So sit back, relax, and get ready to learn more than you ever thought possible about the world of laser hair removal. After all, knowledge is power – and in this case, it might just save you from a few unexpected zaps.
---
Fact 1: Laser hair removal technology is effective.
Thanks to the advancement of technology, there are now innovative devices and equipment like laser machines that works properly to eliminate your unfavorable hair growth at different parts of your body.
Medical quality lasers work by launching a single particular wavelength of light leading to a taken full advantage of laser focus on the target area enabling it to exactly manage where the power is being provided. This power is then taken in by the pigment in the hair causing disturbance of hair development cycle without damaging the surrounding skin or follicle. In most cases, as reported by patients, noticeable decrease in hair growth is already obvious weeks after the first session.
"Laser hair removal is a safe and effective treatment that can bring you long-term results – it pays to know the facts!"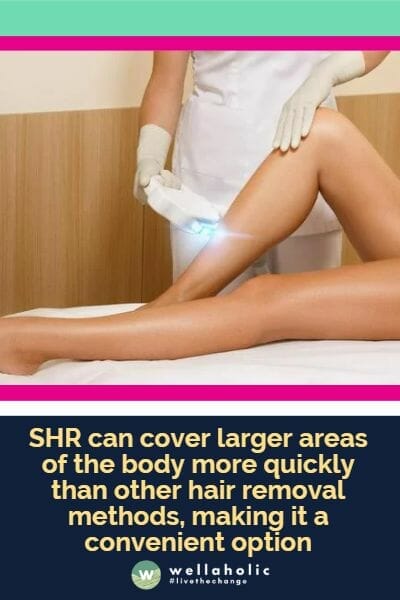 Fact 2: There are 3 main types of laser hair removal in Singapore
Today, though there are numerous brands, these are 3 laser long-term hair removal technologies that are easily available in Singapore relying on your skin type and the appearance of your hair:
For fair to mid-toned skin with tool to crude dark hair: Alexandrite Laser (755nm).
For darker skin kinds with rugged hair: ND: YAG Laser (1064 nm).
For fair to mid-toned skin in addition to dark fine hair: Diode Laser (800-810 nm).
At Wellaholic, we focus on both IPL and SHR hair removal. SHR or Super Hair Removal technology is a newer technology as compared to IPL. Developed by Alma Lasers, SHR combines 755nm, 808nm and 1064nm laser wavelengths to target all skin types. In addition, simultaneous contact cooling prevents burns and allows for a more comfortable treatment. This is ideal for skin and hair of all types and causes minimal irritation to the skin. Wellaholic's SHR Prestige plan allows you hair reduction treatments on all body parts.
Below shows a tables of the various laser types for hair removal and their various features.
| Laser Type | Wavelength Range | Skin Type | Hair Color | Features |
| --- | --- | --- | --- | --- |
| Alexandrite | 755 nm | Fair to olive | Light to medium | Fast treatment time and effective on larger areas of the body |
| Nd:YAG | 1064 nm | All skin types | Dark | Can be used safely on all skin types including dark skin tones |
| Diode | 800-810 nm | All skin types | Dark | Long-lasting results and good for large areas of body |
| Ruby | 694 nm | Fair to medium | Light | Effective on fine and light hair |
| IPL (Intense Pulsed Light) | 500-1200 nm | Fair to dark | Light to medium | Can treat a variety of skin and hair types |
Different Types of Lasers for Hair Removal and Their Features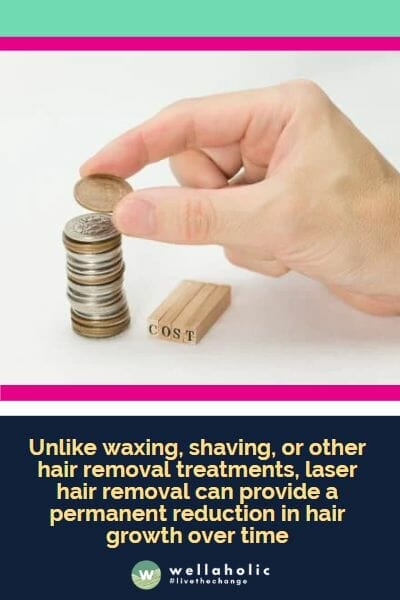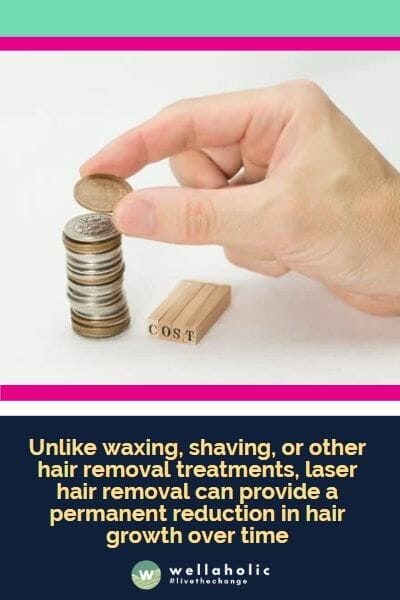 Fact 3: Laser hair removal saves you a lot of time
Laser irreversible hair removal is a fast treatment as well as each session can be done in as rapid as thirty minutes! One patient also shared that the session only took 20 seconds to complete!
Depending upon your hair kind and the location being dealt with, just 4 to 6 sessions are required for long-term hair elimination!
Likewise, after therapy, there is minimal to absolutely no downtime, lowered inflammation, and also with the hands of a specialist, no problems like burns as well as scarring. After treatment, you can quickly go back to your typical day-to-day regimen.
Fact 4: Laser hair removal is cost-effective
At prominent waxing salons, each waxing session expenses as much as $200. For most of the time, you will need multiple sessions– some even up to 8 sessions or even more! In fact, for most people, waxing is a continuous affair as the hairs will continue to grow. Visualize the total amount you spend for all these sessions. In a similar way, even though per session of IPL therapies are more affordable than laser, more sessions are required to do the work– and also the hair elimination not also long-term!
In Singapore, laser hair treatment can cost up to $400 per session only just 4-6 sessions. Sounds very expensive right? But with hair laser removal, the risk of needing to get another razor and shave again is extremely reduced. So, by going to the physician for your laser hair elimination, you can wind up costs much less in the long run and save you great deals of money.
Wellaholic's plans are very affordable, and costs as low as just $209 per month for unlimited hair removal on all body parts (SHR Deluxe Unlimited).
Please see the table below which shows the prices of SHR hair removal treatments by providers in Singapore.
| Hair Removal Package (Full Body) | Price Range | Service Provider | Additional Notes |
| --- | --- | --- | --- |
| WellaSmooth (Full Body SHR + Full Shaving + Skin Whitening) | $399/Month | Wellaholic | SHR is a laser diode; ideal for all skin tones |
| SHR Unlimited Prestige (Full Body SHR incl. Brazilian) | $259/Month | Wellaholic | SHR is a laser diode; ideal for all skin tones |
| SHR Unlimited Deluxe (Full Body SHR) | $209/Month | Wellaholic | SHR is a laser diode; ideal for all skin tones |
| Full Body (Full Arms + Legs + Brazilian) | $694 | Service Provider BA | 50% Off for first try |
| Full Body (For 22 Areas) | $498 | Service Provider DL | SHR is a laser diode; ideal for all skin tones |
| Ala Carte Full Body (Full Arms + Legs + Brazilian) | $468 | Service Provider DL | SHR is a laser diode; ideal for all skin tones |
| Full Body incl. Boyzilian | $512 | Service Provider DL | For male customers only |
| Ala Carte Full Body (Full Arms + Legs + Brazilian) | $613.33 | Service Provider Q | IPL is more ideal for darker skin tones |
| Full Arms + Legs + Brazilian | $338 | Service Provider TA | Or $3380 for a 10-session plan |
| Full Arms + Legs + Brazilian | $720 | Service Provider TAC | IPL is more ideal for darker skin tones |
Pricing of SHR Hair Removal Treatments in Singapore, Based on Published Prices
Fact 5: Laser hair removal is safe
Laser hair removal can be dangerous in inexperienced hands. Burns, permanent changes to your skin color, and scars can occur. You can greatly reduce the risk of possible side effects by having your treatment performed by a hair removal specialist who is extremely skilled in using lasers and has in-depth knowledge of the skin.
At Wellaholic, our consultants are highly-trained and each of them has clocked over 500 hours of training for hair removal on all body parts, right up from your facial hair all the way down to the private areas. You can be rest assured that you are in safe hands.
Fact 6: Laser hair removal is suitable for all skin types
While laser hair removal is generally safe and effective for most skin types, there are some factors that can affect its suitability and success. For example, people with darker skin tones may be more prone to experiencing side effects such as burns or pigmentation changes, as the laser targets the melanin in the hair follicle, which can also be present in the surrounding skin.
However, advances in laser technology have made it possible to treat a wider range of skin types and hair colors than ever before. For example, some lasers are specifically designed to target darker skin tones, using longer wavelengths that bypass the melanin in the skin and focus on the hair follicle instead.
Fact 7: Laser hair removal is for both men and women
Typically, laser hair removal is mainly connected with ladies. But in this day and also age, more and more men look to aesthetic procedures like laser hair removal to improve their total look. Men obtain tired of shaving, razor burns, and also ingrown hairs too you recognize! Laser hair elimination can safely as well as successfully treat too much hair growth for all sexes!
In Singapore, laser treatments are offered by a wide range of clinics and salons in various locations across the island. These clinics typically offer various types of lasers that target different areas such as the face, legs, underarms and bikini line. The treatment process is quick and relatively painless with results visible after just a few sessions. Patients will continue to benefit from smoother skin with fewer ingrown hairs for months afterwards.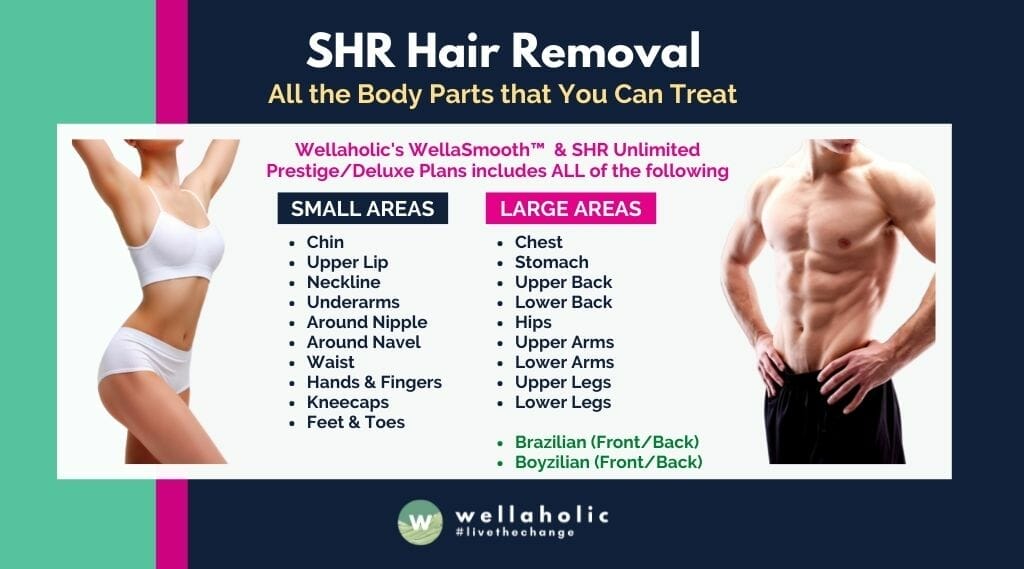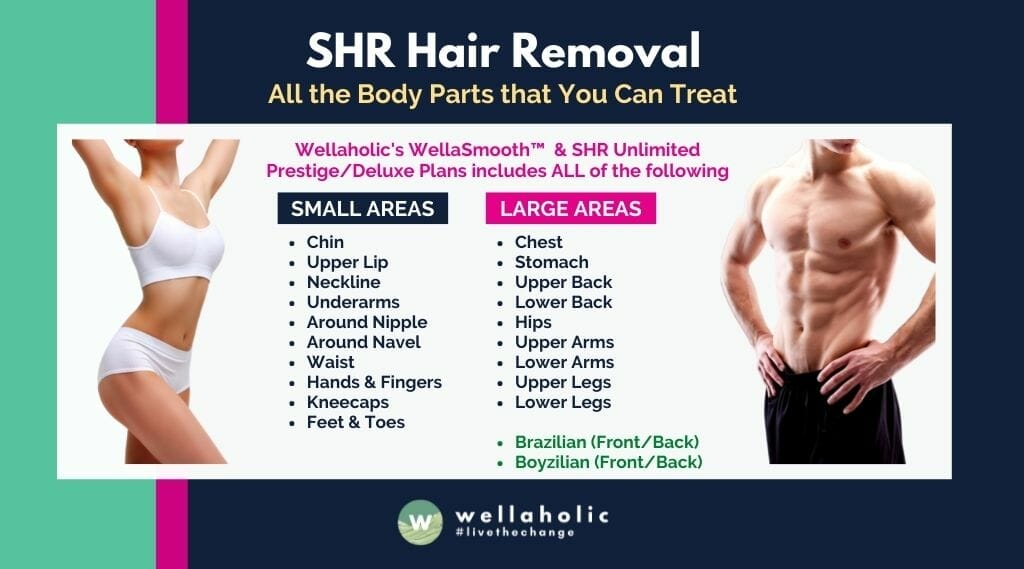 Fact 8: Laser hair removal can treat all parts of the body
Laser hair removal treatments can treat all the hirsute areas in your body.
For females, the most usual areas requested for hair elimination are the following:.
face (chin, jawlines).
upper and reduced lips.
limbs.
brazilian area.
under arms.
nipples.
butts.
stomach.

For men, the most usual locations asked for hair elimination are the following:.
Back.
Upper body.
Ears.
Face (additionally, beard reduction).
boyzilian area
Fact 9: Laser hair removal can last a long, long time
If you're tired of constantly shaving, waxing, or plucking, laser hair removal might just be the solution you've been looking for. Unlike temporary hair removal methods, laser hair removal can provide long-lasting results that can save you time and money in the long run. By targeting the hair follicle with high-powered lasers, laser hair removal can effectively destroy the hair at its root, preventing it from regrowing for weeks, months, or even years. While some touch-up sessions may be needed over time, many people find that the results of laser hair removal last much longer than traditional hair removal methods, making it a great investment in both time and money. So if you're ready to say goodbye to the hassle of daily hair removal, why not give laser a try? Who knows – you might just be saying hello to a lifetime of smooth, silky skin.
Fact 10: Laser hair removal can help boost your confidence
Let's face it – feeling confident in your own skin can be a challenge, especially when it comes to hair removal. Shaving can lead to nicks and cuts, waxing can be painful, and don't even get us started on the horrors of ingrown hairs. But fear not, dear reader, for laser hair removal is here to save the day – and your self-esteem. By zapping away unwanted hair for good, laser hair removal can help you feel more confident in your own skin, whether you're rocking a bikini on the beach or just lounging around in your birthday suit. Plus, with the time and money you'll save on shaving and waxing, you'll have even more reasons to strut your stuff with pride. So go ahead, embrace your smooth, silky skin – we won't judge.
WellaSmooth™. Pay One Low Price for Hair Removal for All Body Parts with Unlimited SHR Shots
Unbeatable in Value and Quality. WellaSmooth offers a all-inclusive hair removal solution that is unbeatable in both value and quality.
One Price for All Body Parts. Pay just one low price for a complete hair removal experience for all body parts, including unlimited SHR shots.
Shaving + Hair Removal + Whitening. WellaSmooth also includes full body shaving service and post-treatment whitening/hydration to prevent hyperpigmentation.
Permanent Fuss-Free Solution. Say goodbye to the hassle of expensive and ineffective hair removal methods and trust WellaSmooth to deliver a permanent and fuss-free solution for all your hair removal needs.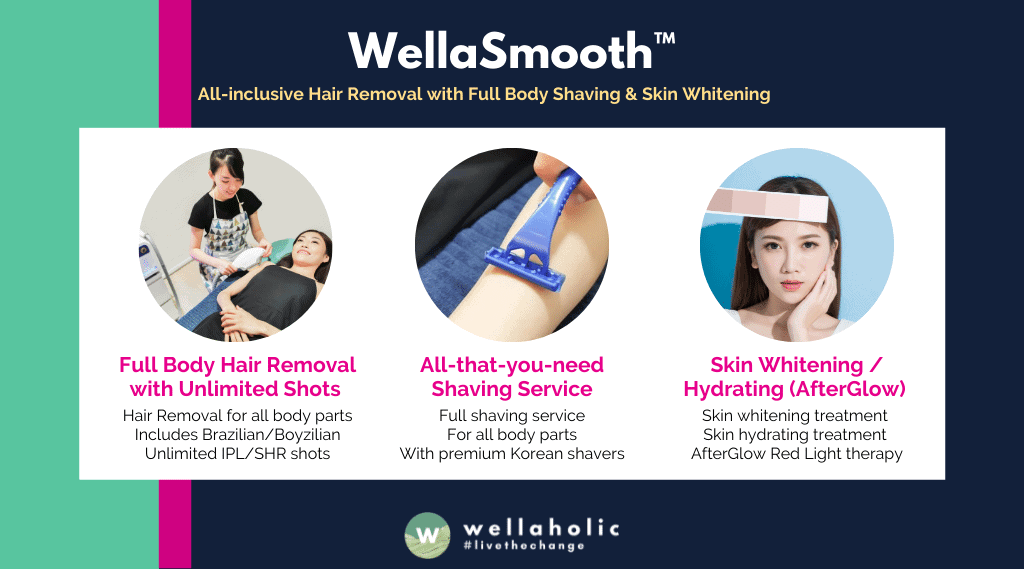 WellaSmooth™ Includes the Following 3 Hair Removal Services
SHR Permanent Hair Removal PRESTIGE Unlimited – Enjoy our bestseller SHR hair reduction treatment for all body parts
Unlimited Shaving Service – Enjoy unlimited shaving service on all body parts
Skin Whitening/Hydrating (PTT) with AfterGlow – Enjoy post-treatment whitening or hydrating therapy followed by AfterGlow red-light treatment to rejuvenate your skin


Why Choose Wellaholic WellaSmooth™?
Diode Laser Technology. Developed by Alma Lasers, SHR combines 755nm, 808nm and 1064nm laser wavelengths to target all skin types.
SHR is Better Than IPL. SHR has been shown to be more effective and less painful, particularly for individuals with Asian skin, without the discomfort associated with IPL.
Unlimited Shots. We use as many shots as needed to effectively target the hair follicles.
Award-Winning. Wellaholic's WellaSmooth and SHR Hair Removal have been recognized by top beauty publications such as Daily Vanity, Beauty Insider, and Tropika Club Magazine, earning prestigious awards from 2018 to 2023.
Ideal for All Skin and Hair Colors. WellaSmooth is perfect for individuals with any skin color or hair color.
For Men and Women. Wellaholic caters to both men and women with our team of skilled therapists, ensuring that every outlet has a diverse and inclusive environment with male and female professionals readily available to attend to your needs.
See Over 2000 Positive Reviews of Wellaholic (Customer Verifiable)
If you're looking for a reliable and trustworthy aesthetic chain, Wellaholic might just be the perfect fit for you. With over 2000 genuine customer reviews and testimonials, you can see for yourself why our hair removal services have won numerous awards.
Pricing of Hair Removal Treatments by Wellaholic
Price Transparency. Wellaholic offers pricing transparency by publishing and updating all prices on our website.
Flexible Per-Session or Unlimited Plans. Customers can choose from unlimited monthly hair removal plans with unlimited SHR hair removal shots for all body parts, or per-session hair removal price plans.
Mix and Match Easily. Wellaholic's hair removal prices are divided into different categories for easy selection.
No Price Shocks. Customers can expect to pay only for the treatments provided instead of being surprised by additional fees or charges at the end of their hair removal session.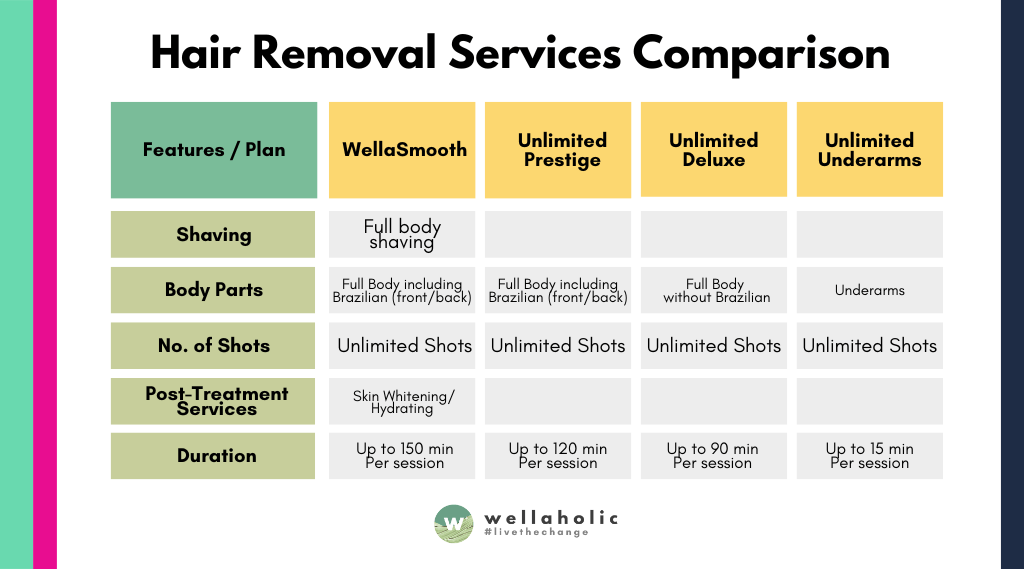 ---
Why Wellaholic is One of the Best Hair Removal Providers in Singapore?
Leading Hair Removal Chain in Singapore. Wellaholic is a leading hair removal company in Singapore that is highly sought after by customers.
Quality & Safe Treatments. The company is committed to providing quality and safe treatments with experienced staff.
Wide Range of Hair Removal Treatments. Wellaholic offers a wide range of laser hair removal treatments for various body parts including Brazilian & Bikini, Underarm, Arms, Back & Shoulder Hair Removal, and Leg Hair Removal.
Trained & Experienced Consultants. All treatments are performed by trained professionals who understand the skincare needs of both female and male customers.
Advanced SHR Technology. Advanced SHR technology is used to ensure a safe experience with no downtime or discomfort during the entire process.
Most Affordable Provider. Wellaholic provides competitive pricing for its treatments which makes it one of the most affordable providers in Singapore.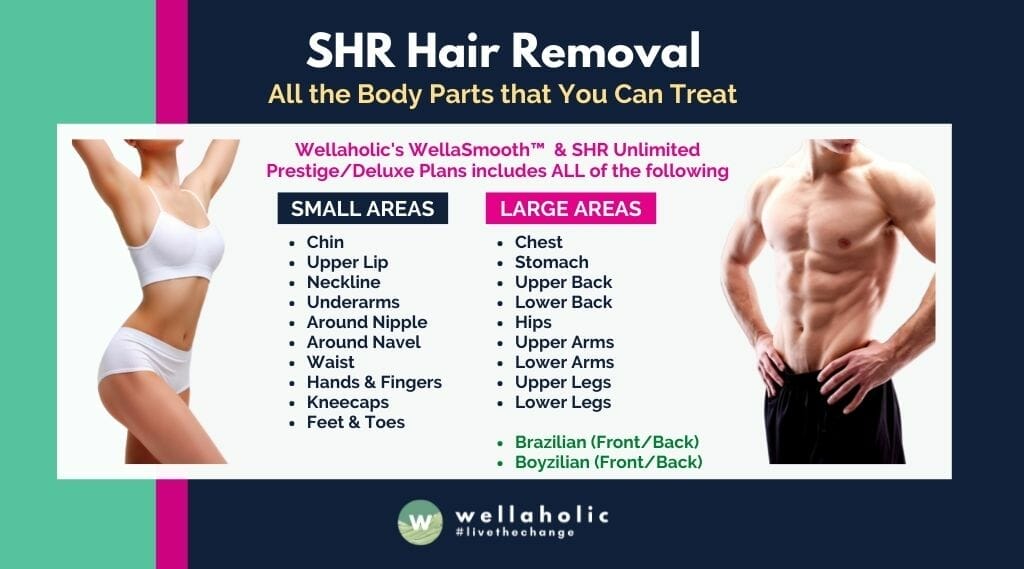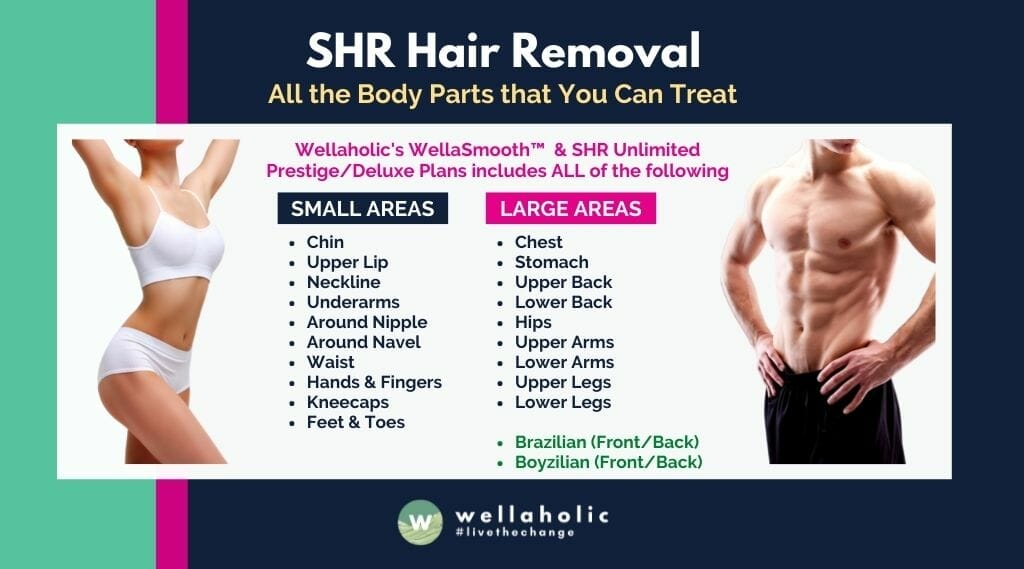 Reason 1: Wellaholic's Unlimited Plans Save You Lots of Money
Unlimited Hair Removal Plans. Wellaholic offers unlimited plans for permanent hair removal with unlimited shots.
Pay One Price for All Body Parts. Customers pay one nett price for hair removal on all body parts, including chin, lips, underarms, back, chest, stomach, legs, and private regions (both front and back).
Huge Cost Savings. With the unlimited plan, there are no separate fees for hair removal on different body parts, leading to huge cost savings.
Reason 2: Wellaholic Has Over 50 Awards and 2000 Genuine Customer Reviews
Over 50 Awards. Wellaholic's WellaSmooth and SHR Hair Removal have been recognized by top beauty publications such as Daily Vanity, Beauty Insider, and Tropika Club Magazine, earning prestigious awards from 2018 to 2023.
Over 2000 Verified Customer Reviews. Wellaholic has over 2000 verified positive reviews from our customers in Singapore and beyond.
Verifiable Reviews. The reviews are verified and positive, which indicates the high level of customer satisfaction (see reviews below).
Over 50% Repeat Customers. More than 50% of Wellaholic's customers are repeat and recurring customers.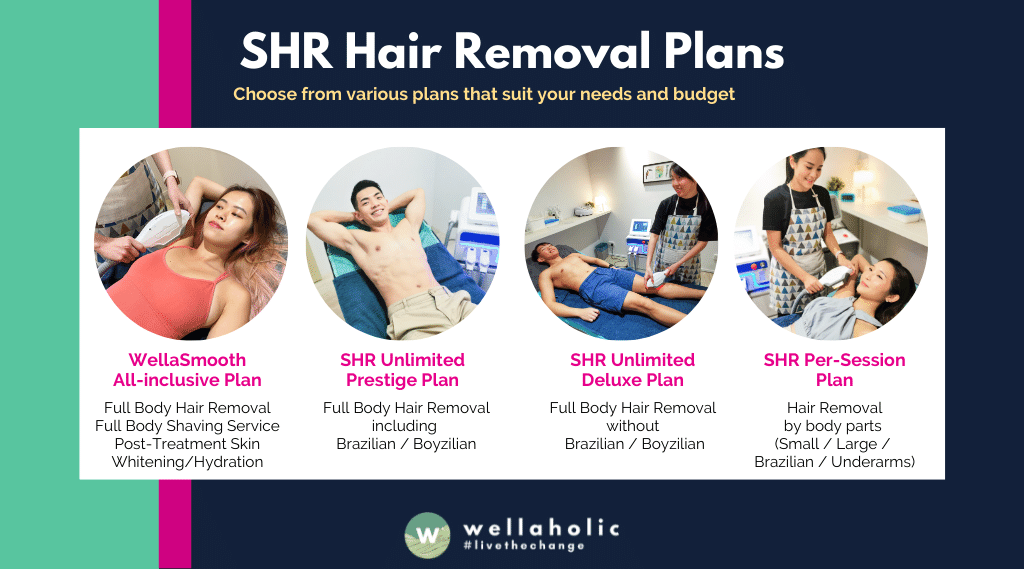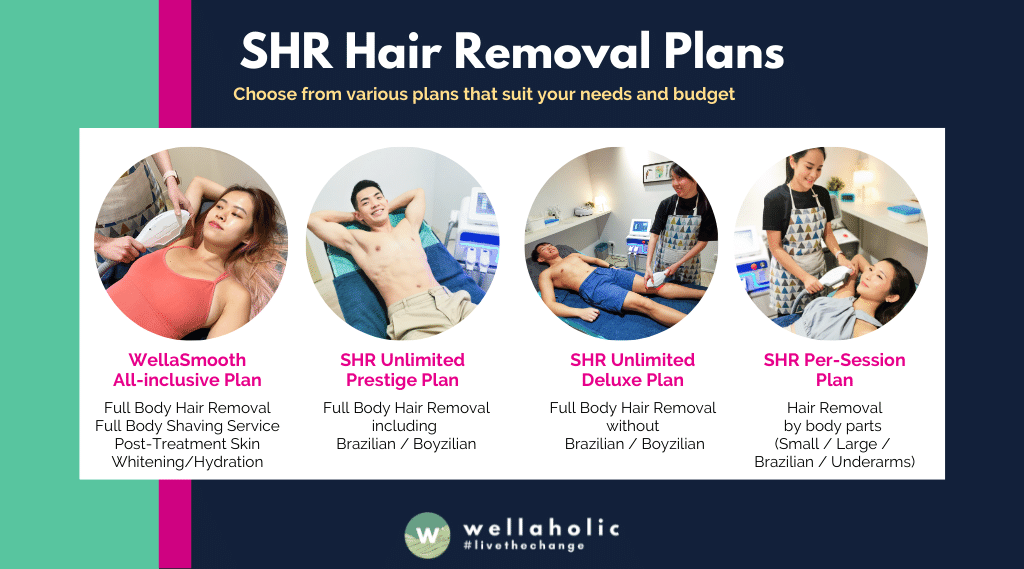 Reason 3: It's Easy to Book an Appointment at Wellaholic
Open 361 Days Per Year. Wellaholic's 8 outlets are open 361 days a year, including public holidays, so that customers can easily book an appointment.
No Queues. All appointments are booked in advanced to prevent the need to queue and wait unnecessarily during peak hours.
Easy Online Booking. Customers can conveniently book and reschedule appointments online or via the booking app.
No Extra Cost for Choosing Consultant. Customers can select their preferred consultant without having to pay any additional fees.
---