Why Laser Hair Removal and Tattoos Do Not Go Together
Introduction: why laser hair removal and tattoos don't mix
Laser hair removal and tattoos are two popular cosmetic procedures that can be done safely under the guidance of a qualified professional. However, there are some precautions that need to be taken when undergoing either procedure. If you are planning to get a tattoo in Singapore and then do hair removal, you need to take note of some precautions. Here are some reasons why laser hair removal and tattoos don't mix.
Laser hair removal can cause the ink in tattoos to become unstable
In recent years, laser hair removal has become a popular choice for women looking to remove unwanted hair. While the process is typically safe and effective, there are a few potential side effects that should be aware of. One of these is that laser hair removal can destabilize tattoo ink, potentially leading to color changes or even worse. If you are considering laser hair removal as an option for your tattoos, it is important to research the risks involved so that you can make an informed decision.
As we just learned, getting laser hair removal over your tattoos could lead to some serious damage including discoloring your tattoo. Since laser hair removal targets the pigments, it can also reduce the color in your tattoo, or even worse, cause the pigment to scatter.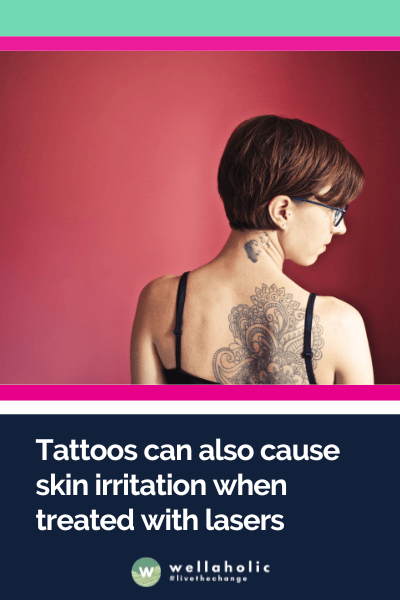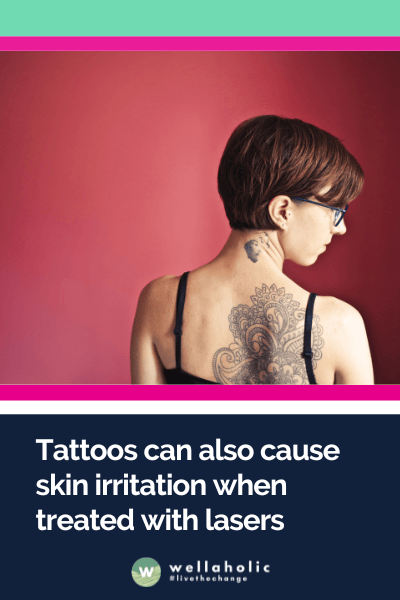 Tattoos can also cause skin irritation when treated with lasers
Tattoos can also cause skin irritation when treated with lasers. "The ink in tattoos may contain heavy metals such as mercury and lead, which can be harmful when exposed to light," said Dr. Randeep Grewal, an assistant professor of dermatology at the University of Missouri. "These heavy metals can cause skin irritation, permanent pigment changes, and even cancer.
The heat from lasers can also cause tattoos to spread
Lasers are a common medical device that use light to treat certain conditions. However, they can also cause unintended side effects. One of the side effects is tattoo spreading. Tattoos are made up of small pieces of ink and when the laser is used to remove the tattoo, it can also remove the smaller pieces of ink that are nearby. This can cause the tattoo to spread more and be more difficult to remove.
Conclusion: Why laser hair removal and tattoos don't mix well
In conclusion, laser hair removal and tattoos don't mix because the two can cause serious damage to one another. Tattoos can cause scarring and discoloration around the area where they were applied, while laser hair removal can cause burning and blistering. If you're considering getting a tattoo, make sure to wait until after you've finished your laser hair removal treatments.
SHR Unlimited Hair Removal by Wellaholic
SHR's Advanced Fluorescence Technology (AFT) In-Motion laser hair removal technology is a breakthrough in customer comfort and effectiveness of treatments. SHR or Super Hair Removal technology heats the skin gently through the melanin and the stem cells with low energy but high frequency. SHR uses only 50% of the energy for permanent hair removal. The remaining 50% is absorbed into the stem cells responsible for hair production.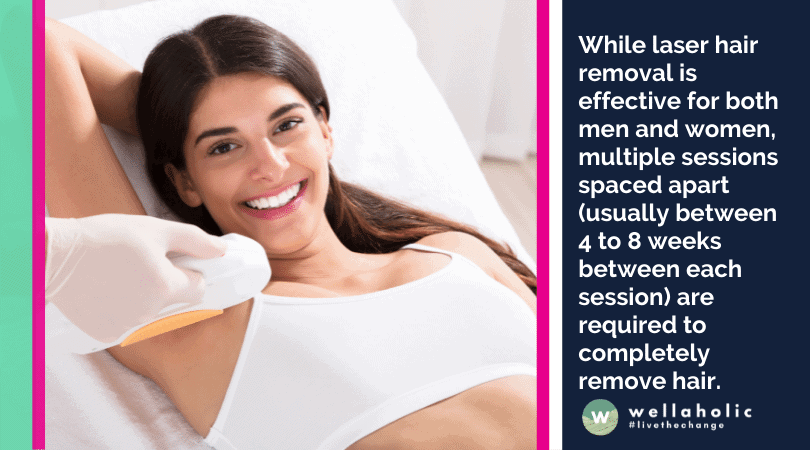 How is SHR Hair Removal Different from IPL?
SHR is better than IPL in the following ways:
SHR is developed and patented by Alma Lasers, a world-leading providers of aesthetic lasers for surgical, medical aesthetics and beauty markets.
SHR is a newer and more effective permanent hair reduction than IPL or OLED hair removal.
SHR combines 755nm, 808nm and 1064nm laser wavelengths to target all skin types. In addition, simultaneous contact cooling prevents burns and allows for a more comfortable treatment.
SHR has a better coverage of the body hairs on skin than IPL or OLED, and prevents ingrown hairs.
SHR causes no or minimal pain due to the low fluence energy and cool touch methodology as compared to IPL or OLED.
SHR can cover all parts of the body such as hair removal for face, arms, legs, underarms, etc. without any issues.
SHR causes less discomfort and skin irritation as compared to IPL or OLED hair removal.
SHR is suitable for all hair types and skin tones (especially Singaporeans or Asian skin and hair types) as compared to IPL or OLED.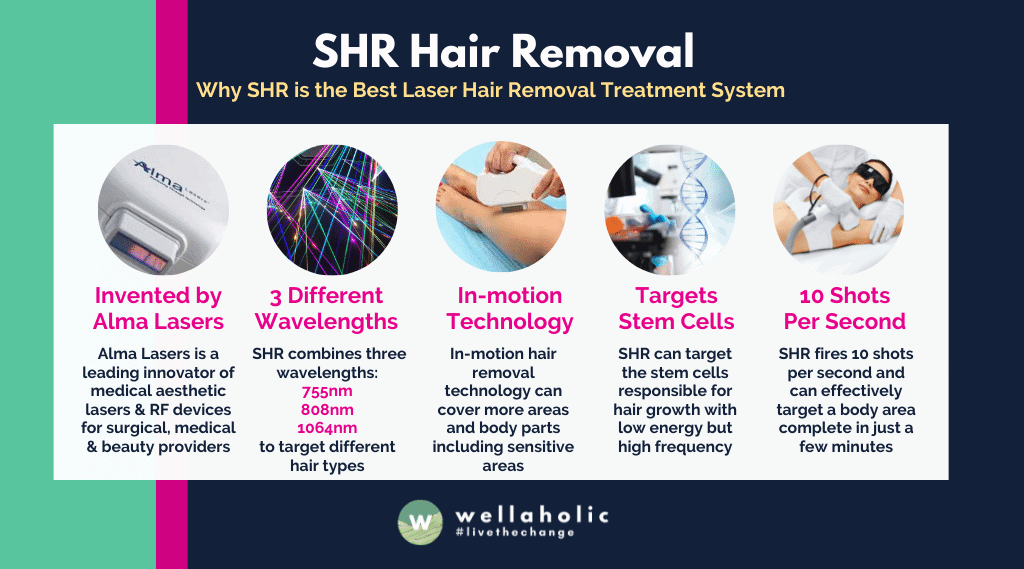 Does Wellaholic Have Unlimited or All-inclusive Plans?
We are glad you asked!
Wellaholic is well-known for our Unlimited Plans, which provide unlimited SHR shots for unlimited body parts.
Choose from the following:

SHR Prestige Unlimited – this monthly plan covers all body parts including brazilian/boyzilian
SHR Deluxe Unlimited – this monthly plan covers all body parts excluding brazilian/boyzilian

Please note that there is a minimum of a 28-day gap between treatments.
Please note that our 1-Month Unlimited plan allows you only one treatment per body part.
If you would like an all-inclusive plan which includes SHR Prestige Unlimited, all-that-you-need Shaving and Post-Treatment Whitening or Hydrating, you can opt for our popular WellaSmooth all-inclusive hair removal plan.
See Over 1800 Positive Reviews of Wellaholic (Customer Verifiable)
Pricing of SHR Hair Removal Treatments by Wellaholic
Wellaholic believes in providing pricing transparency, and hence all prices are published and updated on its website. Choose from unlimited monthly hair removal plans (with unlimited SHR hair removal shots) for unlimited body parts, or choose from per-session hair removal price plans. Wellaholic's hair removal prices are generally divided into the following categories:
---
---