SHR Hair Removal – Singapore Price Guide (2022 Edition)
Introduction
There are myriad methods to settle on from when it involves hair removal–some more costly, some more complicated. In this article, Wellaholic will share about the prices of SHR diode laser hair removal services in Singapore as well as to give a background to the technology before SHR hair removal.
How SHR Hair Removal was Invented
In 2006, Two visionaries took upon themselves to change the way laser hair removal is performed. Those were Alma lasers' founder and former CEO Dr. Ziv Karni and Dr. Jospeh Lepselter, one of Alma's clinical application directors. They named their innovation SHR technology for hair removal for unwanted hair. Up to that point in time, laser or IPL (intense pulsed light) hair removal was performed by pulsing the skin with a very strong light beam. The plan was that the melanin-containing hair follicle would absorb the delivered energy, heat up dramatically and be destroyed. Sounds painful, doesn't it?!
And if the pain wasn't enough, there were many coverage issues caused by the stamping technique practitioners used. Less optimal coverage created 'Zebra stripes' in the treated area (stripes of skin with visible reduction followed by ones with hair growth). To make things worse, overlapping coverage (pulsing the same place more than one) could even cause burns to the patients' skin!
What is SHR Hair Removal?
SHR or Super Hair Removal is a relatively newer permanent hair removal technology which uses low energy and rapid pulsing diode laser but at a higher frequency. Developed by Alma Lasers , this diode laser hair removal technology allows the skin to be heated gently, but with the rapid pulses, the energy is then accumulated by the skin. While 50% of the energy is targeted at the melanin (similar to IPL), the other 50% targets the stem cells responsible for hair production.
​This is a very important point to note as SHR thereby targets both fine and coarse hairs and is designed to be ideal for all skin types. Ultimately, this leads to less discomfort and pain, yet an improved efficacy. SHR is most effective during the active growth phase (anagen stage of hair growth) hence shaving a day before treatment or just before the hair removal treatment is most recommended.
Because of the gradual accumulation of the energy into the skin, there is less trauma and irritation on the skin – making it ideal and suitable for everyone, regardless of skin tone and even for customers with sensitive skin. In fact, SHR is often considered to be one of the best laser hair removal treatments in Singapore given the various technologies. SHR hair removal is very ideal for Brazilian Hair Removal as it is more gentle on the skin.
How is SHR Different from IPL, OLED or other Hair Removal Methods?
SHR is better than IPL in the following ways:
SHR is developed and patented by Alma Lasers, a world-leading providers of aesthetic lasers for surgical, medical aesthetics and beauty markets. 
SHR is a newer and more effective permanent hair reduction than IPL or OLED hair removal.
SHR combines 755nm, 808nm and 1064nm laser wavelengths to target all skin types. In addition, simultaneous contact cooling prevents burns and allows for a more comfortable treatment.
SHR has a better coverage of the body hairs on skin than IPL or OLED, and prevents ingrown hairs.
SHR causes no or minimal pain due to the low fluence energy and cool touch methodology as compared to IPL or OLED.
SHR can cover all parts of the body such as unwanted hair removal for face, arms, legs, underarms, etc. without any issues. 
SHR causes less discomfort and skin irritation as compared to IPL or OLED hair removal.
SHR is suitable for all hair types and skin tones (especially Singaporeans or Asian skin and hair types) as compared to IPL or OLED. This includes dark hairs and darker skin tones.
Wellaholic as a Pioneer of SHR Hair Removal
Wellaholic is a pioneer of SHR hair removal, launching it since 2016. Since then, Wellaholic has been recognised as a leader of SHR hair removal (invented by Alma Lasers), winning annual awards, such as the Best SHR Salon by Daily Vanity Spa & Hair Awards in 2021, 2020 and 2019. Wellaholic has also won the Best SHR Hair Removal award by Beauty Insider Beauty & Wellness Awards from 2018 to 2021. The countless number of awards (both Editor's Choice and Readers' Choice Awards) attest to the efficacy of SHR hair removal treatments as well as excellent customer service by Team Wellaholic.
Pricing of SHR Hair Removal Treatments by Wellaholic
Wellaholic believes in providing pricing transparency, and hence all prices are published and updated on its website. Choose from unlimited monthly hair removal plans (with unlimited SHR hair removal shots) for unlimited body parts, or choose from per-session hair removal price plans. Wellaholic's hair removal prices are generally divided into the following categories:
What is WellaSmooth?
WellaSmooth™ All-Inclusive Hair Removal is designed for an all-inclusive fuss-free full-body permanent hair removal experience with a 5-star rating. WellaSmooth™ All-Inclusive Hair Removal includes all-that-you-require shaving service, followed by SHR Unlimited Prestige hair removal which includes unlimited SHR shots for the entire body (including Brazilian/Boyzilian). Also included is our Skin Whitening / Hydrating post-treatment therapy (PTT) followed by our AfterGlow Red Light therapy.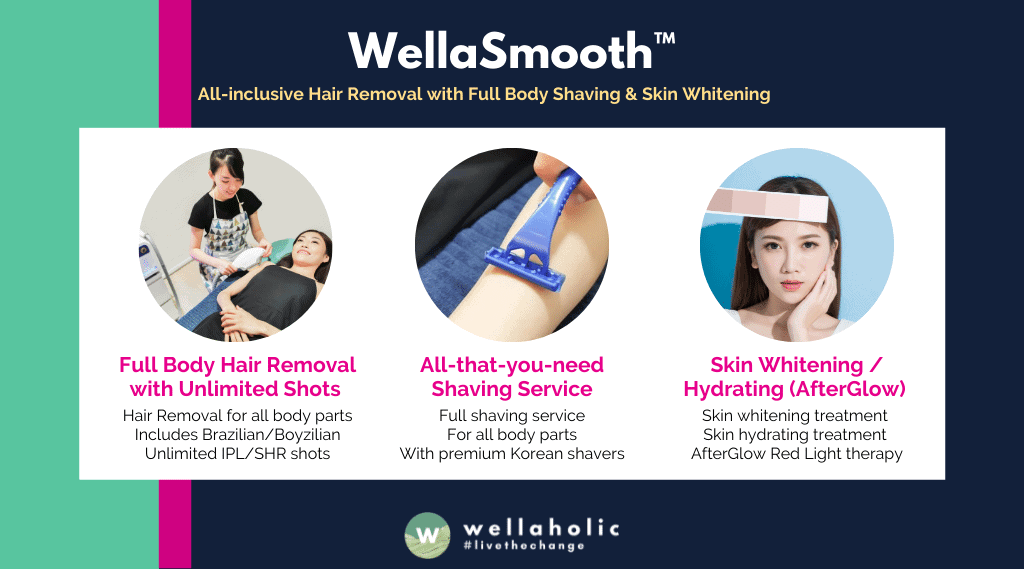 WellaSmooth. Pay 1 Price for Hair Removal for All Body Parts with Unlimited Shots.
With WellaSmooth™ All-inclusive Hair Removal, you can have hair removal for all body parts including brazilian/boyzilian. This includes both the front and back (crack) areas. What's more, full body shaving is included. Pay one price and put your mind at ease while our consultants work their magic for permanent hair reduction. Our SHR laser technology by Alma Lasers is suitable for skin tones and hair types.
What is the pricing like for WellaSmooth?
Wellaholic's prices are in line with our vision to make aesthetics treatments affordable for our customers, with transparent pricing with no hard-selling.
This is why Wellaholic publishes our prices online. All prices are actual prices and not trial prices. Prices are also nett and inclusive of GST.
Instead of locating in shopping malls with expensive rents, Wellaholic locates our outlets at convenient locations near MRT stations, which are lower in rental.
Wellaholic removes all the frills involved in the treatment (e.g. no warm towels, no ginger tea, etc.), but we ensure a high level of consistency and efficacy in our technology treatments to focus on what matters – treatments which work.
Wellaholic then passes our cost-savings back to our customers in the form of more affordable treatments.
Conclusion: Happy repeat customers, as seen from our reviews too.
What is Wellaholic SHR Hair Removal?
SHR's Advanced Fluorescence Technology (AFT) In-Motion laser hair removal technology is a breakthrough in customer comfort and effectiveness of treatments. SHR or Super Hair Removal technology heats the skin gently through the melanin and the stem cells with low energy but high frequency. SHR uses only 50% of the energy for permanent hair removal. The remaining 50% is absorbed into the stem cells responsible for hair production.
How is SHR different from IPL Hair Removal?
SHR technology is newer and more effective than IPL hair removal. SHR causes minimal pain due to the cool touch laser hair removal methodology as compared to IPL. SHR can cover all parts of the body such as hair removal for face, arms, legs, underarms, etc. SHR causes less discomfort as compared to IPL hair removal. SHR is also suitable for all hair types and skin tones as compared to IPL, making it an effective means for permanent hair reduction.
See Over 1800 Positive Reviews of Wellaholic (Customer Verifiable)
Pricing of SHR Hair Removal Treatments by Wellaholic
Wellaholic believes in providing pricing transparency, and hence all prices are published and updated on its website. Choose from unlimited monthly hair removal plans (with unlimited SHR hair removal shots) for unlimited body parts, or choose from per-session hair removal price plans. Wellaholic's hair removal prices are generally divided into the following categories: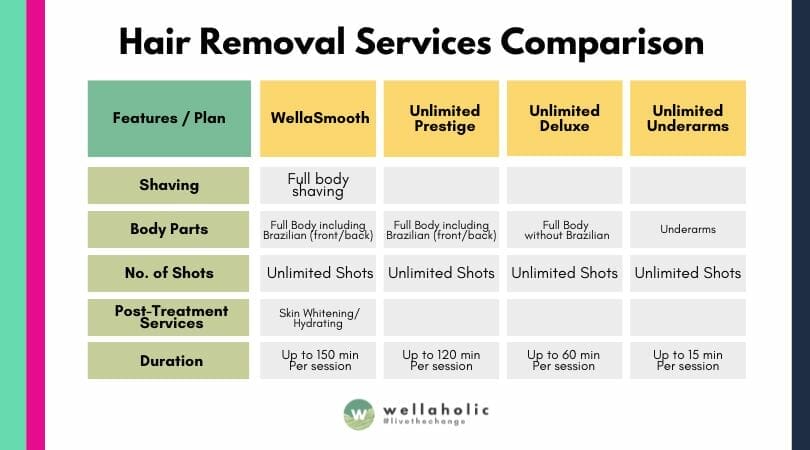 ---
---