7 Things Dentists Wish You Knew About Teeth Whitening
Introduction
Just like everyone else you want to have the brightest and whitest teeth ever possible. However, it is important to have a dental examination to ensure that your mouth is healthy. That the problem such as cavities and gum disease need to be addressed and treated before you do your teeth whitening. Why is this the case? "Teeth whitening that is peroxide-based is meant to whiten the innermost layer, not the structure inside the tooth near the nerves," based on Jennifer Jablow, a cosmetic dentist in New York City. In this article on teeth whitening, we are going to share with you the Top 7 things that dentists wish you would know before you start your teeth whitening treatment.
Tip #1: Get an Examination First by a Dentist
​Having a dental checkup before your teeth whitening treatment is highly recommended. This is because you might be having dental problems such as cavities and gum diseases. If the enamel is not intact due to teeth or gum diseases, or because of cavities or other damage, the teeth whitening gel which is peroxide-based may leech into the nerve tissues and cause irreversible damage. In short, always ensure you have healthy teeth before heading into a Teeth whitening treatment.
Tip #2: Watch What Passes Through Your Lips
Certain food and beverages such as coffee, tea, wine or even blended juices can cause tooth discoloration. Other foods such as dark soy sauce or even curry may also cause staining to the teeth. By limiting these foods, it will help your teeth stay as white as possible post procedure. Otherwise, remember to brush your teeth and wipe then clean after consuming coffee or tea. A consistent habit will help you to save your teeth from getting stained again. Also, do consider eating more foods such as cauliflower, strawberries, seeds and nuts as they may help to whiten teeth and also speed up the whitening process naturally.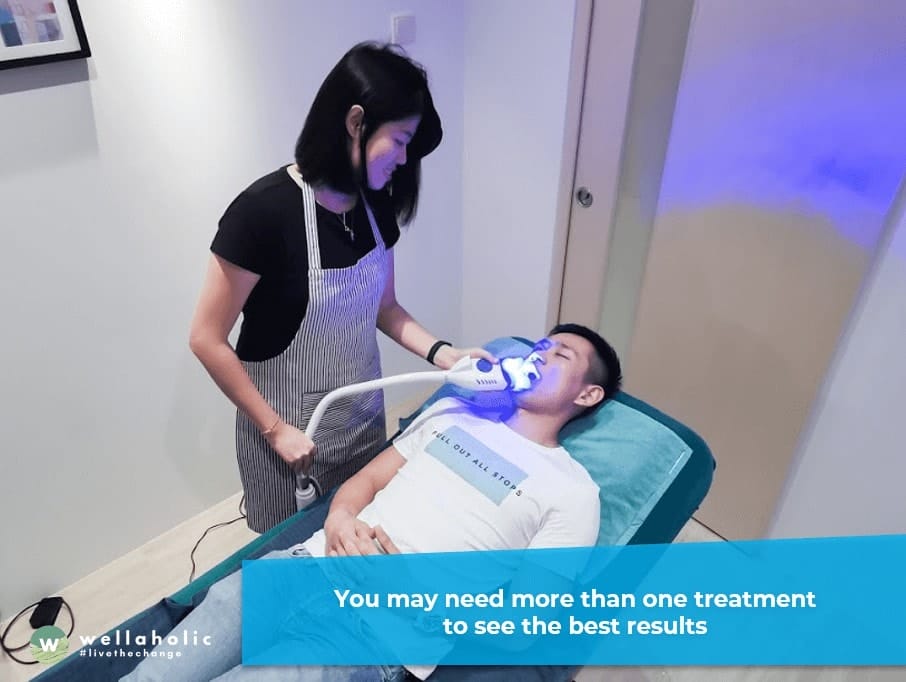 Tip #3: You May Need More Than One Treatment to See The Best Results
If you want to maintain your newly whitened teeth, you may require consistent commitment and maintenance. This is to prevent your sparkle from losing its lustre. Also, tying up with tip #2, by having regular maintenance sessions for teeth whitening, you can combat the staining that happens from staining foods and beverages. At Wellaholic, we offer TeethWhite™ Unlimited, which offers 4 weekly treatments a month. This is very popular with our customers who are working to whiten their teeth several shades at a time, as well as to maintain their teeth's whiteness.
Tip #4: There Is A Limit to What Toothpastes Can Do
​You might have seen many toothpaste brands these days, advertising and touting their "special whitening effects". Unfortunately, health regulations limit the bleaching or peroxide content made available on these toothpastes. In addition, the toothpaste is not on the teeth long enough to be effective, and they will not intrinsically change the internal colour of your teeth effective.
Tip #5: Fake Teeth May Not Whiten
​The majority of veneers, crowns and fillings will not brighten or whiten with teeth whitening treatments. This is based on a study by the American Dental Association. Hence, if you are planning to whiten your teeth, you have to be prepared for a mismatch of colouring if you do not replace the older restorations. In any case, always inform your dentist or consultant if you have any veneers, crowns or fillings for them to better advise you.
Tip #6: Not All Teeth Stains Are Easy to Remove
​While teeth whitening is effective for most teeth, there is a cosmetic condition also known as "fluorosis". Fluorosis refers to white spots or fine, chalk-like lines on the surface of your teeth. This is usually caused when your teeth were overexposed to fluoride in the earlier years of your life. These stains are very difficult to treat and may require multiple teeth whitening sessions to see good results.
Tip #7: You Can Whiten Teeth Even If You Have Braces
​Yes, it is possible to have pearly whites even when you have braces. Depending on what kind of braces you have, some method may work better than others. Traditional braces, which have brackets that cover the front of your teeth, can limit your whitening options. Other types of braces, such as lingual or removable aligners do not obstruct the surface of the teeth, thus allowing for a more thorough whitening treatment to be completed. Those with braces should consider incorporating teeth whitening in their regular oral care routine.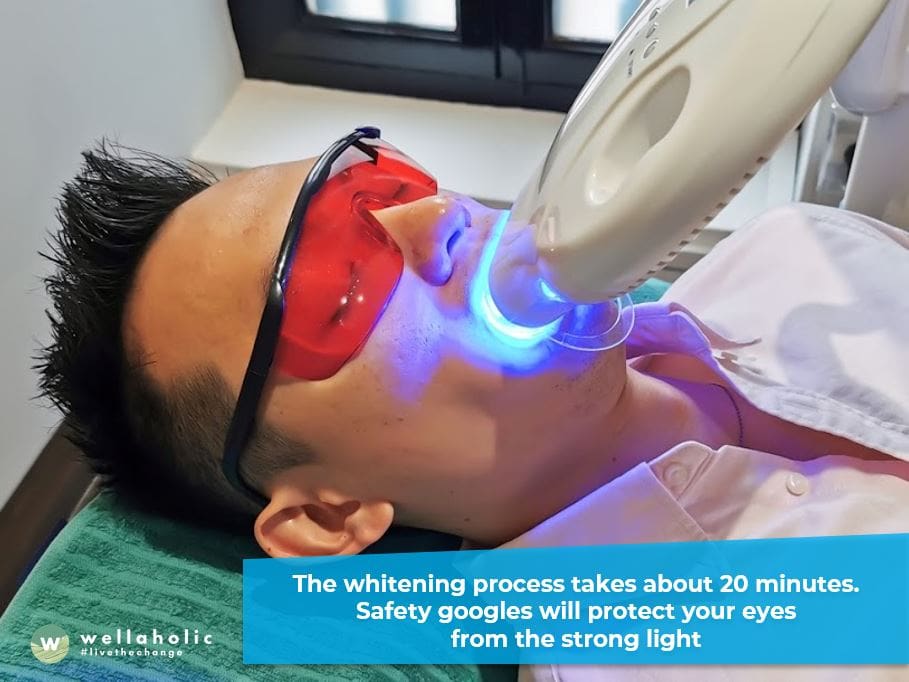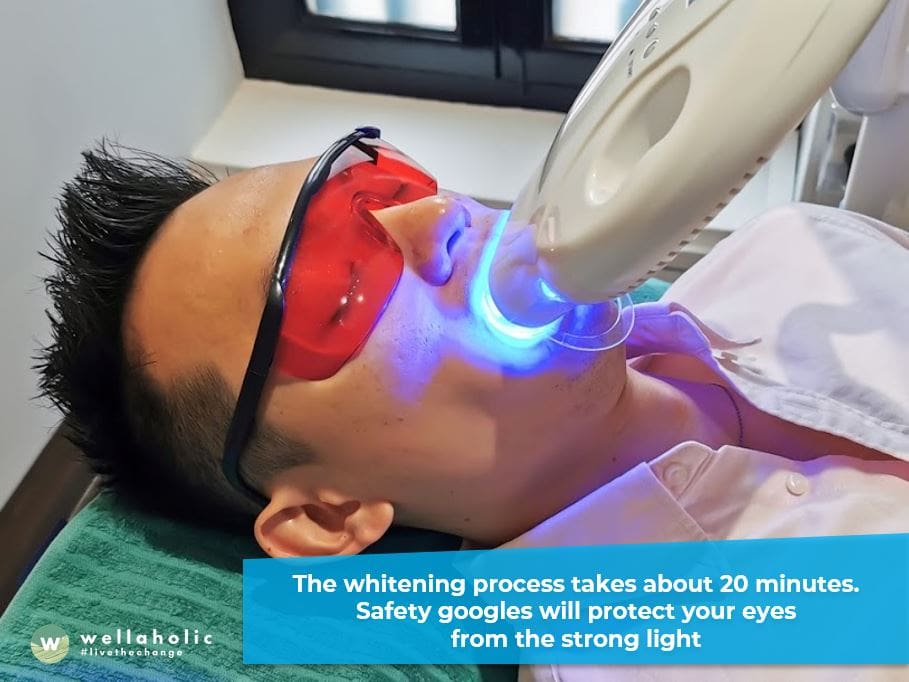 Up to 12 Shades Whiter with TeethWhite
Wellaholic offers TeethWhite™, a premium teeth-whitening treatment in Singapore, using industrial-grade lamps, which can help whiten your teeth by up to 12 shades with immediate visible results. The primary ingredient in teeth whitening gel is generally Hydrogen peroxide or a close derivative called Carbamide peroxide. The molecules will become active when exposed to your teeth and with strong LED light, thereby helping to whiten your teeth thoroughly. You can see immediate whitening results right after the treatment.
TeethWhite™ Teeth Whitening by Wellaholic s
What is TeethWhite™ Teeth Whitening?
TeethWhite™ is a premium laser teeth whitening treatment in Singapore, offered at all Wellaholic outlets. 
Your teeth have pores just like your skin.
The nicotine and tar, as well as surface stains from coffee and tea and other beverages, can easily stain your teeth over time, leading to teeth discoloration. 
The primary ingredient in teeth whitening gel is Carbamide Peroxide.
The molecules will convert to hydrogen peroxide and become active when exposed to your teeth and with strong LED light.
The teeth whitening procedure helps target your teeth stains and whitens your teeth thoroughly.
You can see immediate whitening results right after the teeth whitening treatment, resulting in beautiful teeth. 
The whitening effect continues over a period of time, leading to a brighter smile and white smile. 
Is TeethWhite™ Teeth Whitening Backed by Science?
TeethWhite™ is a method of teeth whitening or teeth bleaching treatment in Singapore.
The teeth whitening treatment uses the LED blue light and red light to activate the teeth whitening gel.
The 6000w industrial lamp helps catalyse the whitening agent to speed up the reaction and causing free oxygen radicals to be formed. This makes the treatment more effective than teeth whitening kits. 
Any discoloration in the tooth enamel or tooth colour (teeth with external stains) can be removed effectively.
This aesthetic treatment leads to brighter teeth and whiter teeth, for more a beautiful smile.

How do I Maximize Results after my Teethwhite Treatment?
Visit a dental clinic for general cleaning before your TeethWhite™ teeth whitening treatment. This will help to remove any stains or plaque.
Avoid staining foods and drinks for 7 days after TeethWhite™ teeth whitening treatment.
If possible, try to brush you teeth with a normal toothpaste after each meal for 7 days after TeethWhite™. Maintain good oral care to prevent tooth decay. 
Here's to beautiful teeth, and a whiter smile and pearly whites!
Pricing of Teeth Whitening Treatments by Wellaholic 
Wellaholic believes in providing pricing transparency, and hence all prices are published and updated on its website. Choose from either TeethWhite per-session plans, or our TeethWhite Unlimited which gives you up to 4 weekly sessions at a discounted rate to accelerate your teeth whitening progress.
---
---