Will Teeth Whitening Damage My Teeth?
Whiter Teeth at What Cost?
In your quest to have whiter teeth, or to reduce the discoloration from stained teeth, you would have considered professional teeth whitening as an option. However, can the active ingredient in teeth whitening treatment cause issues such as enamel damage or tooth damage? Will tooth erosion or tooth sensitive results from cause permanent damage from treatment for white teeth? Read on to find out more.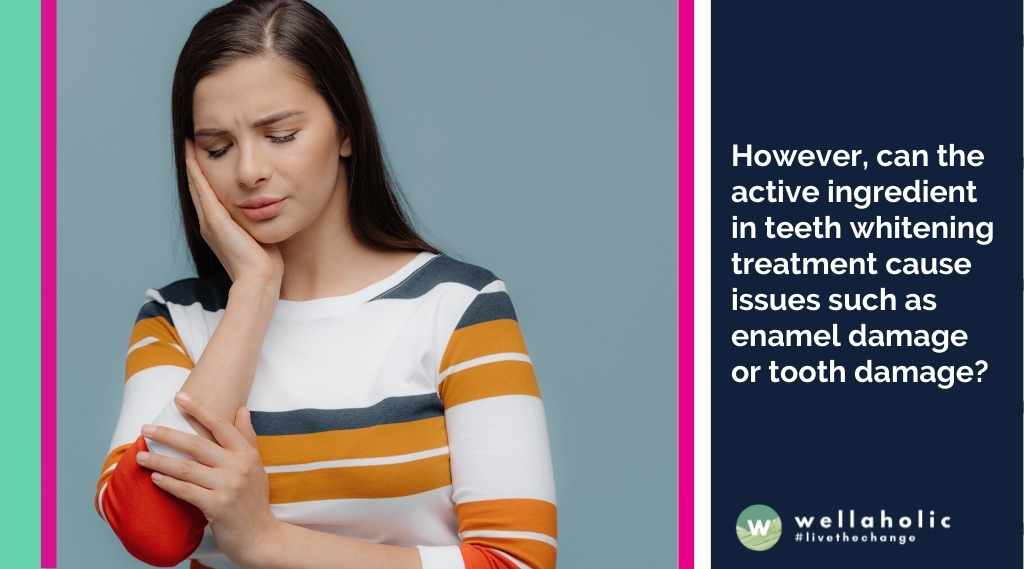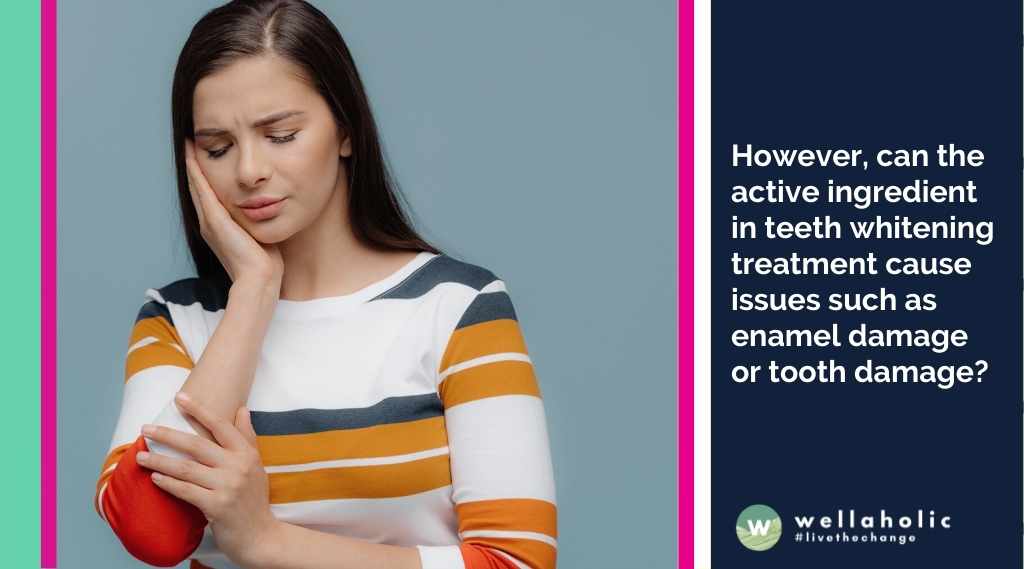 Why is your tooth enamel important?
You've most likely become aware of tooth enamel from your dental practitioner, however why is it so crucial that you protect it? Enamel is the slim external layer of the tooth covering the crown, which shows up from the periodontal. The tooth's hard outer surface area is the first defense against physical as well as chemical damage.
The enamel's job is to protect the softer as well as extra delicate inner tooth, called the dentin. As it is the major defense versus materials, enamel is prone to breaking down. Germs exposure from sugar, starches, or acidic compounds intimidates your enamel. Your tooth's enamel will additionally secure versus the day-to-day uses your teeth including: chewing, attacking, crunching, as well as grinding.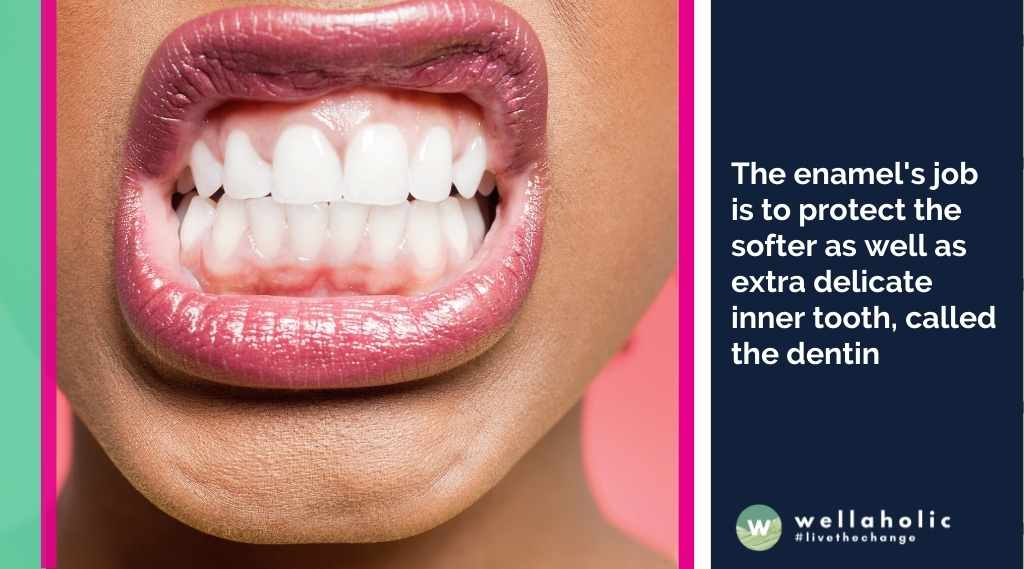 Is teeth whitening safe for your teeth?
The yellow discoloration of your teeth is the most common sign of damaged enamel. This begs the question "does teeth whitening damage the enamel?" The answer is no, teeth whitening doesn't damage your tooth enamel.
The main part of the tooth, the dentin, is the portion of the tooth that's responsible for your teeth's shade. The teeth are first coated with a whitening remedy on the front surface area of the tooth. The solution will after that travel with the tooth enamel to the dentin. The discolored cells in the inner layer will start to lighten. This procedure will certainly take around an hour.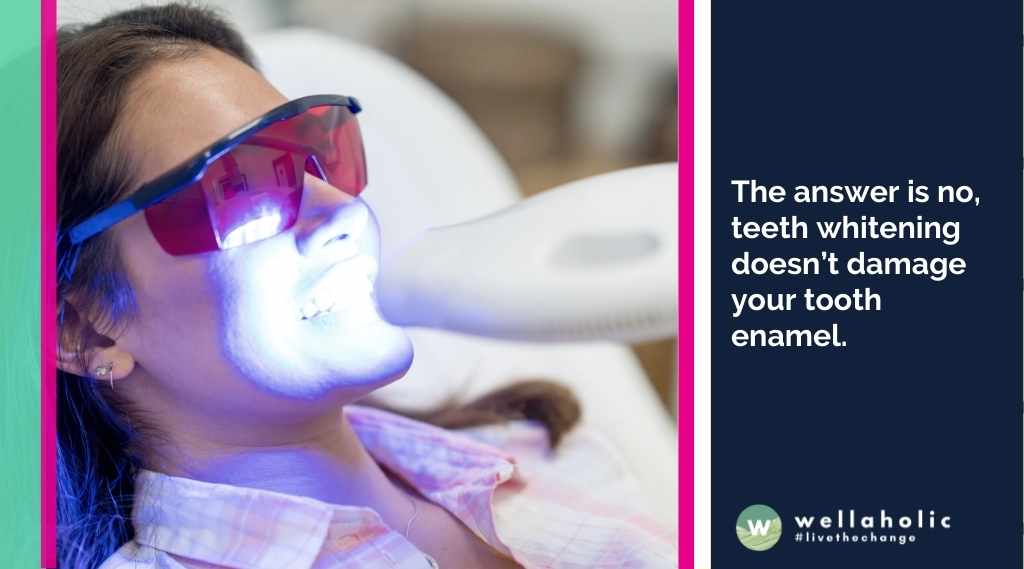 Dangers with take-home teeth whitening kits
Some home kits or counter whitening trips including peroxide-based gels don't contain enough whitening product to be effective. Also, if a dental professional isn't doing the whitening, the mouthguard provided may not fit properly so some of the bleaching gel may leak out onto your gums and into your mouth, causing blistering and sensitivity.
How to do teeth whitening safely?
Now for some reassurance. Hydrogen peroxide bleaching products have been around for decades, and millions of people use them — including plenty of dentists. The American Dental Association (ADA) has also said that concentrations of hydrogen peroxide whiteners are safe and effective.
Listen to your teeth. Some people develop temporary sensitivity in the gums or teeth when using whitening products. That's not a sign of long-term damage, but it can be uncomfortable. If it happens to you, consider taking a break from bleaching or switching to a milder product. Again, talk to your dentist for the right advice.
TeethWhite™ Teeth Whitening by Wellaholic
What is TeethWhite™ Teeth Whitening?
TeethWhite™ is a premium laser teeth whitening treatment in Singapore, offered at all Wellaholic outlets. 
Your teeth have pores just like your skin.
The nicotine and tar, as well as surface stains from coffee and tea and other beverages, can easily stain your teeth over time, leading to teeth discoloration. 
The primary ingredient in teeth whitening gel is Carbamide Peroxide.
The molecules will convert to hydrogen peroxide and become active when exposed to your teeth and with strong LED light.
The teeth whitening procedure helps target your teeth stains and whitens your teeth thoroughly.
You can see immediate whitening results right after the teeth whitening treatment, resulting in beautiful teeth. 
The whitening effect continues over a period of time, leading to a brighter smile and white smile.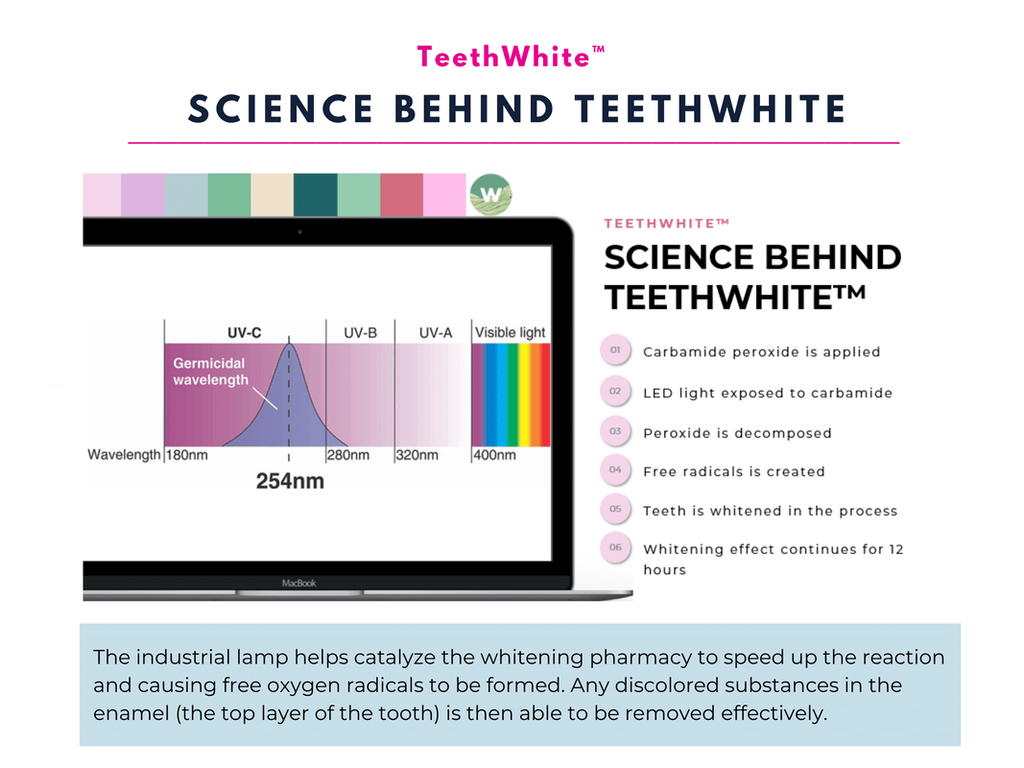 Is TeethWhite™ Teeth Whitening Backed by Science?
TeethWhite™ is a method of teeth whitening or teeth bleaching treatment in Singapore.
The teeth whitening treatment uses the LED blue light and red light to activate the teeth whitening gel.
The 6000w industrial lamp helps catalyse the whitening agent to speed up the reaction and causing free oxygen radicals to be formed. This makes the treatment more effective than teeth whitening kits. 
Any discoloration in the tooth enamel or tooth colour (teeth with external stains) can be removed effectively.
This aesthetic treatment leads to brighter teeth and whiter teeth, for more a beautiful smile.
How do I Maximize Results after my TeethWhite Treatment?
Visit a dental clinic for general cleaning before your TeethWhite™ teeth whitening treatment. This will help to remove any stains or plaque.
Avoid staining foods and drinks for 7 days after TeethWhite™ teeth whitening treatment.
If possible, try to brush you teeth with a normal toothpaste after each meal for 7 days after TeethWhite™. Maintain good oral care to prevent tooth decay. 
Here's to beautiful teeth, and a whiter smile and pearly whites!
See Over 1800 Positive Reviews of Wellaholic (Customer Verifiable)
Pricing of Teeth Whitening Treatments by Wellaholic 
Wellaholic believes in providing pricing transparency, and hence all prices are published and updated on its website. Choose from either TeethWhite per-session plans, or our TeethWhite Unlimited which gives you up to 4 weekly sessions at a discounted rate to accelerate your teeth whitening progress.
---
---