Is IPL hair removal safe during pregnancy?
I'm pregnant! Should I continue with my IPL hair removal?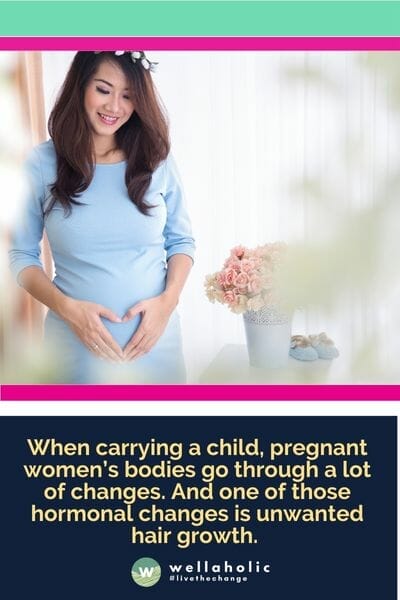 When you're pregnant, your body is awash with hormones. Higher levels of estrogen and androgen can cause hair to grow in places where it never appeared before, especially in the third trimester. Yet, you might still want to continue with your hair removal, be it IPL hair removal, SHR hair removal or laser hair removal. Is IPL hair removal safe during pregnancy? Let us share some good insights with you.
---
Women and pregnancy
When carrying a child, pregnant women's bodies go through a lot of changes. And one of those hormonal changes is unwanted hair growth. Whether you're seeing hairs sprout in new places, or your belly is so big you can't shave your legs, you might consider laser hair removal treatments. But is laser hair removal safe while pregnant? What effects can laser treatment have on the body and, more importantly, the baby?
Pregnancy does affect hair growth
When you're pregnant, it's easy to feel like you are not yourself. Some women glow with excitement and glee for nine months, while others aren't so happy with the changes their body is going through. During pregnancy, your hormones are pumping at an all-time high, which affects your normal hair growth cycle and leads to excess hair growth. During those nine months, many women start to see hair growth in unwanted places like the face, neck, belly, and breasts, due to the spurt in hair follicles growth.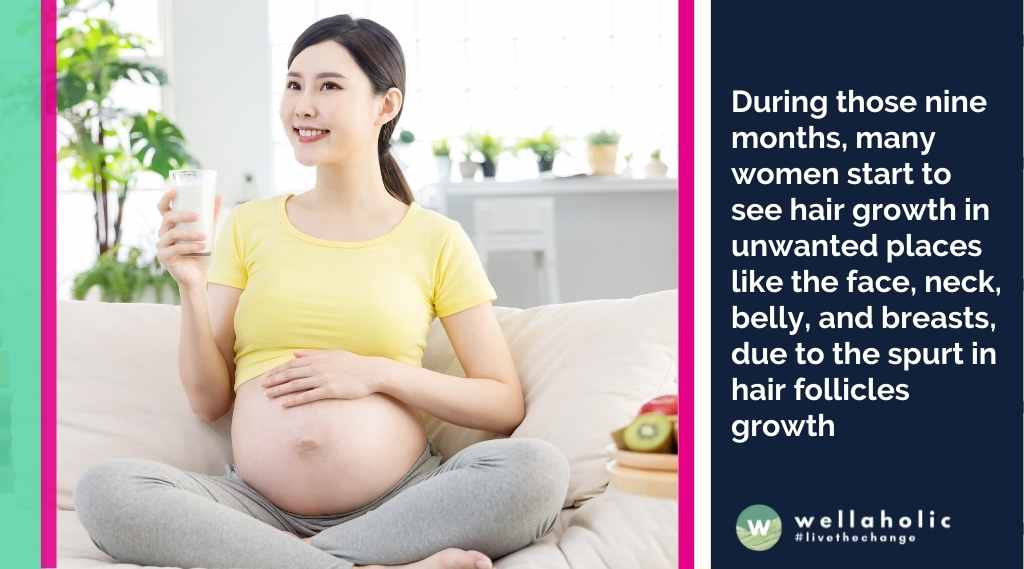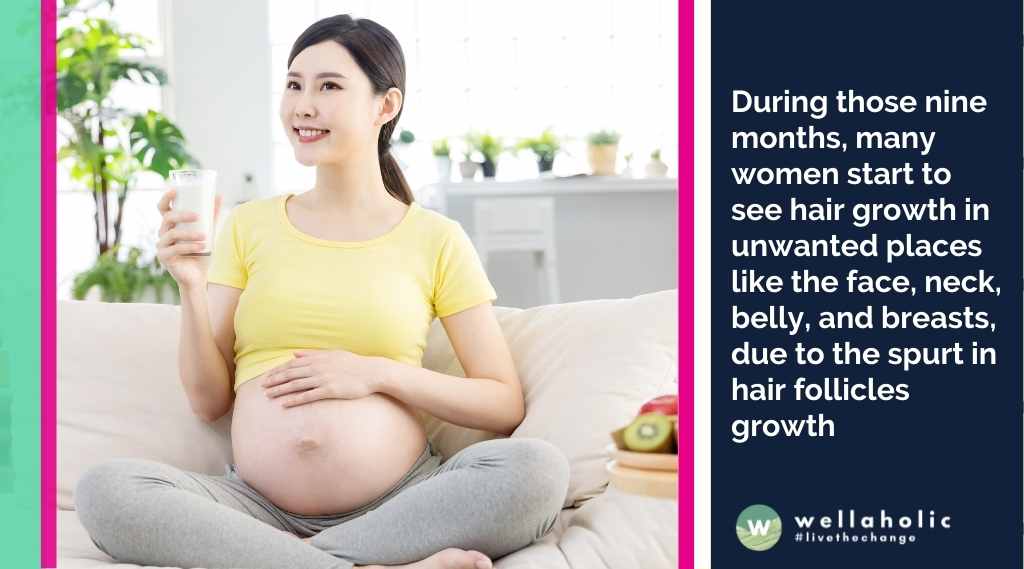 How does IPL, SHR or laser hair removal work?
A doctor or laser technician aims a beam of light at the region you want to treat. The laser targets the dark pigment in each hair, sending heat down the hair shaft and into the follicle. A lot of people turn to laser hair removal to reduce hair and its growth. This hair removal method is used for areas on the face, legs, underarms, and bikini zone.
IPL stands for Intense Pulsed Light technology. IPL hair removal devices apply very gentle pulses of light to the hair root. This light energy makes the hair go into its resting phase: the hair you have falls out, and gradually your body grows less hair in that area.
SHR's Advanced Fluorescence Technology (AFT) In-Motion laser hair removal technology is a breakthrough in customer comfort and effectiveness of treatments. SHR or Super Hair Removal procedure heats the skin gently through the melanin and the stem cells with low energy level but high frequency. SHR uses only 50% of the energy for permanent hair removal. The remaining 50% is absorbed into the stem cells responsible for hair production.
SHR technology is newer and more effective than IPL hair removal. SHR causes minimal pain due to the cool touch laser hair removal methodology as compared to IPL. SHR can cover all parts of the body such as hair removal for face, arms, legs, underarms, etc. SHR causes less discomfort as compared to IPL hair removal. SHR is also suitable for all hair types and skin tones as compared to IPL, making it an effective means for permanent hair reduction.
Is IPL hair removal safe for pregnant women?
It is safe to undergo IPL hair removal treatment if you are pregnant. However, you will find it challenging to find a practitioner to perform this treatment during your pregnancy. This is because IPL treatment isn't usually done on pregnant women. Although there no studies that support the dangers of such treatments on pregnant women, some practitioners still refrain from doing it to them.
Having a lack of research regarding IPL hair removal performed on a pregnant woman makes doctors and clinics to take extra precaution in conducting it. Most likely, they will advise you to deliver your baby first before doing IPL procedures. While in some cases, other practitioners take the risk and continue the procedure. But, they make sure to avoid delicate areas such as breast, stomach, and genitals.
We're not saying that laser procedures are unsafe for pregnant women. There simply isn't enough research to make a determination. If you're seeing thicker hair growth or have hair growing in new places, don't worry. Once the pregnancy hormones subside, your hair should return to your normal growth cycle about six months after giving birth.
WellaSmooth All-inclusive Hair Removal by Wellaholic
WellaSmooth™ All-Inclusive Hair Removal is designed for an all-inclusive fuss-free full-body permanent hair removal experience with a 5-star rating. WellaSmooth™ All-Inclusive Hair Removal includes all-that-you-require shaving service, followed by SHR Unlimited Prestige hair removal which includes unlimited SHR shots for the entire body (including Brazilian/Boyzilian). Also included is our Skin Whitening / Hydrating post-treatment therapy (PTT) followed by our AfterGlow Red Light therapy.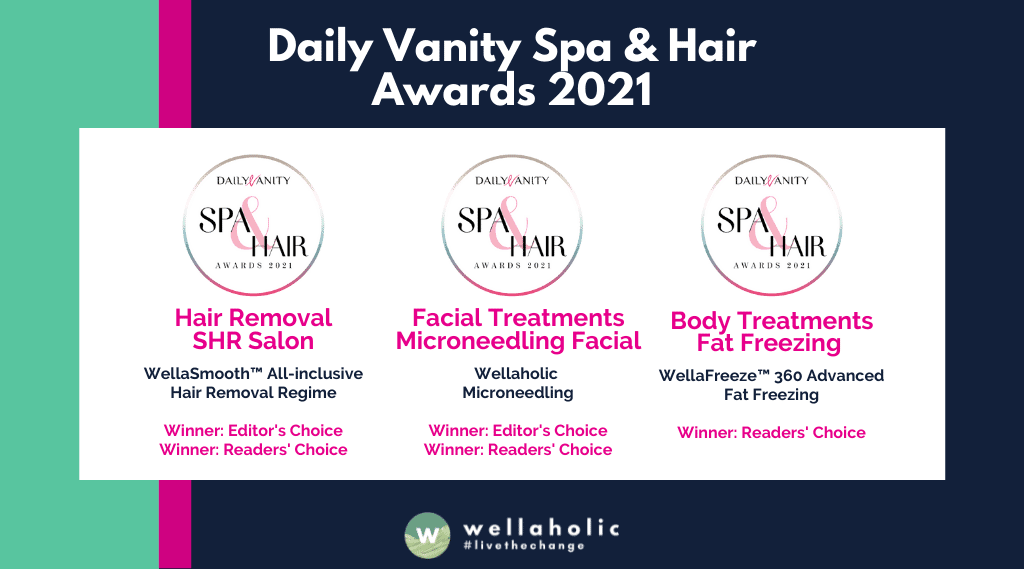 What is WellaSmooth™ All-inclusive Hair Removal Regime?
Voted Best Hair Removal Treatment by Daily Vanity Spa and Beauty Awards 2021.
WellaSmooth™ All-Inclusive Hair Removal is designed for an all-inclusive fuss-free full-body permanent hair reduction experience.
WellaSmooth™ All-Inclusive Hair Removal is ideal for all skin color, hair color, and all forms of hair.
Also include is all-that-you-require shaving service for all body parts including your private regions.
WellaSmooth™ All-Inclusive Hair Removal also includes the Skin Whitening / Hydrating (PTT) with AfterGlow™, which includes post-hair-removal skin whitening or skin hydration followed by our AfterGlow Red Light therapy for enhanced skin rejuvenation.
Achieve smooth and glowing skin that will wow everyone.
This treatment is ideal for both men and women, by male and female therapists.
Get a package and choose your shaving, SHR permanent hair removal and post-treatment whitening and hydration done at any of our multiple outlets across Singapore.
WellaSmooth™ is your ultimate all-inclusive hair removal treatment in Singapore complete with shaving and post-treatment care.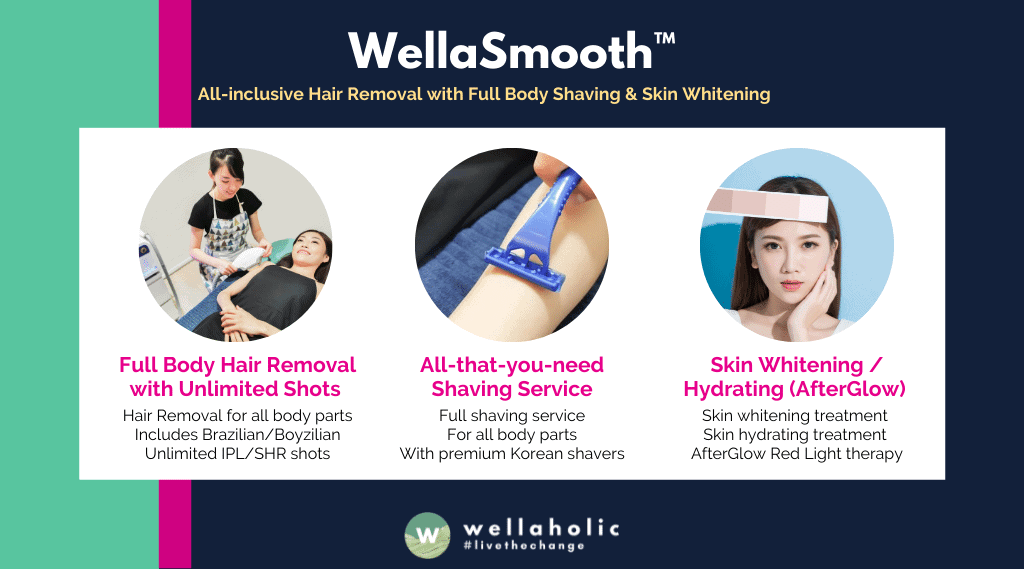 WellaSmooth™ Includes the Following Three Hair Removal Services
SHR Permanent Hair Removal PRESTIGE Unlimited – Enjoy our bestseller SHR hair reduction treatment for all body parts
Unlimited Shaving Service – Enjoy unlimited shaving service on all body parts
Skin Whitening/Hydrating (PTT) with AfterGlow – Enjoy post-treatment whitening or hydrating therapy followed by AfterGlow red-light treatment to rejuvenate your skin
See Over 1800 Positive Reviews of Wellaholic (Customer Verifiable)
Pricing of SHR Hair Removal Treatments by Wellaholic
Wellaholic believes in providing pricing transparency, and hence all prices are published and updated on its website. Choose from unlimited monthly hair removal plans (with unlimited SHR hair removal shots) for unlimited body parts, or choose from per-session hair removal price plans. Wellaholic's hair removal prices are generally divided into the following categories: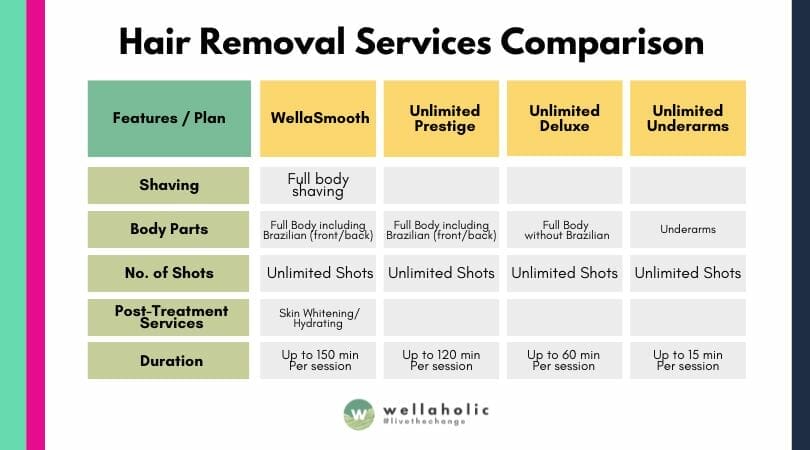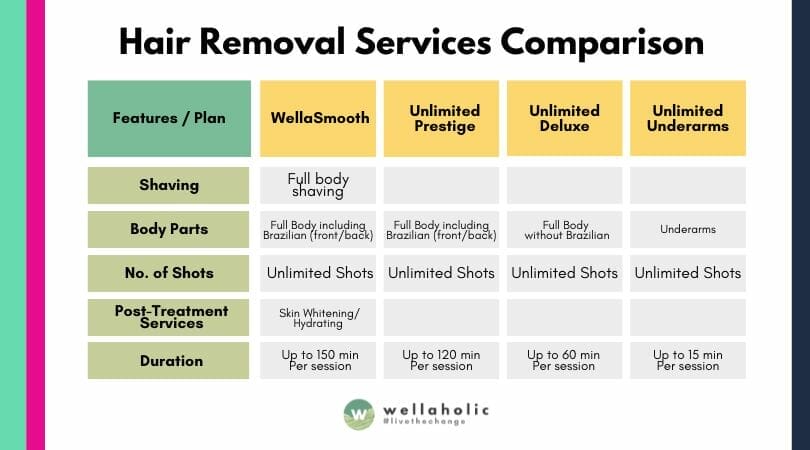 ---
---