How to Deal With Excessive Hair Growth
Introduction
Hirsutism is the medical term for excess hair growth. This can occur usually in places where hair can affect the appearance leading to decrease in self-confidence. Fortunately there are various ways to deal with this issue. In this article, the team from Wellaholic will share on the symptoms and causes of excessive hair growth and the various ways to to treat it.
"The only way to deal with excessive hair growth is to take proactive steps to manage it."
What is Hirsutism and Hypertrichosis?
In most of the situations, women only have very fine hairs on areas of the skin where men tend to have thicker hairs. This includes body regions like chest, back, abdomen as well as upper lips, chin and cheeks. Nevertheless, about less than 10% of women develop a condition called hirsutism. This condition leads to excessive hair growth in the above-mentioned areas. Also known as hypertrichosis, the hairs are not only excessive but can also be thick. This can cause embarrassment for the subject and usually lead to self-esteem issues. Fortunately there are way to combat this condition.
What are the symptoms of excessive hair growth?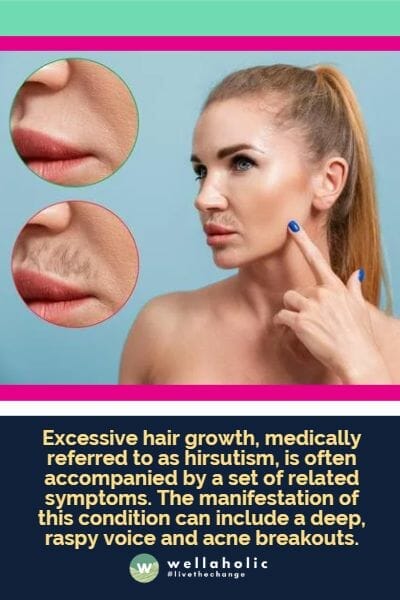 Understanding Excessive Hair Growth and Related Symptoms
Excessive hair growth, medically referred to as hirsutism, is often accompanied by a set of related symptoms. The manifestation of this condition can include a deep, raspy voice and acne breakouts. Women may also experience abnormal menstrual periods or even a complete lack of periods. Additional symptoms can include an increase in muscle mass and a decrease in breast size.
Causes of Hirsutism
Approximately 50% of women who exhibit hirsutism also have elevated levels of male hormones, or androgens. There are several factors that could lead to this hormonal imbalance, resulting in excessive hair growth.
One of the causes can be a set of disorders known as congenital adrenal hyperplasia, which affects the adrenal gland, causing the body to produce more androgens. Another factor could be Polycystic Ovary Syndrome, a condition that results in a hormonal imbalance and may cause cysts to form on the ovaries. Tumors growing in the ovaries and adrenal glands can also stimulate excess hair growth. Additionally, certain medications such as steroids can contribute to the condition.
Risk Factors and Prevalence of Excessive Hair Growth
Although the probability of developing hirsutism is relatively low, certain factors can increase the likelihood. Genetics may play a significant role in the development of excessive hair growth. Furthermore, women from specific ethnic backgrounds, particularly those of Middle Eastern and South Asian descent, might see an increased likelihood of hirsutism.
Women facing menopause may also experience excessive hair growth, as hormonal shifts during this stage of life can stimulate hair follicles. Understanding these factors can aid in early detection and management of the condition.
What are the treatments for excessive hair growth?
There is a variety of treatments for excessive hair growth:
Shaving – Shaving remains the most common method. However, it does not lead to permanent hair removal. Also, there is a tendency for the hairs to look thicker as they start to grow back.
Waxing – Waxing as well as plucking is similar to shaving. It can be a painful process, and may sometimes irritate the skin.
Depilatory creams – Such creams can help remove body hair. Nevertheless, due to the harsh chemicals used, it might irritate the skin.
Laser hair removal – This uses a laser beam to target and damage the hair follicles. Wellaholic's SHR Hair Removal is under this classification of hair removal treatments.
Are there medications to treat excessive hair growth?
Excessive hair growth can be controlled by some medication. This include the following:
Vaniqu – Also known as eflornithine, this is a prescription cream that can be used to slow hair growth.
Aldoctone and Proscar – These medications are able to block the androgenic hormone's ability to adversely impact the body. However, it is not an immediate solution and may take months to see results.
Conclusion
So, that's the scoop on how to deal with excessive hair growth, mate. You're not alone in this, and remember that there's no magic fix-it-all, but don't let that discourage you. With patience and a blend of different solutions like Wellaholic's top-notch hair removal treatments, and their fantastic hair growth supplements and serums, you can definitely take control. It's not just about dealing with the hairs that pop up unwanted but also looking after your overall skin health. So hey, take it easy, keep it steady and remember, everyone's journey with hair growth is unique and different. Whatever path you choose, Wellaholic is here to walk alongside you. Keep those heads high and those skin glow goals even higher!
Frequently Asked Questions (FAQ)
What is the most effective way to deal with excessive hair growth?

A: Laser hair removal is widely considered the most effective method for dealing with excessive hair growth. It offers a permanent solution by targeting hair follicles with precision.
How does laser hair removal work?

A: Laser hair removal uses concentrated beams of light to target hair follicles, inhibiting their ability to regrow hair. The treatment is safe and minimally invasive, providing long-lasting results.
Is laser hair removal suitable for all skin types?

A: Yes, laser hair removal is suitable for various skin types, including darker skin tones. Modern technologies like those used at Wellaholic ensure safe and effective treatment for a wide range of individuals.
Why is laser hair removal considered a permanent solution?

A: Laser hair removal offers a permanent reduction in hair growth. While it may require multiple sessions to achieve the desired results, many individuals experience long-lasting hair reduction after completing the recommended treatment course.
Can laser hair removal effectively address excessive hair growth on large areas of the body?

A: Yes, laser hair removal is efficient for treating larger areas such as the legs, back, and chest. Its precision and speed make it a practical choice for dealing with excessive hair growth on various body parts.
Is laser hair removal painful?

A: Laser hair removal is generally well-tolerated, with most individuals experiencing minimal discomfort. Some modern systems incorporate cooling technology to enhance the comfort of the treatment.
---
Unleash the Power of Three: Beauty, Confidence, Perfection with WellaSmooth™ 3X
⭐ Tailored Beauty Experience: Select three personalized treatments with WellaSmooth 3X™.
⭐ Quality Skin Solutions: Enjoy our signature permanent hair removal with full body shaving, skin whitening, breast enhancements, butt lifts and more.
⭐ Enhanced Confidence Options: Lift and enhance your bust and butt for a confident new look.
⭐ Luxury at Your Fingertips: Experience luxury with a flexible triple-choice treatment plan.
⭐ Affordable Body Perfection: Transform your body positively and affordably.
⭐ Unbeatable Value & Efficacy: Benefit from high-quality treatments at exceptional value.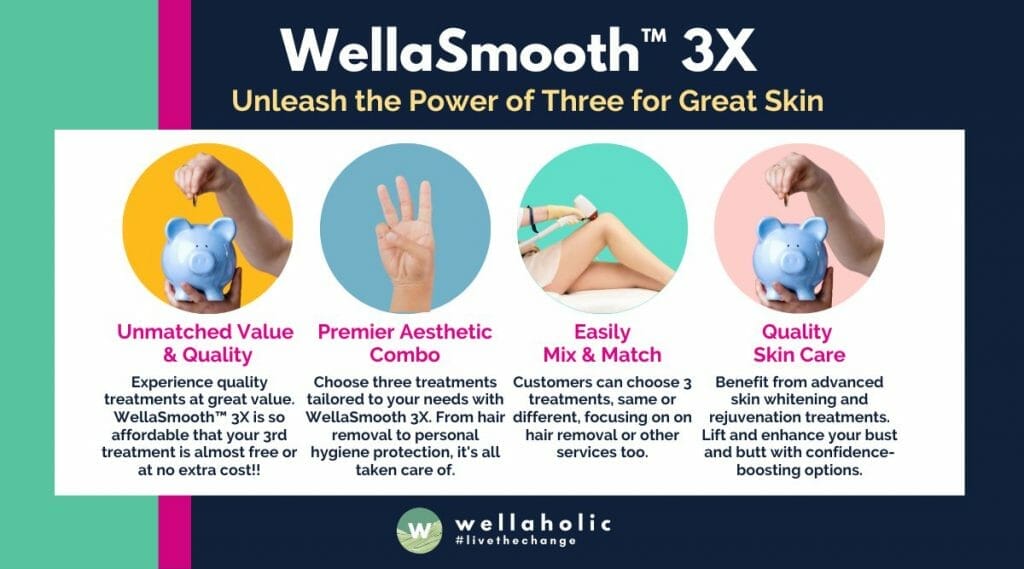 What Treatments Can I Choose with WellaSmooth™ 3X?
For a modest monthly fee, customers can indulge in premium treatments to remove hair, whiten skin, lift and enhance the boops, lift the butt and safeguard the private regions:
⭐ Personalized Hair Removal: Opt for laser hair removal for all hair types.
⭐ All-that-you-need Shaving: Achieve a sleek look with professional full body shaving to prevent ingrown hair.
⭐ Advanced Skin Whitening: Experience innovative skin whitening techniques for radiant skin.
⭐ Butt Lifting Treatments: Lift your butt for a perfectly contoured appearance with EMS technology.
⭐ Bust Enhancement Options: Enhance your bust size and shape with specialized ultrasonic treatments.
⭐ Expert Bust Lifting: Choose professional bust lifting via RF microneedling to make it look bigger and fuller.
⭐ Premium Personal Hygiene Protection: Improve personal hygiene with specialized Blue Light protective treatments.
⭐ Flexible Combo Selection: WellaSmooth™ 3X allows you to select any three of the above treatments.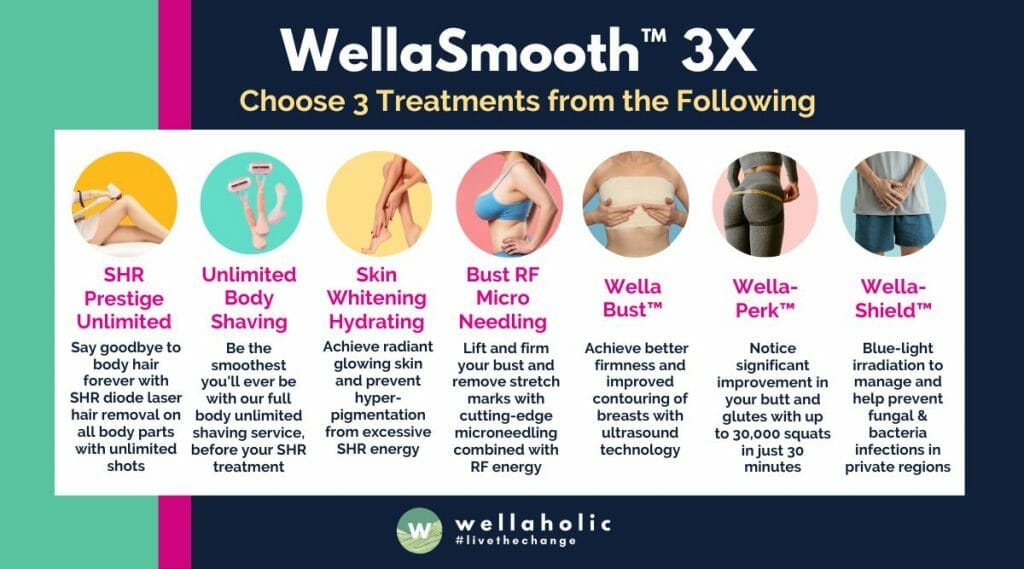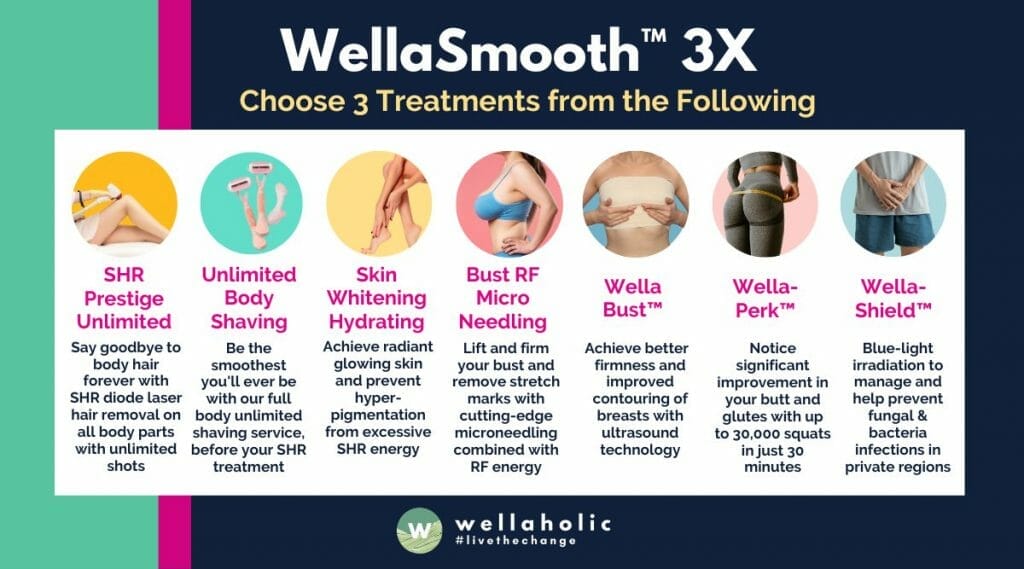 Why Choose SHR Prestige Unlimited Hair Removal?
⭐ SHR Diode Laser. Super Hair removal targets all skin types with 755nm, 808nm, and 1064nm laser wavelengths for the best hair removal treatment in Singapore.
⭐ SHR is better than IPL for Asian skin. SHR is more effective than traditional IPL technology for finer hair and coarse hair.
⭐ Unlimited Shots. Our laser removal uses as many pulses as needed to destroy hair follicles to prevent hair growth.
⭐ Award-Winning. Wellaholic's SHR Hair Removal have won multiple awards making us one of the best hair removal salons in Singapore.
⭐ Ideal for All Skin and Hair Colors. SHR laser hair removal technology works on all hair and skin types, including facial hair and body hair by targeting the melanin in the hair.
⭐ For Everyone. Wellaholic has a team of skilled therapists, both male and female, to attend to your body hair removal needs.
Pricing of Aesthetic Treatments by Wellaholic
💎 Price Transparency. All prices are published and updated on our website.
💎 Flexible Plans. Choose from unlimited monthly or per-session hair removal plans.
💎 Easy to Choose. Mix and match treatments from different categories.
💎 No Hidden Fees. Pay only for the treatments you receive.
GET IN TOUCH
Book Now Pay Later
Why Wellaholic is One of the Best Aesthetic Service Providers in Singapore?
✅ Leading Singapore Aesthetic Chain. Wellaholic is a popular aesthetic chain with 8 outlets around Singapore.
✅ Quality & Safe Treatments. Wellaholic is committed to quality, safe treatments with experienced staff.
✅ Wide Range of Treatments. Wellaholic offers a large range of treatment from effective hair removal, skin whitening, bust enhancement, butt lifts for all areas of the body.
✅ Trained & Experienced Consultants. All treatments are performed by trained professionals who understand skincare needs for both genders.
✅ SHR Technology. Advanced SHR technology provides a safe, comfortable, and painless hair removal experience.
✅ Most Affordable Provider. Wellaholic offers competitive pricing, making it one of the most affordable hair removal providers in Singapore.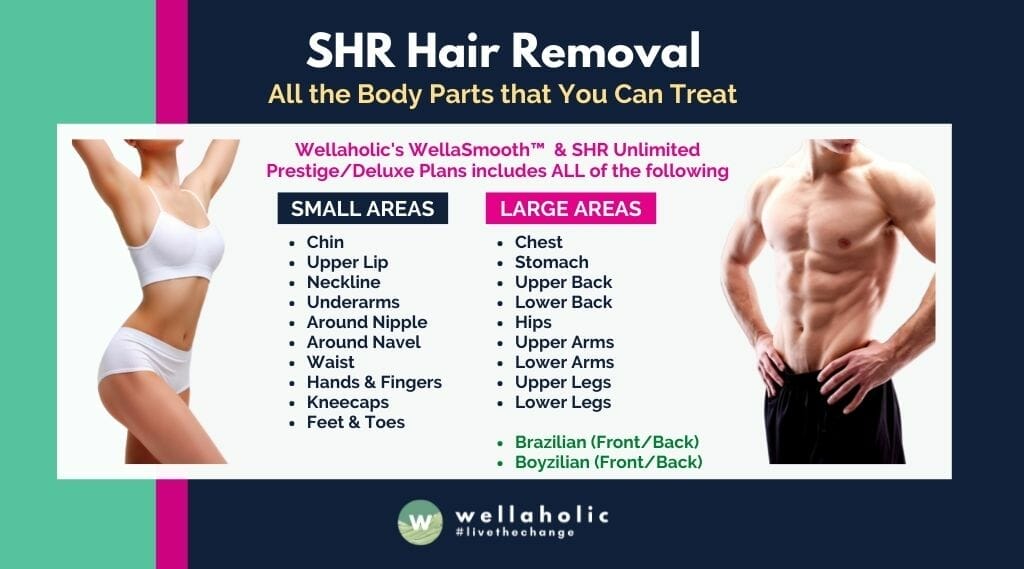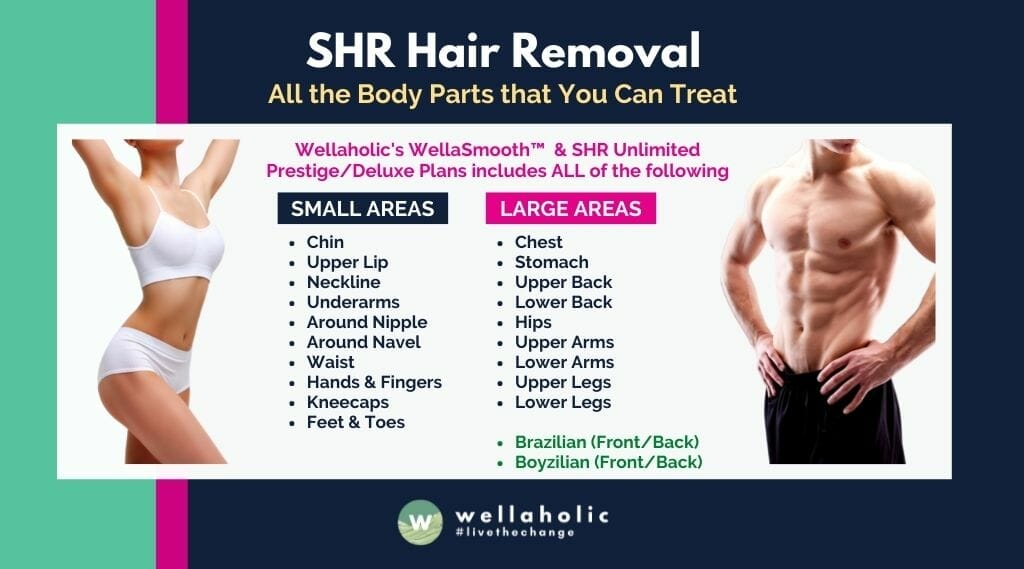 Reason 1: Wellaholic's Unlimited Plans Save You Money
✅ WellaSmooth 3X. Pay a small monthly subscription and choose 3 treatments from the WellaSmooth 3X family of services.
✅ Unlimited Hair Removal. Choose a SHR Prestige Unlimited or SHR Deluxe Unlimited to enjoy hair removal with unlimited shots.
✅ Pay One Price for All Body Parts. For hair removal, pay one price for unlimited hair removal on all body parts.
✅ Huge Cost Savings. Huge cost savings with monthly unlimited plans. No price shocks from hidden costs!
Reason 2: Wellaholic is a Trusted and Award-winning Aesthetic Chain with Over 2000 Positive Reviews.
✅ Over 50 Awards. Wellaholic's WellaSmooth and SHR Hair Removal have won over 50 awards from top beauty publications since 2018.
✅ Over 2000 Verified Customer Reviews. Wellaholic has over 2000 positive reviews from customers around the world. .
✅ Verifiable Reviews. Positive reviews indicate high customer satisfaction. (See reviews below).
✅ Over 50% Repeat Customers. More than 50% of Wellaholic's customers are repeat and recurring customers.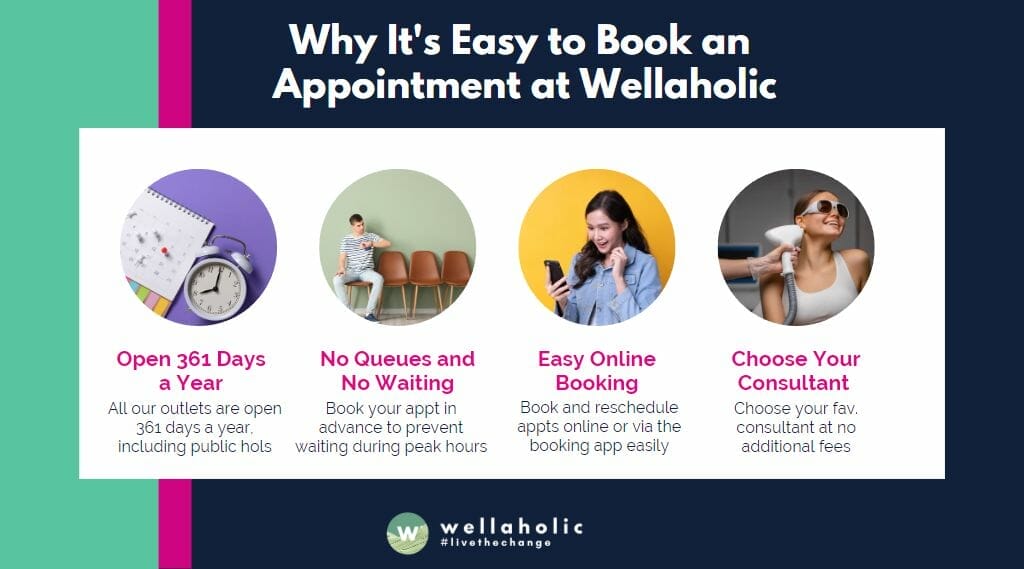 Reason 3: It's Easy to Book an Appointment at Wellaholic
✅ Open 361 Days Per Year. Wellaholic's 8 outlets are open 361 days a year, including public holidays for easy bookings.
✅ No Queues. Book appointments in advance to avoid long wait times.
✅ Easy Online Booking. Customers can conveniently book and reschedule appointments online or via the booking app.
✅ No Extra Cost for Choosing Consultant. Customers can choose their preferred consultant for free.