Best Hair Removal Service near Orchard MRT – Wellaholic Orchard
Looking for a Hair Removal Service Near Orchard MRT?
Looking for a hair removal service that's close to Orchard MRT? Or are you near at ION Orchard, Wisma Atria, Wheelock Place, Forum The Shopping Mall and Tangs Orchard shopping malls and looking for a reputable hair removal service provider. Look no further than our trusted experts at Wellaholic (Orchard)! Our team of hair removal experts provides top-notch hair removal services that are perfect for those who want to remove unwanted hair quickly and easily. We also offer a wide range of affordable hair removal services, including SHR hair removal, IPL hair removal as well as Skin whitening against hyperpigmentation, as well as other aesthetic services such as facials, slimming, hair regrowth and teeth whitening.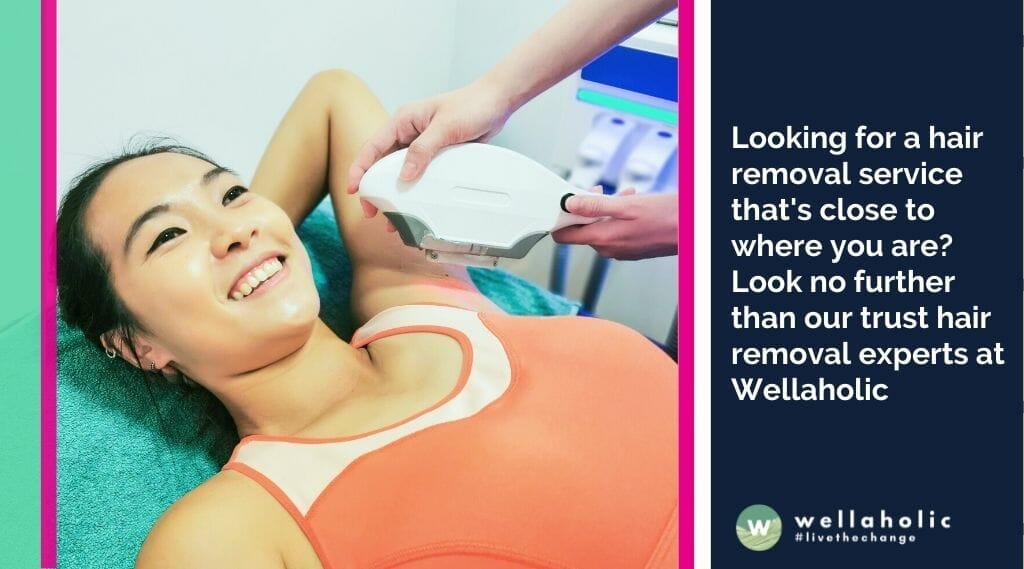 What is SHR Hair Removal?
SHR's Advanced Fluorescence Technology (AFT) In-Motion laser hair removal technology is a breakthrough in customer comfort and effectiveness of treatments. SHR or Super Hair Removal technology heats the skin gently through the melanin and the stem cells with low energy but high frequency. SHR uses only 50% of the energy for permanent hair removal. The remaining 50% is absorbed into the stem cells responsible for hair production.
SHR technology is newer and more effective than IPL hair removal. SHR causes minimal pain due to the cool touch laser hair removal methodology as compared to IPL. SHR can cover all parts of the body such as hair removal for face, arms, legs, underarms, etc. SHR causes less discomfort as compared to IPL hair removal. SHR is also suitable for all hair types and skin tones as compared to IPL, making it an effective means for permanent hair reduction.
Wellaholic has Won Numerous Awards for our SHR Hair Removal
Wellaholic is a pioneer of SHR hair removal, launching it since 2016. Since then, Wellaholic has been recognised as a leader of SHR hair removal (invented by Alma Lasers), winning annual awards, such as the Best SHR Salon by Daily Vanity Spa & Hair Awards in 2021, 2020 and 2019. Wellaholic has also won the Best SHR Hair Removal award by Beauty Insider Beauty & Wellness Awards from 2018 to 2021. The countless number of awards (both Editor's Choice and Readers' Choice Awards) attest to the efficacy of SHR hair removal treatments as well as excellent customer service by Team Wellaholic.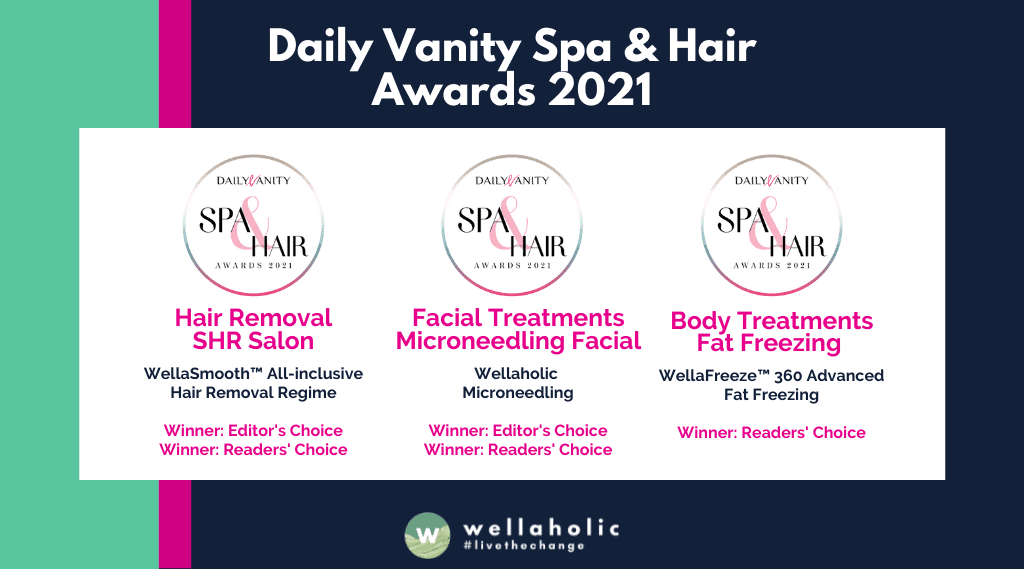 SHR Hair Removal: Packages and Pricing
Wellaholic believes in providing pricing transparency, and hence all prices are published and updated on its website. Choose from unlimited monthly hair removal plans (with unlimited SHR hair removal shots) for unlimited body parts, or choose from per-session hair removal price plans.
How to Get to Wellaholic Orchard?
Located just 5 minutes by walking from Orchard MRT station, you can exit the station towards Wheelock Place and Forum The Shopping Mall. Head towards Far East Shopping Centre and take the escalator up to level 4. We are located at the corner of level 4.
Wellaholic (Orchard) is located at:
545 Orchard Road #04-11C
Far East Shopping Centre (Note: not Far East Plaza)
Singapore 238882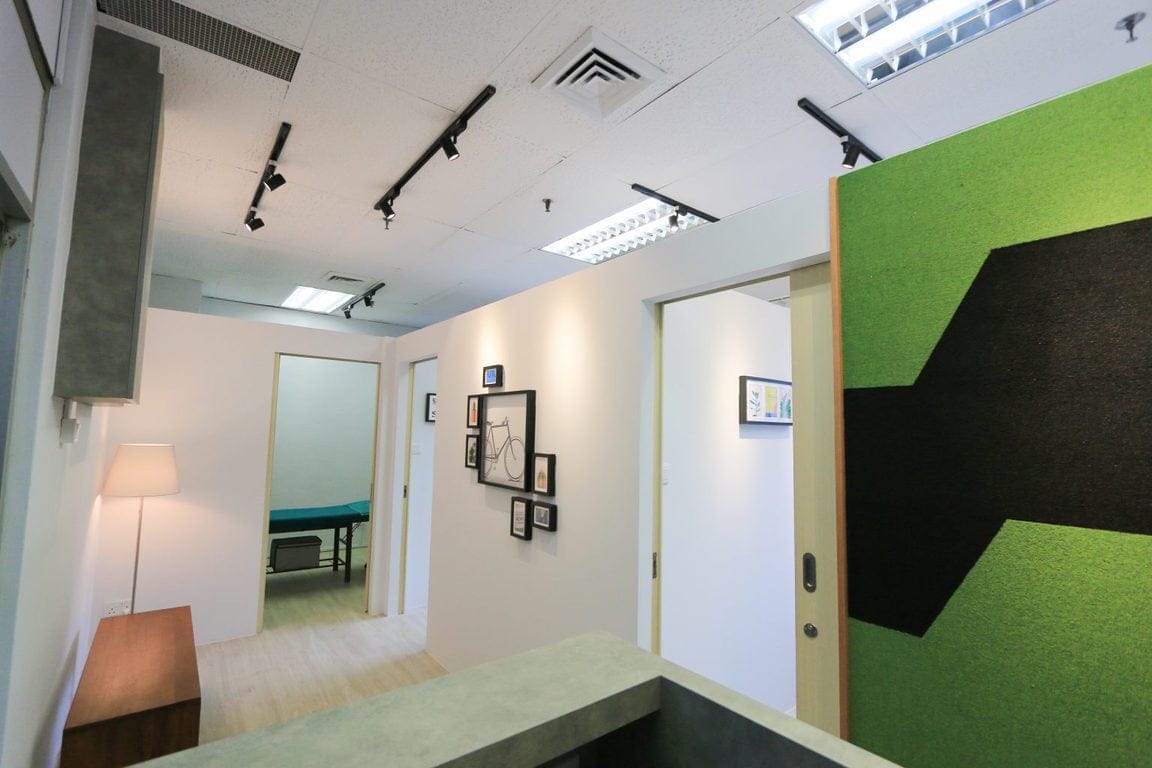 ---
Wellaholic's Commitment to Price Transparency and No Hard-selling
Wellaholic's commitment to transparency becomes a perfect complement to our quality treatments. We don't say this lightly: we don't do hard-selling. We don't have any trial sessions that distort the prices of our treatments. All our prices are stated clearly on our website, and on the brochures at our outlets. So, rest assured, you will have your peace of mind at Wellaholic.
---
WellaSmooth All-inclusive Hair Removal by Wellaholic
WellaSmooth™ All-Inclusive Hair Removal is designed for an all-inclusive fuss-free full-body permanent hair removal experience with a 5-star rating. WellaSmooth™ All-Inclusive Hair Removal includes all-that-you-require shaving service, followed by SHR Unlimited Prestige hair removal which includes unlimited SHR shots for the entire body (including Brazilian/Boyzilian). Also included is our Skin Whitening / Hydrating post-treatment therapy (PTT) followed by our AfterGlow Red Light therapy.
What is WellaSmooth™ All-inclusive Hair Removal Regime?
Voted Best Hair Removal Treatment by Daily Vanity Spa and Beauty Awards 2021.
WellaSmooth™ All-Inclusive Hair Removal is designed for an all-inclusive fuss-free full-body permanent hair reduction experience.
WellaSmooth™ All-Inclusive Hair Removal is ideal for all skin color, hair color, and all forms of hair.
Also include is all-that-you-require shaving service for all body parts including your private regions.
WellaSmooth™ All-Inclusive Hair Removal also includes the Skin Whitening / Hydrating (PTT) with AfterGlow™, which includes post-hair-removal skin whitening or skin hydration followed by our AfterGlow Red Light therapy for enhanced skin rejuvenation.
Achieve smooth and glowing skin that will wow everyone.
This treatment is ideal for both men and women, by male and female therapists.
Get a package and choose your shaving, SHR permanent hair removal and post-treatment whitening and hydration done at any of our multiple outlets across Singapore.
WellaSmooth™ is your ultimate all-inclusive hair removal treatment in Singapore complete with shaving and post-treatment care.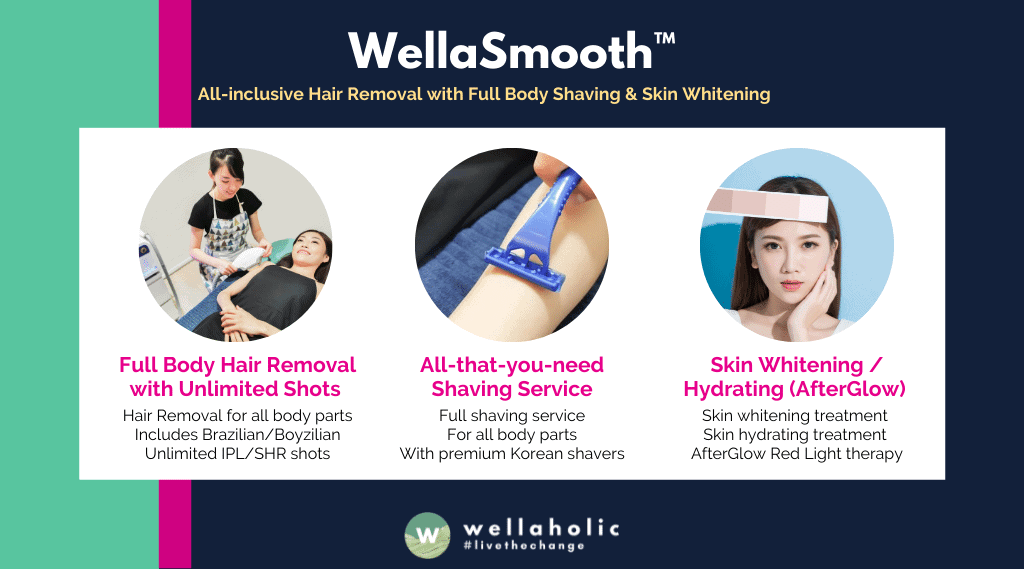 WellaSmooth™ Includes the Following Three Hair Removal Services
SHR Permanent Hair Removal PRESTIGE Unlimited – Enjoy our bestseller SHR hair reduction treatment for all body parts
Unlimited Shaving Service – Enjoy unlimited shaving service on all body parts
Skin Whitening/Hydrating (PTT) with AfterGlow – Enjoy post-treatment whitening or hydrating therapy followed by AfterGlow red-light treatment to rejuvenate your skin
Pricing of SHR Hair Removal Treatments by Wellaholic
Wellaholic believes in providing pricing transparency, and hence all prices are published and updated on its website. Choose from unlimited monthly hair removal plans (with unlimited SHR hair removal shots) for unlimited body parts, or choose from per-session hair removal price plans. Wellaholic's hair removal prices are generally divided into the following categories: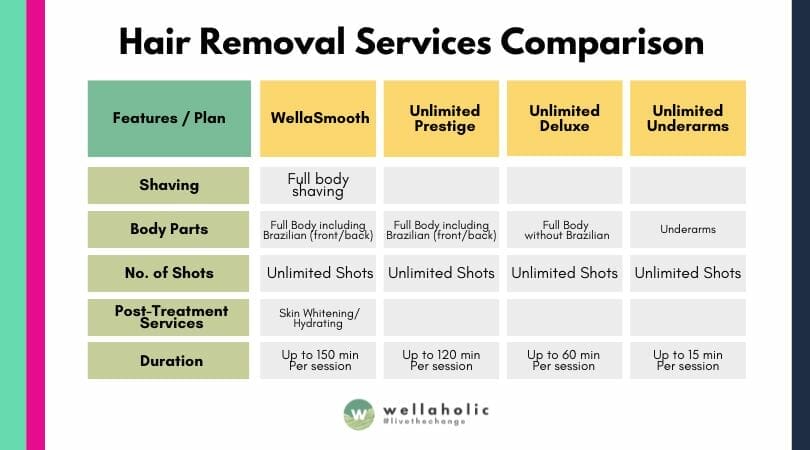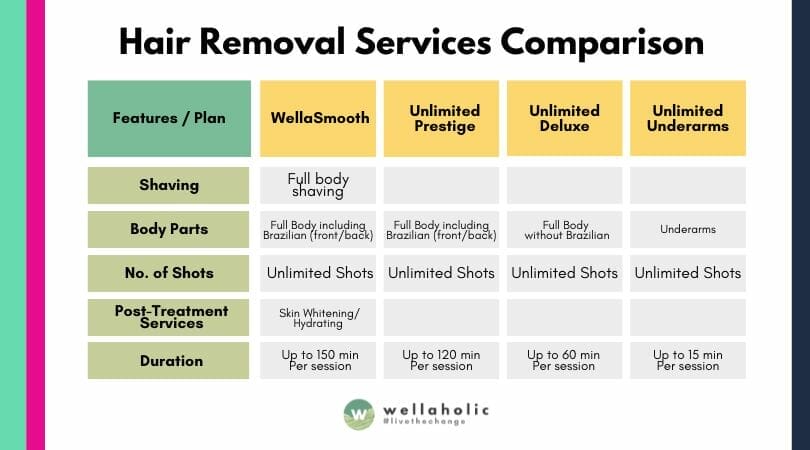 ---
---