Brazilian Hair Removal – Bust Those Pesky Hairs for Good
Introduction
For the newbies, what exactly is a Brazilian, you ask? It's the removal of all hair from your vagina and buttocks. Yes, ALL! It's the only way to rock those skimpy bottoms on a Brazilian cut bikini without your shrub peeking out, duh. It's liberating, it's sexy and you'll never have to worry about stubble poking out like a cactus through your 'fancy' undies. Yup, you know what we are talking about. While a Brazilian might be a variety of different epilation styles that eliminate almost all pubic hair in the pubic region, a full Brazilian eliminates it all, leaving no hair at all.
Don't want to be 100% bare? That's up to the individual. Leaving a landing strip or a patch or a perfectly-pruned triangle is completely up to you, should you not prefer the prepubescent look.
How does Brazilian Laser Treatment work?
Basically, the treatment takes about 5 minutes to perform and is very discreet and effective. Full Brazilian laser hair removal means the laser treatment eliminates all or nearly all pubic hair. In Brazilian laser hair removal, laser light pulses selectively destroy hair follicles by targeting the melanin in them. The pigment in the hair follicle absorbs the pulse, which damages the follicle enough to slow hair regrowth.
Wellaholic's state-of-the-art SHR technology removes hair from your bikini line safely and effectively, allowing you to customize your treatment plan accordingly. Our laser hair removal systems work on nearly all skin types and tones. Among the safest and most effective lasers available, the Cynosure and Diode systems work magic on all skin types and tones. Wellaholic's SHR is a high-fluence diode-based laser at 810nm.
How effective is laser hair removal for Brazilian?
Laser hair removal only works when the hair is in the anagen phase of growth. It is the first time in the hair growth cycle. It is the only time when the hair and the follicle connect, letting the energy travel from the former to the latter. As 20% of all body hair is in the anagen phase of growth at any point in time, one session can treat up to 20% of hair.
It is the combined effects of successive sessions that will lead to a successful Brazilian laser treatment and to hair growth reduction. Some patients will need more sessions than others. This is due to many factors: skin types, skin tone, skin color, hair color, genetics, etc. Hormone levels are another factor. The hair growth cycle is triggered by hormones and the Brazilian being a hormonal area, it can take longer to treat.
Patients can see results even after a few sessions . Hair grows sparser, thinner, lighter. Although patients should still shave prior to each session, they will less and less feel the need to shave otherwise. Brazilian laser hair removal can remove up to 90% of bikini hair and offer a close to permanent hair removal solution.
SHR Permanent Hair Removal by Wellaholic
SHR's Advanced Fluorescence Technology (AFT) In-Motion laser hair removal technology is a breakthrough in customer comfort and effectiveness of treatments. SHR or Super Hair Removal technology heats the skin gently through the melanin and the stem cells with low energy but high frequency. SHR uses only 50% of the energy for permanent hair removal. The remaining 50% is absorbed into the stem cells responsible for hair production.
SHR technology is newer and more effective than IPL hair removal. SHR causes minimal pain due to the cool touch laser hair removal methodology as compared to IPL. SHR can cover all parts of the body such as hair removal for face, arms, legs, underarms, etc. SHR causes less discomfort as compared to IPL hair removal. SHR is also suitable for all hair types and skin tones as compared to IPL, making it an effective means for permanent hair reduction.
See Over 1800 Positive Reviews of Wellaholic (Customer Verifiable)
Pricing of SHR Hair Removal Treatments by Wellaholic
Wellaholic believes in providing pricing transparency, and hence all prices are published and updated on its website. Choose from unlimited monthly hair removal plans (with unlimited SHR hair removal shots) for unlimited body parts, or choose from per-session hair removal price plans. Wellaholic's hair removal prices are generally divided into the following categories: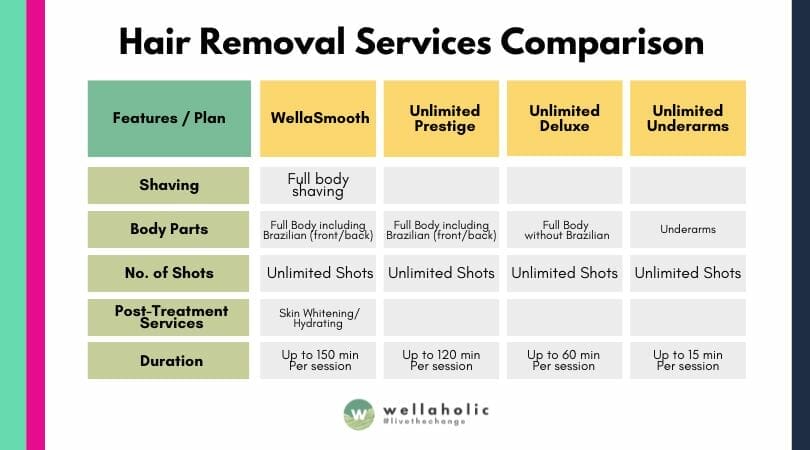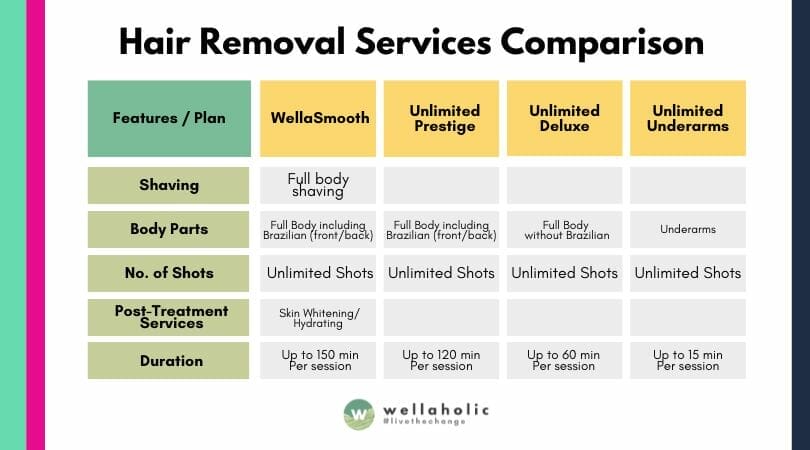 ---
---