Does Fat Cavitation Really Work?
Does Ultrasound Fat Cavitation Work?
Yes, ultrasound fat cavitation provides real, measurable results. You'll be able to see how much circumference you've lost using a tape measure — or by simply looking in the mirror. However, keep in mind that it only works in certain areas, and you won't see overnight results.
Ultrasound fat cavitation empties out your fat cells, rather than destroying them like liposuction does. The fat will almost always come back, but with fat cavitation, at least it won't appear where you least expect it. To make your results last longer, you'll need a great diet and plenty of regular exercise.
What is the Principle of Cavitation Machines?
Using a strong acoustic wave head with a strong ultrasound wave to emit sound waves with a frequency of up to 40000HZ. After entering the human body, the human fat cells can produce a strong impact and frictional movement between fat cells, which can effectively consume heat and consume cells. Moisture makes the fat cells shrink, and when the sound waves vibrate, which can cause strong cracking between cells, the cells instantaneously blast, and the fat cells are reduced, thereby achieving the effect of removing fat.
This procedure is a safer alternative to surgical options, like liposuction. The treatment uses ultrasonic radio waves to break apart fat cells, which are then absorbed into your body by your lymphatic system.
Uses: Ultrasonic cavitation can be used for cosmetic procedures and to remove debris from surfaces
Ultrasonic cavitation relies on ultrasound technology to break apart fat cells. Ultrasound waves are sent deep into the layers of your skin, causing a disruptive vibration. Fat cells then break apart from each other and are dislodged from your dermal layers.
Unlike lipo laser and cool sculpting which only shrink the fat cell, Ultrasonic cavitation DESTROYS the fat cell. This is a non-surgical treatment based on low-frequency ultrasound. When applied to any localized area the ultrasound field creates bubbles in the liquid surrounding the fat causing it to implode
Side effects: There may be some side effects associated with ultrasonic cavitation, including pain, bruising, and swellings
Ultrasonic cavitation is a process that uses ultrasonic waves to create bubbles in a liquid. The bubbles collapse and create heat and pressure, which can cause pain, bruising, and swelling. There may also be some side effects associated with the use of ultrasonic cavitation, including nausea and vomiting.
Conclusion: Ultrasonic cavitation is a safe and effective procedure with few side effects
In conclusion, ultrasonic cavitation is a safe and effective procedure with few side effects. It can be used to reduce the appearance of cellulite, improve skin texture, and tighten the skin. If you are considering undergoing an ultrasonic cavitation treatment, consult a qualified professional to find out if it is the right treatment for you.
Ultrasonic Cavi 360 by Wellaholic to Break Apart Fat Cells
What is Ultrasonic Cavi 360?
Ultrasonic Cavi 360 uses ultrasound cavitation technology to break down fat deposits in body.
Patients can see immediate result and will continue to see results in reduction of fat over a few weeks.
Ultrasonic Cavi 360 is a much safer alternative to other surgical options such as liposuction.
This fat cavitation treatment is ideal for targeting small areas of fat for better body contouring and sculpting.
Ultrasonic Cavi 360 works well on upper arms, belly, love handles, thighs, and back—where fat cells accumulate.
The consultant will glide the cavitation machine's handheld probe over the desired area, delivering low-frequency sound waves.
The wave will "vibrate" the walls of fat cells until they burst and turn into free fatty acids the body can expel.
Ultrasonic Cavi 360 works extremely well with WellaFreeze and WellaSculpt to accelerate fat disposal via the lymphatic system.
Clinical studies have shown 15.2% average fat layer or cellulite reduction in the thighs after cavitation.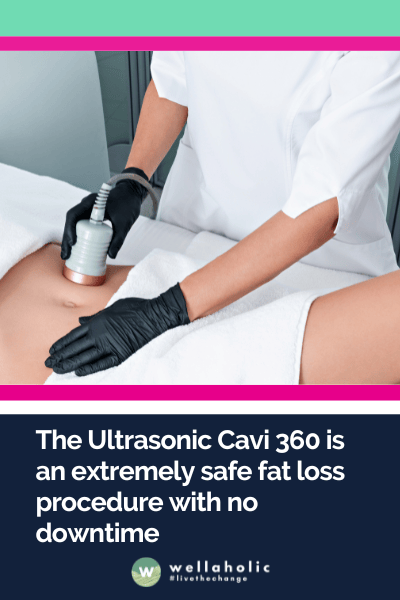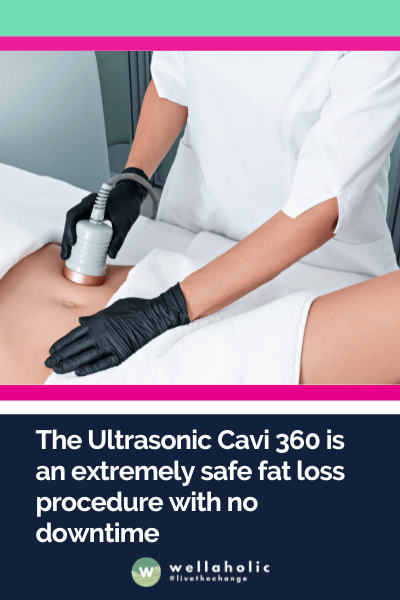 What Happens During Ultrasonic Cavi 360 Treatment?
Consultant will run through with you the Ultrasonic Cavi 360 procedure and steps.
You will review the safety instructions and sign the indemnity form.
Consultant will usher you to the treatment room.
You will lie on the treatment bed.
Depending on the treatment area, there may be a need for you to remove your clothing.
Consultant will apply the cavitation cream at the area(s) to be treatment.
Consultant will configure the cavitation machine and apply the probe/applicator on the treated area in a circular motion.
There will be a high pitch ultrasound high frequency sound together with some vibration. This might be initially shocking, but there will be no pain, and you will get used to it very quickly.
The treatment will take about 15 minutes per treated area.
Treatment is over!
Are There Any Before and After Photos of Ultrasonic Cavi 360 Treatment?
You can refer to the before/after photos below for the results of Ultrasonic Cavi 360 over treatment regime of 4 to 8 sessions.
While some results may be almost immediate, your best results usually will not be visible until four to six weeks after the procedure.
Patient results may vary.
How are the Prices Like for Ultrasonic Cavi 360 Treatment?
Wellaholic offers a 1, 4, 8 or 12-session package for Ultrasonic Cavi 360 in Singapore.
1 Session Plan (2 Body Parts) $219
4 Session Plan (2 Body Parts) $209 x 4 = $836 (5% savings)
8 Session Plan (2 Body Parts) $199 x 8 = $1592 (10% savings)
12 Session Plan (2 Body Parts) $179 x 12 = $2148 (15% savings)
---
---