Facial Hair Removal: The Pros and Cons
Introduction: why facial hair removal is popular
Facial hair removal is popular for a number of reasons. For one, many people feel that it makes them look more polished and professional. In addition, it can be difficult to style facial hair in a way that looks good, so many people opt to remove it altogether. Finally, some people simply find facial hair to be bothersome or uncomfortable. Whatever the reason, there are a variety of ways to remove facial hair, so anyone can find a method that works for them.
---
The pros of facial hair removal
Facial hair removal is a process that has been around for centuries. It is a process that can be done at home or at a salon. There are many benefits to facial hair removal, including: preventing ingrown hairs, reducing razor burn, and making the skin look and feel smoother.
Preventing ingrown facial hairs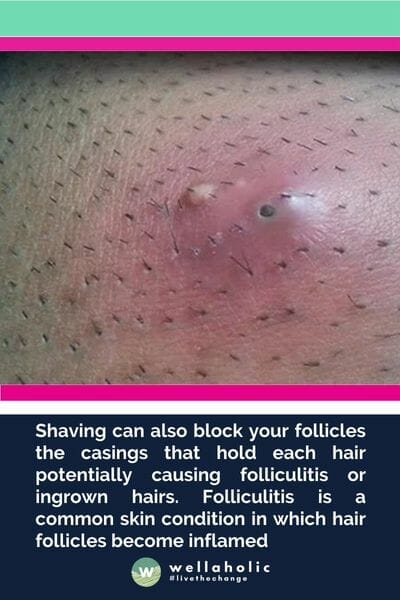 When it comes to facial hair, most men want to avoid two things: an unclean appearance and ingrown hairs. Unfortunately, the latter is often unavoidable and can be quite painful. An ingrown hair occurs when the hair follicle becomes clogged with sebum, dead skin cells, and other debris. This causes the hair to grow sideways into the skin instead of upwards. If not treated properly, an ingrown hair can become infected, leading to even more pain and discomfort. Facial hair removal removes facial hair and prevents the onset of ingrown hairs.
---
The cons of facial hair removal
There are many reasons why people remove facial hair, but there are also some drawbacks to this practice. Facial hair removal can cause skin irritation, redness, and even scarring. It can also be time-consuming and costly. If not done properly, facial hair removal can also lead to ingrown hairs.
The verdict: is facial hair removal worth it?
In conclusion, for those who are struggling with the decision of whether or not to remove their facial hair, hopefully, this article has provided some helpful insights. For some, the process of facial hair removal may be worth it in order to feel more confident and put their best face forward. Others may find that the time, effort, and money required for hair removal is simply not worth it in the end. Ultimately, the decision is up to the individual and what they feel is best for them.
---
SHR Permanent Hair Removal by Wellaholic
SHR Hair Removal's Advanced Fluorescence Technology (AFT) In-Motion laser hair removal technology is a breakthrough in customer comfort and effectiveness of treatments. SHR or Super Hair Removal technology heats the skin gently through the melanin and the stem cells with low energy but high frequency. SHR uses only 50% of the energy for permanent hair removal. The remaining 50% is absorbed into the stem cells responsible for hair production.
For facial hair removal at Wellaholic, every 2 parts count as 1 x large area (Per Session SHR). You can choose a single-session treatment or choose a 3, 6 or 12-session plan for larger savings.
For example:
Upper lip – 1 small
Chin – 1 small
Upper lip + Chin – 1 big
Full face till jawline – 1 big
What is SHR or Super Hair Removal?
Wellaholic's SHR Hair Removal is voted Best Hair Removal Treatment by Daily Vanity Spa and Beauty Awards 2020/2021/2022. 
SHR is an advanced permanent hair removal technology known to be ideal for the typical Singaporean hair and skin type.
SHR users low energy and rapid pulsing diode laser to deliver both light and heat energy to the skin at rapid shots per second to target the hair follicles.
SHR uses only 50% of the energy for permanent hair reduction. The remaining 50% is absorbed into the stem cells responsible for producing hairs. 
SHR causes less discomfort as compared to IPL hair removal. SHR is also suitable for all hair types and skin tones as compared to IPL, making it an effective means for permanent hair reduction.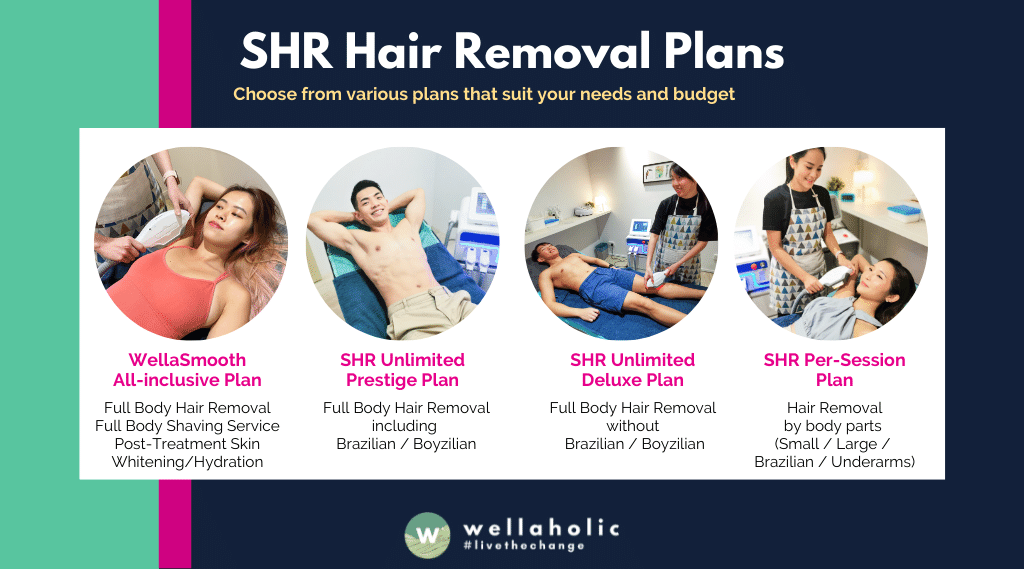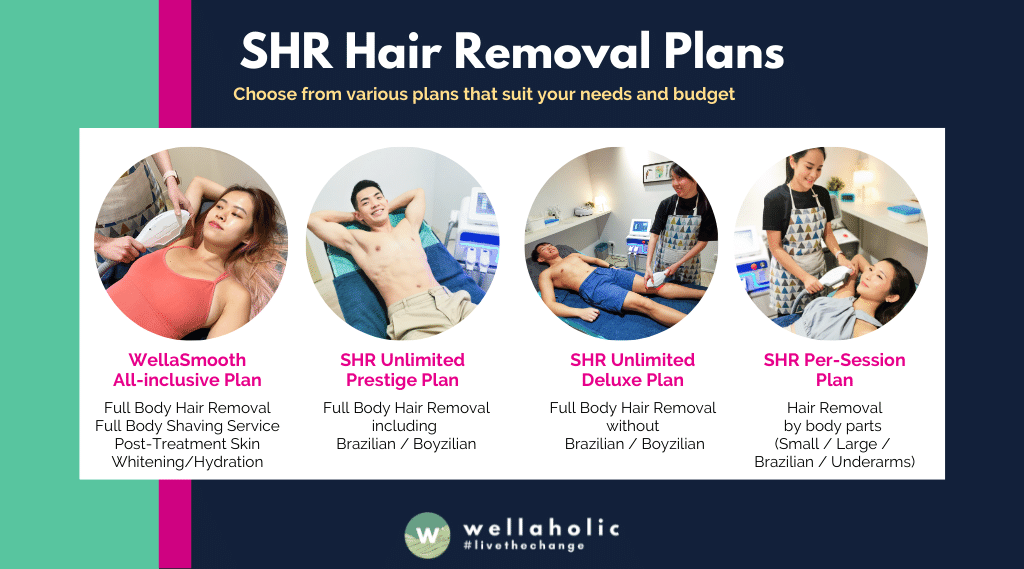 WellaSmooth™ Includes the Following Three Hair Removal Services
Choose from our
SHR Permanent Hair Removal PRESTIGE Unlimited – Enjoy our bestseller SHR hair reduction treatment for all body parts


See Over 1800 Positive Reviews of Wellaholic (Customer Verifiable)
Pricing of SHR Hair Removal Treatments by Wellaholic
Wellaholic believes in providing pricing transparency, and hence all prices are published and updated on its website. Choose from unlimited monthly hair removal plans (with unlimited SHR hair removal shots) for unlimited body parts, or choose from per-session hair removal price plans. Wellaholic's hair removal prices are generally divided into the following categories: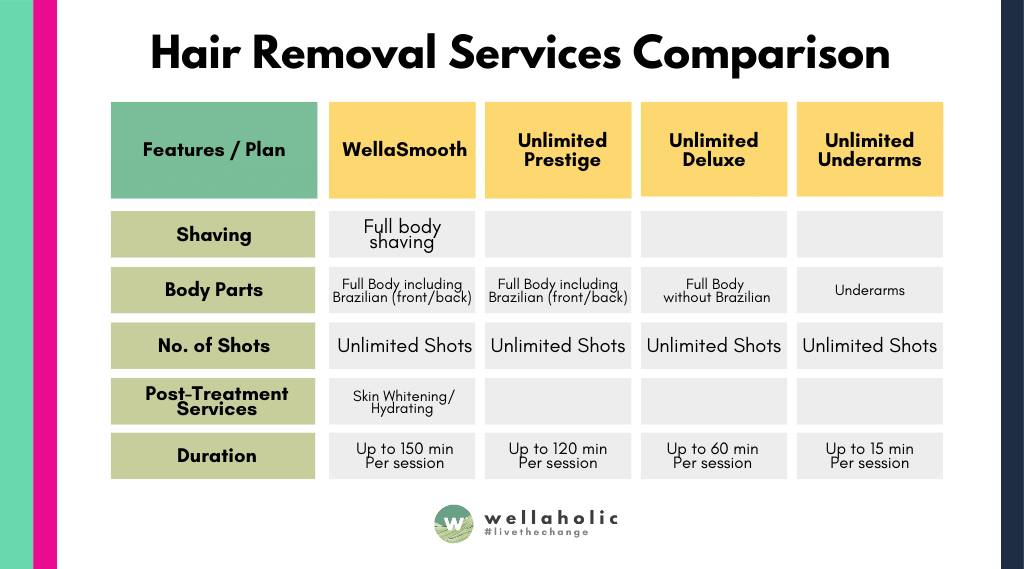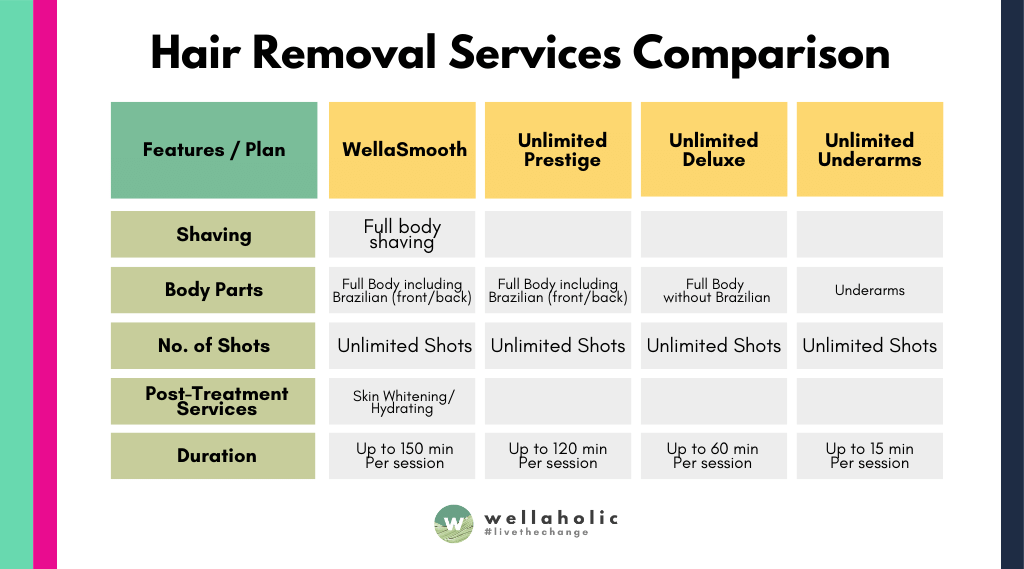 ---
---