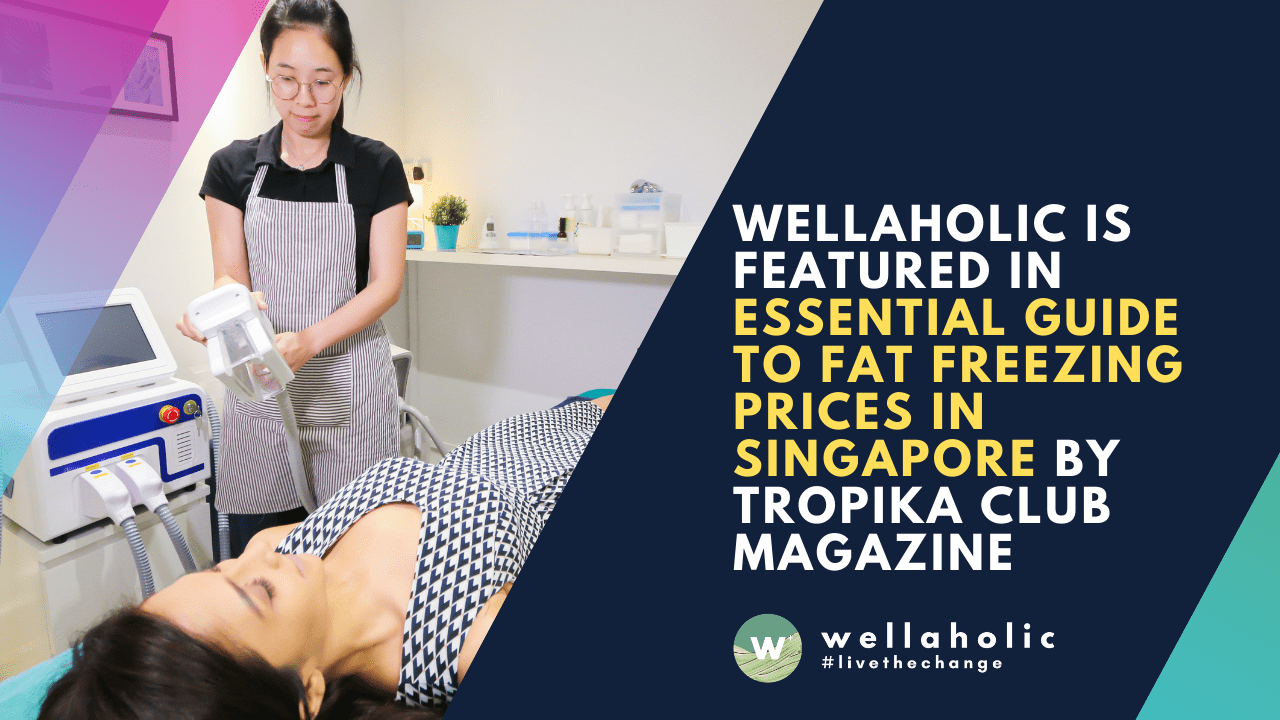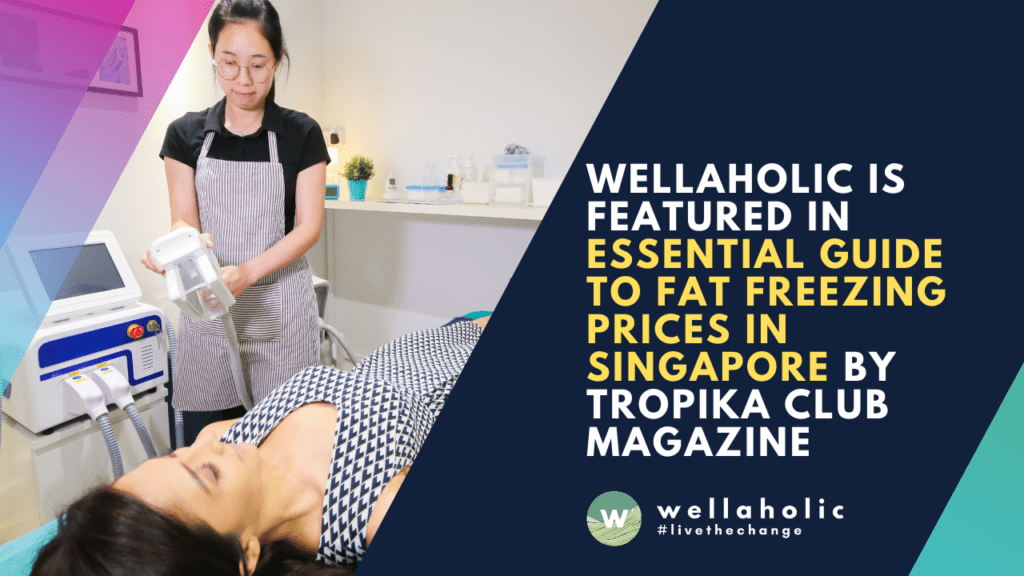 Wellaholic is Featured in Essential Guide to Fat Freezing Prices in Singapore by Tropika Club Magazine
---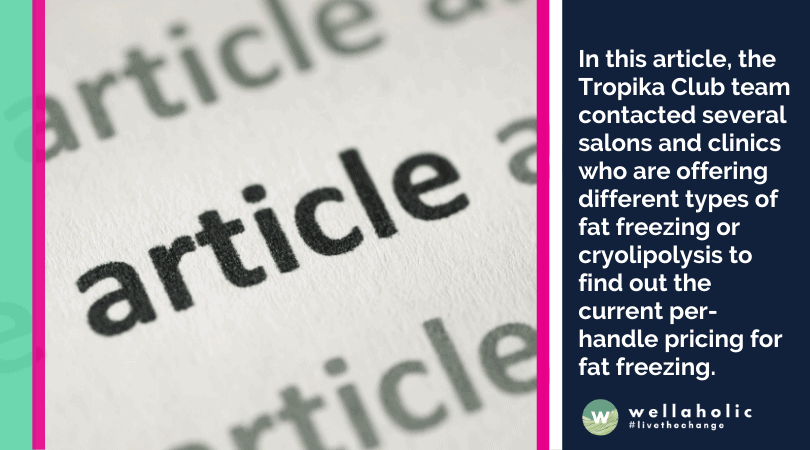 Wellaholic is Featured for Our Affordable Fat Freezing Prices
Wellaholic is happy to be featured on Tropika Club Magazine's "Your Essential Guide to Fat Freezing Prices in Singapore [2021 Edition]". In this article, the Tropika Club team contacted several salons and clinics who are offering different types of fat freezing or cryolipolysis to find out the current per-handle pricing for fat freezing. Based on their survey, Wellaholic is found to offer one of the most affordable and cost-competitive fat freezing treatments in Singapore. Due to our transparent pricing (which is nett and GST inclusive), you can be assured of affordable fat freeze prices with Wellaholic always.
Read excerpt from their article below:
---
WellaFreeze 360 Advanced Fat Freeze by Wellaholic
WellaFreeze 360 uses the latest fat freeze technology and is designed for customers who are looking to fat freeze 4 body parts at once. Similar to Clatuu 360 or CoolSculpting 360, our WellaFreeze 360 cryolipolysis device is equipped with 4 probes or applicators for concurrent usage. Further more, the latest innovation in our fat freeze 360 probes increases the coverage area – meaning that you can freeze a larger surface area per probe.
What is WellaFreeze™ 360 Advanced Fat Freezing?
WellaFreeze™ 360 Fat Freezing is the latest innovation in fat freezing. It uses a newer device over the traditional WellaFreeze cryo machine. 
WellaFreeze™ 360 Fat Freezing helps target the stubborn fat and cellulite areas of your body that do not react well to exercise and dieting.
Fat cells are "dissolved" by non-surgical means and controlled cooling at sub-zero temperatures.
WellaFreeze™ 360 Fat Freezing with its newer technology can increase in absolute fat removal by up to 19%, in addition to the 14% to 28% fat reduction from each session.
In addition, customer can treat 4 body parts at one time with WellaFreeze™ 360 Fat Freezing.
Each session is also reduced from 60 minutes to only 30 minutes, due to the increase freezing ability.
WellaSmooth™ is your ultimate all-inclusive hair removal treatment in Singapore complete with shaving and post-treatment care.
WellaFreeze™ Fat Freezing Can be Done for the Following Body Parts
Stomach / Belly / Tummy / Abdomen
Love Handles / Flanks
Under the Neck / Double Chin
Back / Bra Area
Thighs
Male Chest (Pseudogynecomastia)
Arms
Under Buttocks (Banana Roll)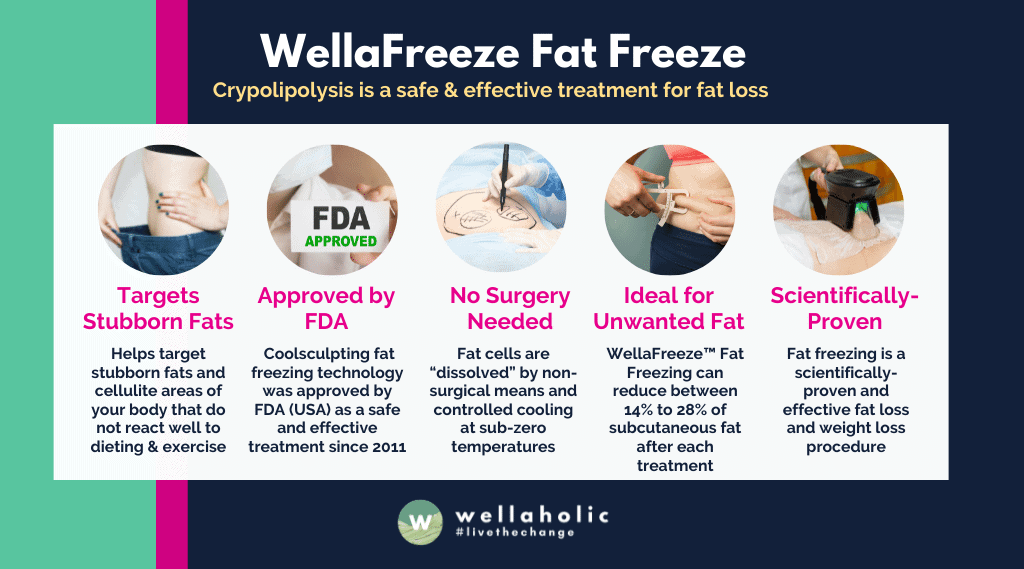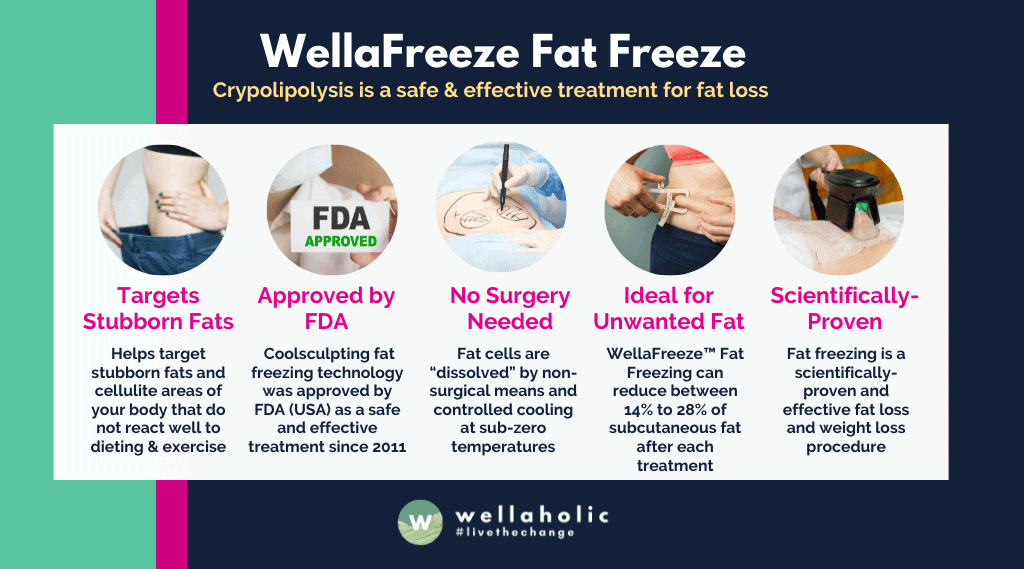 Pricing of Slimming Treatments by Wellaholic
Wellaholic believes in providing pricing transparency, and hence all prices are published and updated on its website. Choose from a single-session plan or choose a multi-session plan for greater discounts. Wellaholic's slimming treatmentes are generally divided into the following categories: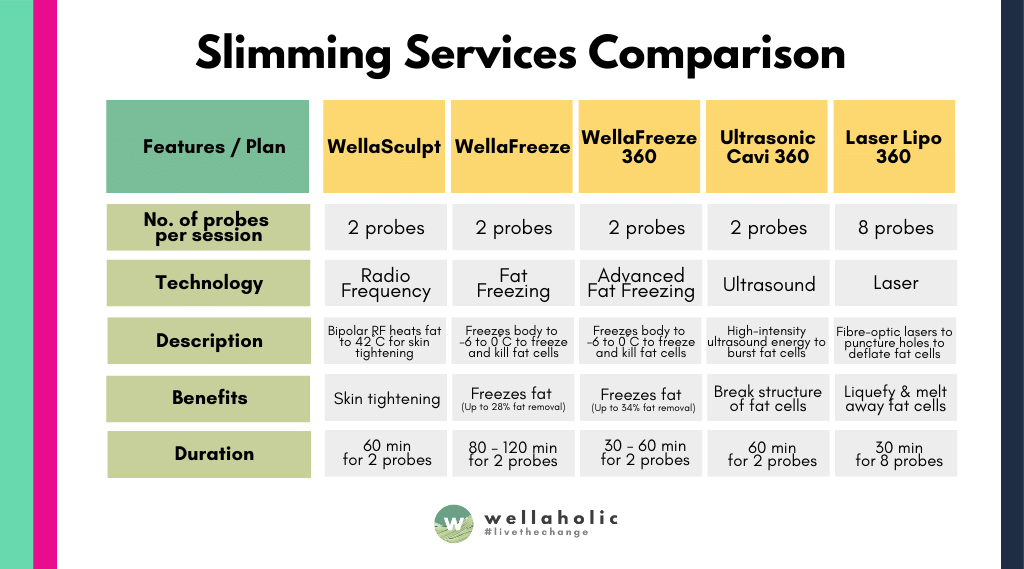 Please click on the menu below to see the pricing for the various slimming treatments by Wellaholic. Wellaholic is well-known in the industry for our transparent pricing and no hard selling. In fact, Wellaholic is well-known for not only our transparent and cheap pricing but also without any hidden costs. All prices are nett and inclusive of GST, and are actual prices (i.e. not trial prices).
---
---