Hair Removal – Pre-care & After-Care Guide
Introduction
Permanent hair removal involves targeting the pigment in hair follicles, damaging them and preventing or reducing hair re-growth. Being prepared between and after your laser hair removal or SHR hair removal or IPL hair removal sessions can make sure that you get the most effective results from the hair removal procedure.
Most people experience little to no adverse effects after their laser hair removal sessions. However, you'll have some sensitivity and taking the proper steps during aftercare can help alleviate the sensitivity and make sure you get the most effective results.
Find out the way to look after your skin before and after hair removal treatment, including what to avoid before laser hair removal. Proper skincare for the areas to be treated is vital for your safety and well-being, moreover on make sure the treatment is as effective as possible.
Pre-Care before Hair removal Treatment
General pre-care instructions to arriving for your treatment session
The area of treatment should be shaved at least 12 hours before the treatment
Avoid alcohol or smoking the night before and on the day of the treatment
Wear loose-fitting clothes on the day
Drink at least 1 litre of water the day before and the day of treatment – this helps your body to regulate its temperature.
Arrive early prior so that you are relaxed.
Do not exercise before the treatment.
Avoid applying any products on areas of treatment, keep it dry and clean prior to treatment.
Do not expose the skin to UV light (sunlight or sunbeds) or apply any self-tanning products for 8 weeks prior to treatment.
Pre-Care Guidelines to improvement Hair removal Treatment
There are several other ways to get the best out of your first permanent hair removal appointment. Get the most effective results by taking the time to try to to this stuff before your laser treatments begin
1. Stop Plucking and waxing
Laser hair removal works by targeting the roots of the hair, so it's essential that you simply don't pluck or wax the treated area a minimum of four to six weeks before your first appointment. Shaving is okay, because it leaves the foundation in situ. In fact, it's actually encouraged to shave the realm being targeted by lasers before your scheduled laser appointment. For SHR hair removal however, 50% of the energy targets the stem cells responsible for hair growth, hence you can still wax or pluck your hairs before the SHR treatment.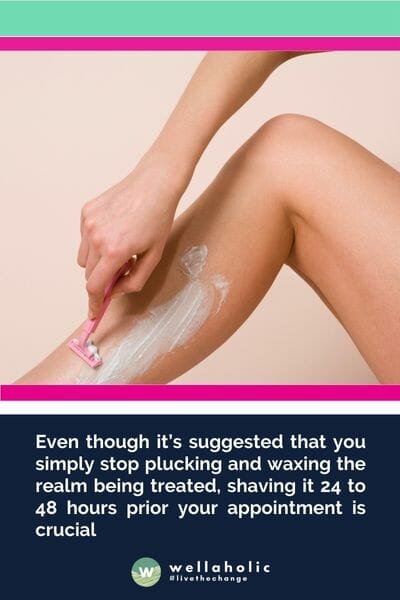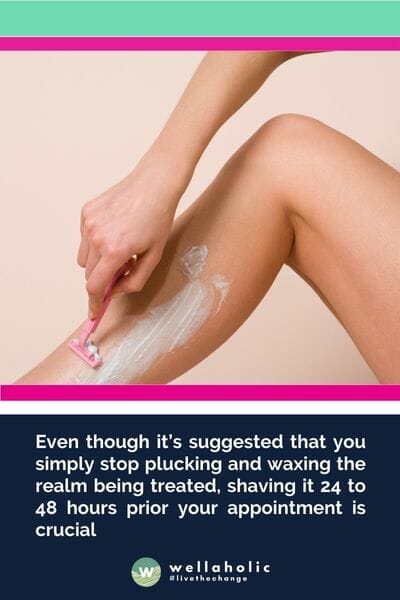 2. Shave the Area
​Even though it's suggested that you simply stop plucking and waxing the realm being treated, shaving it 24 to 48 hours prior your appointment is crucial. while your hair growth is invisible to the optic, the laser continues to be able to target the pigment located within the hair's root. Shaving the treatment area or areas is required because it severely decreases the possibility of burns with the hair being below the skin's surface.
Unshaved hair would attract lower laser energy on your skin and less concentrated energy means fewer hair follicles will be treated. In fact, it has been found that lowered laser energy tends to actually stimulate hair growth rather than weaken the hair follicle.
3. Avoid Sun Exposure
For two weeks before your laser hair removal, it's important that the skin being treated is kept out of the sun. This includes both tanning beds and self-tanners. Not only can their use cause skin discoloration after your laser treatment, but a sunburn can cause excessive pain and blistering. Most laser professionals won't even treat a client with a minor sunburn and can have them reschedule their appointment. So, make certain to use sunscreen daily if the treated area can't be covered while outside.
4. Put Down the Bleach
As mentioned earlier, laser hair removal works by targeting the foundation of hairs. Your hair pigment or colour will be found within the root and absorbs the sunshine produced by the laser, ultimately destroying the hair permanently.
Once you bleach your hair, it alters the pigment and makes the hair harder to focus on. Bleaching should be stopped six weeks before your laser hair removal treatment, which is enough time for the hair roots to grow back in their natural colour as part of the cyclical hair growth.
5. Check your Medications
It's important that once you speak to your laser professional that you simply inform them of all of the medications that you're taking, both oral and topical. Some medications can intervene along with your laser treatments, making them less effective. Other medications can make the skin sensitive and more likely to burn or blister. you ought to especially inform your laser technician if you're on antibiotics, contraception, acne, and photo-sensitising medications. You won't need to stop taking your medication, but your laser professional are going to be able to adjust your treatment areas accordingly and proceed with caution. Additionally, if you start taking any new medications you ought to make certain to allow them to know before your next appointment.
6. Remove Makeup or Creams
The ingredients in beauty products can sometimes affect the results of laser hair removal and may be removed before each of your treatments. This includes deodorant, makeup, lotions, ointments, and anything applied topically to the realm. Simply use soap and water to cleanse the skin that may be treated. If makeup remover is employed, make certain to rinse the realm with water afterward.By following these recommendations, you'll significantly reduce the danger of experiencing side effects caused by your laser treatments. These can range from mild skin irritation to burns or discoloration. Additionally, you'll make certain to urge the foremost out of your laser hair removal treatments and obtain results that may last a lifetime.
---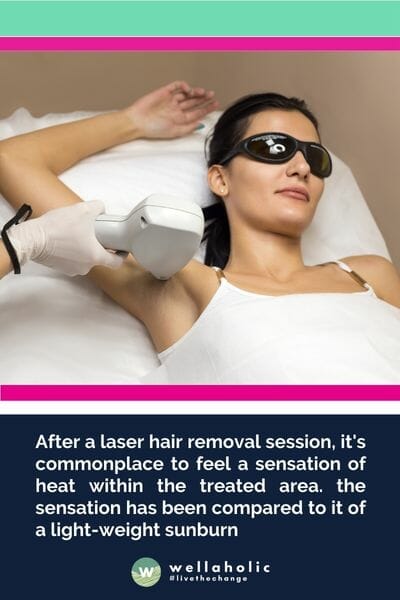 Post-Care After Hair Removal
After a laser hair removal session, it's commonplace to feel a sensation of heat within the treated area. the sensation has been compared to it of a light-weight sunburn. Your skin may appear red, and therefore the area round the hair follicle is also slightly raised. All of those side effects are to be expected and typically disappear within 48 hours after the session.
​
These side effects will probably be less pronounced after the primary few sessions when the hair within the treated area continues to be coarse and thick. because the hair starts to thin out over the course of your treatment, these side effects will abate noticeable after each laser hair removal session. Below shows the steps of treatment care after your SHR hair removal session.
Protecting your skin after and between sessions
Here's what to avoid:
Avoid exposing skin to UV light (sunlight or sunbeds) or self-tan for at least 2 weeks after treatment. This is to minimise darkening of the skin (hyperpigmentation).
Avoid heat treatments such as spas, steam rooms and saunas for 7 days.
Avoid excessive scrubbing or applying pressure to the skin for 4-5 days. This is to allow the treated skin to recover and to prevent any infection.
Avoid shaving the treated area for 72 hours after treatment.
Avoid exercising for at least 48 hours.
Avoid hot baths and hot showers for 48 hours.
Avoid anything that involves chlorine (e.g. swimming) for 48 hours.
Avoid make-up on the treated area for at least 48 hours.
Avoid the application of perfumed products or bleaching creams for 48 hours.
Avoid scratching the treatment area if blistering or crusting occurs, as this can cause scarring.
Avoid waxing, tweezing and threading for the complete duration of the treatment course.
And here's what to do after your treatment and between sessions:
Do apply an ice-pack on the treated area to reduce pain, discomfort or irritation.
Do apply aloe vera gel or calming creams for 3 days after the treatment.
Do wear loose clothes to avoid friction on the treated area for 48 hours.
Do keep treated area clean and dry for 48 hours.
Do drink plenty of water.
Do use at least SPF 50 sunscreen with Zinc for at least 2 weeks.
Do use moisturising skincare to keep your skin fresh and hydrated. 
10 Days after your Hair Removal Treatment
10 days after your laser hair removal treatment it's important to begin the exfoliation process. Exfoliation assists the 'shedding process' and can help to breakdown the treated hair an expel it from underneath the skin. If you're vulnerable to in-grown hairs this process of assisted exfoliation is especially important. Use an exfoliating mitt twice weekly (after 10 days) on laser treated areas during your shower.
You may notice the dead hair surfacing for 2-3 weeks after treatment. Although this could appear to be new growth, it is not. This process is named purging or shedding and can take time to complete. you must withdraw these hairs with a moist cloth or exfoliation mitt once the sensitivity of treated area resolves.
Start this exfoliating process 10 days after treatment, but no earlier.
---
WellaSmooth All-inclusive Hair Removal by Wellaholic
WellaSmooth™ All-Inclusive Hair Removal is designed for an all-inclusive fuss-free full-body permanent hair removal experience with a 5-star rating. WellaSmooth™ All-Inclusive Hair Removal includes all-that-you-require shaving service, followed by SHR Unlimited Prestige hair removal which includes unlimited SHR shots for the entire body (including Brazilian/Boyzilian). Also included is our Skin Whitening / Hydrating post-treatment therapy (PTT) followed by our AfterGlow Red Light therapy.
What is WellaSmooth™ All-inclusive Hair Removal Regime?
Voted Best Hair Removal Treatment by Daily Vanity Spa and Beauty Awards 2021.
WellaSmooth™ All-Inclusive Hair Removal is designed for an all-inclusive fuss-free full-body permanent hair reduction experience.
WellaSmooth™ All-Inclusive Hair Removal is ideal for all skin color, hair color, and all forms of hair.
Also include is all-that-you-require shaving service for all body parts including your private regions.
WellaSmooth™ All-Inclusive Hair Removal also includes the Skin Whitening / Hydrating (PTT) with AfterGlow™, which includes post-hair-removal skin whitening or skin hydration followed by our AfterGlow Red Light therapy for enhanced skin rejuvenation.
Achieve smooth and glowing skin that will wow everyone.
This treatment is ideal for both men and women, by male and female therapists.
Get a package and choose your shaving, SHR permanent hair removal and post-treatment whitening and hydration done at any of our multiple outlets across Singapore.
WellaSmooth™ is your ultimate all-inclusive hair removal treatment in Singapore complete with shaving and post-treatment care.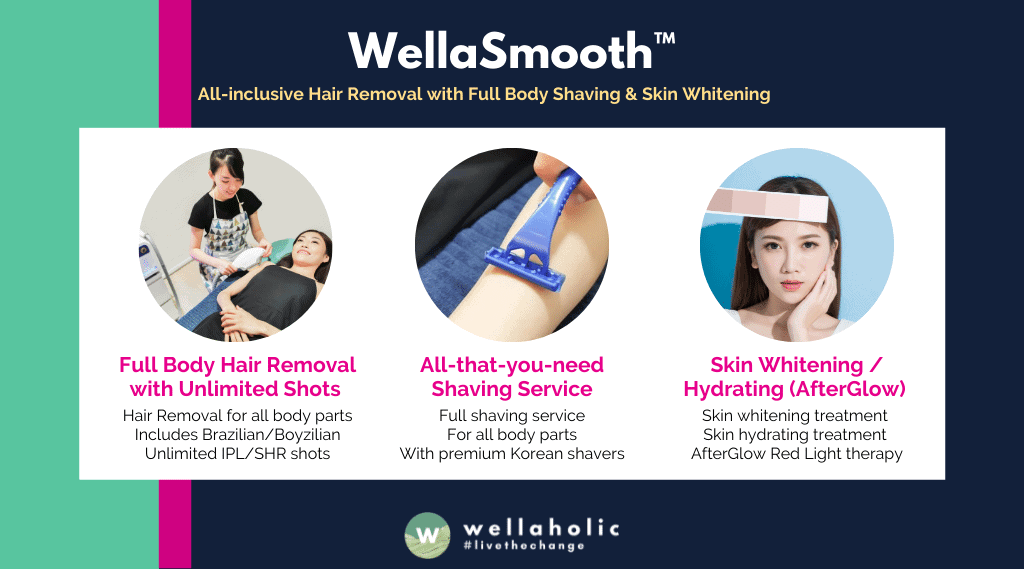 WellaSmooth™ Includes the Following Three Hair Removal Services
SHR Permanent Hair Removal PRESTIGE Unlimited – Enjoy our bestseller SHR hair reduction treatment for all body parts
Unlimited Shaving Service – Enjoy unlimited shaving service on all body parts
Skin Whitening/Hydrating (PTT) with AfterGlow – Enjoy post-treatment whitening or hydrating therapy followed by AfterGlow red-light treatment to rejuvenate your skin
See Over 1800 Positive Reviews of Wellaholic (Customer Verifiable)
Pricing of SHR Hair Removal Treatments by Wellaholic
Wellaholic believes in providing pricing transparency, and hence all prices are published and updated on its website. Choose from unlimited monthly hair removal plans (with unlimited SHR hair removal shots) for unlimited body parts, or choose from per-session hair removal price plans. Wellaholic's hair removal prices are generally divided into the following categories: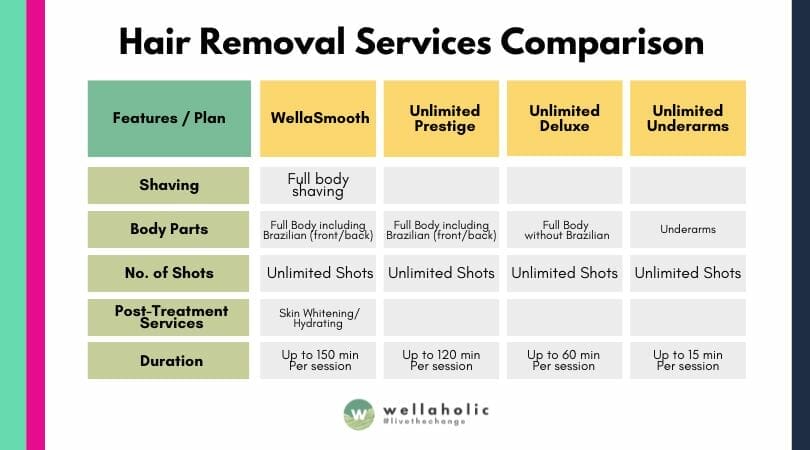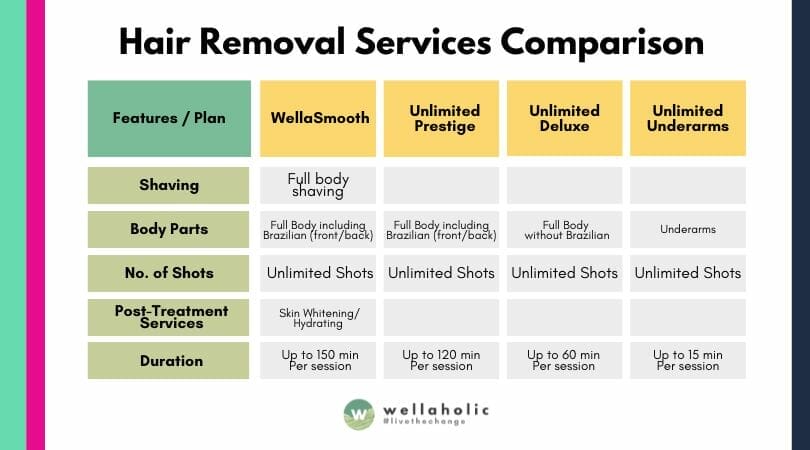 ---
---