Pros and Cons of Epilators for Hair Removal
If You Have Never Used an Epilator, You Need to Read This
If you have not used an epilator and thinking of buying an epilator for your own hair removal needs, you will find this sharing from a female epilator user really useful.
Heather has been using an epilator device for both her body and facial hair for a while now, and she has had very frustrating experiences such as skin redness and ingrown hairs which she did not expect.
For the in-grown hairs, it happened specifically below her knee areas, leading to terrible in-grown acne and skin infections which was not only ugly but painful. In summary, Heather found the disadvantages of using an epilator need to be weighed against the benefits, and ultimately this is a personal decision. By learning the pros and the cons, you can make a better decision when it comes to using epilator for hair removal.
The Pros of Using Epilators
Long-lasting results with Epilators
One of the best benefits of epilation is its lasting smoothness. Epilation pulls hairs out by the root, so they take longer to grow back. All you need to do is epilate once or twice a month to have silky-smooth skin, all day, every day.
No Need to Wait for Hair to Grow Back
If you shave, you know you have to grow out your hair before shaving will work. Not so with epilation. Epilators are more effective at grabbing short hairs than waxing is. In fact, some epilators can get rid of hair as short as 0.5 mm. In contrast, waxing generally requires hairs that are at least 2 mm long.
Epilators are Painful, but less Painful than Waxing
Some epilators are gentler and more soothing, since they come with massage mechanisms like heads that not only make you feel less pain, but also make it easy for you to get accustomed to ongoing presentations of strong sensations. They can also be used in a medicinal bath or a bathtub, allowing you to relax and relieve your pain.
Epilators can be Used for Any Body Part
Most epilators utilize rotating heads, which allow you to shift these heads to various regions of the body. Some epilators also come with caps that can be placed on the head in order to intensify the spot of the epilator on the face or the bikini area.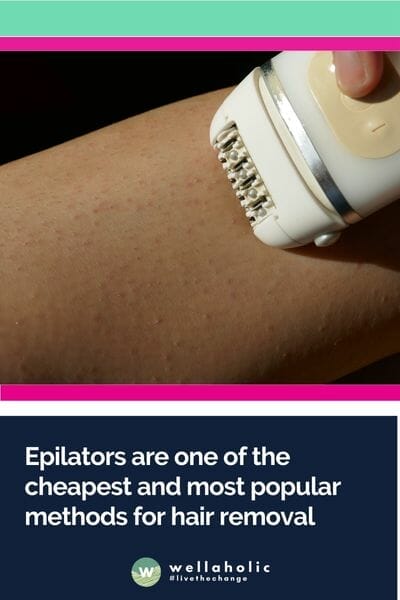 Epilators might be One of the Cheapest Hair Removal Methods
Epilators are one of the cheapest and most popular methods for hair removal. Epilators are devices that use a set of tweezers to remove hair from the root. They can be used on the face, legs, and other areas of the body. Epilators can be expensive, but there are a few models that are affordable.
---
Epilators can be used for Hair Removal for All Hair Types and Colours
Epilating your skin won't change its color or tone. There is a wide variety of different epilators on the market for you. No matter which type of hair you have—coarse, thin, dark, light, or a mix of all these—epilation will remove your hair without the slightest bit of damage.
Epilators can be used Conveniently at Home
Epilators are devices that remove hair by pulling it out from the roots. Epilators can be used conveniently at home, and they are available in different types. Epilators are a great choice for people who want to remove hair from their legs, arms, and other areas of the body. They are also a good choice for people who want to reduce the amount of hair that they have.
The Cons of Using Epilators
Epilators can rather Painful
Epilator agony is really true due to the pain involved. While it can be a bit annoying at first, the agony usually subsides real quick. Most people put up with the pain and learn to stop the epilator before it really hurts. It doesn't take long for most epilator users to learn they can endure a little bit of pain when epilating. However, for some people, the pain from Epilating can be unbearable, especially for certain sensitive body parts such as the privates areas as well as the facial hairs.
---
Epilators can Lead to Ingrown Hairs
It's not unusual for ingrown hairs to arise irrespective of the hair removal method. For those who have trouble with ingrown hairs, epilating can be a drawback. If you regularly exfoliate before and after epilating, you will substantially decrease the likelihood of ingrown hairs. For some, this doesn't help entirely, but otherwise, you'll experience fewer ingrown hairs.
However, if you do suffer from ingrown hairs, then epilating might not be suitable for you.
Epilators can Lead to Skin Redness
When you depilate, your skin will be red. If you intend to depilation, you have to make certain that you're not in a rush. Depilating at night is a practical way to work with this problem, though. It allows your skin to cool off before you have to face the world.
---
Epilators can be Tough on Sensitive Areas
Epilation can be performed almost anywhere on the body yet there are certain people that find it hurtful to epilate only certain areas of the body, for example, their bikini region or legs. Many end up in using an epilator for legs and underarms, but then resort to other methods for their bikini area and face. This is not an ideal option, but might work for you as well.
Do Consider Laser Hair Removal as an Alternative to Epilating
Laser hair removal is a process that uses a laser to remove hair. The laser emits a light that is absorbed by the melanin in the hair follicle. This destroys the hair follicle and prevents the hair from growing back. Laser hair removal is a popular alternative to epilating.
Unlike epilation, you do not need to grow the hair before you remove it. Indeed, you can continue shaving throughout the course of treatments until it has taken effect and you no longer need to. One of the advantages of laser hair removal is that you are far less likely to have ingrown hairs after treatment.
WellaSmooth All-inclusive Laser Hair Removal as an Ideal Alternative to Epilators
WellaSmooth™ All-Inclusive Hair Removal is designed for an all-inclusive fuss-free full-body permanent hair removal experience with a 5-star rating. WellaSmooth™ All-Inclusive Hair Removal includes all-that-you-require shaving service, followed by SHR Unlimited Prestige hair removal which includes unlimited SHR shots for the entire body (including Brazilian/Boyzilian). Also included is our Skin Whitening / Hydrating post-treatment therapy (PTT) followed by our AfterGlow Red Light therapy.
WELLASMOOTH™ INCLUDES ALL THE KEY HAIR REMOVAL SERVICES:
SHR Permanent Hair Removal PRESTIGE Unlimited – Enjoy our bestseller SHR hair reduction treatment for all body parts
Unlimited Shaving Service – Enjoy unlimited shaving service on all body parts
See Over 1800 Positive Reviews of Wellaholic (Customer Verifiable)
Pricing of SHR Hair Removal Treatments by Wellaholic
Wellaholic believes in providing pricing transparency, and hence all prices are published and updated on its website. Choose from unlimited monthly hair removal plans (with unlimited SHR hair removal shots) for unlimited body parts, or choose from per-session hair removal price plans. Wellaholic's hair removal prices are generally divided into the following categories: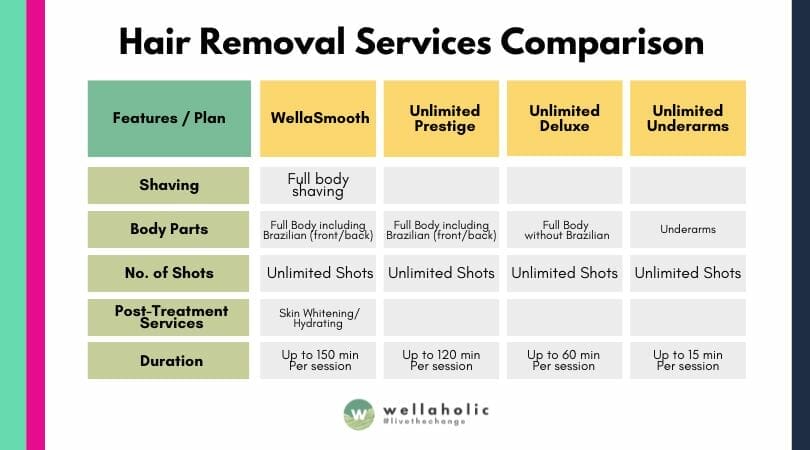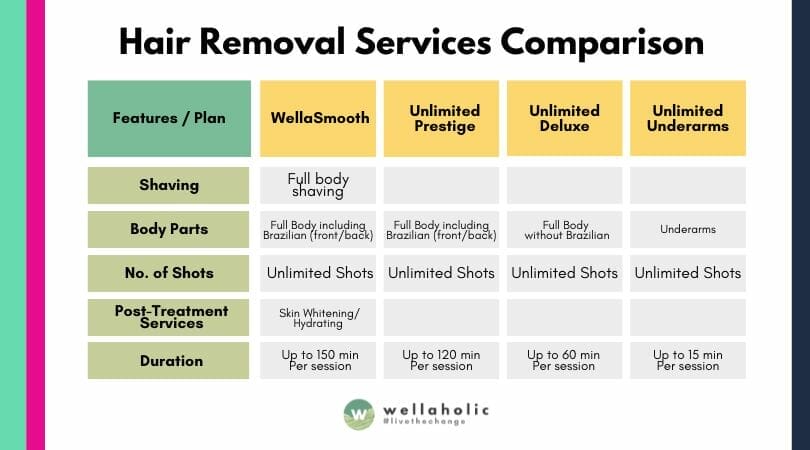 ---
---