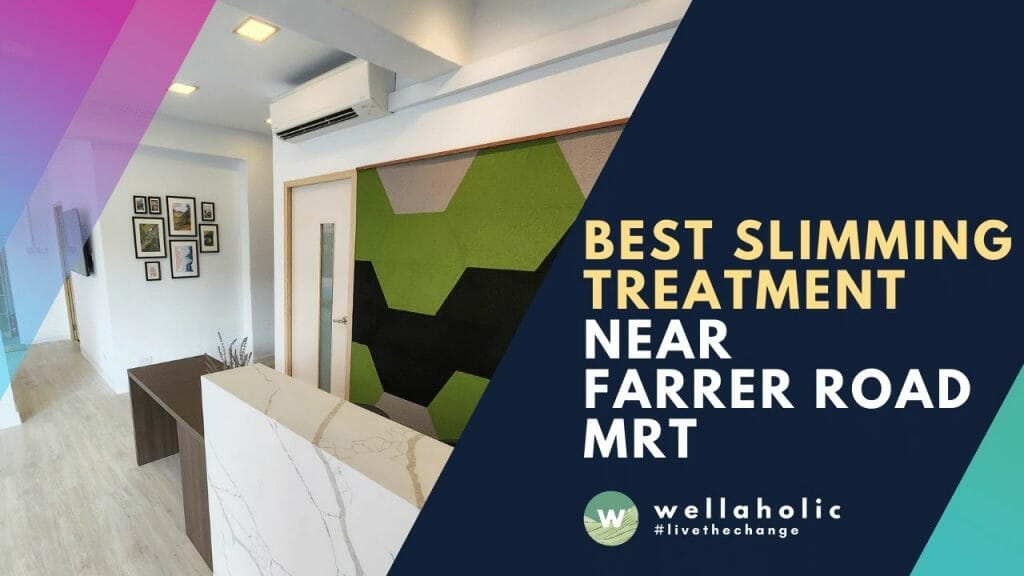 Best Slimming Treatments near Farrer Road MRT – Wellaholic Farrer Road
Looking for Slimming Treatments Near Farrer Road MRT?
Looking for professional slimming treatments that's close to Farrer Road MRT? Or are you near at Holland Village, Botanic Gardens, Buona Vista, Queenstown or Bukit Timah and looking for a reputable slimming and fat loss specialist? Look no further than our trusted experts at Wellaholic (Farrer Road)! Our team of slimming experts provides top-notch slimming treatments including fat freezing, radiofrequency body sculpting, ultrasonic cavitation, laser lipo as well as the removal of stretch marks.
Wellaholic Has a Full Range of Slimming Treatments for Your Fat Management Needs
At Wellaholic, we have a comprehensive range of slimming treatments using different innovative technologies to help you effectively eliminate fat and sculpt your body. These treatments can work on their own or work in combination to help you achieve your slimming goals. To help you easily find out which slimming treatment is ideal for you, we have created this Service Comparison Chart to summarise the key features and aspects of each plan. When in doubt, feel free to drop us a call at our hotline 8181 1814 or Live Chat us to find out more.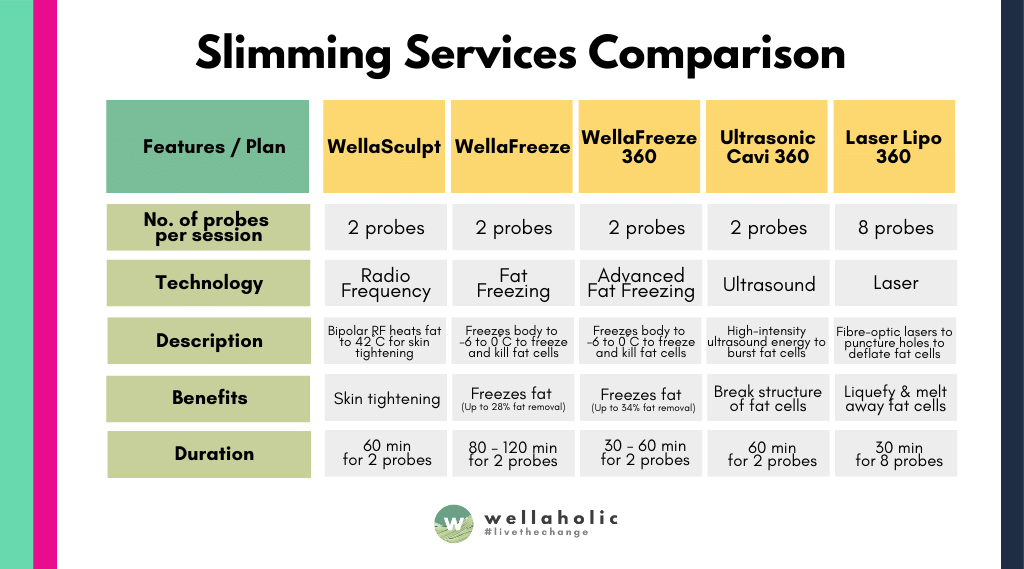 WellaFreeze 360 Fat Freezing
WellaFreeze 360 is the latest generation of fat freezing, based on the latest improved fat freezing technology, designed for customers who are looking to freeze up to 4 body parts at once. Similar to Clatuu 360 or CoolSculpting 360, the WellaFreeze 360 machine is equipped with 4 probes or applicators for concurrent usage. Further more, the latest innovation in the fat freeze 360 probes increases the coverage area – meaning that you can freeze a larger surface area (37% more coverage) per probe. Also, due to its effectiveness and efficiency in freezing, only 30 minutes is needed for a fat freezing cryolipolysis session.
---
WellaFreeze Fat Freezing
WellaFreeze, also known as cryolipolysis, is a non-surgical fat reduction procedure approved by FDA in 2010, which uses cold temperatures to freeze and eliminate fat cells in the body. The procedure is often designed to reduce localised fat deposits or bulges that does not respond well to diet and exercise. During the procedure, a vacuum probe or applicator is placed onto the treated body area to bring it into contact with the cooling panels. The first generation fat freeze technology is able to reduce between 14% to 28% of subcutaneous fat after each session. The eliminated fat cells are naturally disposed by the body between 30 to 90 days after the treatment. Experts agree that the more fat freeze treatments that you have, the more results that you will see, based on conclusive studies.
---
Ultrasonic Cavi 360
Ultrasonic Cavi 360 uses ultrasound fat cavitation to break apart the fat deposits in your body. Also known as ultrasonic lipolysis, this body contouring treatment is also known by other names such as Ultrashape or Liponix. Ultrasonic Cavi 360 is a much safer alternative to surgical options, such as liposuction.
A small 2019 study tested the effectiveness of ultrasonic cavitation for 50 women who were considered medically overweight. Half of the women simply followed a low-calorie diet, while the other half had the low-calorie diet with radiofrequency and ultrasound body contouring procedures. After 5 weeks, the women who had been given ultrasonic cavitation showed a reduction in body fat mass. Interestingly, they didn't lose more weight than the other group — they simply lost body fat.
---
Laser Lipo 360
Laser Lipo 360 laser slimming treatment is a non-invasive, non-surgical procedure which uses low-wave laser energy to eliminate fat from your body effectively with no downtime. Laser Lipo 360 uses lasers to shrink the fat cells instead of removing or destroying them. The fat cells absorb the laser light energy, which causes the fat to escape from the fat cell membrane. After each treatment, metabolic activity such as exercise (brisk walking, etc.) is recommended to accelerate the removal of the release fats from the treated areas.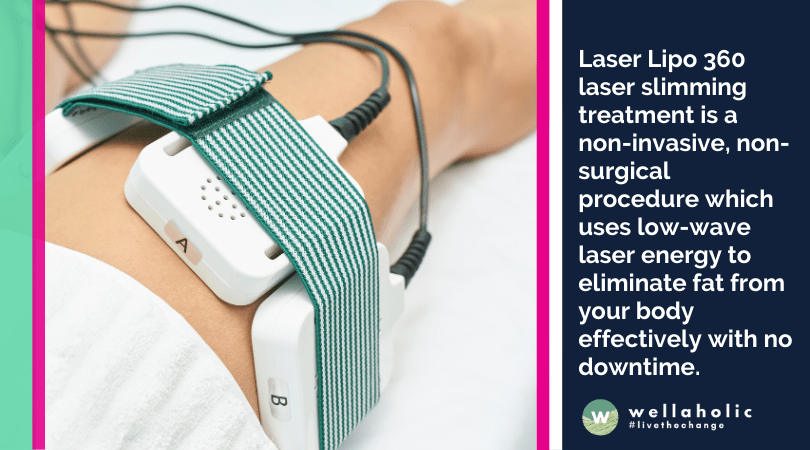 ---
See Over 1800 Positive Reviews of Wellaholic (Customer Verifiable)
Pricing of Slimming Treatments by Wellaholic
Wellaholic believes in providing pricing transparency, and hence all prices are published and updated on its website. Choose from a single-session plan or choose a multi-session plan for greater discounts. Wellaholic's slimming treatmentes are generally divided into the following categories: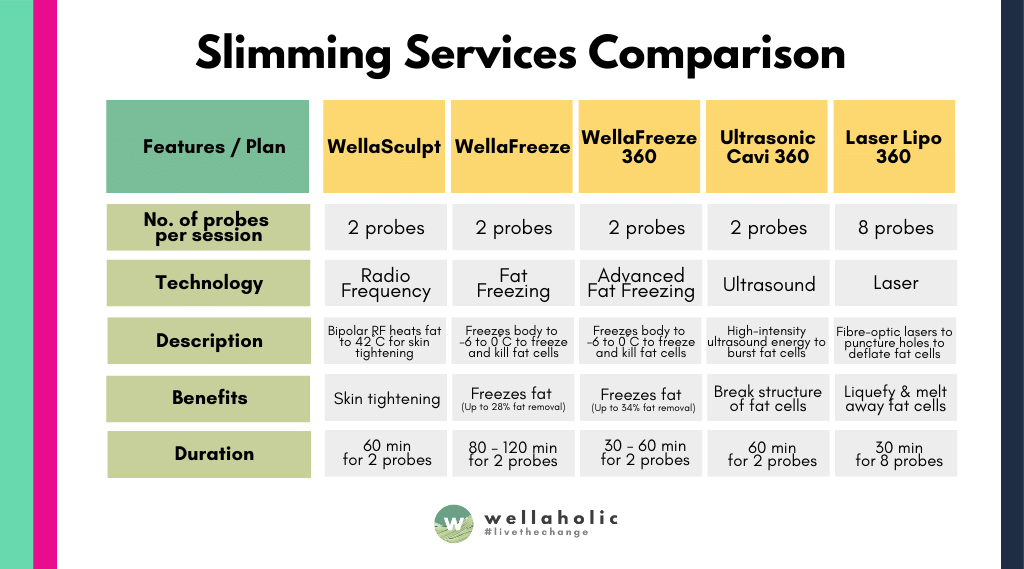 Please click on the menu below to see the pricing for the various slimming treatments by Wellaholic. Prices are nett and inclusive of GST.
---
Wellaholic's Commitment to Price Transparency and No Hard-selling
Wellaholic's commitment to transparency becomes a perfect complement to our quality treatments. We don't say this lightly: we don't do hard-selling. We don't have any trial sessions that distort the prices of our treatments. All our prices are stated clearly on our website, and on the brochures at our outlets. So, rest assured, you will have your peace of mind at Wellaholic.
---