How to Prevent and Treat Ingrown Hairs
What is an ingrown hair?
An ingrown hair is a strand of hair that grows back into your skin after shaving, tweezing or waxing. They may be painful or itchy, and they commonly appear around your face, legs, armpits and pubic area. An ingrown hair is a strand of hair that grows back into your skin after shaving, tweezing or waxing. They may be painful or itchy, and they commonly appear around your face, legs, armpits and pubic area.
What are the causes for ingrown hair?
In-grown hair is an usual problem. It takes place when the far end of a hair expands back right into the skin as well as triggers an inflammatory reaction. Cutting, waxing, or tweezing hairs can trigger this condition. An ingrown hair takes place when a cut or tweezed hair grows back into the skin. It can cause swelling, pain and tiny bumps in the location where the hair was gotten rid of.
Ingrown hair is a common condition that results from hair removal, especially when the hairs are pulled out of the skin, as a result from waxing, sugaring, tweezing or related. Ingrown hair can affect anyone who removes hair by shaving, tweezing or waxing.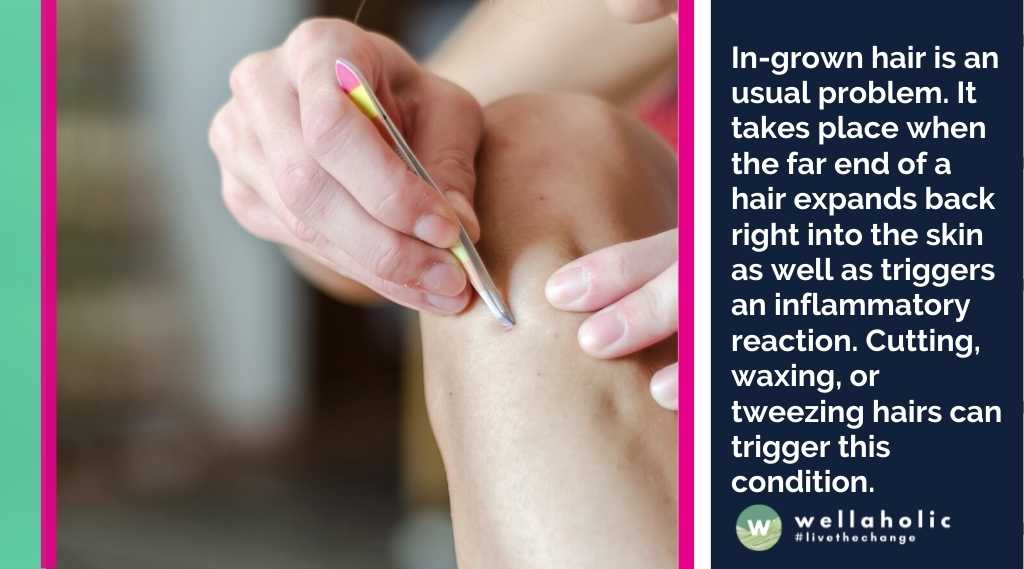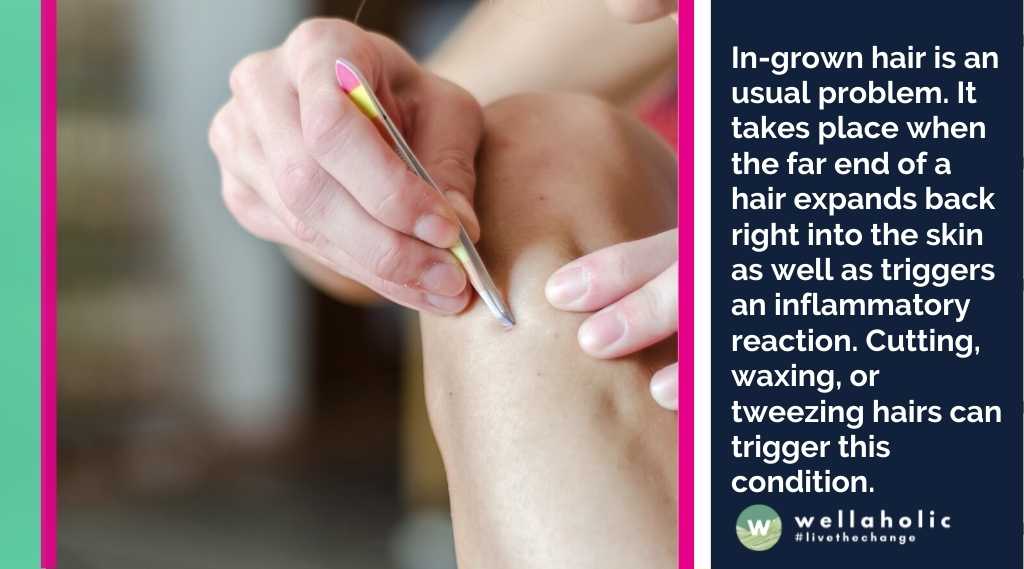 What are the symptoms of ingrown hair?
Ingrown hairs most commonly appear in the beard area, including the chin and cheeks and, especially, the neck. They can appear on the scalp in those who shave their heads. Other common areas for ingrown hairs are the armpits, pubic area and legs. Ingrown hairs can lead to mild infections, skin bump, irritated skin, etc.
Signs and symptoms include:
Small, solid, rounded bumps (papules)
Small, pus-filled, blister-like lesions (pustules)
Skin darkening (hyperpigmentation)
Pain
Itching
Embedded hairs within hair follicles 
How do you Treat Ingrown Hairs?
Generally, ingrown hair prevention is easier than ingrown hair treatment. An ingrown hair often heals on its own. But for chronic ingrown hairs, treatment may include:
Letting the hair grow longer before shaving it 
Focus on gentle exfoliation and physical exfoliation with lukewarm water to keep the skin hydrated and open the pores and follicles for easier treatment
Not shaving the area in the future. If you must trim the hair, use a clipper not a razor. Or try not to shave as closely. 
Take extra care when shaving the pubic hair area and areas with sensitive skin 
Removing the hair permanently through electrolysis, laser, or liquid or cream (depilatory) methods. 
If there's already an infected area due to ingrown hair, apply an antibiotic cream or tea tree oil and avoid tight clothing
Try to use an ingrown hair tweezer to remove the ingrown hair, otherwise the skin infection will continue
How to Prevent Ingrown Hairs?
You might be able to prevent ingrown hairs by:
washing your skin with warm water and a mild facial cleanser (warm compress)
exfoliating the skin surface before you shave 
using a single blade with a sharp edge / sharp blade or electric shaver
shaving in the direction of hair growth 
using shaving creams to cleanse the area
Exfoliating Your Skin before Shaving
Before you break out the razor, it's important to exfoliate your skin. Exfoliating helps to remove dead skin cells, which can clog your pores and cause razor burn. It also helps to soften the hair on your legs, making for a closer shave. To exfoliate your skin before shaving, simply massage a sugar scrub into wet skin using circular motions. Rinse the scrub off with warm water and follow up with your favorite shave cream or gel.
---
Shaving in the Direction of Hair Growth
Shaving is a daily routine for many people, but have you ever considered the direction in which you shave? Turns out, it matters. Shaving in the direction of hair growth can result in a closer shave and less irritation. The key is to use short, downward strokes and avoid going over the same area multiple times. Give it a try next time you reach for your razor!
---
Consider Laser Hair Removal like SHR
Laser hair removal is a popular treatment to remove unwanted hair. The laser targets the hair follicle and destroys it, preventing the hair from growing back. There are many different types of lasers used for this purpose, but SHR is the most effective. It uses a low-energy laser to slowly heat the hair follicle until it is destroyed. This method is much less painful than other types of laser hair removal and has fewer side effects. Laser hair removal can target the hair follicles and prevent them from growing, thereby preventing ingrown hairs.
Prevent Ingrown with Wellaholic's SHR Hair Removal treatments
SHR hair removal technology is newer and more effective than IPL hair removal. SHR laser treatment can target the hair follicles to remove unwanted hair. SHR causes minimal pain due to the cool touch laser hair removal methodology as compared to IPL. SHR can cover all parts of the body such as hair removal for face, arms, legs, underarms, etc. SHR causes less discomfort as compared to IPL hair removal. SHR is also suitable for all hair types and skin tones as compared to IPL, making it an effective means for permanent hair reduction.
At Wellaholic, we have many customers who have tried waxing and sugaring, but the ingrown hairs have caused painful pimples and cysts to form, as the ingrown hairs are stuck beneath the skin. With SHR hair removal, we are able to target the hair follicles and stop them from growing after a period of time. In this way, there will be no ingrown hairs, while achieving the goal of permanent hair reduction for gentle, smooth skin.
See Over 2000 Positive Reviews of Wellaholic (Customer Verifiable)
Pricing of SHR Hair Removal Treatments by Wellaholic
Wellaholic believes in providing pricing transparency, and hence all prices are published and updated on its website. Choose from unlimited monthly hair removal plans (with unlimited SHR hair removal shots) for unlimited body parts, or choose from per-session hair removal price plans. Wellaholic's hair removal prices are generally divided into the following categories: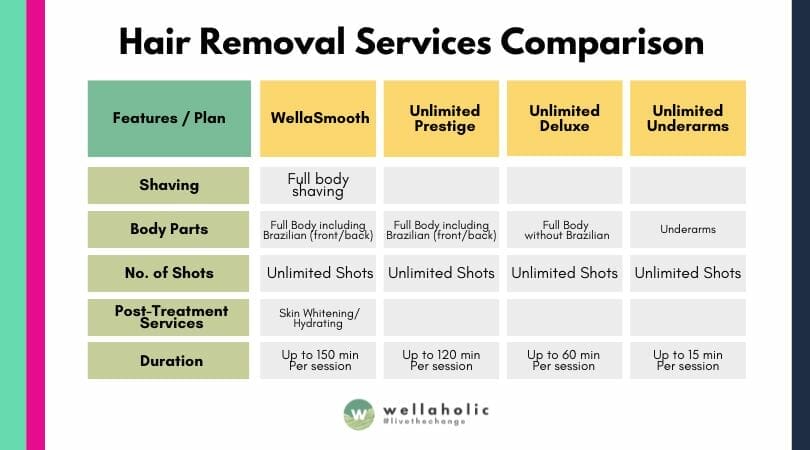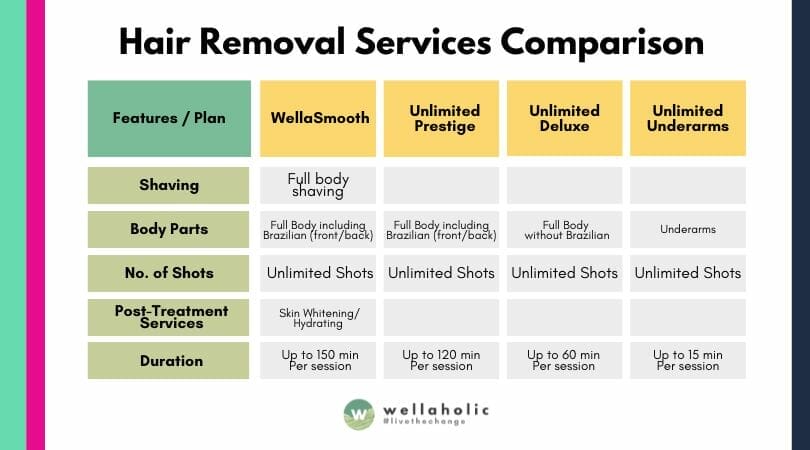 ---
---