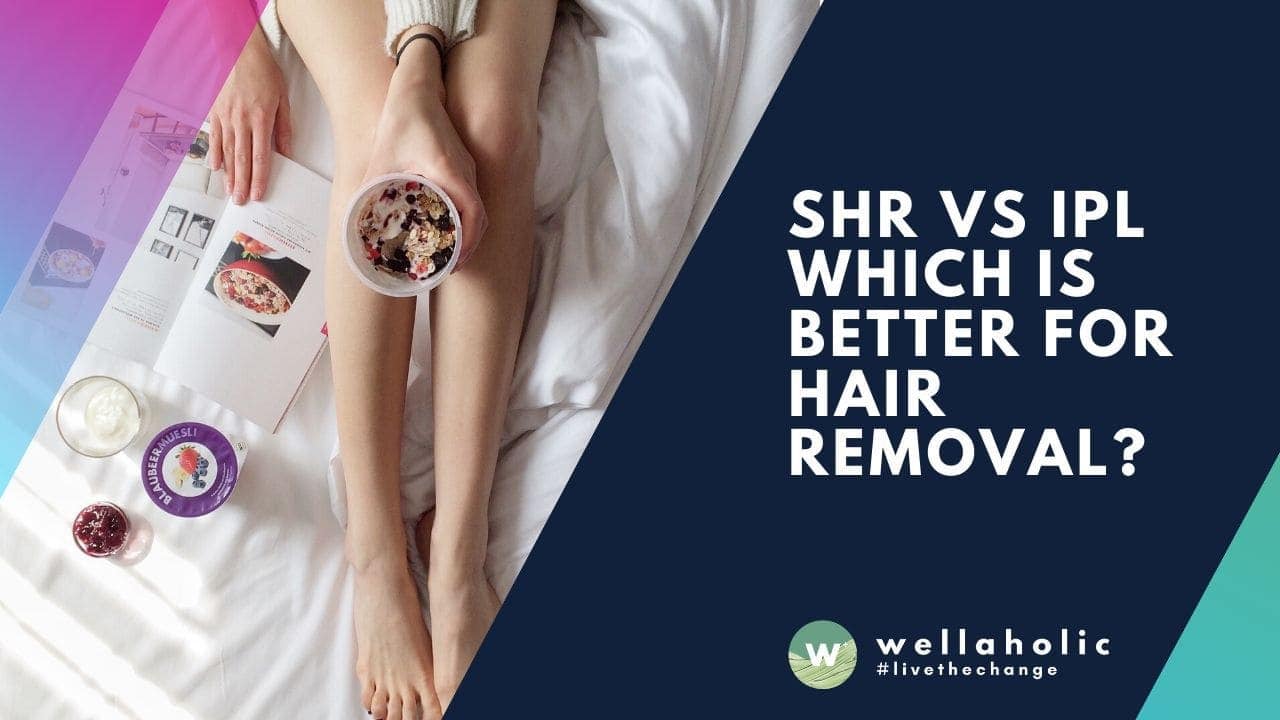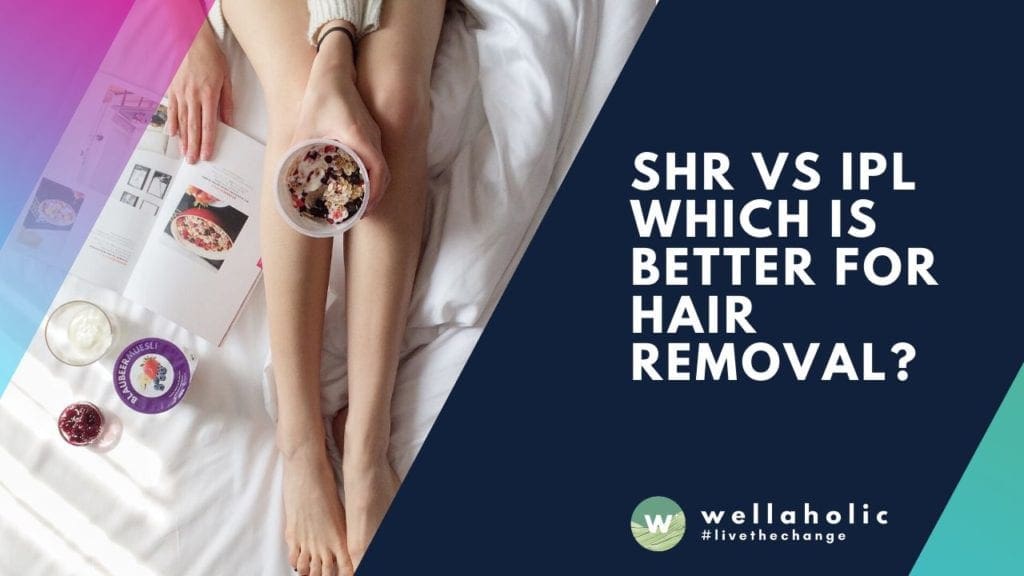 Super Hair Removal – Why is SHR Better Than IPL For Hair Removal?
SHR vs IPL – Why SHR Hair Removal is Better
Introduction to SHR technology as a newer and better form of permanent hair removal
​Now, when it comes to the topic of hair removal, you might be familiar with the various forms of hair removal, be it shaving, epilating, tweezing, waxing and IPL (intense pulsed light) hair removal.
Laser hair removal treatments are now seen as the most effective method of hair removal for all hair type. While IPL used to be the most popular form of permanent hair removal, many people are starting to pay attention to SHR (Super Hair Removal) as the better alternative to IPL.
In this article, Wellaholic is going to explain why SHR is a better form of hair removal for unwanted hair as compared to IPL in Singapore. Compare between IPL vs SHR hair removal. We will dive into the science behind IPL hair removal and SHR hair removal, and explain why SHR technology has many advantages over IPL for permanent hair removal. IPL or SHR? You decide.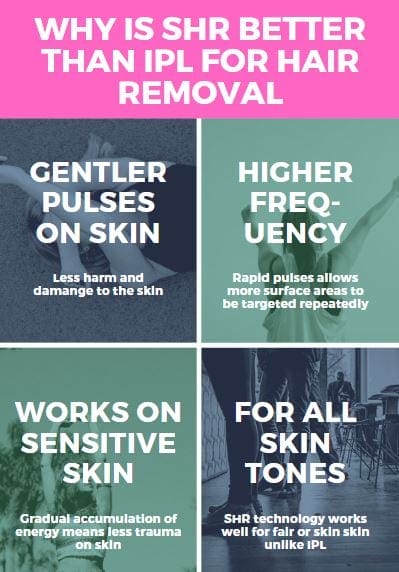 What is IPL Hair Removal?
First and foremost, IPL (or intense pulse light) uses a single pulse of energy, at high intensity, which targets the customer's hair follicles and melanin. IPL simply works by releasing light in multiple wavelengths directly into the dermis. Melanin is produced in specialised cells called melanocytes. The intense light and energy from IPL is converted into heat energy and is able to cause damage to the hair follicles without causing too much damage to the skin. This makes IPL more suitable for people with darker and coarser hair. Establishments which offer IPL include Japan IPL, Musee Platinum as well as Lush Aesthetics.
​A person with fairer skin will likely require more sessions as the IPL hair removal technology is less effective on them. On the other hand, while IPL is effective for darker-skinned people (darker skin tone), they may have more uncomfortable session (i.e. PAIN!) since their skin will be absorbing more heat energy which would then be translated into pain when the heat affects the nerves.
What is SHR or Super Hair Removal?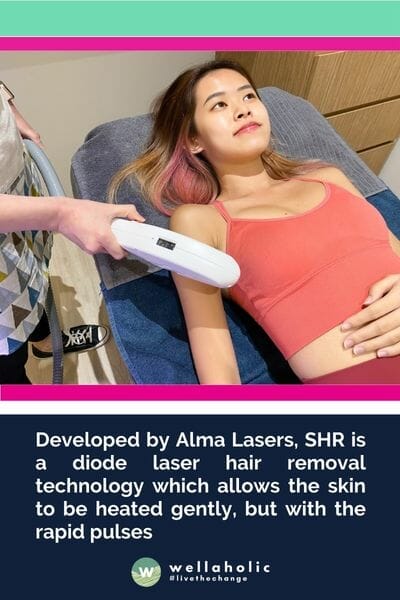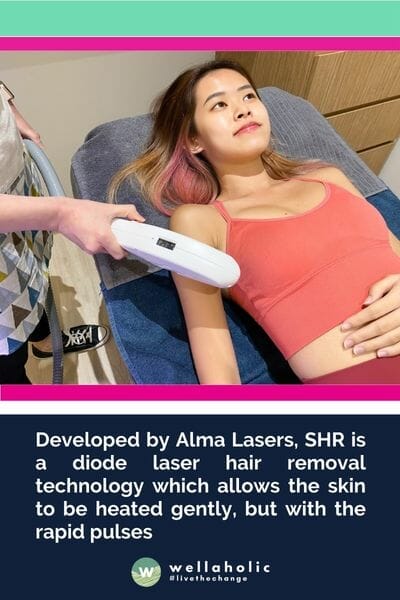 SHR or Super Hair Removal is a relatively newer technology which uses low energy and rapid pulsing diode laser but at a higher frequency. Developed by Alma Lasers, this diode laser hair removal technology allows the skin to be heated gently, but with the rapid pulses, the energy is then accumulated by the skin. While 50% of the energy is targeted at the melanin (similar to IPL), the other 50% targets the stem cells responsible for hair production.
SHR thereby targets both fine and coarse hairs
​This is a very important point to note as SHR thereby targets both fine and coarse hairs. Ultimately, this leads to less discomfort and pain, yet an improved efficacy. SHR is most effective during the active growth phase (anagen stage of hair growth) hence shaving a day before treatment or just before the hair removal treatment is most recommended.
SHR is often considered to be one of the best laser hair removal treatment
Because of the gradual accumulation of the energy into the skin, there is less trauma and irritation on the skin – making it ideal and suitable for everyone, regardless of skin tone and skin types and even for customers with sensitive skin. In fact, SHR is often considered to be one of the best laser hair removal treatments in Singapore given the various technologies. SHR hair removal is very ideal for Brazilian Hair Removal as it is more gentle on the skin. 
SHR vs IPL Hair Removal: Why is SHR Better Than IPL?
There are many reasons why SHR hair removal is better than IPL hair removal. For one, SHR is much more comfortable for the client. With IPL, there is a risk of burning the skin, but with SHR there is no such risk. SHR also has a higher success rate in terms of permanently removing hair. IPL can sometimes only temporarily remove hair, but SHR will permanently remove it. Finally, SHR is less expensive than IPL, so it is a great option for those on a budget. If you're considering permanent hair removal, SHR might be the answer for you. It gives great results, and it's even more cost-effective than IPL.
How Many SHR Treatments are Necessary for Effective Hair Removal?
​If the hair is in the anagen phase of growth during treatment, which refers to the active (hair) growth phase, it can be easily destroyed as in the case with IPL technology.
The advantage of SHR hair removal in this case is that it can work with customers during both their anagen phase and non-anagen phase, as SHR can target the 50% of the stem cells.
Nevertheless, a three-to-four week recovery or "down" time is required to meet this anagen phase as well as to give the skin a recovery time before the next treatment.
Wellaholic is One of the Pioneers for SHR Hair Removal
Wellaholic is pleased to be one of the first few establishments to offer SHR Laser Hair Removal since 2016. In order to help our customers with their goal of achieving a smooth skin, Wellaholic offers cost-competitive Monthly Unlimited Packages which allows customers hair removal on all body areas (including Brazilian or Boyzilian) at an affordable monthly fee.
In addition, Wellaholic's SHR machines are serviced and calibrated regularly to ensure optimum efficacy. Our staff are also trained to ensure that the best experience towards permanent hair removal for our customers. The pulses of energy (light energy) from SHR hair removal is a hair removal method ideal for facial hair, body hairs with minimal pain, due to the gentler pulses from SHR technology.
Our constantly R&D in the SHR treatment procedure has helped us clinch several awards, including the following:
Best Hair Removal Treatment 2021 – Daily Vanity Spa & Beauty Awards 2021
Best SHR Treatment 2020 – Beauty Insider Spa & Salon Awards
Best Hair Removal Services 2019 – Beauty Insider Spa & Salon Awards
Best IPL/SHR Treatment 2019 – Daily Vanity Spa & Hair Awards 2019
Most Popular Hair Removal Treatment – Critic's Choice Awards 2019
Certificate of Excellence 2019 – TripAdvisor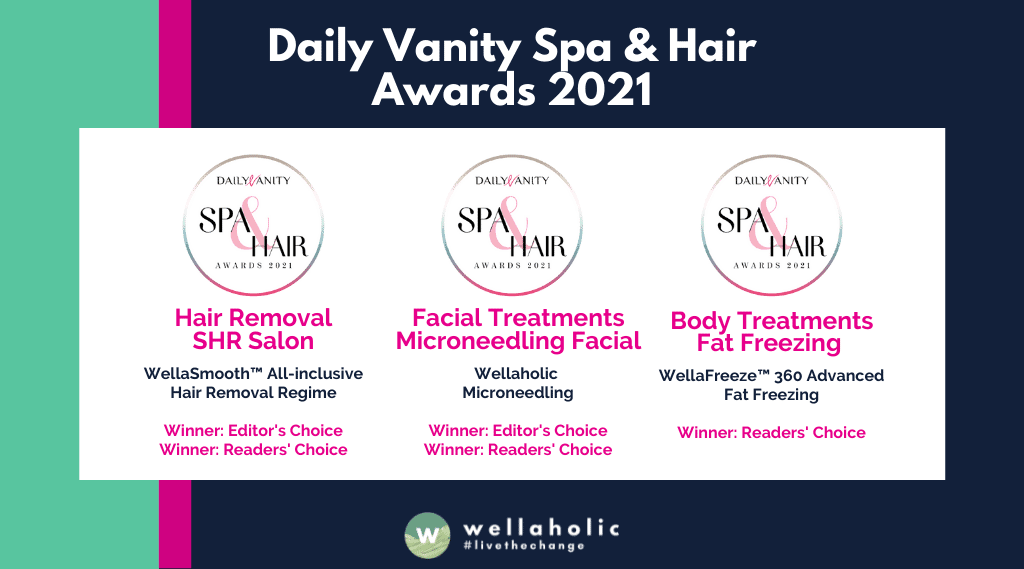 Wellaholic is Featured in AugustMan Magazine for our SHR
Wellaholic is featured in AugustMan Magazine for our SHR hair removal treatment. Read the excerpt below, or read the full article here.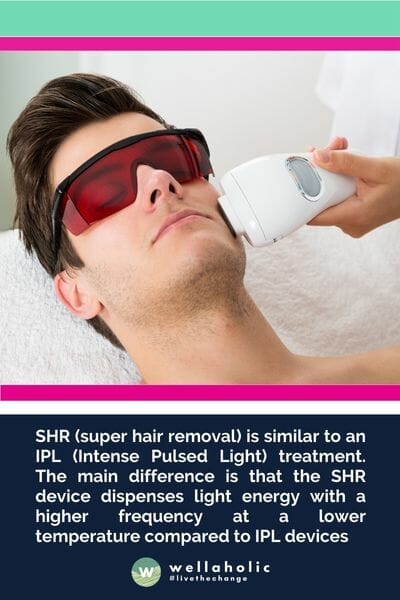 ​​SHR (super hair removal) is similar to an IPL (Intense Pulsed Light) treatment. The main difference is that the SHR device dispenses light energy with a higher frequency at a lower temperature compared to IPL devices. This newer technology is touted to be more effective at nixing hair follicles while posing less discomfort.
Procedure: After being stripped and shaven clean to expose the hair follicles, aloe vera gel is applied to protect the skin. The aesthetician then carefully works the device over the desired areas in swift motions. Unlike in IPL where the treatment feels like getting snapped by multiple rubber bands, SHR feels like being passed over by shots of warm air.
Results: Effects of weakened follicles (slower regrowth and finer hair strands) are apparent after five to seven sessions.
Pros: The process was painless and the effects are lasting.
Cons: It's costly and results are not immediate – they can only be seen after five to seven treatments.
Post-care tip: Exfoliate in between appointments.
We recommend: Boyzilian at Wellaholic. More details are available at www.wellaholic.com.
---
WellaSmooth All-inclusive Hair Removal by Wellaholic
WellaSmooth™ All-Inclusive Hair Removal is designed for an all-inclusive fuss-free full-body permanent hair removal experience with a 5-star rating. WellaSmooth™ All-Inclusive Hair Removal includes all-that-you-require shaving service, followed by SHR Unlimited Prestige hair removal which includes unlimited SHR shots for the entire body (including Brazilian/Boyzilian). Also included is our Skin Whitening / Hydrating post-treatment therapy (PTT) followed by our AfterGlow Red Light therapy.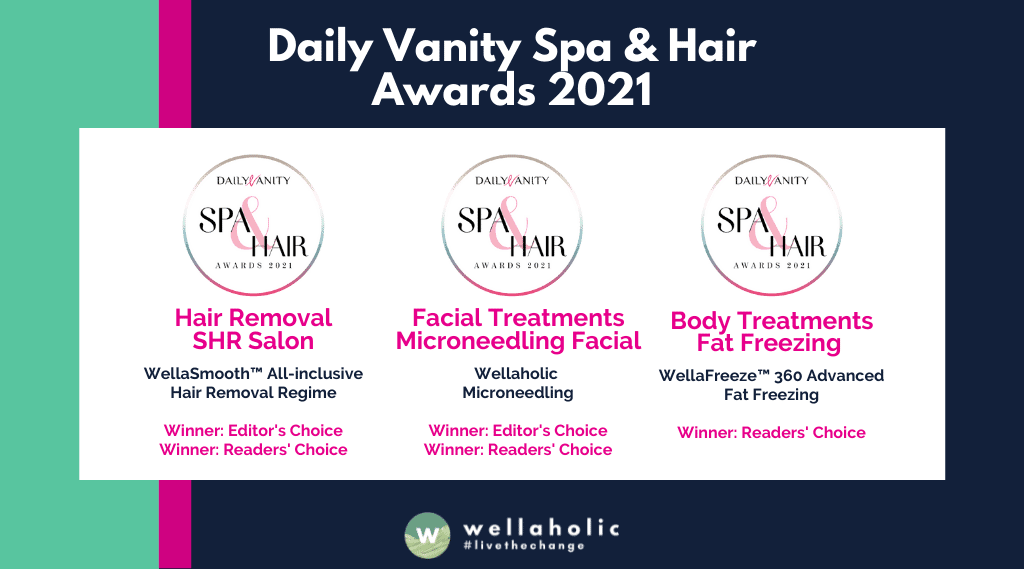 What is WellaSmooth™ All-inclusive Hair Removal Regime?
Voted Best Hair Removal Treatment by Daily Vanity Spa and Beauty Awards 2021.
WellaSmooth™ All-Inclusive Hair Removal is designed for an all-inclusive fuss-free full-body permanent hair reduction experience.
WellaSmooth™ All-Inclusive Hair Removal is ideal for all skin color, hair color, and all forms of hair.
Also include is all-that-you-require shaving service for all body parts including your private regions.
WellaSmooth™ All-Inclusive Hair Removal also includes the Skin Whitening / Hydrating (PTT) with AfterGlow™, which includes post-hair-removal skin whitening or skin hydration followed by our AfterGlow Red Light therapy for enhanced skin rejuvenation.
Achieve smooth and glowing skin that will wow everyone.
This treatment is ideal for both men and women, by male and female therapists.
Get a package and choose your shaving, SHR permanent hair removal and post-treatment whitening and hydration done at any of our multiple outlets across Singapore.
WellaSmooth™ is your ultimate all-inclusive hair removal treatment in Singapore complete with shaving and post-treatment care.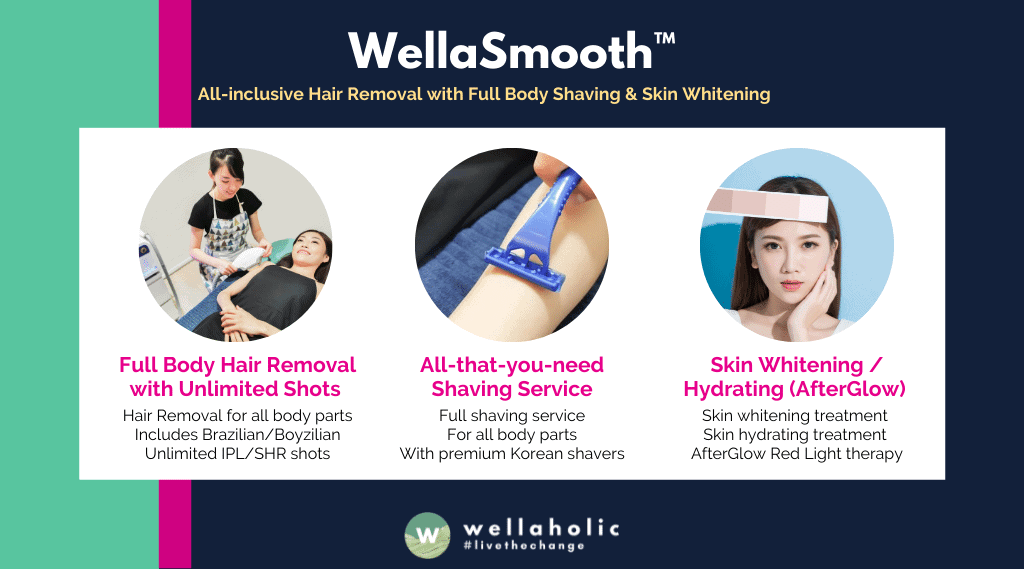 WellaSmooth™ Includes the Following Three Hair Removal Services
SHR Permanent Hair Removal PRESTIGE Unlimited – Enjoy our bestseller SHR hair reduction treatment for all body parts
Unlimited Shaving Service – Enjoy unlimited shaving service on all body parts
Skin Whitening/Hydrating (PTT) with AfterGlow – Enjoy post-treatment whitening or hydrating therapy followed by AfterGlow red-light treatment to rejuvenate your skin
See Over 1800 Positive Reviews of Wellaholic (Customer Verifiable)
Pricing of SHR Hair Removal Treatments by Wellaholic
Wellaholic believes in providing pricing transparency, and hence all prices are published and updated on its website. Choose from unlimited monthly hair removal plans (with unlimited SHR hair removal shots) for unlimited body parts, or choose from per-session hair removal price plans. Wellaholic's hair removal prices are generally divided into the following categories:
---
---