Lifetime Maintain Mode for SHR Hair Removal
At Wellaholic, we are constantly reviewing our Brand Promise, which is to:
​
1. Provide affordable treatments for our customers
2. Help our customers see results with treatments that are backed by science and research
3. Ensure availability of capacity so that customers can make booking easily online
4. Deliver exceptional customer service, and listen to our customers
Our LIFETIME MAINTAIN MODE is our latest effort to make sure that our customers continue to see results over their lifetime. While SHR hair removal helps permanently remove hair after 8 to 12 sessions, we have a small number of customers that see hair growth in specific areas after some time has passed. This could be due to their genetics (specifically hair gene Lhx2). We felt that it is not fair for customers to pay a full price again to treat the area again.
​Our proposed solution: a LIFETIME MAINTAIN MODE that allows our loyal member customers to pay for a specific treatment to "shock" the follicles of a specific body area to stop them from growing.
This is not only valid to new customers but all our past and existing customers who bought a SHR service from us since August 2017. By providing this affordable option to our esteemed customers, we not only aim to improve on our Brand Promise, but also to provide a lifetime guarantee of Team Wellaholic's efforts to help our customers to look their best.
Pricing of SHR Hair Removal Treatments by Wellaholic
Wellaholic believes in providing pricing transparency, and hence all prices are published and updated on its website. Choose from unlimited monthly hair removal plans (with unlimited SHR hair removal shots) for unlimited body parts, or choose from per-session hair removal price plans. Wellaholic's hair removal prices are generally divided into the following categories: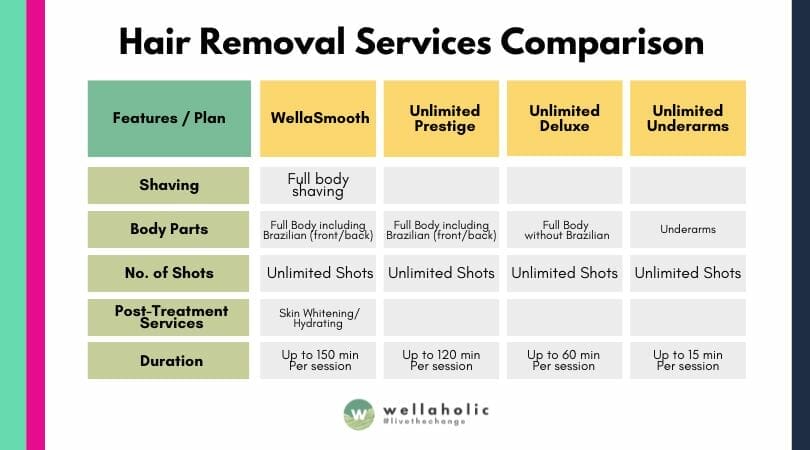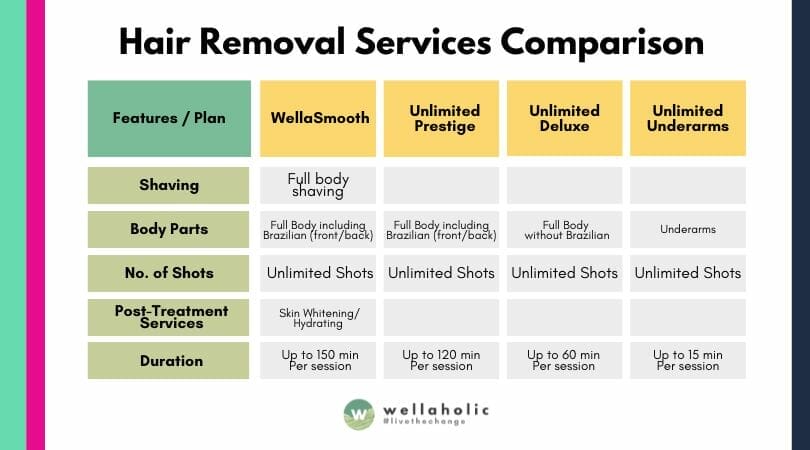 ---