Top 10 Tips for a Better Shave
Introduction
Now, shaving might be something that you do on a regular basis (although the Wellaholic Team here would like to recommend hair removal if you have not tried it before – it's so convenient!), you might not be doing it the right way, and as a result causing issues such as ingrown hairs, shaving burns and other discomfort associated with shaving. This quick shaving guide by Wellaholic shares the insiders' tips on how to achieve a better shave. Keep on reading!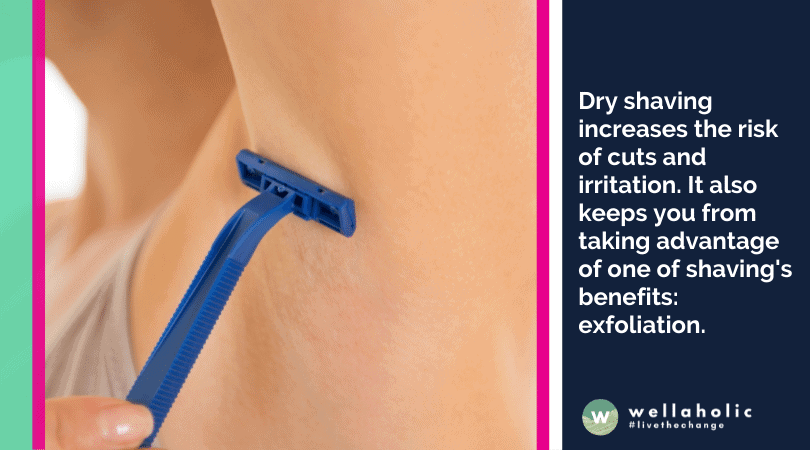 1. Never Dry Shave ​
​Dry shaving increases the risk of cuts and irritation. It also keeps you from taking advantage of one of shaving's benefits: exfoliation. You are going to get a more effective exfoliation in case you soften your skin first, which is why she urges shaving close to the end of your bath or shower time. She says that your skin requires a minimum of 10 minutes from the warm water to soften satisfactorily.
Did you know that if you're going to shave, it's best to do it at night? We know it sounds a little bogus, but beauty experts claim that when we sleep, our legs tend to swell up a bit causing hairs that we missed while shaving to sink back into the follicle. When you wake up the following morning, you'll notice legs feel and appear smoother because they're still a bit swollen from the night before.
2. Exfoliate before Shaving
Exfoliating skin before shaving helps prevent the razor from becoming overloaded with dead skin cells, which can make the blade less efficient, says Sondra Powell, manager of the aesthetics program at the nonprofit Cleveland Clinic A loofah or body scrub product will work for exfoliating, Powell says. But to trim costs, try a loofah first because many can be machine-washed and reused.
​Don't forget you can use the classic exfoliation products such as loofahs and bath scrubs prior to shaving. Exfoliating first helps keep the razor from getting overloaded with dead skin cells, which reduces its efficiency. By scrubbing off dead skin cells, exfoliation helps expose hair follicles, which allows the razor to lift them more easily, resulting in a smoother shave.
3. Choose Cold Water over Warm Water
​If you prefer hot shower or tub water, be certain you cool down the temperature a little before shaving. Your skin may become overly soft and therefore more vulnerable to cuts if it is in hot water too long. ​When the skin is completely clean you should then rinse your face with very cold water. The cold water will help to constrict the open pores, stop any minor nicks you might have picked up and it will begin to calm the skin.
4. Ditch the Soap for the Shaving Cream or Foam
​​Lots of men and women think soap and water give a fantastic lubricant for helping the razor glide along the skin, but it might have an astringent effect, resulting in dry, flaky skin after drying. Rather, use a foam or gel formulated specifically for shaving or perhaps hair conditioner or body oil — to help the razor glide along more readily. And these products will keep your skin soft and supple nicely after you dry off it.
Avoid irritants While shaving products like creams and gels have a consistency that is preferable to thin bar-soap lather, they can still upset skin if they contain irritating ingredients such as fragrance, alcohol or menthol. ​ ​But you needn't shell out on expensive shaving oils, an organic Sunflower or Safflower oil that you can pick up at health foods stores will provide the necessary lubrication and nourishment for a close, smooth shave.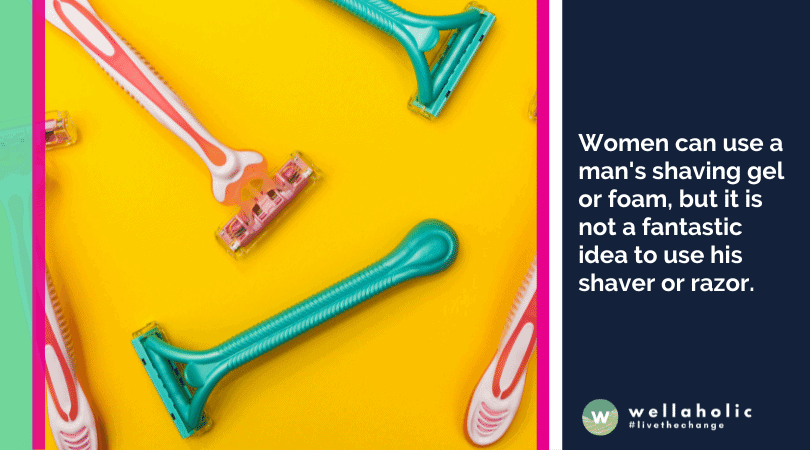 5. Ladies, Avoid Using Men's Shaver!
Women can use a man's shaving gel or foam, but it is not a fantastic idea to use his shaver or razor. Men's razors are designed for the hair growth characteristics of a person's beard. ​Use a razor created particularly for girls as they're intended to work in body hair and its specific growth pattern. The same holds for men — avoid using your lady's razor if yours is becoming dull.
6. Focus on the Direction of the Hair Growth
​Pay attention to the direction of hair growth. For instance, hair will grow downward on the thighs. Shave up to get the most rapid results. When it comes to underarm hair, try to first shave up to acquire the exposed rotating shaft, and then reverse direction to get the root.
Try glycolic acid If you're prone to razor bumps that stem from ingrown hairs caused by shaving, look for a lotion with glycolic acid, an acidic substance classified as an alpha hydroxy acid (AHA). Try Some "Advanced" Shaving Tricks on Small Areas This is not for everyone, but if you have small areas of stubble or rough patches, you can try some techniques like "J-Hooking" or "Blade Buffing" to cover those areas without re-shaving–and possibly getting irritation–over a wider area. ​
7. Close Your Pores before Shaving
​The warm water of a bath or shower opens skin pores. You may want to employ a hydrating moisturiser immediately after drying off to prevent flakiness and drying out. Should you use self-tanning lotion, this is the opportunity to use it.
The procedure for wax hair removal leaves pores open. If you then apply self-tanning cream, then the product can enter the pores and provide you a freckled look as opposed to a smooth tan. Even if it still cuts well, a razor with impacted waste can introduce bacteria into open pores or cuts and cause an infection. ​
8. Will Hair Regrow Thicker? Probably Not
​Ignore myths about thicker hair regrowth. Stories abound that shaving stimulates hair growth and causes it to return thicker and faster than ever before. This just is not true. Hair may seem thicker when growing back in after a shave, but it is just an illusion. New growth of about an inch per month is ordinary. Hair growth rate and volume is controlled from within your body and doesn't have anything to do with all the external action of shaving.
9. Always Protect Your Skin from the Sun
Use sunscreen at all times, not only when lounging in the beach or pool. After shaving, your skin becomes more sensitive and the sun's harmful rays can cause greater harm than ever. Ideally, you must wait 24 hours before exposing freshly shaved skin to extended periods in the sun. Or better still, avoid the sun as much as you can (special recommendation from Wellaholic).
10. Replace Your Shavers Regularly
If you discover an accumulation of gunk or waste in your razor, don't try to wash it out using a brush or other instrument. If the waste does not rinse out easily using a stream of water, this is the first indication that you have to replace your razor. Even if it cuts well, a razor with affected waste can introduce bacteria into open cuts or pores and lead to an infection.
If you use an electric shaver:
Shake hair out of the shaver regularly. After removing the shaver head, tap the body with your finger to shake out loose hairs.
Clean your shaver thoroughly once a week. Daily maintenance doesn't need to go beyond shaking out loose hairs.
Replace all cutting parts every 18-24 months.
---
Or try Wellasmooth all-inclusive hair removal?
WellaSmooth™ is designed for an all-inclusive fuss-free full-body permanent hair removal experience, completed with all-that-you-require shaving service and our amazing Post-Treatment Therapy (PTT) with AfterGlow which helps with your skin whitening, hydrating and rejuvenating. Result? Smooth and glowing skin that will wow everyone. WellaSmooth is a laser hair removal for both men and women, by male and female therapists.
​​
WellaSmooth™ is your ultimate all-inclusive hair removal treatment in Singapore complete with shaving and post-treatment care. ​
​WELLASMOOTH INCLUDES ALL THE KEY HAIR REMOVAL SERVICES:
SHR Permanent Hair Removal PRESTIGE Unlimited – Enjoy our bestseller SHR treatment for all body parts
Unlimited Shaving Service – Enjoy unlimited shaving service on all body parts
PTT with AfterGlow – Enjoy post-treatment whitening or hydrating therapy followed by AfterGlow red-light treatment
Wellaholic Awards for Hair Removal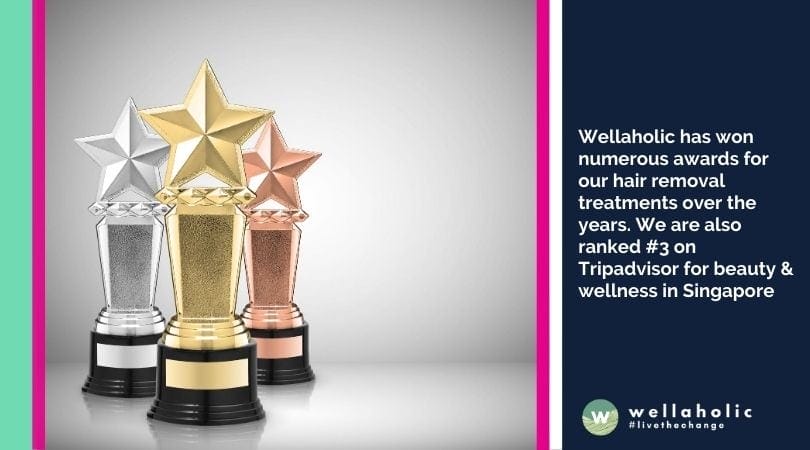 ​Wellaholic has won the following awards, including several for Hair Removal:
+ Awarded Boutique Spa of the Year 2020 by Travel & Hospitality Awards
+ Awarded Certificate of Excellence 2019 by TripAdvisor
+ Awarded Best Start-up & Fast-Moving Company by SME100 Awards 2019
+ Awarded "Best SHR Salon" for Hair Removal by Daily Vanity Spa & Hair Awards 2020
+ Awarded "Best Body Firming & Sculpting" for WellaFreeze by Beauty Insider Spa & Salon Awards 2019
+ Awarded "Best Hair Removal Services" for SHR by Beauty Insider Spa & Salon Awards 2019
+ Awarded "Best SHR Salon" for Hair Removal by Daily Vanity Spa & Hair Awards 2019
+ Awarded "Best Rejuvenating Facial" for Elight by Beauty Insider Spa & Salon Awards 2018
+ Awarded "Best IPL/SHR Treatment" for SHR by Daily Vanity Spa & Hair Awards 2018
Pricing of SHR Hair Removal Treatments by Wellaholic
Wellaholic believes in providing pricing transparency, and hence all prices are published and updated on its website. Choose from unlimited monthly hair removal plans (with unlimited SHR hair removal shots) for unlimited body parts, or choose from per-session hair removal price plans. Wellaholic's hair removal prices are generally divided into the following categories: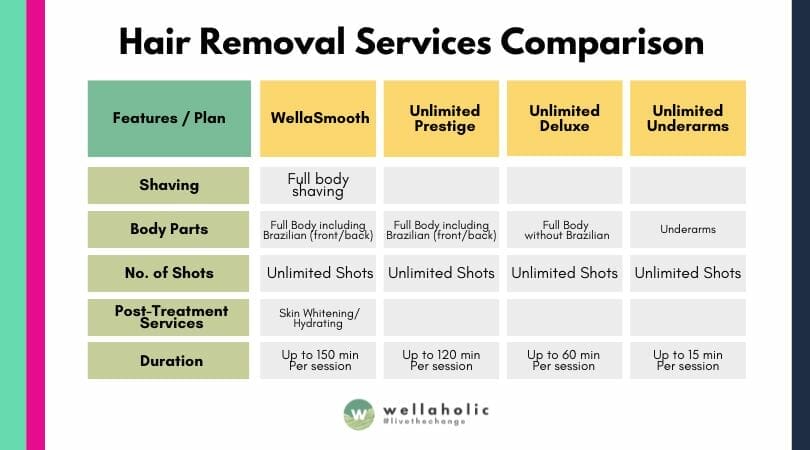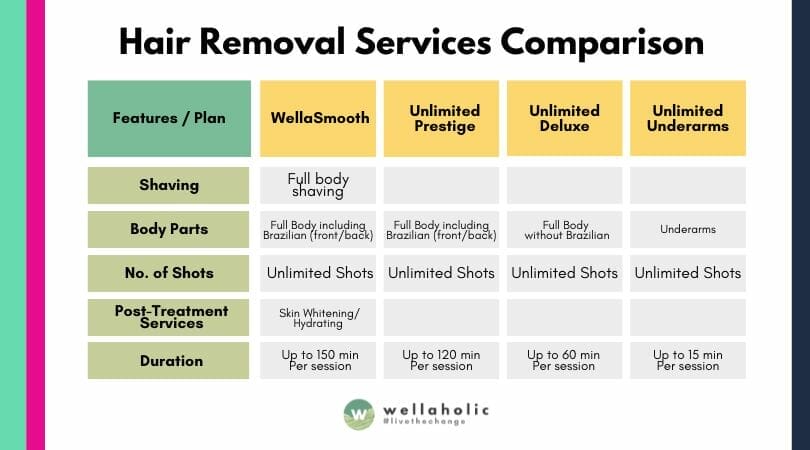 ---