Wellaholic's Guide to Hair Removal from Your Facial Hair to Your Bikini Line
There are many hair removal options to choose from
Whatever you decide to do with your body hair, whether you wish to happily wear and keep it, or laser it off for that smooth and silky result, we support your decision. As well as if you do choose to move ahead with the latter and opt for a hair removal solution, there are numerous things to consider– generally, your preferred method of removal.
There's shaving the area with a razor, tearing the fibers out from their origins with various kinds of wax, meticulously tweezing individual hairs, or considering numerous laser and SHR hair removal sessions (for a long-term option), even utilizing a depilatory cream (which chemically dissolves the hair at skin's surface area). Like we stated, there's a great deal to consider and also a lot of aspects that go into the decision, so we've created all the expert-approved suggestions and also hair reduction techniques you might perhaps need before you set out on the undertaking. Below, you'll discover our detailed guide to hair elimination to aid you explore every one of your alternatives, whether you're concentrating on forming your eyebrows, making your body barer, or just pursuing a few undesirable strays.
---
Hair Removal for Brows
Tweezing Brows: Prior to you begin plucking, mark where you desire your brows to begin and also finish with a white pencil. This prevents overplucking your brows, which might lead to an undesirable outcome. The pros' ideal method: Hold the pencil against the side of your nose and put a line where it strikes your brow; turn the pencil diagonally so it touches the outer corner of your eye and also mark that spot; and, lastly, placed a dot simply over the outside of your iris– that should be the acme of your arch. Draw the pencil along the lower edge of your brows, linking the three lines, and after that tweeze only the strays that grow beyond them.
Waxing Brows: First and foremost, do refrain the waxing on your own. (Well-meaning however unqualified pals ought to not make an attempt on your brows, either.) This is one situation where you want the very best specialist available, as just the tiniest little bit of misplaced wax can trigger seriously slipshod brows in just a few seconds (!)
Threading Brows: Eyebrow threading has been around much longer than the treatment's recent rise would have you think. The technique has been used in parts of Asia for centuries to remove unwanted eyebrow hairs. A twisted cotton thread is used to gently pull the hair from the follicle. It may sound tedious, but with an experienced eyebrow threader you can expect to be in and out of the salon within a half hour (or less).
Laser or SHR hair removal for Brows: With laser eyebrow shaping, you never have to worry about your eyebrows again. You can have your eyebrows shaped once with a series of treatments, preventing future hair growth from sprouting in certain areas ever again. With a series of quick 15-20-minute sessions, your eyebrows will be shaped the way you want them for life. To keep patients safe, it is important that your specialist do not administer the laser anywhere below the brow. The safe areas are beside the brow and above the brow, as well as the brow line itself. Anywhere below the brow is too risky, as this might cause the laser to bounce or reflect into the eye. You should also always wear eye protective devices like goggles. At Wellaholic, we recommend using lower energy for the brows to prevent the occurrence of burns.
Hair Removal for Upper Lips
Waxing for Upper Lips: Unlike the brows, this location of the face is fine to deal with in the house. Choose a low-temperature or low-energy package, considering that waxes meant for various other parts of the body can burn the face. Work in three different sections (left side, ideal side, and also facility), spread out the wax downward as well as out from your nose, and always draw the wax strip up when you tear it off.
Laser or SHR hair removal for Upper Lips: Lasers and also SHR hair elimination work by wrecking hair at the root, avoiding it from expanding back for a year (or much longer). Procedure are quick, lasting simply a couple of minutes, and also feel a little like an elastic band being broken versus your face (i.e. not enjoyable, yet not specifically excruciating either.) If you are looking specifically at hair removal for your upper lips, chin, side burns or any facial areas, you can consider Wellaholic's SHR for Small Areas, which start from $45 onwards.
Hair Removal for Underarms or Armpits
Shaving for Underarms: After you've lathered the location with shaving lotion or soap (anything that can oil the location), carefully relocate the razor upward, after that downward, and also finally back and forth in order to strike all of the various hair-growth patterns. As any person that's ever before held a razor understands, stubble will promptly return– occasionally within a matter of hours. To stop nicks and also feasible infection or swelling in the hair roots, Sizanne, our hair removal specialist at Wellaholic, recommends making use of a sharp razor, and also changing out the blade every a couple of cuts.
Waxing for Underarms: There's a simple means to maintain bristle away longer– we're speaking days instead of hours– as well as since there's no shaping entailed, it's simple enough to do in the house. Choose a strip-less wax, which will act like shrink wrap around each and every hair, says Wendy, likewise a hair elimination professional at Wellaholic. Just make certain to operate in really tiny sections as well as to pop some painkillers an hour before waxing. Underarm hair is typically thick and also expands in many different instructions, making it especially excruciating to remove.
Laser or SHR Hair Removal for Underarms: Talk to anyone that's wielded a laser as well as they'll tell you that the underarms produce the most effective outcomes; the hair vanishes the fastest as well as keeps away the lengthiest, with many individuals reporting that they have little or no hair development in the location years after quitting treatment. "Laser hair removal works quite possibly for dark, thick hairs and also completely removes regarding 97 percent of treated hairs," states Wendy, "To optimize results and also minimize issues such as burns, treatment from a professional specialist is always favored." To get to that factor, you'll need about six to twelve sessions. The hair will weaken an increasing number of with each session, and when hairs do start to re-emerge, the occasional maintenance session (once every couple of months) is usually enough to maintain it away. Wellaholic's 12-month SHR Hair Removal for Underarms is only $129, making it a popular option for many Singapore customers.
Hair Removal for Bikini Area
Waxing for Bikini area: Though you can use basically any type of hair-removal technique on this area with some degree of success, waxing can likewise be another excellent option. Whether you favor to leave the waxing in the hands of an expert or you feel up to doing the act in your home, the initial step is to stand out some panadol or painkillers an hour in advance.
Laser or SHR Hair Removal for Bikini area: When it comes to eliminating unwanted hair in your private areas and get rid of your pubic hairs , laser hair removal is the best solution. Shaving around your bikini or butts is tricky work and often results in agonizing side effects like cuts, bumps, and ingrown hairs. Brazilian Waxing is another popular approach but involves ripping and tearing at your hair roots with hot wax, which can be rather uncomfortable, to say the least. Brazilian laser hair removal is an effective method to eliminate undesirable pubic hair – without any razors or hot wax. It also fixes the complicated concern of reaching around back blindly with razors to catch every last roaming hair. Not to get puzzled with a swimwear laser treatment, a Brazilian gets rid of all the hair in your pubic area where a bikini laser treatment just consists of the sides of your pubic area. We may call it a "Brazilian," however the customised of eliminating all the hair from your most intimate areas hails back to 400 BC. Even the ancients thought about a clean look down there to be aesthetically pleasing. Wellaholic's SHR Brazilian/Bikini hair removal starts from $129 per session for both front and back private/pubic areas.
Hair Removal for the Legs
Shaving for Legs: Seventy percent of females are faithful razor customers, according to one market survey, as well as completely reason: Shaving is fast, easy, inexpensive, and efficient on the legs. Make certain to use cutting lotion because it will squeeze out an added millimeter or 2 of hair if you smooth it against the grain as you use it. And arm yourself with a new, multiblade razor every 5 shaves to obtain the best outcomes and protect against irritability.
Waxing for legs: The pain level might be greater, yet the results of waxing can last weeks as well as, in the summer, you might not intend to deal with bristle that begins turning up the day after a fresh shave. Just like other locations, use the wax in the direction of hair growth, then pull strips off in the opposite instructions. Work in little areas– an optimum of three inches in length– to decrease pain.
Depilatory for legs: While these can be utilized on any type of location of the body, they're most reliable on finer hair, making the legs a better bet than the bikini line. Since you'll be managing a great deal of lotion and also the whole treatment can obtain pretty messy, it's best to use it right prior to taking a shower, after that make use of a clean cloth to remove it all under warm water. If you have dermatitis or sensitive skin, we constantly recommends always screening the item in a small location. Some depilatories can cause a contact dermatitis that can be scratchy.
Laser or SHR Hair Removal for Legs: SHR's Advanced Fluorescence Technology (AFT) In-Motion laser hair removal technology is a breakthrough in customer comfort and effectiveness of treatments. SHR or Super Hair Removal technology heats the skin gently through the melanin and the stem cells with low energy but high frequency. SHR uses only 50% of the energy for permanent hair removal. The remaining 50% is absorbed into the stem cells responsible for hair production, making laser or SHR hair removal an ideal option for hair removal for your legs.
---
See Over 1800 Positive Reviews of Wellaholic (Customer Verifiable)
Pricing of SHR Hair Removal Treatments by Wellaholic
Wellaholic believes in providing pricing transparency, and hence all prices are published and updated on its website. Choose from unlimited monthly hair removal plans (with unlimited SHR hair removal shots) for unlimited body parts, or choose from per-session hair removal price plans. Wellaholic's hair removal prices are generally divided into the following categories: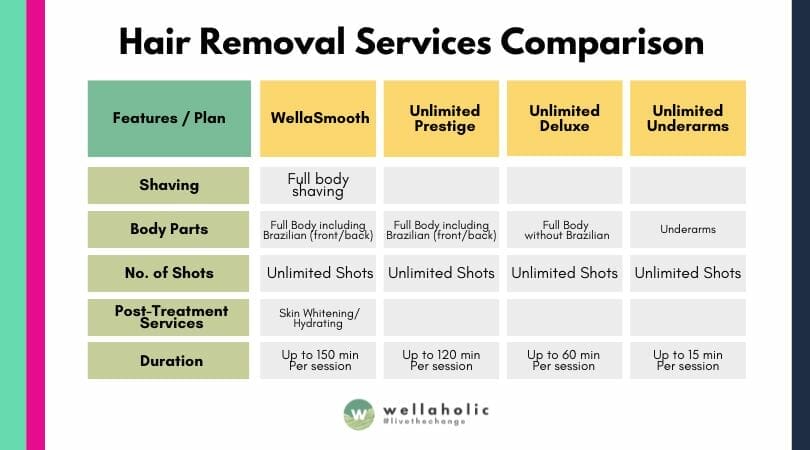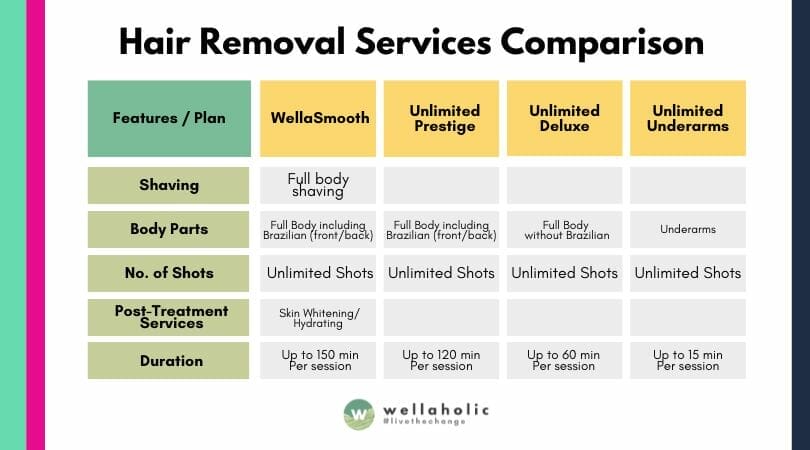 ---
---