Why Does Laser Hair Removal Take Multiple Sessions?
Ever Wonder Why Laser Hair Removal Requires Multiple Sessions?
Do you want to reduce the amount of time required for you to remove unwanted body hair by tweezing, waxing or shaving? You must have heard of laser hair removal (or IPL, SHR, OLED or similar hair removal technologies). These hair removal methods are an easier and quicker way to get smoother skin.
While laser hair removal is effective for both men and women, multiple sessions spaced apart (usually between 4 to 8 weeks between each session) are required to completely remove hair. One session is definitely not enough to destroy your hairs permanently.
Why is this the case? Let the team at Wellaholic share with you the reasons to why laser hair removal requires multiple sessions for effective hair removal. Read on!
Let's First Understand How Laser Hair Removal Works
To understand why multiple laser hair removal sessions are needed, let's first find out how laser hair removal works.
During laser hair removal, a laser beam (with a single or multiple wavelengths, depending on the technology) is projected onto the target body area or zone for a specific period of time (usually in milliseconds). The pigment (melanin) of the hair absorbs this light, and it is therefore converted into heat, which causes a controlled damage to the hair follicles.
Laser hair removal works by the process of selective photothermolysis. This is when the laser beam is set at a designated wavelength. The laser beam is attracted to the melanin contained within the hair, leaving the surrounding tissue unaffected. The laser hair removal procedure, by damaging the hair follicles, will delay hair growth for an extended period of time, and while it may or may not be permanent, it can leave your skin smooth for several months and years. Most customers will see no hair growth, and even for a small percentage of customers who report seeing hair regrow back, the hairs are usually finer and lighter, and less visible.
Why Multiple Laser Hair Removal Sessions are Needed
To understand why multiple laser hair removal sessions are needed, we will first to understand the stages of hair removal. Hair typically grows in cycles across the entire body, whether it is on your head, your underarms or at any parts of your body. This is the main reason to why you need several sessions spaced apart for effective hair removal.
The stages of hair growth cycle are:
Anagen – active growing phase
Catagen – transition phase
Telogen – the resting phase
Exogen – new hair growth phase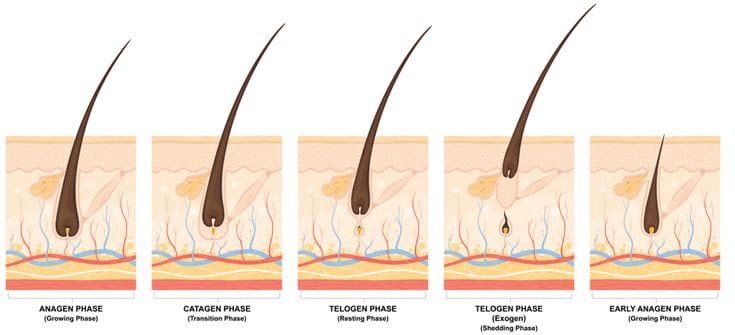 At any point in time, your hairs may be at a different stage in the growth cycle, which makes targeting and removing them all an impossible task. By having multiple sessions spaced apart, this allows the laser beams treat the hair at the anagen stage.
Why Hairs at Anagen Stage of Hair Cycle is Important
Anagen is considered the growing stage; this is when the root of the hair is the largest, has an abundance of melanin, and is attached to the root. During this phase, the hair grows and becomes visible above the skin. The length of this phase depends on how long that hair will eventually grow; usually at least 2-3 weeks. The Anagen stage is also where the hair is at its darkest pigment, which allows for the best transfer of heat energy from the laser to the hair follicle.
The anagen stage is also the only point where the hair follicle remains attached to the bulb and the laser's light can disrupt future growth properly.
Undergoing multiple sessions creates better coverage and makes laser hair removal more effective. Stopping at just one treatment could leave you with unwanted growth in visible areas over time, no matter how well the initial treatment goes.
How Often Should You Have Laser Hair Removal?
Laser hair removal is usually performed with several weeks or months apart, but enough time should be allowed for hairs to pass through the different growth stages. If you do not cater for or leave enough weeks between sessions, hairs in the treatment area may not be in the anagen phase and the treatment might not be effective.
Based on overall research, about four to six weeks is the best time gap to allow the hairs to cycle in and out of the anagen phase. At Wellaholic, we recommend customers to follow up on their hair removal sessions every four weeks. Session length varies based on the size of the target area, too, so broad men with unwanted back hair can expect longer treatments than women looking to smooth their bikini line.
SHR Hair Removal by Wellaholic
SHR or Super Hair Removal technology is a newer technology as compared to IPL. Developed by Alma Lasers, SHR combines 755nm, 808nm and 1064nm laser wavelengths to target all skin types. In addition, simultaneous contact cooling prevents burns and allows for a more comfortable treatment. This is ideal for skin and hair of all types and causes minimal irritation to the skin. Wellaholic's SHR Prestige plan allows you hair reduction treatments on all body parts.
SHR technology is newer and more effective than IPL hair removal. SHR causes minimal pain due to the cool touch laser hair removal methodology as compared to IPL. SHR can cover all parts of the body such as hair removal for face, arms, legs, underarms, etc. SHR causes less discomfort as compared to IPL hair removal. SHR is also suitable for all hair types and skin tones as compared to IPL, making it an effective means for permanent hair reduction.
---