Everything You Need to Know About Hair Removal for Males
---
Introduction to Hair Removal for Males
In this article, Wellaholic, the premier hair removal destination for men, will share with you everything you need to know about hair removal for males. The best method for super-hairy guys to groom their body hair? Sure, you can shave, trim or wax (at salons such as Strip Singapore or Sugared), but for a more effective and cost-effective solution, you might want to consider permanent hair removal. Wellaholic researched through a myriad of research reports and consulted some of the experts to answer all your essential questions about how you can remove your unwanted hair. Read on for more.
What is Hair Removal and How Does it Work?
Hair removal is a procedure where a specific beam of light passes through the epidermis (surface layer of the skin) and then targets the follicles. This disables the reproductive cycle of the hair without hurting or damaging the skin. As the hair follicle gets destroyed, the hair shaft eventually becomes weaker and more limp. In time to come, after repeated treatments, the hair follicle dies and no hair grows again.
According to the Mayo Clinic, the light energy is also absorbed by the pigment in your hair, also known as the melanin. This converts the light energy into heat energy, which additionally delays future hair growth. Multiple treatments are required for initial hair removal, and maintenance treatments might be necessary for some patients.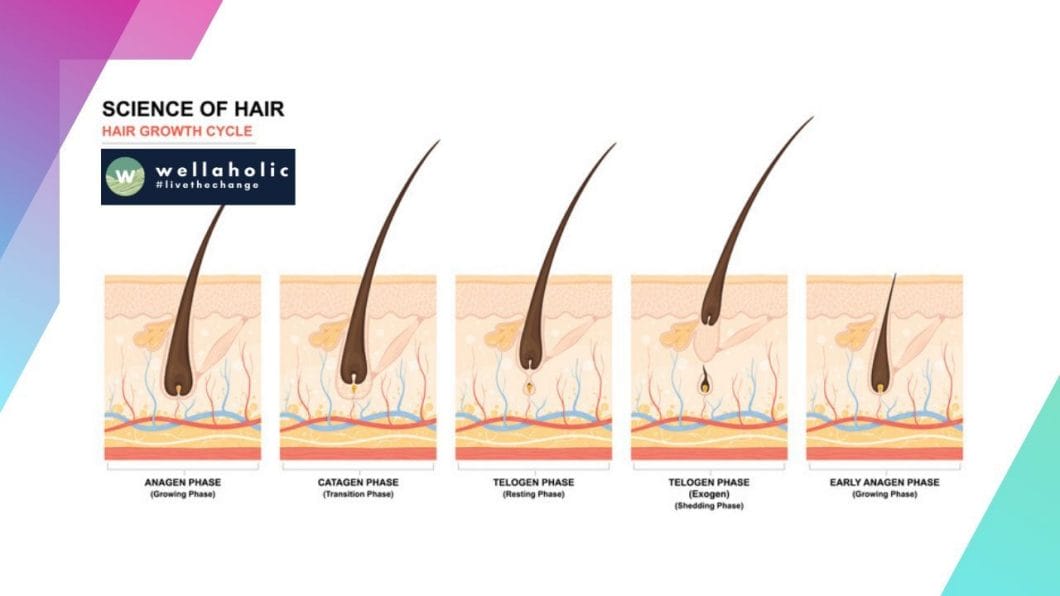 How Can Hair Removal Help Athletes?
Almost all body builders remove hairs on their bodies. This is because the removal of hair helps to enhance muscle definition for that sculpted look together with smooth skin. According to Karavolas, owner of a hair removal clinic in New York City, he sees a lot of cyclists who does hair removal for their full body, especially focusing on their legs and lower bodies. "A lot of body hair can cause added chafing and irritation when combined with tight cycling kits, sweat, and long ride times in the saddle. It also makes putting on compression tights, foam rolling, and massages easier and relatively more pain-free, since the hairs won't be caught or tugged at." Hair Removal treatments are also popular with swimmers as this helps to reduce the body friction and may mean a one-tenth of a second saved.
Beyond body builders, competitive sportsmen, cyclists or swimmers, the average guy is also working towards a hairless body. At Wellaholic, about 40% of our clientele base are male customers who does full body hair removal including Boyzilian. Let us examine this trend and assess the reasons to why the average male is also getting his hair removed.
Related Links to Hair Removal
Reason 1: Removing Hair for Aesthetic Reasons
Permanent hair removal is extremely appealing for men who are uncomfortable with excess hair on the chest, back, stomach or even hands. A lot of guys treat their chest, not because they want to remove their hair completely. Some of the male customers prefer to thin it out, and have finer and sparser hairs. This is something that permanent hair removal is able to achieve. At Wellaholic, we have a small group of male customers who prefer to leave some hair behind, either on their chest or even at their private areas, while others prefer to remove their pubic hairs totally. Our experienced consultants are able to make this happen. Nevertheless, a larger percentage of customers prefer to have it totally clean, with no hairs at all. This is where permanent hair removal shines.
Reason 2: Removing Hair for Hygiene
One key point to note: having a lot of hair does not mean that you are less hygienic. It just makes cleaning and grooming much easier. Manscaping or Boyzilian can greatly help with irritation, especially in the warm and humid climate of Singapore, where one sweats very easily. Heat with sweat becomes an ideal breeding ground for bacteria responsible for body odours, and hence by removing the hairs in the private areas, it lowers the moisture level as well as the temperature, making it harder for bacteria to multiply.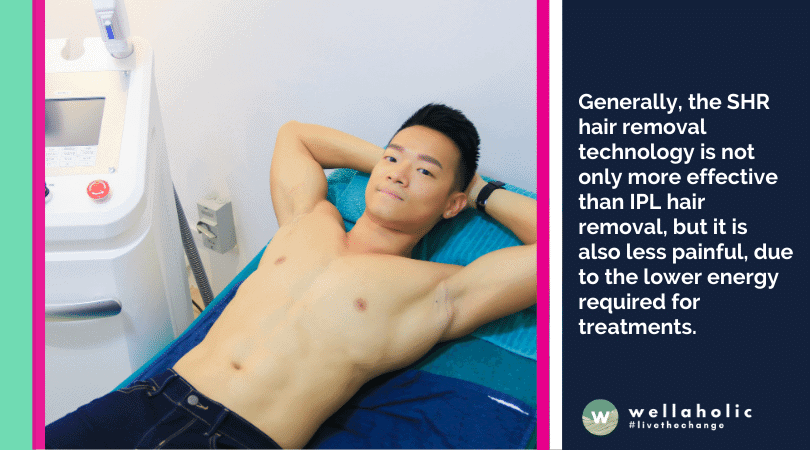 Reason 3: Easier Grooming with No Ingrown Hairs
A lot of guys actually have problems with shaving and ingrown hairs. With regular shaving and trimming, the skin sometimes closes, and prevents the new hair from sprouting out properly. This leads to a condition called PDF or pseudofolliculitis barbae. Clusters of inflamed, red, or dark bumps will appear around hair follicles from shaving. Essentially, they're ingrown hairs that grow in all sorts of directions, which can leave scars. The ingrown hairs can also be very painful and looks very ugly. A small percentage of customers who come to Wellaholic for hair removal treatments seek to prevent ingrown hairs, and enhance their personal grooming.
Does Hair Removal Hurt?
Everyone's pain threshold is different and can vary. "Some clients describe the sensation as warm and tingling likened to the feeling one has after a day on the beach" explains Tonianne. "Others compare the feeling to a rubber band flicking the skin." Generally, the SHR hair removal technology is not only more effective than IPL hair removal, but it is also less painful, due to the lower energy required for treatments.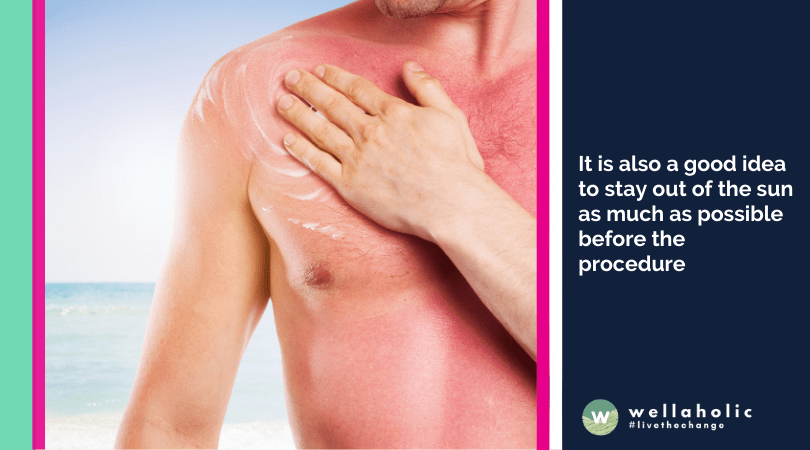 How can one prepare for Hair Removal
The hair should be shaved a day before your appointment. Otherwise, the entire hair will absorb the energy and heat up, which can burn the skin, as that singed hair hits the skin. It also means less energy will reach the base of the follicle, so the results will be less than optimal.
It is also a good idea to stay out of the sun as much as possible before the procedure. ​Ultraviolet light stimulates melanocytes, which create more melanin in the skin. This makes it harder for the laser technician to distinguish between the skin and follicles, which also makes the treatment more challenging.
How long Does a Hair Removal Session Take?
The length of each laser hair removal session depends on the area being treated. For example, it takes 1 minute to treat the upper lip, 5 to 7 minutes to do both underarms and 25 to 30 minutes to do full legs. Generally, at Wellaholic, for our Unlimited Packages, we provide up to 2 hours per visit for the customer if he or she is doing a full body treatment. ​
What can One Expect after a Hair Removal Treatment?
The treatment is effective for most people and is very safe. The only problems you might experience post-treatment are a little swelling, redness or irritation around the hair follicles in the pubic region. This can last for a couple of days. Nevertheless, at Wellaholic, we see very little occurrence of any post-treatment symptoms or irritation. Hyper-pigmentation (skin darkening) also sometimes occurs, but that typically fades pretty quickly. Burns or blisters may arise, but they are very uncommon. In fact, a laser hair removal treatment is less painful as compared to a typical brazilian waxing.
Will the Hairs grow back after the Hair Removal Treatment?
It is entirely impossible to predict. No one can that how successfully the lasers will work on you. It varies man to man or person to person. And the results of a laser hair removal depend on some facts including the type of hair and follicle. It is clinically proved that the laser hair removal provides a long-lasting result. It works very fast over the course of treatment. Nevertheless, all the hair is not in the same growth cycle. Also, not all hair is at the same point in the growth cycle. For this reason, all the hair is not damaged at the time of the laser treatment. So some hair may continue to grow even after the laser hair removal treatment.
WellaSmooth All-inclusive Hair Removal by Wellaholic
WellaSmooth™ All-Inclusive Hair Removal is designed for an all-inclusive fuss-free full-body permanent hair removal experience with a 5-star rating. WellaSmooth™ All-Inclusive Hair Removal includes all-that-you-require shaving service, followed by SHR Unlimited Prestige hair removal which includes unlimited SHR shots for the entire body (including Brazilian/Boyzilian). Also included is our Skin Whitening / Hydrating post-treatment therapy (PTT) followed by our AfterGlow Red Light therapy.
What is WellaSmooth™ All-inclusive Hair Removal Regime?
Voted Best Hair Removal Treatment by Daily Vanity Spa and Beauty Awards 2021.
WellaSmooth™ All-Inclusive Hair Removal is designed for an all-inclusive fuss-free full-body permanent hair reduction experience.
WellaSmooth™ All-Inclusive Hair Removal is ideal for all skin color, hair color, and all forms of hair.
Also include is all-that-you-require shaving service for all body parts including your private regions.
WellaSmooth™ All-Inclusive Hair Removal also includes the Skin Whitening / Hydrating (PTT) with AfterGlow™, which includes post-hair-removal skin whitening or skin hydration followed by our AfterGlow Red Light therapy for enhanced skin rejuvenation.
Achieve smooth and glowing skin that will wow everyone.
This treatment is ideal for both men and women, by male and female therapists.
Get a package and choose your shaving, SHR permanent hair removal and post-treatment whitening and hydration done at any of our multiple outlets across Singapore.
WellaSmooth™ is your ultimate all-inclusive hair removal treatment in Singapore complete with shaving and post-treatment care.
WellaSmooth™ Includes the Following Three Hair Removal Services
SHR Permanent Hair Removal PRESTIGE Unlimited – Enjoy our bestseller SHR hair reduction treatment for all body parts
Unlimited Shaving Service – Enjoy unlimited shaving service on all body parts
Skin Whitening/Hydrating (PTT) with AfterGlow – Enjoy post-treatment whitening or hydrating therapy followed by AfterGlow red-light treatment to rejuvenate your skin
See Over 1800 Positive Reviews of Wellaholic (Customer Verifiable)
Pricing of SHR Hair Removal Treatments by Wellaholic
Wellaholic believes in providing pricing transparency, and hence all prices are published and updated on its website. Choose from unlimited monthly hair removal plans (with unlimited SHR hair removal shots) for unlimited body parts, or choose from per-session hair removal price plans. Wellaholic's hair removal prices are generally divided into the following categories: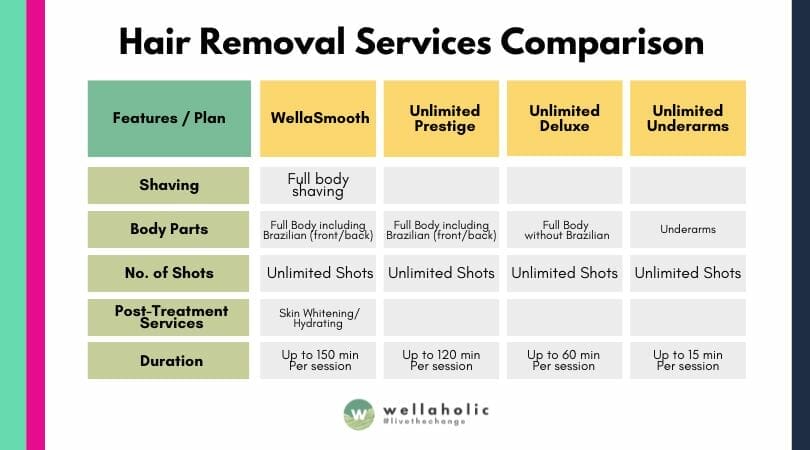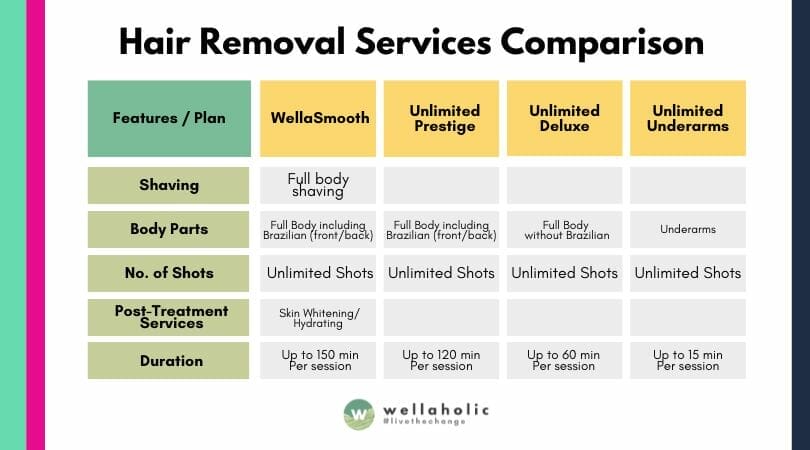 ---
---