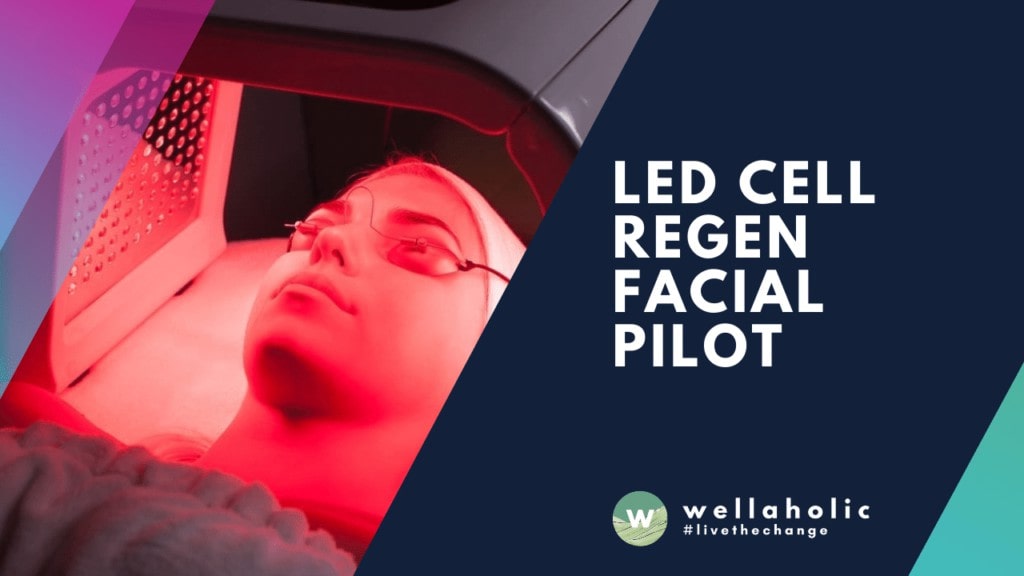 LED Cell Regeneration Facial – Pilot
Introduction
LED facial rejuvenation masks are surging in popularity, thanks to Korean celebrity ambassadors and endorsements. In reality, LED uses different wavelengths to target the skin for various beneficial effects. They are able to improve skin elasticity, produce collagen, minimise blemishes and pimples as well as to soothe aggravated skin and even reduce scarring.
Light-based skincare therapy has been studies for many decades and is clinically proven to help address skin issues. Facial therapists including dermatologists use light-based or photo-dynamic treatments to help improve skin conditions or even boost product and serum absorption as well as circulation.
Different LED wavelengths for different effects
NASA originally developed LED light treatment for plant growth experiments on shuttle missions and later found it to have promise for wound treatment. LED light therapy is now used by aestheticians to help regenerate the skin from ageing. It's also used for acne. When used as directed, LED light therapy can improve your skin over time. You'll need maintenance treatments to maintain your results. Home devices use lower frequencies and haven't been proven as effective.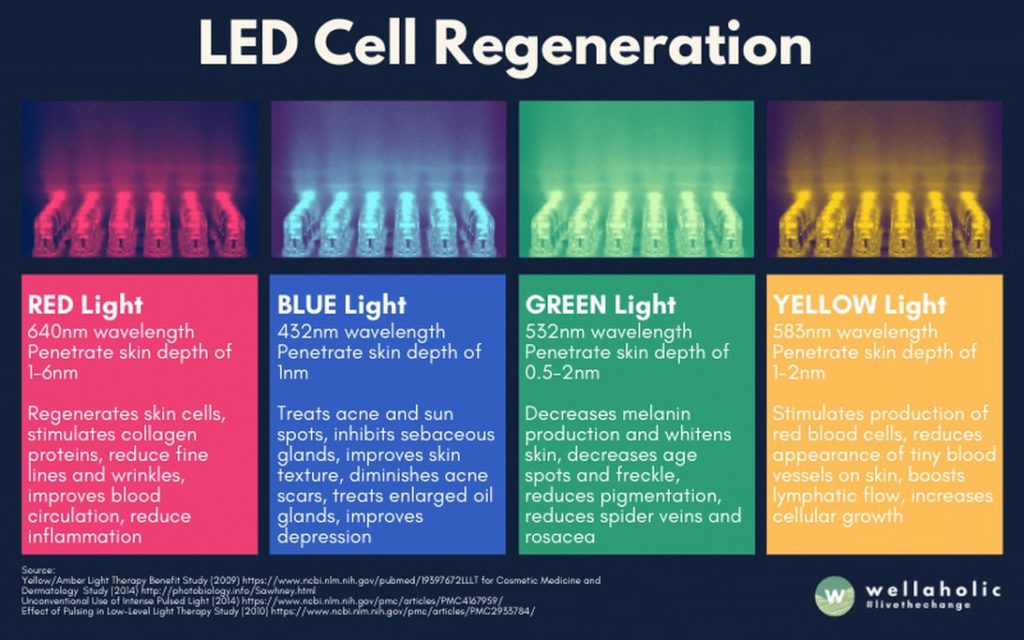 Match with your ideal skin condition
Depending on your skin objectives, you can choose different wavelengths to suit your needs
Red Light: Regenerates skin cells, stimulates collagen proteins, reduce fine lines and wrinkles, improves blood circulation, reduce inflammation
Blue Light: Treats acne and sun spots, inhibits sebaceous glands, improves skin texture, diminishes acne scars, treats enlarged oil glands, improves depression
Green Light: Decreases melanin production and whitens skin, decreases age spots and freckle, reduces pigmentation, reduces spider veins and rosacea
Yellow Light: Stimulates production of red blood cells, reduces appearance of tiny blood vessels on skin, boosts lymphatic flow, increases cellular growth
If you want to enjoy the best of all wavelengths, Wellaholic has a rotating mode that will emit different wavelengths to your skin for the best effects.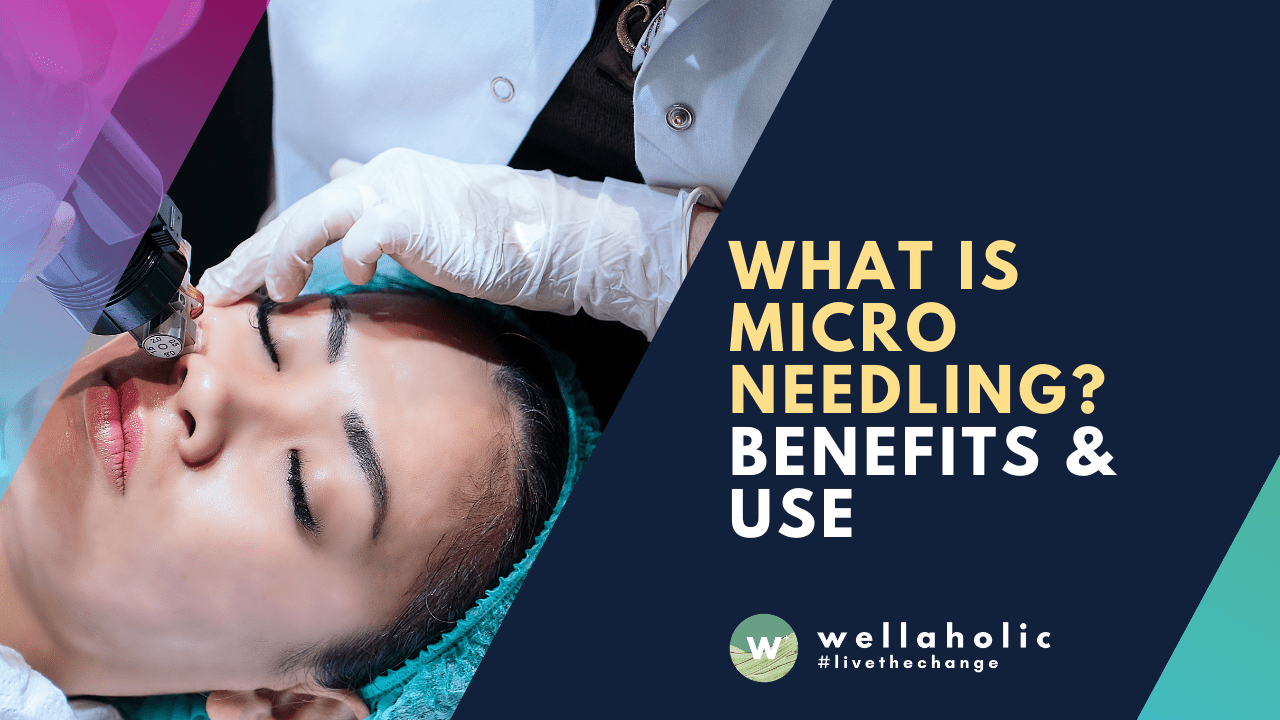 Microneedling is one of the facial collagen boosting treatment that is gaining in much popularity, due to good reason. The process of microneedling is using a dermapen or a device attached with a disposable cartridge of many mini-needles to create tiny wounds on the skin. These needles create wounds which are miniscule and skin-deep. Nevertheless, the body reacts to the wounds and then goes about healing the wounds, thereby creating new collagen and elastin that not only helps to create younger-looking skin but also helps to clear scars, pigmentation and wrinkles over time.
LED Cell Regeneration is part of Elight Facial Collagen Boost
As part of our brand promise, Wellaholic is always investing in aesthetic technologies which are backed by empirical evidence and case studies, and can help improve our customers' appearance. We will be incorporating the LED Cell Regeneration Facial Treatment as part of our Elight Facial Collagen Boost (PRESTIGE) treatment in the following improved sequencing:
Elight (Face) (IPL + AfterGlow)
Elight (Neck) (IPL + AfterGlow)
Diamond Peel Microdermabrasion
LED Cell Regeneration Facial Treatment
Retinol Serum Application
REFA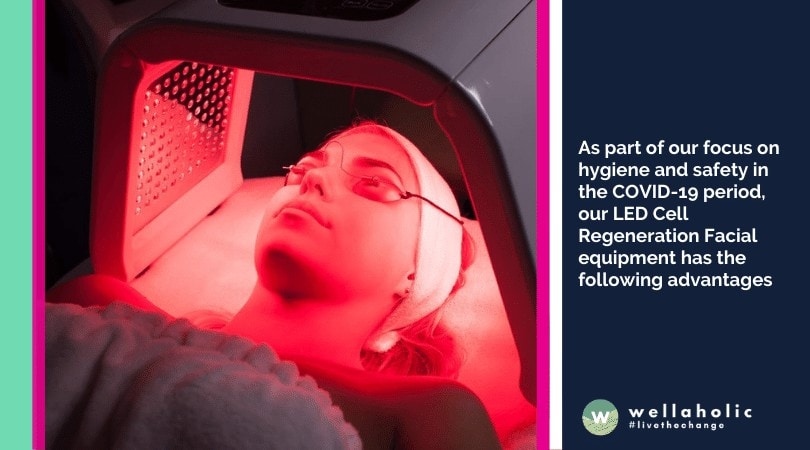 Hygiene Practices with LED Cell Regen Equipment
While the LED masks are ideal for individual usage, they are not ideal for Wellaholic, as they involved full facial contact with multiple customers. As part of our focus on hygiene and safety in the COVID-19 period, our LED Cell Regeneration Facial equipment has the following advantages:
Safe and Hygienic – There is no contact with the customer's face or skin hence ensures hygiene and safety.
Full Coverage for Face & Neck – High LED array ensures that the entire face as well as neck can receive the full benefits of the treatment.
Comfort – With no contact with the face, the treatment is comfortable and relaxing.
Strong LED Energy – Unlike portable devices, the equipment is able to emit a high level of energy for improved efficacy.
PIlot and changes to elight facial collagen Boost
We will be piloting the use of the LED Cell Regeneration equipment at all our outlets, for our Elight (PRESTIGE) customers as an option. Please note that we will gradually introduce this sequence, and phasing out our facial masking out of the Elight plan.
​We look forward to your feedback as we continue to improve our treatments and services!