Get Your Pre-Baby Body Back in Just 4 Weeks with Fat Freezing!
TL:DR Summary
Tip 1: Eat a balanced and nutritious diet. Choose foods that are rich in protein, fiber, and healthy fats.
Tip 2: Drink plenty of water and avoid sugary drinks. Water helps to flush out toxins and keep you hydrated.
Tip 3: Exercise regularly and moderately. Aim for at least 30 minutes of physical activity a day, such as walking, swimming, or yoga.
Tip 4: Try WellaShape™, the ultimate body contouring treatment. WellaShape™ combines radiofrequency, vacuum suction, and fat cavitation to reduce fat, tighten skin, and smooth cellulite.
Tip 5: Pamper yourself with WellaSculpt™, the best body sculpting treatment. WellaSculpt™ uses high-intensity focused electromagnetic (HIFEM) technology to stimulate your muscles and burn fat.
Tip 6: Book your treatments at Wellaholic today and enjoy amazing discounts and perks. Wellaholic offers affordable and flexible plans for WellaShape™ and WellaSculpt™, as well as other beauty services. Don't miss this chance to transform your body!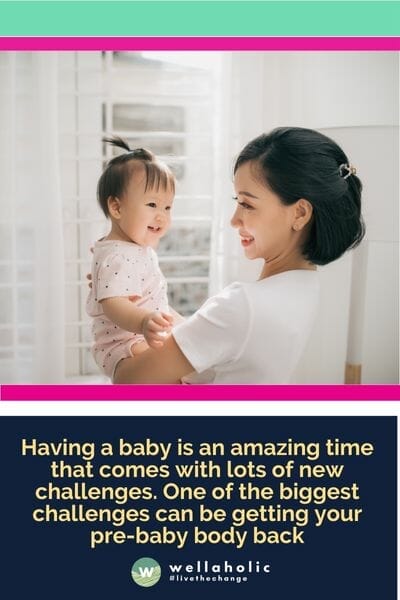 Post-Birth Blues? Get Your Body Back in Just 4 Weeks
Hey there! Are you feeling a little down after giving birth? Don't worry, it's completely normal to experience some post-birth blues. The good news is that you can get your body back in just 4 weeks! Yes, you heard that right. We've got some fantastic tips and tricks to help you bounce back and feel amazing again. Whether you want to shed those extra pounds, tone up, or regain your energy, we've got you covered. So, let's dive right in and discover how you can reclaim your pre-pregnancy body and boost your confidence in no time. Get ready to embrace a healthier, happier you!
---
Why 4 Weeks?
Why losing weight is a common New Year's resolution
Losing weight is a common New Year's resolution because many people want to improve their health and appearance. However, losing weight can be challenging and requires discipline and commitment. Many people give up on their weight loss goals after a few weeks or months because they don't see the results they want or they lose motivation.
How to set a 4-week timeline for weight loss
One way to make weight loss easier is to set a 4-week timeline for weight loss. This means that you have a specific goal to lose a certain amount of weight in 4 weeks. This can help you stay focused and motivated on your diet and exercise plan. You can also track your progress and celebrate your achievements along the way.
How to follow a 4-week diet and exercise plan
To follow a 4-week diet and exercise plan, you need to create a realistic and sustainable plan that suits your lifestyle and preferences. You should aim to eat a balanced diet that is low in calories, fat, sugar and salt, but high in protein, fibre, vitamins and minerals. You should also drink plenty of water and avoid alcohol and sugary drinks. You should exercise regularly, at least 3 times a week, for at least 30 minutes each time. You should do a combination of cardio and strength training exercises that target different muscle groups and burn calories. You should also rest and recover well between workouts and get enough sleep every night.
Here's a table showing different methods to lose fat, including fat freezing:
| Method | Description |
| --- | --- |
| Calorie deficit | Eating fewer calories than you burn through exercise and daily activities |
| Strength training | Bodyweight exercises, weight lifting, and using gym equipment to build muscle mass and boost metabolism |
| Cardiovascular exercise | Running, cycling, or swimming to burn calories and promote fat loss |
| Low-carb diet | Limiting carbohydrates to encourage the body to burn fat for energy |
| Intermittent fasting | Eating within a specific time frame to promote fat burning |
| Fat freezing (cryolipolysis) | Noninvasive body sculpting that uses cold temperatures to target and destroy fat cells |
Different Methods to Lose Fat and Weight
It's important to note that each method has its own benefits and limitations, and what works for one person may not work for another. It's always a good idea to consult with a healthcare professional before starting any new weight loss program.
"Getting your pre-baby body back doesn't have to be a daunting task; take it one step at a time and you'll be on your way in just 4 weeks!"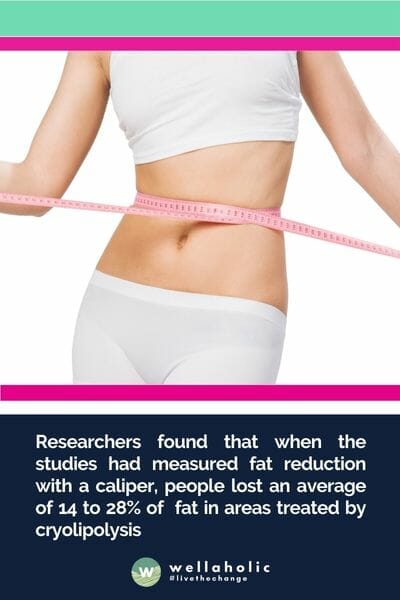 WellaFreeze Fat Freeze can Remove up to 28% of Visible Fat
WellaFreeze effectively targets the stubborn fat and cellulite areas of your body that do not react well to exercise and dieting. Similar to the CoolSculpting technology approved by FDA in 2011. Fat cells are "dissolved" by non-surgical means. Controlled cooling at sub-zero temperatures. Ideal for unwanted fat in targeted areas. Effective fat loss and affordable weight loss procedure.
---
Set a Goal: What do you want to achieve for weight loss?
Setting a goal is the first step to achieving success. Without a goal, it is difficult to stay motivated and on track. But what do you want to achieve for weight loss? There are many different goals you could set for yourself, such as losing a certain amount of weight, fitting into a smaller clothing size, or improving your overall health. No matter what your goal is, make sure it is realistic and achievable.
In the Asia and Pacific region two out of every five adults in the region are either overweight or obese.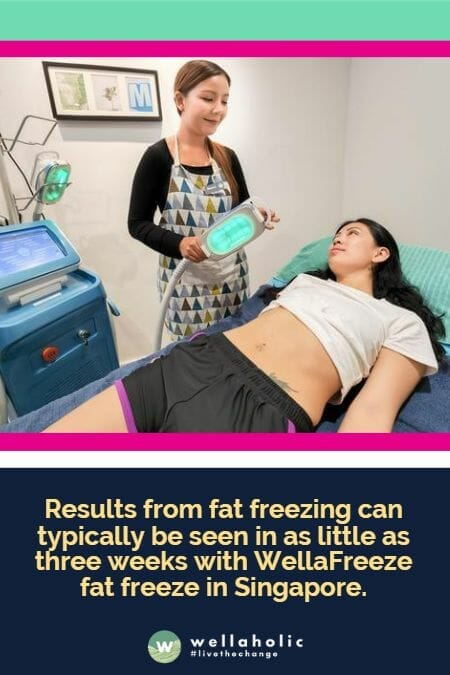 Create a Plan: How to Use Fat Freeze for Fat Loss
What is WellaFreeze and how does it work?
WellaFreeze is a non-surgical fat reduction procedure that uses controlled cooling to freeze and destroy fat cells. It is similar to the CoolSculpting technology that was approved by the FDA in 2011. WellaFreeze can effectively target the stubborn fat and cellulite areas of your body that do not respond well to exercise and dieting, such as the abdomen, thighs, arms and chin.
What are the benefits of WellaFreeze?
WellaFreeze has many benefits for people who want to lose unwanted fat in targeted areas. Some of the benefits are:
It is a safe and painless procedure that does not involve any needles, surgery or anesthesia.
It has no downtime or recovery period. You can resume your normal activities right after the treatment.
It has lasting results. The fat cells that are frozen and eliminated by WellaFreeze will not grow back or migrate to other areas of the body.
It is an affordable weight loss procedure that costs much less than other invasive methods.
How to prepare for and follow up on WellaFreeze?
To prepare for WellaFreeze, you should consult with your doctor and make sure you are a suitable candidate for the procedure. You should also maintain a healthy diet and exercise routine before and after the treatment. To follow up on WellaFreeze, you should drink plenty of water and avoid alcohol and caffeine for at least 24 hours after the treatment. You should also massage the treated area gently to help the body flush out the dead fat cells. You may experience some minor side effects such as redness, swelling, bruising or numbness in the treated area, but these will subside within a few days or weeks. You should see noticeable results within 3 to 6 months after the treatment.
Execute the plan: Which Body Parts You can Use Fat Freeze on?
What is WellaFreeze and what body parts can it treat?
WellaFreeze is a fat freezing treatment that uses controlled cooling to freeze and destroy fat cells under the skin. It can safely treat many body parts that have stubborn fat or cellulite, such as the stomach, love handles, double chin, back, thighs, male chest, arms and under buttocks.
How does WellaFreeze work and what happens to the fat cells?
WellaFreeze works by applying a cooling device to the target area of the body. The device lowers the temperature of the fat cells to a point where they crystallize and die. This process is called apoptosis or cell death. The dead fat cells are then absorbed by the body and eliminated through the liver as waste material. This results in fat loss and weight loss in the treated area.
How long does WellaFreeze take and what are the results?
WellaFreeze takes about an hour per session and each session can treat one or two areas of the body. Depending on the size and thickness of the fat layer, you may need multiple sessions to achieve your desired results. You may start to see some changes in your body shape within a few weeks after the treatment, but the full results will take about 3 to 6 months to show. The results are permanent as long as you maintain a healthy lifestyle and avoid gaining weight.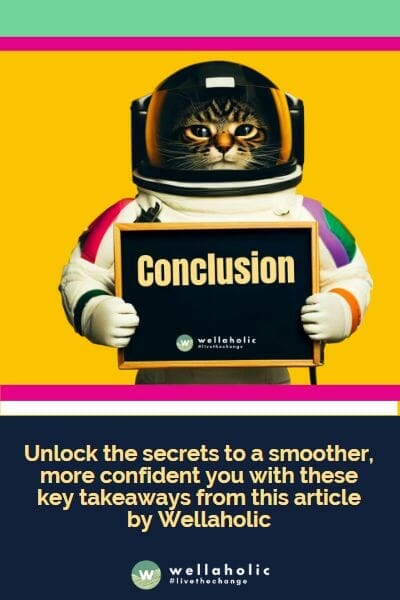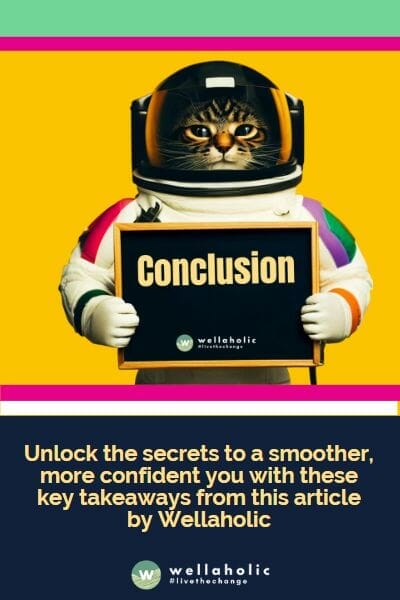 Conclusion: Just 4 Weeks with Fat Freezing
If you're looking to reclaim your pre-baby body and do it in just 4 weeks, we've got some great news for you. Fat freezing is a game-changer when it comes to getting rid of those stubborn pockets of fat that just won't budge. This non-invasive procedure targets specific areas of your body and freezes the fat cells, causing them to gradually break down and be naturally eliminated by your body. It's safe, effective, and requires no downtime, which means you can get right back to taking care of your little one.
Wellaholic, a trusted name in body sculpting treatments, offers top-notch fat freezing services that can help you achieve your goals. Our team of experts will customize the treatment to target your trouble areas, ensuring you get the best possible results. Say goodbye to those pesky post-baby bulges and hello to your pre-baby body with fat freezing at Wellaholic. Get ready to feel confident, beautiful, and like the amazing supermom that you are!
Frequently Asked Questions (FAQ)
1. Is Fat Freezing Safe for Postpartum Women?

Answer: Fat freezing is generally considered safe for postpartum women. However, it's important to consult with a healthcare professional before undergoing any body sculpting treatments after childbirth to ensure it aligns with your specific health conditions and recovery status.
2. Can Fat Freezing Help Tighten Loose Skin Post-Pregnancy?

Answer: While fat freezing effectively reduces fat cells, it does not directly tighten skin. For skin tightening post-pregnancy, treatments like radiofrequency therapy or Wellaholic's WellaSculpt™ might be more suitable.
3. How Soon After Delivery Can I Start Fat Freezing Treatments?

Answer: The ideal time to start fat freezing treatments after childbirth varies depending on individual recovery. It's generally recommended to wait until postpartum checkups confirm that your body has healed sufficiently, typically around 6-8 weeks post-delivery.
4. How Does WellaFreeze™ Compare to Traditional Diet and Exercise for Post-Baby Weight Loss?

Answer: WellaFreeze™ complements traditional diet and exercise by targeting and reducing stubborn fat that might not respond to lifestyle changes alone. It's an effective addition to a holistic post-baby weight loss plan.
5. Can I Combine WellaFreeze™ with Other Postpartum Recovery Treatments?

Answer: Yes, WellaFreeze™ can be combined with other treatments like muscle toning or skin tightening for comprehensive postpartum recovery. Consult with Wellaholic experts to tailor a treatment plan that suits your needs.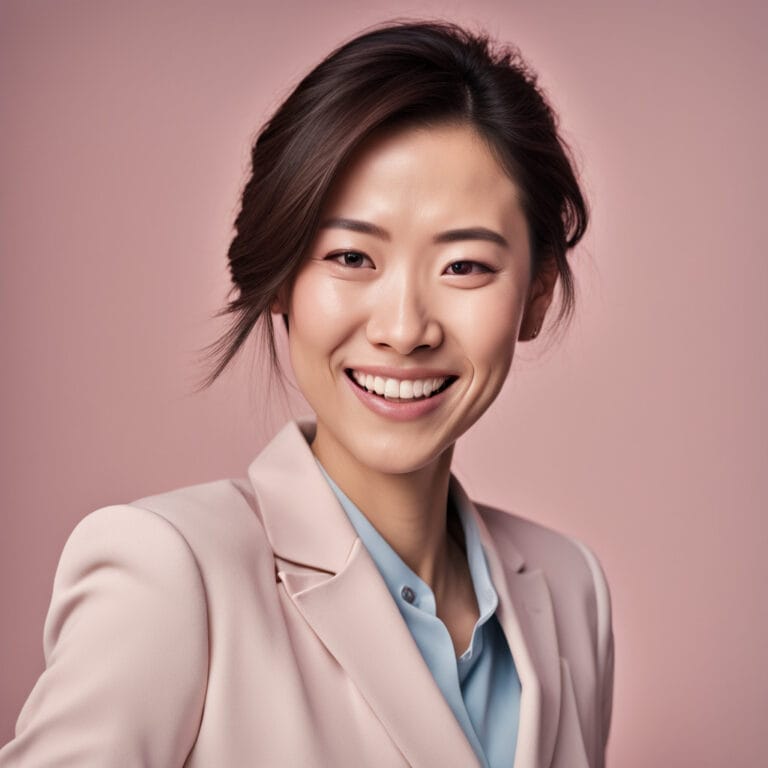 Serene Chiam, Aesthetic Director
Serene Chiam, the Aesthetic Director at Wellaholic, an acclaimed Aesthetic Chain in Singapore, brings over a decade of expertise in the aesthetics industry. With a Bachelor of Health Science (Aesthetics) and CIDESCO certifications, she expertly combines scientific knowledge with practical skills. Serene is known for her personalized approach to beauty, ensuring each Wellaholic client's journey is unique and transformative. Her significant contributions have been pivotal in establishing Wellaholic's reputation for excellence in aesthetic wellness.
GET IN TOUCH
Book Now Pay Later
WellaFreeze™ 360 Advanced Fat Freezing
⭐ Latest 4th Generation Freezing. WellaFreeze™ 360 advanced fat freezing uses the latest fat freeze technology for the highest fat reduction per session.
⭐ Up to 34% Fat Loss Each Session. Increase in percentage of fat loss due to newer technology and coverage.
⭐ 360° Surround Cooling Technology. The handles or cooling cups can be adjusted to fit all body curves and contouring for best freezing.
⭐ Breathing Technology Reduces Bruising. "Breathing" technology improves freeze while minimising bruising from the suction.
⭐ Shorter Time Needed. Each duration is reduced from typical 60 minutes to just 30 minutes.
⭐ Award-Winning. Wellaholic's treatments have been recognized by top beauty publications such as Daily Vanity, Beauty Insider, and Tropika Club Magazine.
⭐ Over 2000 Verified Customer Reviews. Wellaholic has over 2000 positive reviews from customers, and >50% are repeat customers.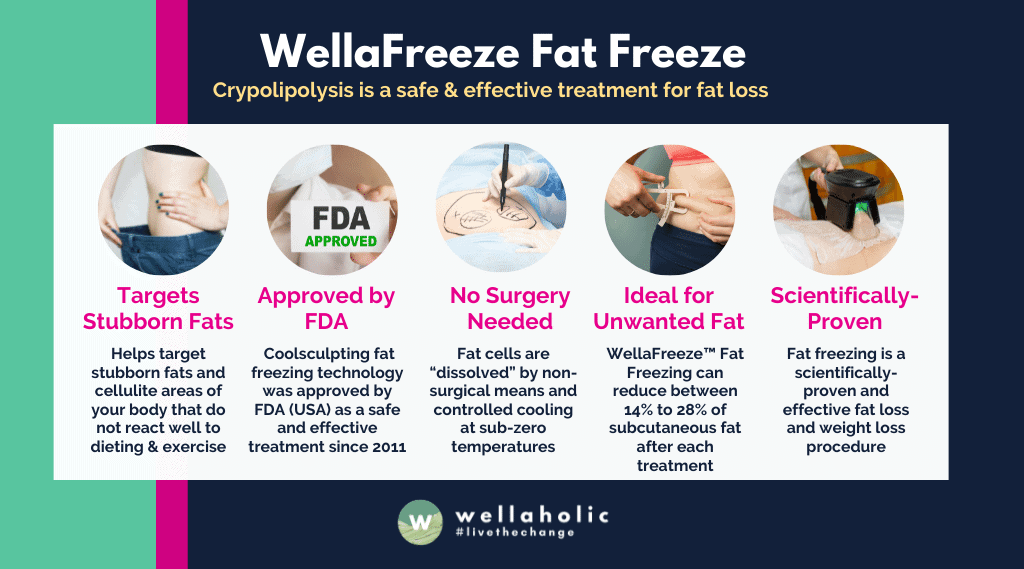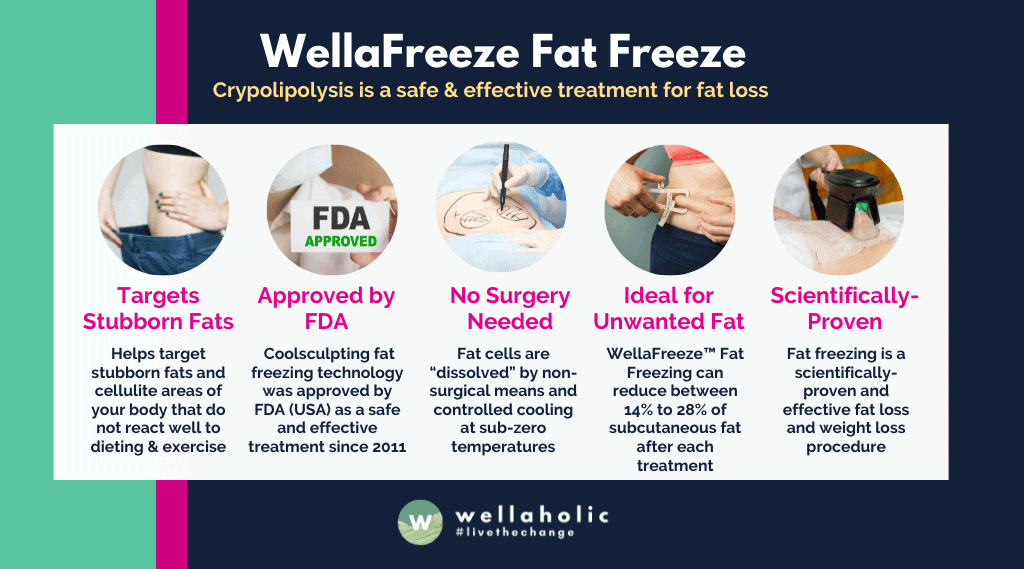 WellaFreeze™ 360 uses 360 probes which can freeze and reduce up to 34% of body fat per session with no or minimal bruising to the body.