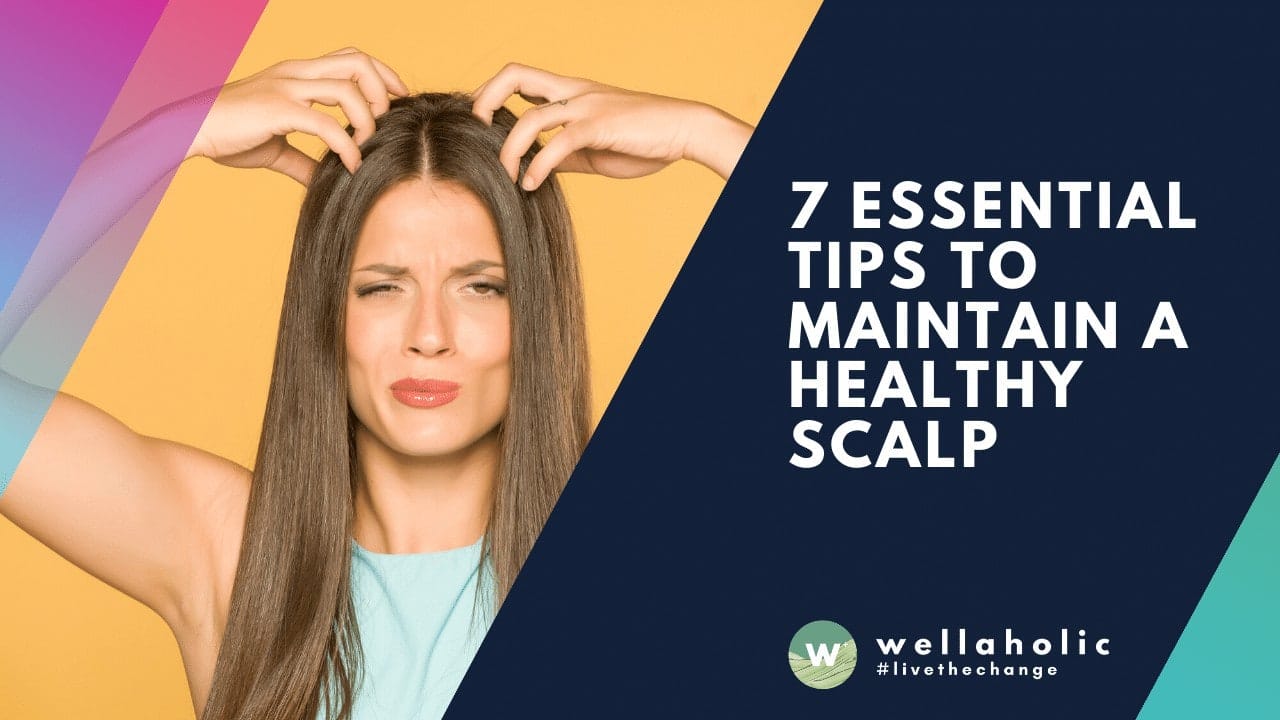 Healthy Hair, Healthy Scalp: 7 Must-Know Tips for Maintenance
TL:DR Summary
Wash your hair regularly to remove dirt, oil, and product buildup that can clog your pores and cause inflammation.
Use gentle shampoos and conditioners that are free of sulfates, parabens, and artificial fragrances that can irritate your scalp and dry out your hair.
Exfoliate your scalp once or twice a week to remove dead skin cells and improve blood circulation.
Moisturize your scalp with natural oils such as coconut, jojoba, or olive oil to nourish your hair follicles and prevent dryness and flaking.
Massage your scalp with your fingertips or a scalp brush to stimulate blood flow and relax your muscles.
Avoid heat styling and chemical treatments that can damage your hair and scalp and cause breakage and hair loss.
Eat a balanced diet rich in protein, iron, zinc, biotin, and vitamin D to support your hair growth and health.
Introduction
Your scalp is well hidden by your hair, and because of that, the scalp is a part of the body which is often neglected. Like the skin on the rest of your body, your scalp is made up of layers of tissue. The lower layers of the scalp are often the newest and healthiest skin which is produced by your body. On the other hand, the outer layers of your scalp generally comprise of dead tissue and cells that are ready to be turned over by the body and shedded to reveal the newer layers of the skin. In order to take care of your scalp, the Wellaholic Team share 7 essential tips to maintain a healthy scalp and to eradicate scalp-related issues such as dandruff.
In a survey of Singaporean men with androgenetic alopecia, 70% reported feeling self-conscious about their hair loss, based on a study compiled by Wellaholic.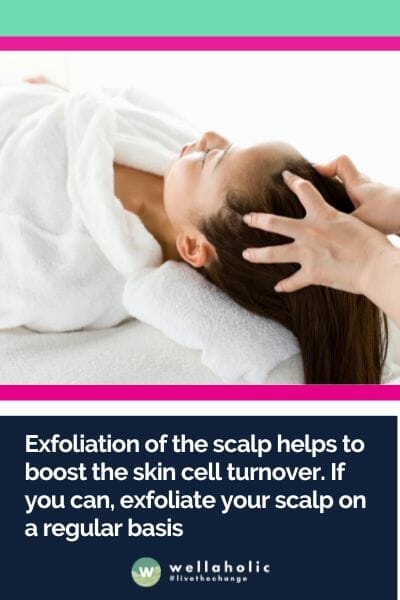 1. Always Remember to Exfoliate
Exfoliation of the scalp helps to boost the skin cell turnover. If you can, exfoliate your scalp on a regular basis. In fact, if you suffer from conditions such as psoriasis or dry skin, you might want to exfoliate your scalp about two to three times a week. Exfoliation helps to remove and reduce dead skin cells from your scalp surface. To assist with the exfoliation, you can invest in a facial scrub and mechanically exfoliate your scalp before you apply and cleanse the area with a shampoo.
2. Maintain the Moisture Level
​Most of the common scalp problems are the result of dry skin at the scalp. ​This is exaggerated by dehydrated tissue. when you are showering, try to avoid proposing or scope to hot water when you can. Instead, try to use lukewarm water to rinse your hair, which allows more of the natural sebum necessary for moisturising that issue to remain on your scalp. If you are able to, try to skip using the hair dryer and allow your hair to naturally dry. By air drying your hair, you will allow your scalp to take a break from the drying heat of the hair dryer.
"Healthy hair starts with a healthy scalp – love your hair, love your scalp!"
3. Massage your Scalp
​​It pays to massage your scalp on a regular basis. Beneath the skin on your scalp is an intricate network of blood vessels. This blood vessels carry oxygen and nutrients to the tissues surrounding your scalp. My keeping the circulation going in a scope with massages, you are able to maintain a healthy scalp. How can you massage your scalp? You can spend about 10 minutes or so by using gentle circular motions on your scalp as a massage.
4. Limit the use of Chemical Treatments
​​Avoid chemical treatments at all costs. While a great perm, straightening or hair colouring treatment can help improve the look of your hair, the chemicals used in this treatments will actually irritate your scalp and caused some damage. If you have to use chemical treatments, always engage a professional to limit the amount of damage it can do to your scalp. Always follow the recommendations of the professional for how often you should touch up. At the first instance of any signs of irritation like teaching or even burning, you must inform your professional stylist immediately and stop the chemical treatment.
5. Protect Your Scalp from Sun Damage
​​Avoid chemical treatments at all costs. While a great perm, straightening or hair coloring treatment can help improve the look of your hair, the chemicals used in this treatments will actually irritate your scalp and caused some damage. If you have to use chemical treatments, always engage a professional to limit the amount of damage it can do to your scalp. Always follow the recommendations of the professional for how often you should touch up. At the first instance of any signs of irritation like teaching or even burning, you must inform your professional stylist immediately and stop the chemical treatment.
6. Shampoo Daily
You might belong to the group that washes their hair once a day. This is very ideal. However, if you suffer from some scalp problems, you might not be able to wash your hair on a daily basis. While cleaning your scalp is an important part of hair and scalp care, the type of shampoo you use is also important. Always research and invest in a shampoo that is not too harsh for your scalp.
7. Maintain a Healthy Diet
A balanced diet with a great amount of fruits and vegetables will help to supply your scalp with the necessary nutrients to keep it in good form. If necessary, augment your daily diet with health supplements such as vitamins that can also help keep your hair healthy. All cells need vitamin A for growth. This includes hair, the fastest growing tissue in the human body. Vitamin A also helps skin glands make an oily substance called sebum. Sebum moisturises the scalp and helps keep hair healthy. One of the best known vitamins for hair growth is a B-vitamin called biotin. Studies link biotin deficiency with hair loss in humans. ​Although biotin is used as an alternative hair-loss treatment, those who are deficient have the best results.
Conclusion
Essential Tips for Healthy Hair and Scalp
Indeed, maintaining healthy hair and scalp doesn't have to be a difficult task. Simple yet effective practices can go a long way in ensuring your hair stays vibrant, robust, and lustrous. Never underestimate the importance of a healthy scalp as it forms the basis for lovely hair. From feeding your hair with suitable products to steering clear of too much heat styling, these tips will enable you to care for your mane effortlessly.
Wellaholic's Support in Your Hair Care Journey
At Wellaholic, we're not just bystanders but your active partners in your hair care journey. We offer expert advice and potent treatments designed to help you achieve the hair of your dreams. Embrace the empowerment that comes from taking control of your hair's health.
Embrace Healthy Hair and Scalp Today
So, why wait? Start incorporating these tips into your routine today and witness your hair transform into its most vibrant and healthy state. Here's to a journey of healthy hair and a happy scalp with Wellaholic!
---
HairGrow™ 3X Ultimate Hair Loss Treatment
⭐ Supercharged Regrowth: HairGrow™ 3X is a premier plan, designed for those who desire to accelerate their hair regrowth process and address hair loss swiftly.
⭐ Adaptable Treatment Choice: This plan has been carefully crafted to provide customers with complete autonomy in selecting their preferred treatments.
⭐ Personalized Selection: This package allows customers to choose any three treatments from an extensive range of hair loss solutions, thereby tailoring their plan based on individual requirements.
⭐ Balancing Value & Variety: HairGrow™ 3X offers an exceptional combination of affordability and options – it enables access to premium treatments at a notably discounted rate..
⭐ Free Supply of Minoxidil. HairGrow™ 3X also includes a monthly supply of Minoxidil with Royal Jelly to jumpstart hair growth.
Why Choose HairGrow™ 3X to Treat My Hair Loss?
We highly recommend HairGrow™ over the individual treatments for the following reasons:
✅ Scientifically Proven. HairGrow™ 3X maximizes efficacy and results based on scientific case studies.
✅ Personalized Approach: HairGrow™ 3X provides a custom solution to your hair loss, allowing you to choose three treatments that best fit your needs and preferences.
✅ Affordability & Premium Quality: This plan combines the benefits of premium quality treatments and affordability, providing you with a cost-effective solution for your hair loss.
✅ Supercharge Hair Regrowth. Plan is ideal for customers seeking to supercharge hair regrowth.
✅ Flexible and Adaptive: The plan's structure provides flexibility, allowing adjustments as per your progress or changes in your hair loss condition.
Is HairGrow™ 3X Backed By Science?
HairGrow™ 3X includes the choice of up to four different types of technology treatments. They have numerous research reports and case studies backing them up.
Microneedling for Scalp
🔵 Case Study 1 (2013) concluded that the group which combined Microneedling with Minoxidil application saw a significant hair growth as compared to the minoxidil-only group.
🔵 Case Study 2 (2014) concluded the boosting effect of microneedling with respect to new hair follicle stimulation in patients with androgenetic alopecia who were poor responders to conventional therapy.
Low Level Laser Therapy (LLLT)
🔵 Case Study 3 (2013) concluded that 47% of the patients' hair growth occurred in 7 weeks earlier for the group with LLLT treatment compared to the group without.
🔵 Case Study 4 (2013) concluded a 35% increase in hair growth for the males with the LLLT helmet.
Are There Before and After Photos of the Treatment?
🔵 HairGrow 3X plan and it's family of hair loss treatments can scientifically treat hair loss.
🔵 Before and after photos show impressive results.
🔵 Before photos show thinning or balding hair, after photos show fuller, thicker hair.
🔵 Treatment restores both appearance of hair and confidence of individuals who undergo it.
Pricing of Hair Loss Treatments by Wellaholic
💎 Price Transparency. Wellaholic publishes all prices on its website.
💎 Flexible Per-Session or Unlimited Plans. Customers can choose from unlimited monthly hair regrowth plans for the best cost-savings, or per-session hair regrowth price plans.
💎 Mix and Match Easily. Wellaholic's hair regrowth prices are categorized for easy selection.
💎 No Price Shocks. No hidden fees. Pay only for the treatments you receive.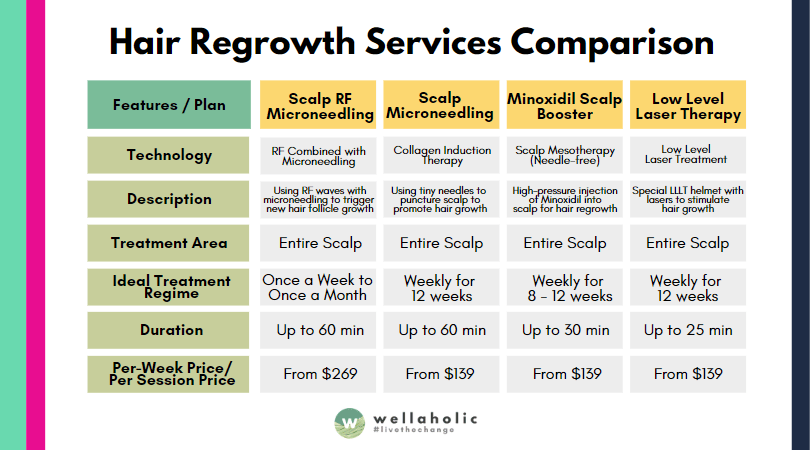 GET IN TOUCH
Book Now Pay Later
Why Wellaholic is One of the Best Hair Loss Treatment Providers in Singapore?
✅ Advanced Hair Regrowth Technologies. Wellaholic offers hair loss treatments with microneedling, RF and laser technologies.
✅ Customised Treatment Plans. Customized hair loss treatment plans based on individual concerns and needs.
✅ Experienced Staff. Wellaholic's experienced therapists use top-of-the-line products and equipment for effective results
✅ Price Transparency with No Hidden Costs. Wellaholic commits to transparent pricing with no hidden costs for all services.
✅ Positive Results from Customers. Wellaholic customers report significant hair growth and improved confidence.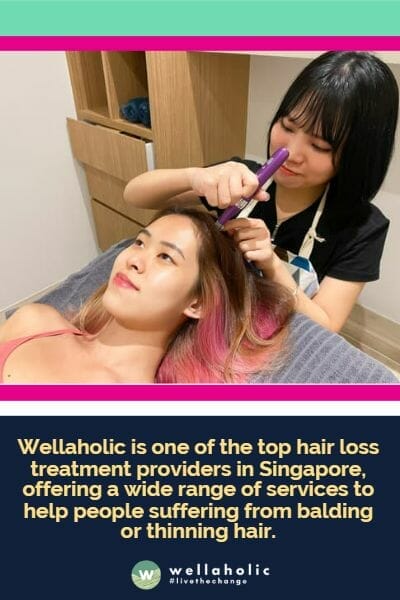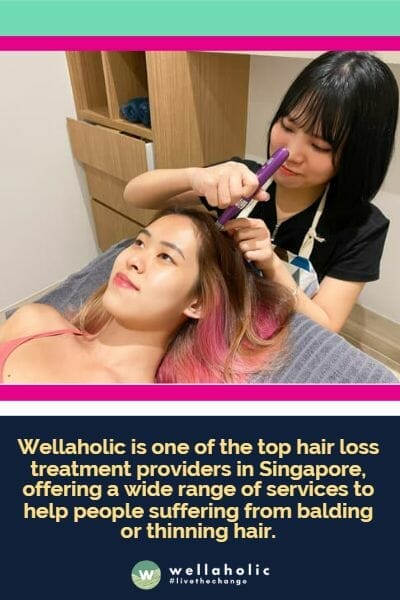 Reason 1: Wellaholic Offers Comprehensive Hair Regrowth Services and Expertise
Wellaholic offers a variety of hair regrowth treatments to suit your needs. Our hair regrowth packages include:
✅ HairGrow™ 3X

HairGrow™ 3X is our premier monthly plan to rapidly combat hair loss and supercharge regrowth.

Choose any 3 treatments (same or different) at a discounted rate to accelerate your hair regrowth with flexibility.

✅ Scalp RF Microneedling

This treatment uses radio frequency and microneedling to boost hair growth by enhancing blood flow and nutrient delivery to follicles.
Treatment depth and frequency can be adjusted according to individual hair loss conditions and treatment responses, providing a personalized approach.

✅ Scalp Microneedling

This treatment, also known as Collagen Induction Therapy, uses controlled scalp trauma to promote hair growth.
Combined with Minoxidil 5%, Microneedling can boost hair growth over a 12-week span.

✅ Minoxidil Scalp Booster

This treatment combines WellaBoost's two proven methods: High Pressure Jet Spray and Electroporation.
This boosts Minoxidil absorption by the scalp up to 17 times, making it ideal for treating hair loss.

✅ Low Level Laser Therapy (LLLT)

This FDA-approved treatment uses laser light to stimulate cell growth and supercharge hair follicles. LLLT fights hair loss, enhancing hair volume and appearance.

The LLLT treatment has been proven to have no side effects and takes about 20 minutes per session.
Reason 2: Wellaholic Has Over 50 Awards and 2000 Genuine Customer Reviews
✅ Over 50 Awards. Wellaholic's treatments and services have been awarded by top beauty publications such as Daily Vanity, Beauty Insider, and Tropika Club Magazine, spanning from 2018 to 2023.
✅ Over 2000 Verified Customer Reviews. Wellaholic has over 2000 verified positive reviews from our customers in Singapore and beyond.
✅ Verifiable Reviews. The reviews are verified and positive, which indicates the high level of customer satisfaction (see reviews below).
✅ Over 50% Repeat Customers. More than 50% of Wellaholic's customers are repeat and recurring customers.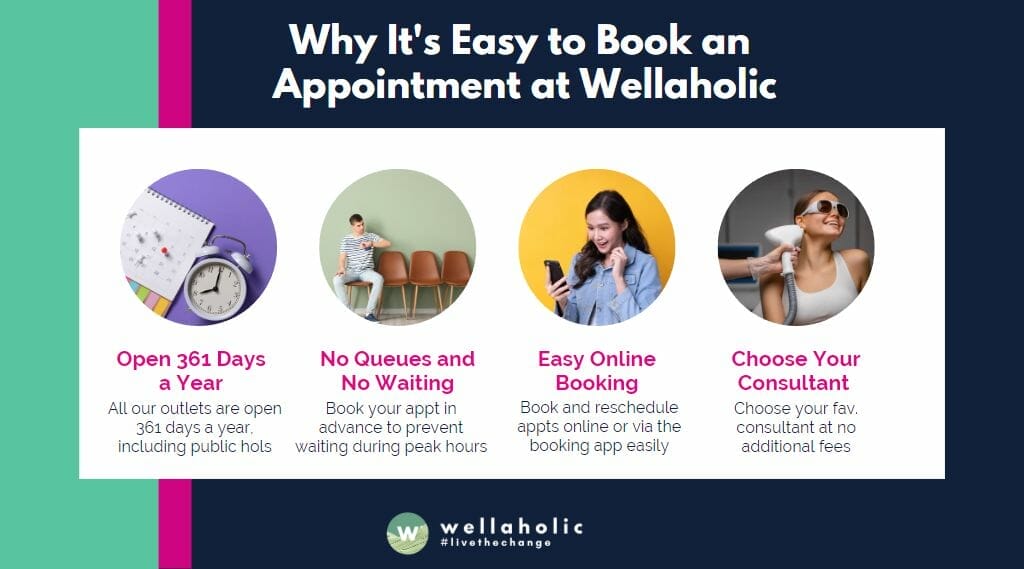 Reason 3: It's Easy to Book an Appointment at Wellaholic
✅ Open 361 Days Per Year. Wellaholic's 8 outlets open 361 days a year, including public holidays, for easy appointment booking.
✅ No Queues. Appointments booked in advance to avoid queues and waiting during peak hours.
✅ Easy Online Booking. Book and reschedule appointments easily online or via app.
✅ No Extra Cost for Choosing Consultant. Choose your preferred consultant without additional fees.